Malaysian celebrity Ms PuiYi aka Siew Pui Yi, who recently shot to fame following her appearance on the cover of the Penthouse magazine, is now at the center of another controversy over her rendition of the Vietnam's cultural dress called the áo dài.
Too sexy to handle?
The 24-year-old, who is known for her raunchy dressing style, is no stranger when it comes to revealing more skin than usual. However, it seems that she may have gone too far after she posted a series of explicit version of the áo dài.
In Vietnamese, "áo dài" means "long dress" and it consists of a long, high-necked, close-fitting tunic split along the side to the waist and worn over loose-fitting trousers. It is also the symbol of feminine beauty among the locals.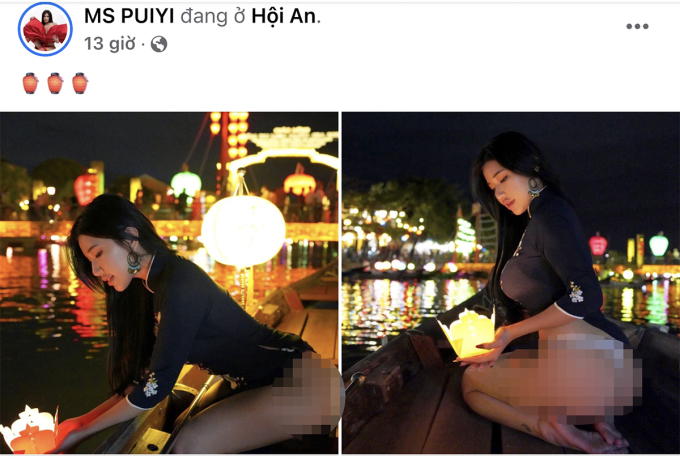 In a now-deleted post, Ms PuiYi is seen retaining the tunic section of the ao dài while replacing the skirt with a pair of thongs instead, displaying her bottoms in full view.
"It's inappropriate!"
While several fans were supportive of the move, Vietnamese netizens were less than pleased and condemned Ms PuiYi for disrespecting their national dress.
A Vietnamese netizen wrote that while she wasn't against Ms PuiYi's sexy figure, it was impolite of her to dress in such a manner at historical places in the country.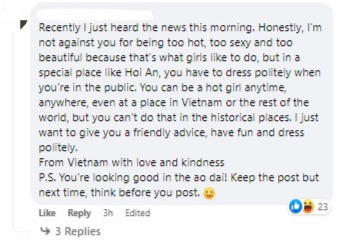 Another angrily demanded that Ms Puiyi delete the post and apologise to Vietnam for wearing the áo dài inappropriately.

Others also said that áo dài, being the traditional costume of Vietnam, should be worn in a manner that displays the local women's beauty "without 'showing the body to [sic] sale".


Ms PuiYi apologizes
After the post went viral and received international attention, Ms PuiYi issued an apology in three languages (Vietnamese, Chinese and English) acknowledging her wrongdoing.
During my recent travel to Vietnam, there was a posting of mine that truly upset the people, and I deeply and sincerely apologize for my actions/content and the disrespect to the traditional culture of Vietnam, to which I have now taken down.
She also mentioned that she has read every comment left on the post and offered to reshoot the photos.
Read also: Man Strips Himself Naked Out Of Nowhere At Hotel Lobby In Genting, Shocking Many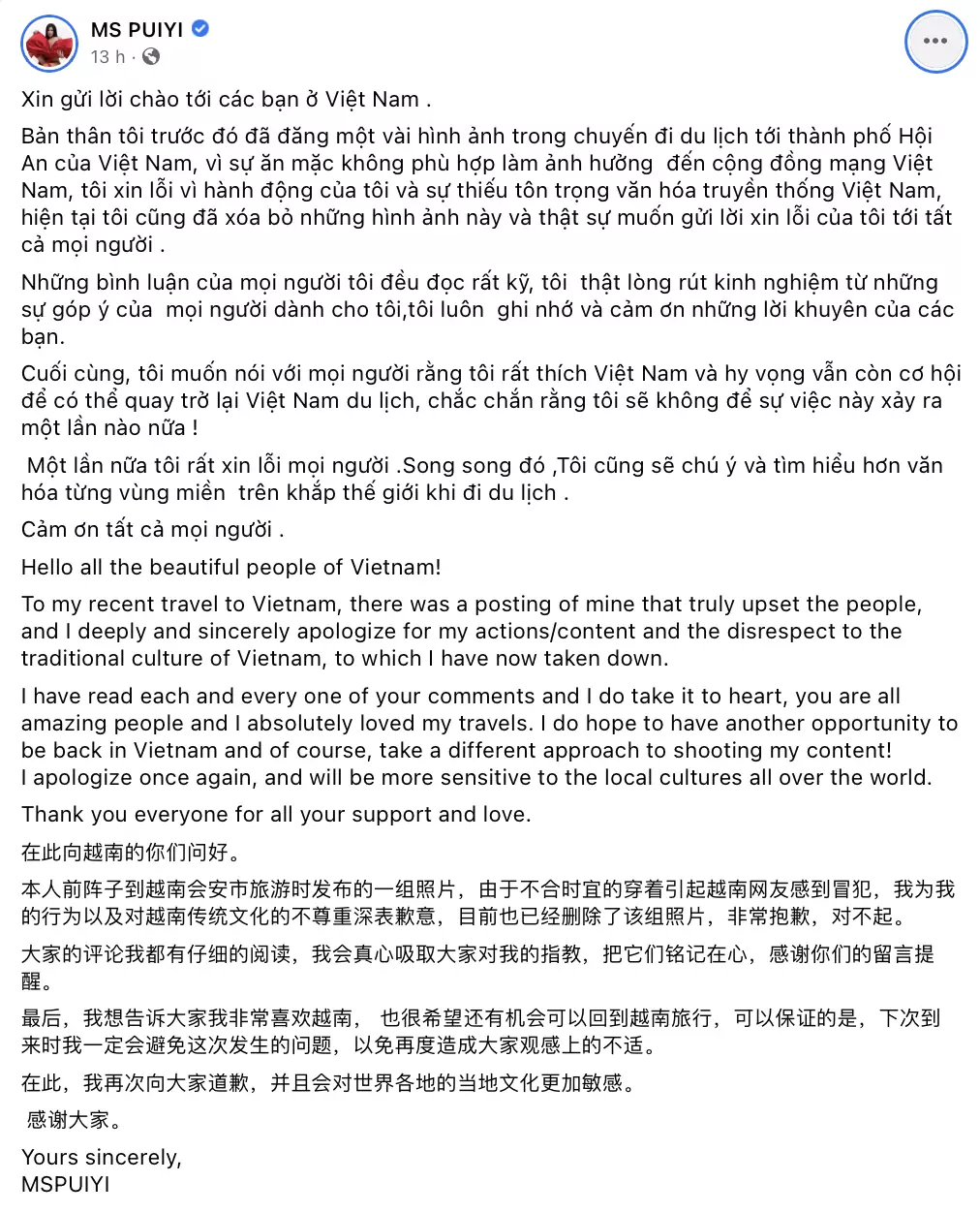 "I do hope to have another opportunity to be back in Vietnam and of course, take a different approach to shooting my content," she wrote.
Ms PuiYi also added that she would be more sensitive to the local cultures all over the world.
What do you think? Comment below and let us know!
---
It's unrelated to the article but here's our brand-new podcast – Talk Je Lah!
---
Cover Images via Facebook
Editor: Sarah Yeoh