Destiny definitely smiled upon two lucky Magnum 4D Jackpot winners, transforming their lives overnight and surprising them in the most amazing way.
It is truly an incredible tale of persistence and fate of how these two lucky winners struck gold, winning them the Magnum 4D Jackpot of RM12.9 million, and RM3.92 million respectively.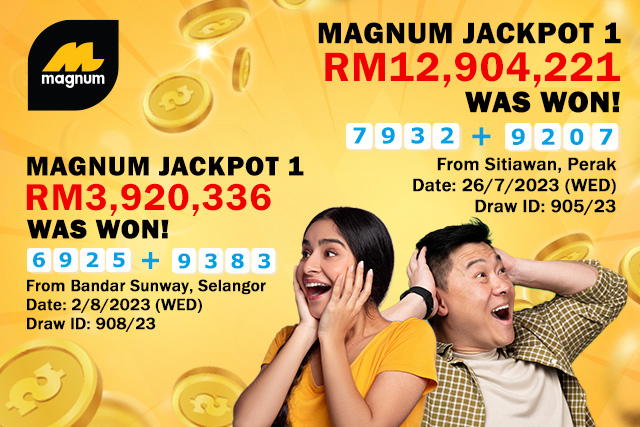 First winner: Construction worker in his late 50s
For a hardworking construction worker in his late 50s, witnessing another person's encounter turned into an extraordinary windfall when he struck the RM12.9 million jackpot on 26 July 2023.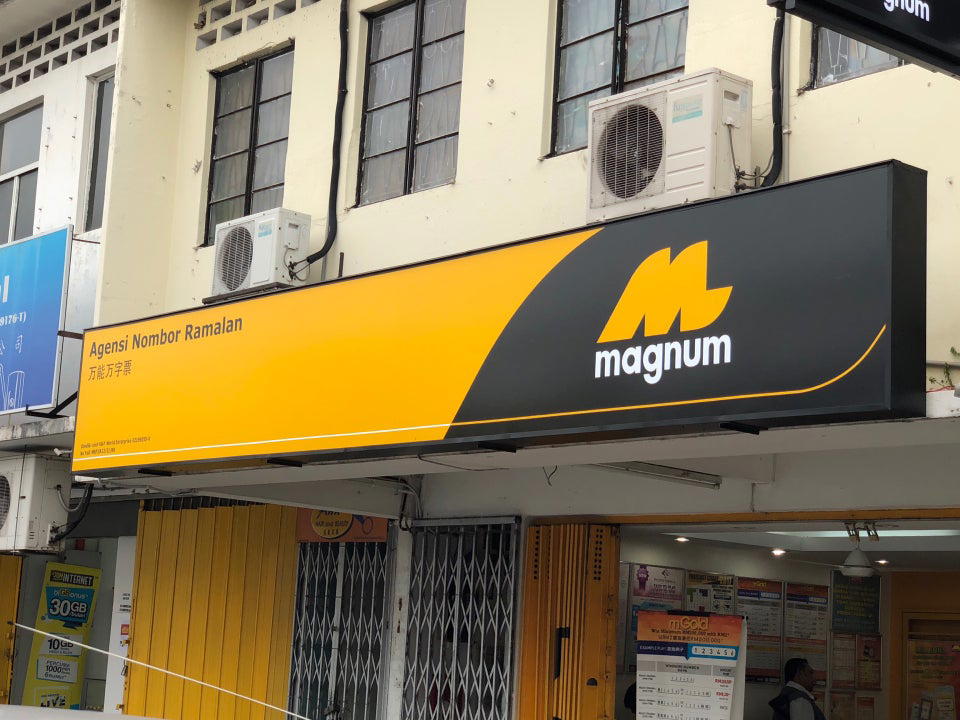 In a press release sent to WeirdKaya, the fortunate winner shared that he had been diligently supporting the company for more than a decade, and his persistence finally paid off when his chosen numbers, 7932 and 9207, emerged as the 1st and 3rd prize using the System Bet play of SB03.
Read also:
The winner recalled how he stumbled upon the combination of 7932 after witnessing a car accident, where the car number plates of both vehicles ended with 932.
Intrigued by this unexpected connection, he combined it with his own vehicle number, 9207, and decided to stick with these set of numbers ever since.
With steadfast faith and a dream of striking it big, the winner typically placed small bets, spending no more than RM20 for each draw he plays.
"When I saw the numbers 7932 and 9207 together that day, it felt like a sign from the universe. I've been playing with these numbers for over a decade, hoping for this moment," the winner enthusiastically shared.

"Winning the grand prize is beyond my wildest imagination. Fate definitely played a hand in this. It's like a dream, and I'm still trying to grasp the reality of it all."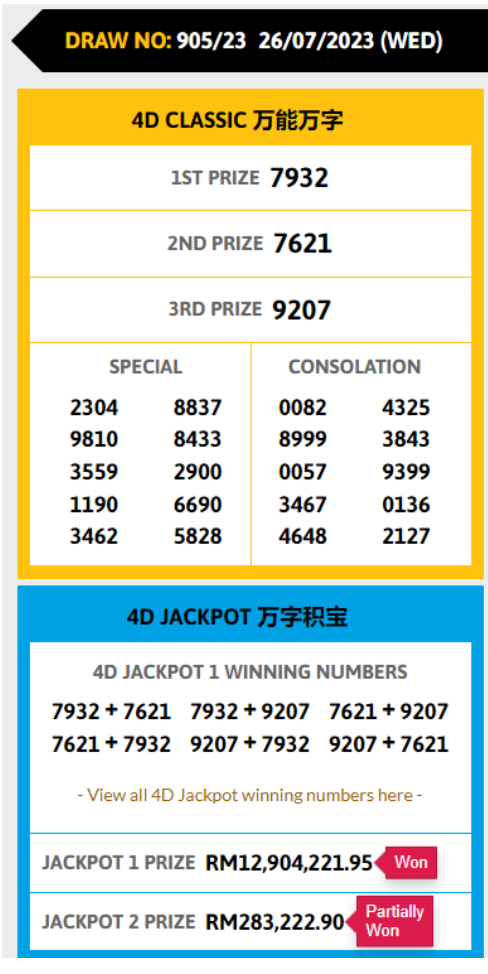 Plans to clear all existing loans & donate to charity
Overjoyed with his newfound fortune, the winner revealed his plans for the winnings.
"First, I want to let the excitement settle in a bit, so I will bank in the prize money for safekeeping," he said.

"Then, I plan to clear my existing loans and set aside a substantial education fund for my children.

This windfall has given me the opportunity to secure their future, and I'm incredibly grateful for it.

In the spirit of turning luck into more positive outcomes, I will also donate some money to charity so that I too can spread joy", he expressed with happiness.
Second winner: 40-year-old Bank staff
Subsequently, Magnum 4D also shared another 40-year-old woman who also won a whopping RM3.92 million.
"The fortunate winner couldn't believe her luck when her numbers, 6925 (1st prize) and 9383 (3rd prize) turned out to be the winning combination.

These significant numbers are her family's vehicle numbers which she has been dedicatedly playing for over a decade," it wrote.
Her winning ticket was purchased at the Magnum 4D Bandar Sunway outlet in Selangor, and was won with a humble RM30 bet.
This win comes as a delightful surprise to her.
"I was speechless and happy when I checked the result on the MyMagnum 4D app and realised I won the jackpot," the ecstatic winner shared.
"It's even more incredible as it coincides with my birthday. It's like destiny played a part in this win and definitely the best birthday gift to receive!"
Plans to invest into buying a property and clearing all existing loans
With such a life-changing win, the winner has plans for wisely allocating her newfound wealth.
"My top priority is to bank in the winnings safely. Later on, I will invest into buying a property and clearing all my existing loans.

I will also share part of my winnings with my family members. This jackpot win is a blessing that will positively impact all our lives," she stated.
A Magnum 4D spokesperson shared: "[…] It's a joy to see their lives change for the better and heartwarming indeed to hear them speak about being able to fully realise their dreams and wishes. Congratulations again to these two lucky winners on their extraordinary jackpot victories."
---
---