Luck be a lady alright as a lucky female winner from Taman Dahlia, Cheras swooped the Magnum Life Grand Prize while participating in Magnum 4D's KungFu Stampcard campaign. She is now the winning recipient of RM1,000 every day for 20 years, drawn from her lucky numbers of 1-11-12-15-18-21-27-33 on 10 September 2022.
A loyal Magnum 4D customer for over 15 years, she only recently started playing the Magnum Life game. She was inspired by a recent Magnum Life winner story who won the Grand Prize in June 2022 at Ampang.
Attracted to Magnum Life Grand Prize
"I was introduced to the Magnum KungFu Stampcard campaign by the Magnum 4D outlet staff. I decided it was a good opportunity to try my luck by buying a Magnum Life Lucky Pick ticket. I was also attracted to the Grand Prize where I could stand a chance to win a car. It was easy enough to participate as all I had to do was purchase any Magnum Lucky Pick ticket worth RM10", she said.
"Imagine my surprise when I won the Magnum Life Grand Prize! I checked the results via the Magnum 4D website. Initially, I had written the last number (35) by mistake. So, I thought I only matched 7 out of 8 numbers. After double checking, I realised that I matched all 8 winning numbers! I was so surprised and happy at the same time. All I did was buy a lucky pick ticket in Magnum 4D's KungFu Stampcard campaign and now my life has changed forever. I feel like the campaign and Magnum 4D truly did bring me KungFu luck".
"I plan to allocate some of my winnings towards my children's education. Besides that, I would like to pay it forward too by donating to a few charitable organisations. Lastly, I can now also clear off some of my debts. Thank you, Magnum, for changing my life", she added.
As shared by a Magnum 4D representative: "We are absolutely thrilled to see our customers win. This is our third lucky Magnum Life Grand Prize winner for this year. It is heart-warming indeed when they share how they will use their winnings to better their lives. We congratulate all our winners and we look forward to elevating the lives of more customers."
KungFu Stampcard Campaign
Ready to make your own luck?
From 22 August to 16 October, why not tempt your fortune with Magnum 4D's KungFu Stampcard campaign and stand a chance of winning a Proton X50 and other amazing prizes worth over RM1 million?
Grand Prize: Proton X50 1.5T Standard (1 winner)
2nd Prize: RM5,000 worth of shopping vouchers (5 winners)
3rd Prize: RM1,000 worth of shopping vouchers (15 winners)
Consolation Prize: RM500 worth of shopping vouchers (30 winners)
Purchase any Magnum Lucky Pick ticket worth RM10 and above to receive one (1) stamp. Get instantly redeemable rewards for the first three (3) stamps you collect. Collect all four (4) stamps and submit your entry at any Magnum 4D stores nationwide to participate in the lucky draw.
Not only that, your Magnum Lucky Pick tickets could also be lucky-winning tickets!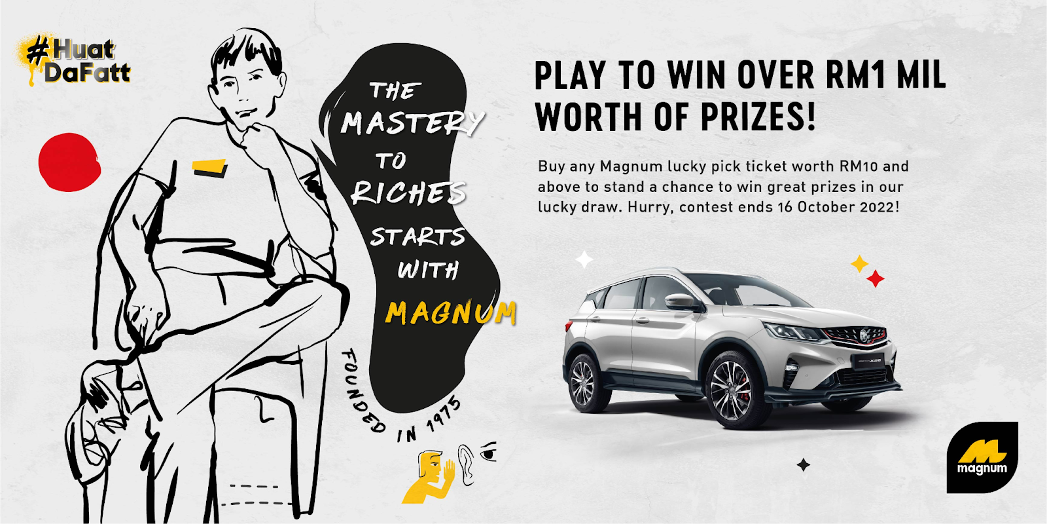 The more tickets you buy, the more chances you have of winning. So, hurry and head on over to your nearest Magnum 4D store now to make your own luck and live the lifestyle you dream of.
Winners will be notified via phone call, MyMagnum 4D's mobile app and during their Facebook Live. Terms and conditions apply. Full details are available HERE.
Disclaimer: Please remember to play responsibly and that Magnum 4D is only available for non-Muslims above the age of 21.
Read also:
---

Cover image via Magnum & worldorgs.com