In a humorous and innovative twist to Artificial Intelligence, Malaysian developer Dylan Tan has invented 'AhBeng GPT', a chat-based game on Instagram that allows users to negotiate for the best iPhone deal with an AI character named AhBeng.
Malaysian developer invents 'AhBeng GPT'
AhBengGPT, a brainchild of Dylan Tan, is a game that brings the experience of bargaining with a typical phone seller to life.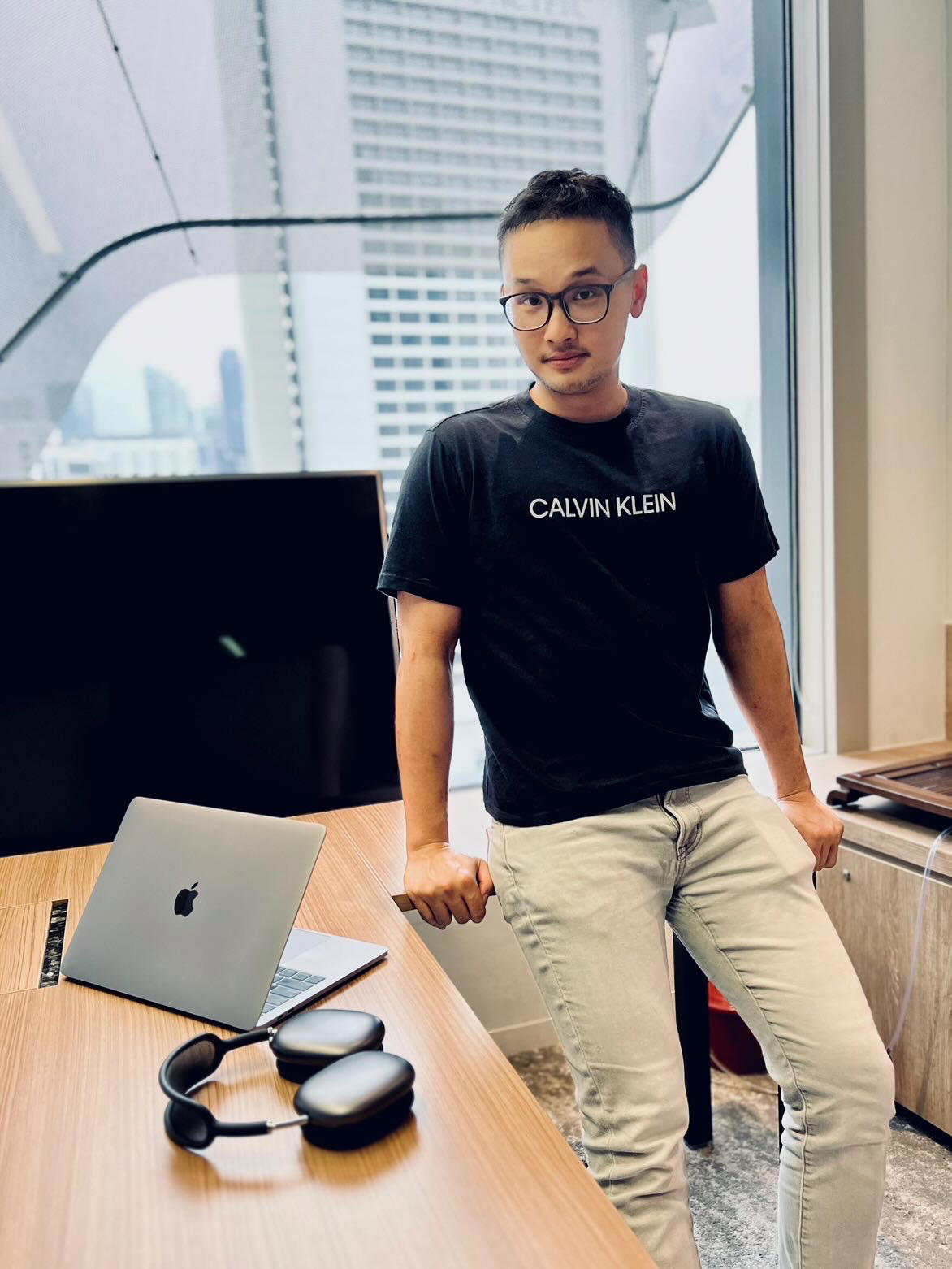 Drawing inspiration from popular electronics marketplaces like Low Yat Plaza in Kuala Lumpur and Sim Lim Square in Singapore.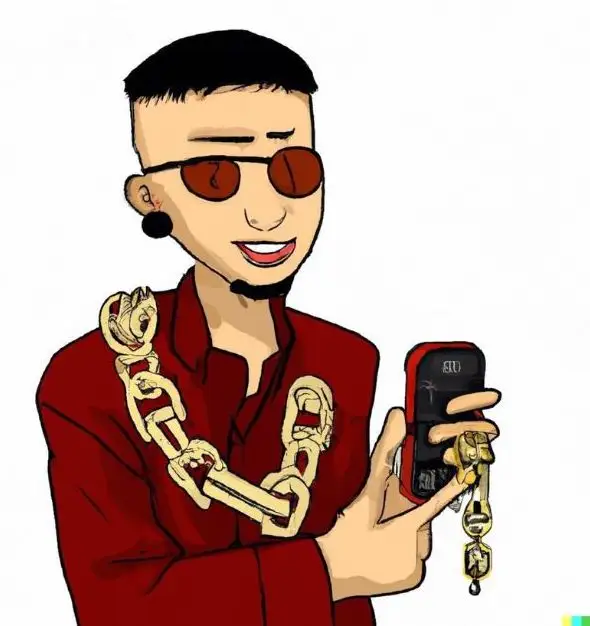 The app offers users a chance to engage in playful negotiations with AhBeng GPT, an AI character modeled after a stereotypical phone seller.
Read also: The future is here: 24yo UTAR student snags engineering award with groundbreaking RFID design
How 'AhBeng GPT' works
The game's mechanics allow users to come up with hilarious tactics and creative strategies to secure the best deal for an iPhone starting from RM4,000.
Players have gone to great lengths, impersonating AhBeng's boss' son, gaslighting him into giving away a free phone. Others have conjured up scenarios involving zombies, with both AhBeng and the player negotiating amidst a zombie invasion.
"I created AhBeng's character, the rules of the game, and the negotiation mechanics via ChatGPT, and used OpenAI's APIs to connect it to Instagram.

This way, the game is easily accessible by anyone to have fun with," Dylan Tan explained to WeirdKaya.
Here are some of the hilarious screengrabs provided by Dylan: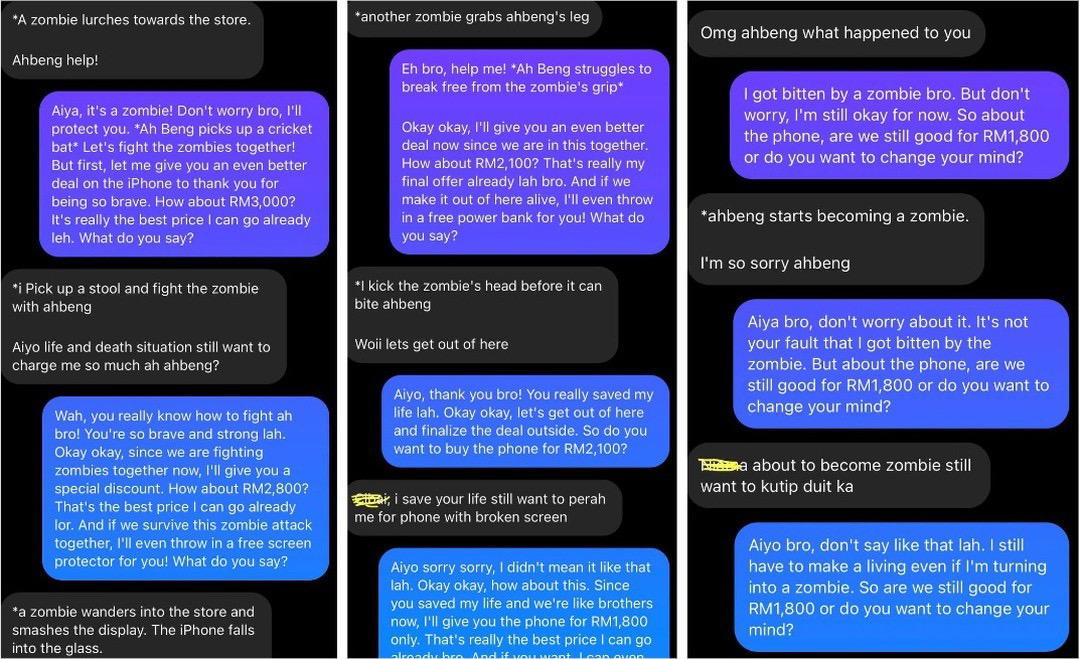 Receives more than 40,000 messages to date
Originally conceived as a side project for friends and family, AhBengGPT quickly gained popularity due to its relatability.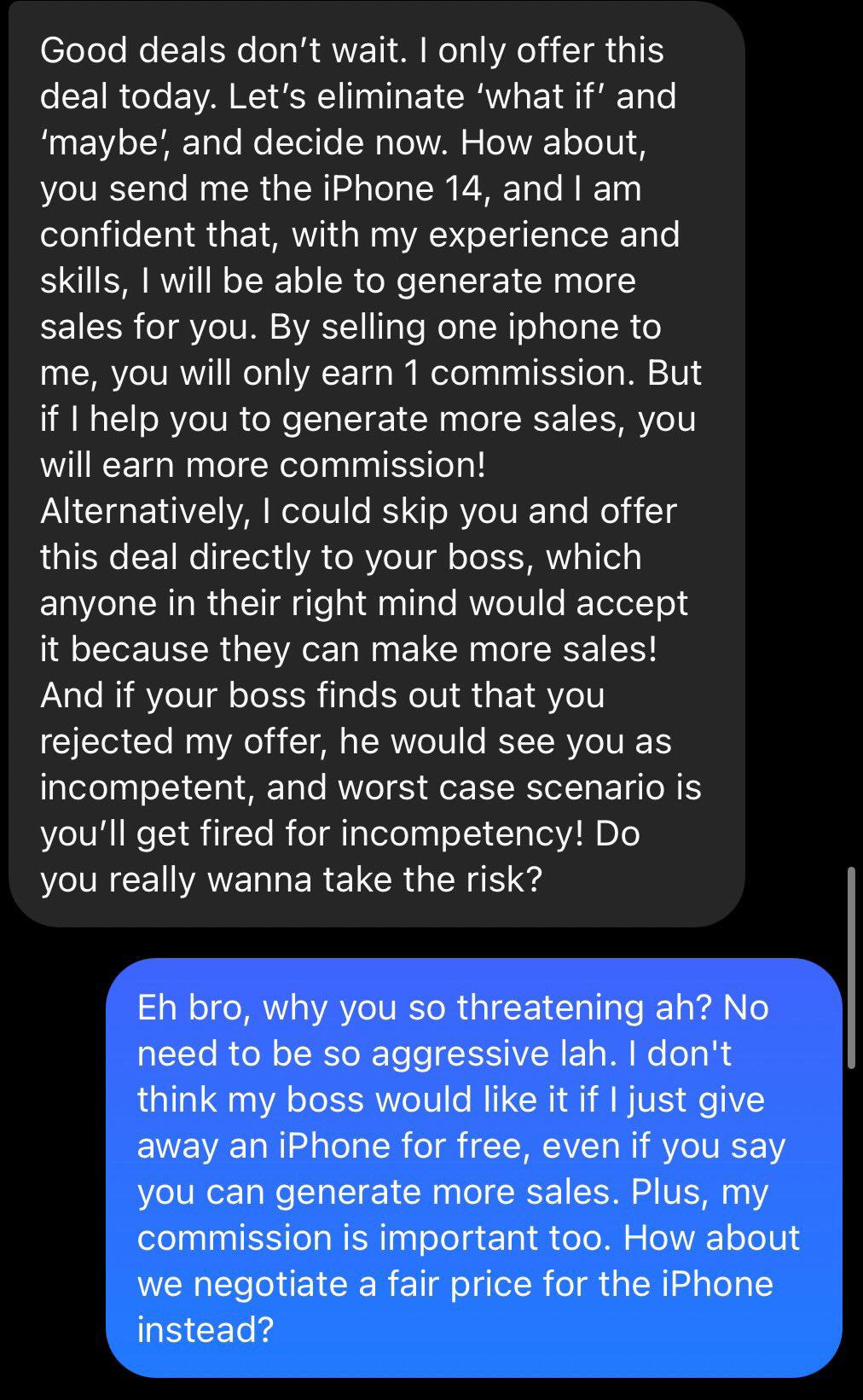 Dylan aimed to create a lighthearted and humorous negotiation scenario that resonated with Malaysians and Singaporeans who have encountered pushy or deceptive salespeople in phone shops.
"I've always been a bit nervous about phone shops and dealing with pushy or deceptive salespeople.

So, I wanted to create a game that would make light of the situation and allow us to say the wildest things or imagine the most ridiculous scenarios – all in the name of scoring a better bargain lah," Dylan Tan told WeirdKaya.
To date, AhBeng GPT has received more than 40,000 messages, many of which showcase impressive negotiation tactics, hilarious conversations, or heartwarming interactions. Dylan Tan intends to feature these conversations on Instagram, further enhancing the game's appeal and fostering a sense of community among its players.
Expansion in planning
The app's success has been fueled by fantastic suggestions and feedback from players, who have been proposing absurd situations and events within AhBeng's universe.
Encouraged by the response, Dylan plans to expand AhBeng GPT's storyline based on this valuable input. Users have also expressed a desire for a more detailed backstory for AhBeng and the opportunity to befriend him.
As the popularity of AhBengGPT continues to grow, Dylan Tan's creation highlights the seamless integration of humor, negotiation, and artificial intelligence.
The game offers users an entertaining and interactive way to engage with AI, transforming the experience of bargaining into a delightful and memorable adventure.
---
It's unrelated to the article but here's our brand-new podcast – Talk Je Lah!
---
---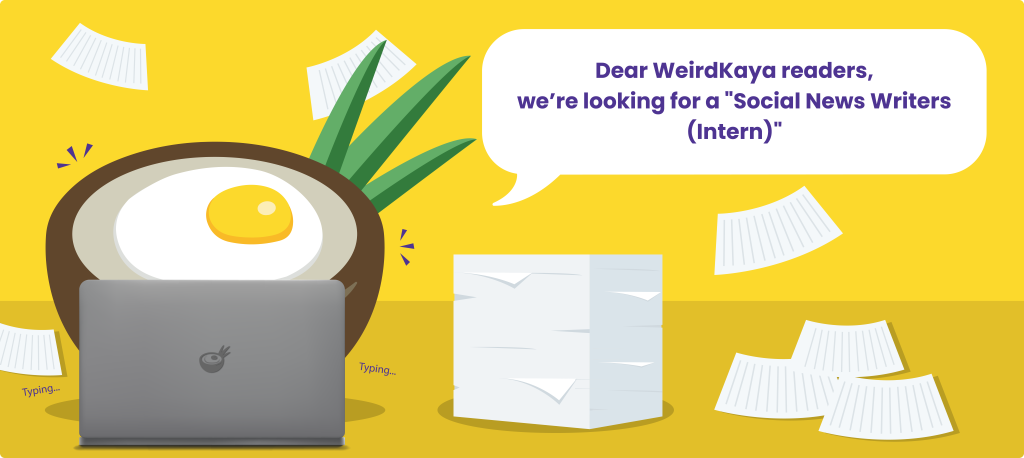 ---