YES! We're hiring! You've heard it from us first here! Headline Media is currently searching for the extraordinary you to join our team.
Headline Media? Who?
To put it simply, it's the home of WeirdKaya!
Headline Media was founded by a group of young Malaysians that aims to create content relevant to Malaysians.

We also strongly believe that we can break into the local media market, and this was proven by our ability to reach millions of users on various platforms within a year.
At Headline Media, you'll be surrounded by interesting, creative and vibrant colleagues. Don't believe us? Check out the 'About Us' section to find out!
You'll also be able to glean invaluable insight from the team's experience in the industry while squeezing every drop of brain juice in designing content for our readers.
And the best part? You'll get to witness a startup experience firsthand!
So…are you a good fit?
Now that we've gotten your attention, here's what we're looking for in potential candidates.
For starters, we need trend-sensitive and savvy social media individuals who will need to catch and follow current trends, or better still, lead one themselves!
As we are all working from home, for the time being, we also want fast and proactive people to join us in making WeirdKaya grow.
On a side note, we are only open to interns who are ready to join for a minimum of three months at the moment.
In short, we need you to be:
Social media savvy
Sensitive to current trends
Fast and proactive learner
Able to commit for 3 months and above
If you've said 'YES' to all the above, scroll down to see more details about our current openings!
English Social Content Writer (Intern)
For this position, you need to be a quick and proficient writer who will never compromise on accuracy.
If you're a creative storyteller who can produce high-quality and engaging content using down-to-earth and concise language and truly cares for the Malaysian community, we would love to have you on board!
Also, if you have excellent attention to all kinds of Malaysian news, especially social news both online and offline, it's definitely an added bonus.
Job scope (include but not limited to):
Write articles for our website and social media platforms
Produce high-quality & engaging content
Create decent images to suit articles or social media postings
Requirements:
Strong social media marketing sense
Quick, independent & proficient writer in English
Uphold high standards of accuracy
Have creative storytelling skills
Follows Malaysian news consistently
Writing samples:
English Lifestyle Content Writer (Intern / Full-timer)
Do you love food, love life and love sharing about these?
We have a space for you! Join us to share awesome lifestyle tips or good places to chill out and eat.

Job scope (include but not limited to):
Write original evergreen articles regarding food and lifestyle
Create decent images to suit articles or social media postings
Assist team in branded content ideation
Manage WeirdKaya's lifestyle column content direction (Full-timer)
Requirements:
Follows Malaysian social media trends consistently
Independent in delivering content
Quick, proficient and highly accurate English writer
Knows how to play and eat well
Have creative writing and thinking skills
Writing samples:
English Video Production (Intern)
To all talented and creative video producers out there, we need you!
You'll get to unleash your innovation and videography skills and build astonishing portfolios with accounts of various industries.
Not just that! You'll also get to experience handling different clients and improve your interpersonal skills.
Job scope (include but not limited to):
Lead collaborative video team in video production
Help video producer manage ideation and execution of video content
Create fun and engaging TikTok & YouTube videos
Involve in video production eg: script-writing, shooting, editing, animation, etc
Requirements:
Have creative ideas and videography skills
Able to produce high-quality & funny videos
Familiar with video post-production
Heavy TikTok / YouTube user
Follows Malaysian social media trends consistently
Marketing Intern
To those with Business-related backgrounds and who have been dying to experience start-ups, your opportunity is here!
You'll get first-hand experience in dealing with clients from various fields and improve your marketing skills along the way.
Job scope (include but not limited to):
Improve sales processes and handle clients
Define strategic marketing plans
Manage marketing budgets and ROI
Requirements:
BA in marketing, business administration or relevant field (Fresh grad/student)
A team player with a customer-oriented approach
Strong writing and verbal communication skills in English/Chinese
Independent in handling clients
Extravert and outspoken personality
Video/TikTok Talents
Always wanted to be a star in videos but you feel unsure or have yet to find yourself a suitable platform? Your chance is here!
This internship post gives you the opportunity to experiment with your strengths and limitations when it comes to shooting and hosting a video.
You'll get to know whether it's really your thing while getting PAID!
Requirements:
Follows social media trends tightly
Watch all kinds of online videos
Can do basic video-editing
Not camera-shy
Vibrant personality
Able to prepare scripts or storyboards for video-shooting
Knows how to host in a video
Able to deliver client's requirements in videos
Interested in growing with us? Accept this small challenge first!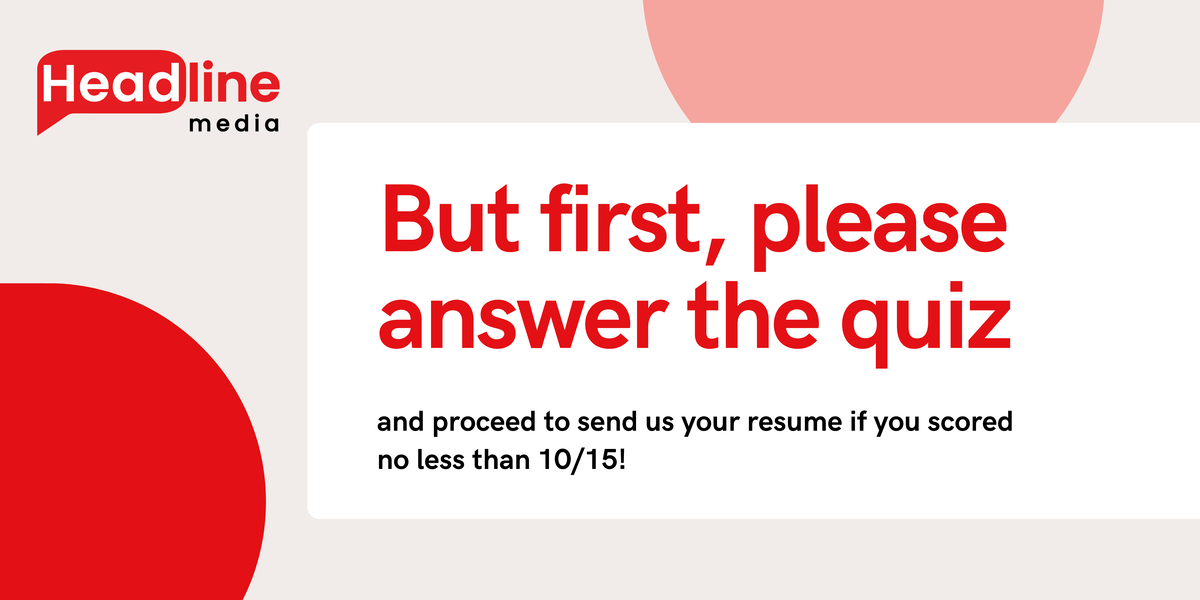 Scored 10 and above? Send your resume [Document name: Score + Name + Position applied] or enquiries to Jin Wen at jinwen@headlinemedia.my now!
---

---
Cover Images via Esther Lee
Author: Jin Wen Chan
Proofreader: Sarah Yeoh