A Singaporean Grab driver who recently posted a screenshot of his earnings between Jan 9 to Jan 15 with a whopping S$6,020.20 (RM19,450) income has sparked discussion online.
The said screenshot was later reposted to the Facebook page Beh Ciao Lor – Singapore Road last Friday (Jan 27).
Earned RM19,400 in a week
According to the screenshot, the driver's gross earnings was around S$5,227.82 (RM16,892) after deducting S$792.38 (RM2560.46) in commissions to Grab and 8% in Sales and Services Tax (SST).
At the same time, the earnings also included a S$2 (RM6.46) tip and S$2,080.70 (RM6,723) worth of incentives during the same period.
This means that the driver made a total of S$3,147.12 (RM10,169.48) in Grab rides alone in one week.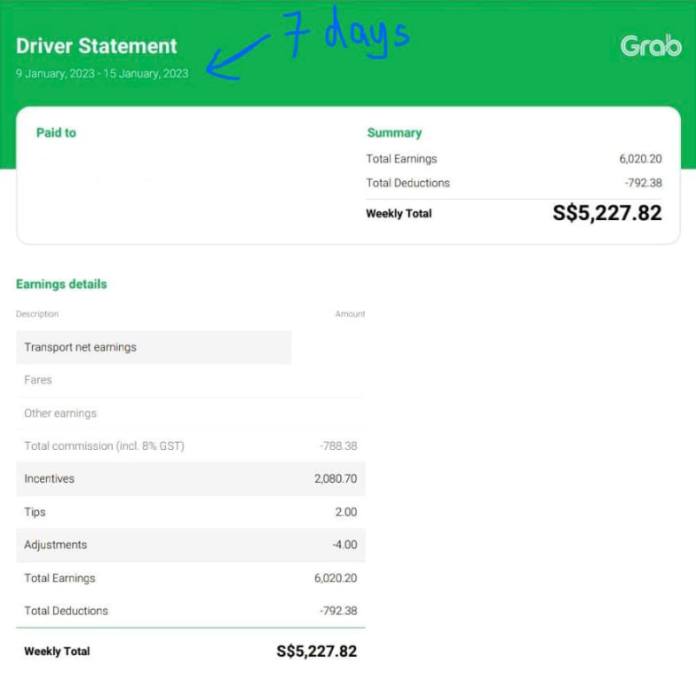 On average, he earned an average of S$499.50 (RM1,614) a day, on the assumption that he worked all seven days.
However, no further details such as vehicle rental costs, petrol fees, parking costs, and how the driver managed to rake in the money were disclosed.
Netizens divided
The post has since garnered over 496 likes and 190 comments at press time, with many debating whether it was right for the driver to disclose his earnings upright.
"Spoilt market and killing all drivers. Wise driver never disclose their income. This will affect the future supply and demand."

Some expressed concern for the driver and pedestrians' safety on the road as he could be working long hours.
"It is dangerous for the driver to drive long hours without rest, it endangers the passenger as well. Long term will be hazardous to one's health and no money can buy back health."

One netizen claimed that it was impossible to achieve such figures, adding that he drove eight hours for three consecutive days but was unable to get even half of the driver's earnings.

Another demanded more details about the driver's overhead expenses and working hours.

On the other hand, some told netizen to leave the driver alone as he was merely making an honest living for himself.

What do you think? Comment below and let us know!
---
It's unrelated to the article but here's our brand-new podcast – Talk Je Lah!
---