Out of all the types of noodles known to humans, ramen is arguably one of my favorites thanks to its springy texture and how well it goes with a hot, full-bodied broth – making it the perfect comfort food.
But have you ever tried ramen cooked in a green coloured broth? Even if you haven't, you're probably grossed out just thinking about it.
This unusual broth is sold at the Ramen Bar Shishido at Gasket Alley, where it features a traditional Japanese interior along with several tall chairs and counters that allow customers to tuck into a delicious bowl of ramen just like how the Japanese do back home.
Going green for lunch
Ramen Bar Shishido mainly serves interesting ramen, one of which is their Ajitama Chashu Ramen where the broths are coded according to colour, where each one signifies a different kind of broth and can be mixed either in double or triple flavours.
I was feeling a little experimental that day, so I opted for the Ajitama Chashu Ramen with basil pork soup as the base (RM24).
And I'm not gonna lie…when the ramen was placed in front of me, I simply couldn't comprehend what I was seeing as the soup had such a bold green colour to it that the spring onions actually camouflaged with it!
The ramen also reminded me of the Hakka dish lei cha, where a green basil-minty soup is poured into a bowl of rice along with various chopped vegetables.
Nevertheless, I was still quite excited to taste it and see if the broth was as "shocking" as it looked.
To my amazement, I found it to be a pleasant surprise as the broth didn't have an overpowering basil taste as the colour suggested. In fact, it tasted quite alike to pesto along with hints of basil and smokiness.
The broth was also very palatable, meaning that even if you weren't open to the idea of having basil in your soup, you might still find a place in your tongue and heart to accept it.
I personally think that using basil is a genius move as it helps to enhance the deep and rich flavors of the pork bones used in making the broth, leaving one wanting to take another slurp despite the colour.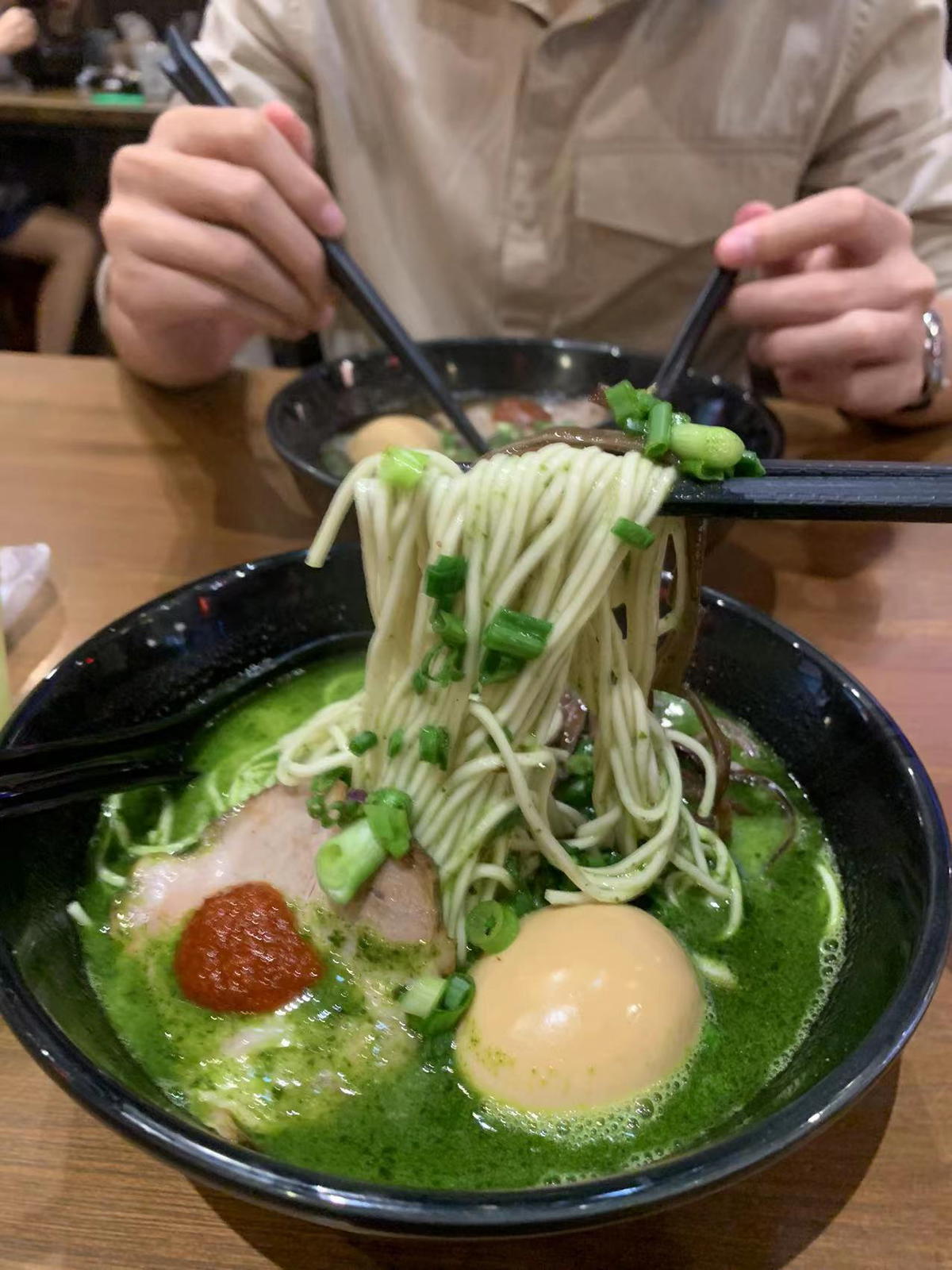 Moving on, the noodles were well cooked with a little chew to it, which is rather similar to Ippudo's if you want it a little undercooked.
As for the chashu, which I must point out was only one piece, was tender but not as flavorful as I expected. Maybe it's because I forgot to pair it with the "special sauce" which was placed on top.
Meanwhile the Ajitama egg was half-cooked through, leaving the yolk perfectly runny and lived up to what's normally expected out of it.
All in all, this ramen dish gets a solid 9/10 rating as the flavours all came together in perfect harmony, resulting in a very delectable experience.
Kicking it up a notch
Next in line was the Ajitama Chashu Ramen with a double-flavoured Pepper and Black Garlic Pork broth, which came with an egg, spring onions, and shredded black fungus.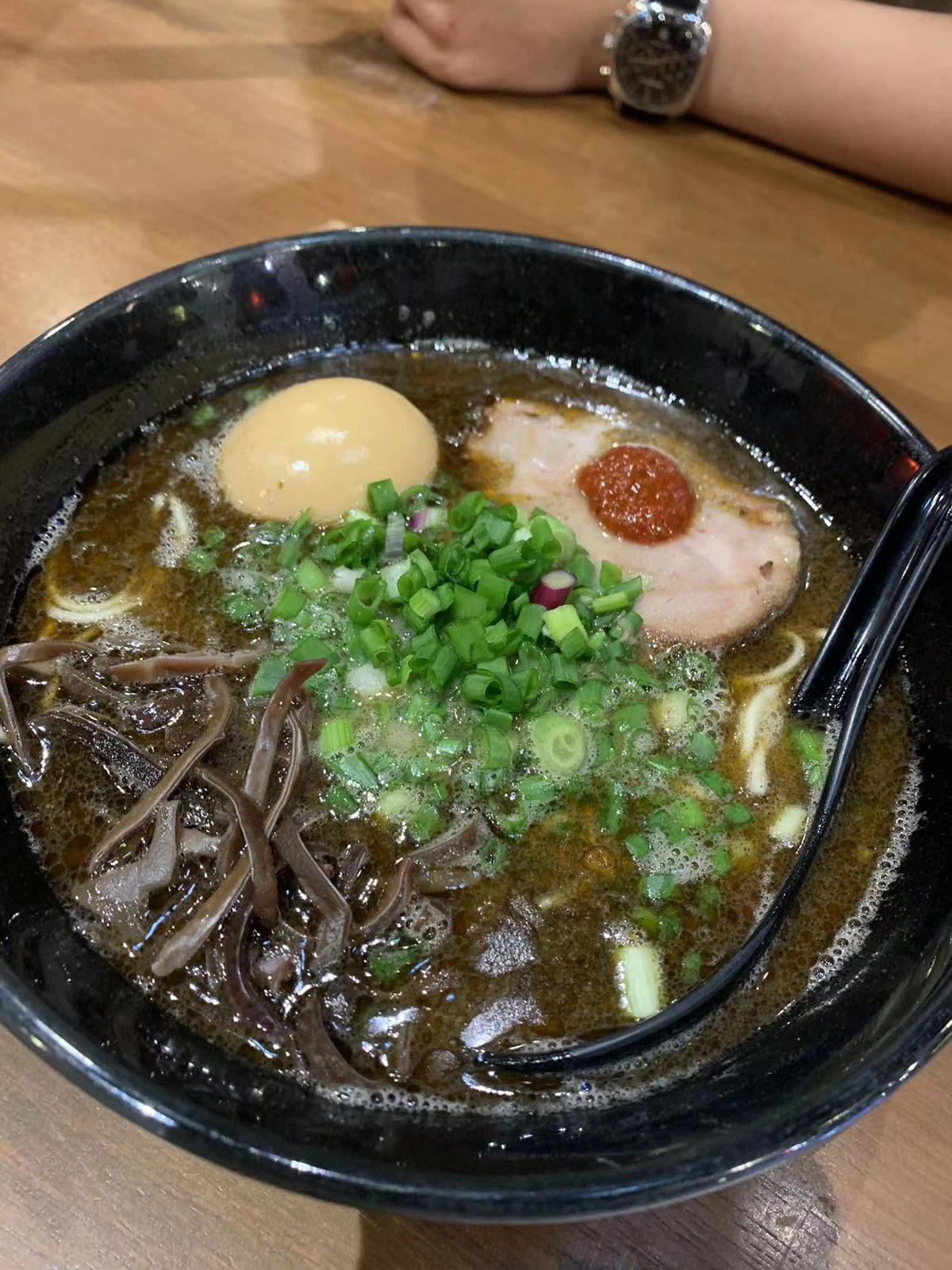 I've tasted the black garlic soup by itself prior to this and I found it to be a less saltier version of Nissin's Kyushu Black instant noodles.
When combined with pepper however, the black garlic soup is further accentuated with the added spice and nuttiness.
A word of warning: If you're one who has a low spice tolerance, I'd strongly suggest that you sip the broth real slow as it can be too peppery to handle. Thankfully, the spice gradually cools down after a few sips.
Despite me choking over the soup due to the pepper, it was nonetheless a great broth thanks to its solid flavours and fans of all things peppery must definitely give it a try.
The final verdict
The bill came to be RM60++, so Ramen Bar Shishido is definitely on the pricier side of the ramen spectrum.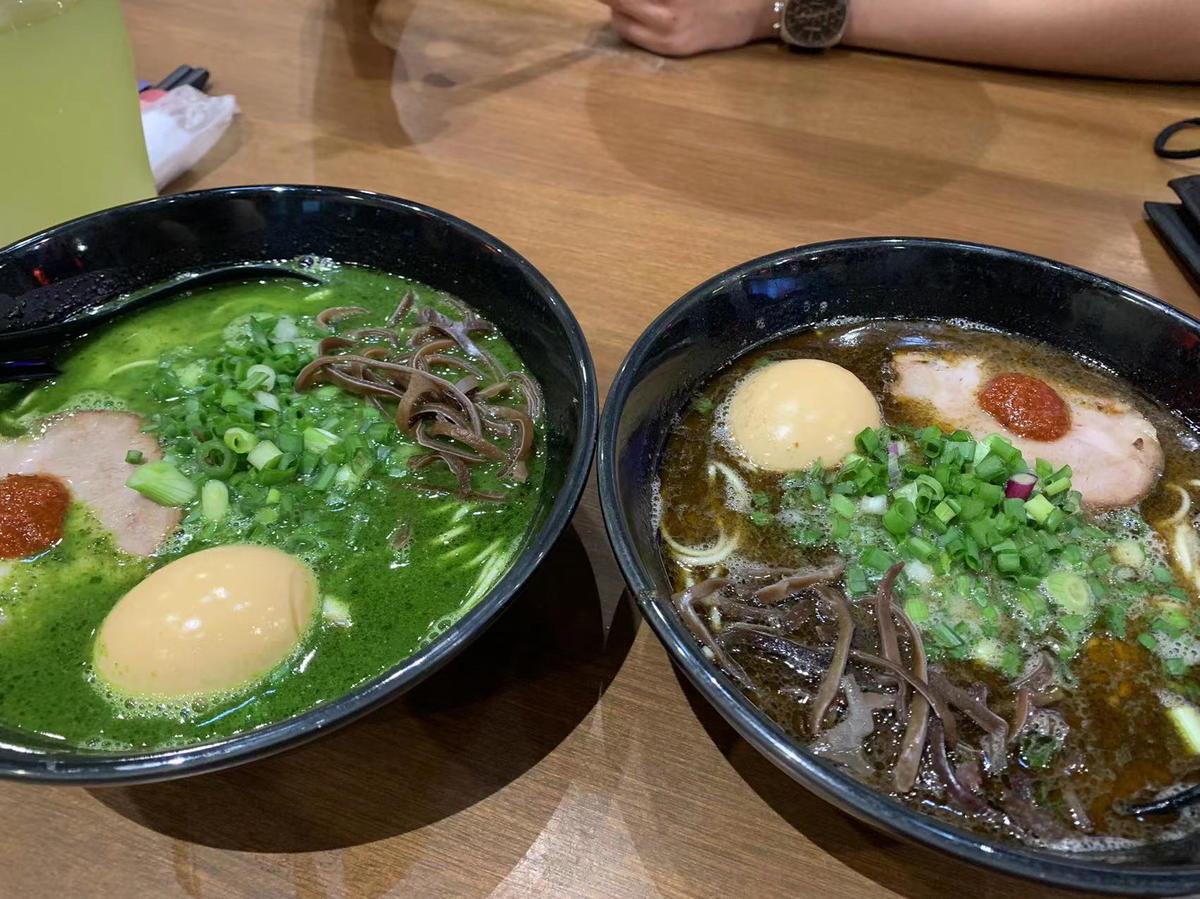 However, in comparison to Ippudo, it is way cheaper and you are getting more interesting options here too.
Although the place was rather packed, the service was still quite prompt and the online ordering system wasn't too difficult to use either.
Parking wise, it's quite difficult to find one but if you don't mind walking a few minutes, you can always park across the street at Jaya One and walk over to Gasket Alley.
In conclusion, Ramen Bar Shishido is a highly recommended place for ramen lovers thanks to its unusual but bold flavours, which will certainly leave you wanting more!
Visit Ramen Bar Shishido at:
The Gasket Alley, 15-5 @, Jalan 13/6, Seksyen 13, 46200 Petaling Jaya, Selangor. (This is a non-halal eatery)
Disclaimer: This is an independent review by WeirdKaya.
Read more: