PAS president Abdul Hadi Awang took to his social media account to reassure his supporters after UMNO issued a statement in support of a unity government not led by Perikatan Nasional (PN).
"Keep calm. We are working on it. We are leading. They (our rivals) are planning. Allah is also planning. We are on the right side."
"God willing, we will prevail. The country will prevail," wrote Hadi.
Kekal tenang. Kita sedang usahakan. Kita masih di hadapan.

Mereka merancang. Allah merancang. Kita di pihak yang benar. Insya-Allah kita terpelihara, negara terpelihara.

Abdul Hadi Awang, Putrajaya

— Abdul Hadi Awang (@abdulhadiawang) November 24, 2022
However, the post wasn't well received by many, with many netizens asking the PAS president to stop thinking about becoming the federal government.
"Please keep Hadi Awang away from becoming the leader of the country."

"Is there any other party that is in the wrong?."

An eagle-eyed netizen also noticed that he wrote 'Putrajaya' after his name.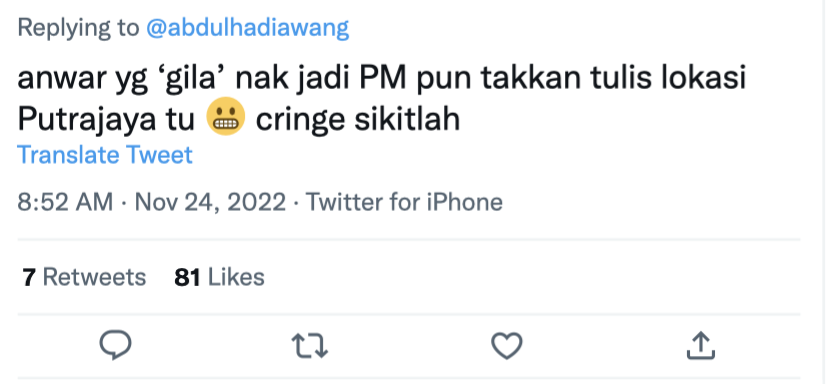 This is two days after PN president Muhyiddin Yassin claims he has the SDs of 115 MPs to support him as the 10th Prime Minister of Malaysia. It is also understood that PN is not agreeable to having a "unity government" previously.
---
It's unrelated to the article but here's our brand-new podcast – Talk Je Lah!
---