KUALA LUMPUR – Clad in a purple baju kurung and matching hijab, Segambut MP Hannah Yeoh was unrecognisable as she attended the Open Day at Al-Imam Al-Ghazali Mosque in Bandar Menjalara.
Yeoh shared a short clip of her visitation on Twitter.
Attended the Open Day at Al-Imam Al-Ghazali Mosque in Bandar Menjalara #Segambut. Glad to see people of different races visiting the mosque today. This uncle doesn't recognize me because I'm wearing a scarf.
Menghadiri Hari Terbuka di Masjid Al-Imam Al-Ghazali Bandar Menjalara #Segambut. Gembira melihat penduduk pelbagai kaum melawat masjid hari ini. Video – uncle ini tak cam saya kerana saya berselendang 😅 pic.twitter.com/hzzA2sxQ3e

— Hannah Yeoh (@hannahyeoh) November 28, 2021
The 43-second video showed Yeoh conversing with an uncle who was totally oblivious to her presence even as he brought her name up.
When Yeoh revealed herself to him, he was beside himself with shock and could only reply "Huh?! You're the YB?!" in response.
'She does look like a Malay girl!'
Yeoh's outfit got the attention of netizens who praised her for celebrating religious diversity and taking the initiative to interact with the residents.
Some even said that she did a good job in "disguising" herself as a pretty Malay girl!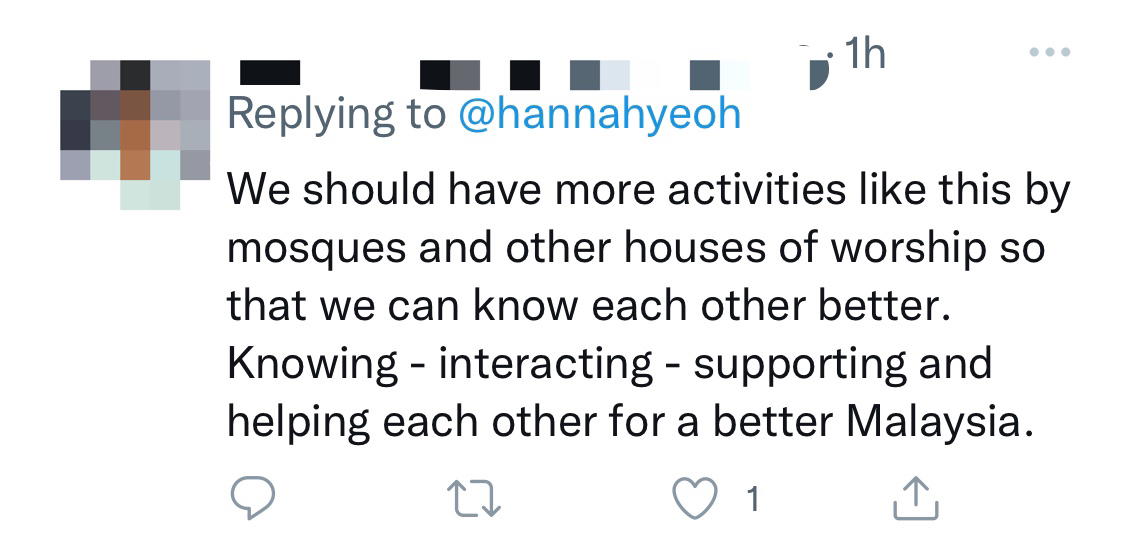 Cover image via Hannah Yeoh
Editor: Grace Choong