The long-awaited South Korean girl group BLACKPINK is finally coming to Malaysia for their Born Pink world tour.
The ticket prices are as follows:
CAT 6: RM388
CAT 5: RM488
CAT 4: RM588
CAT 3: RM788
CAT 2: RM988
CAT 1: RM1,588
BORN PINK VIP SOUNDCHECK: RM1,888
For those who purchased the 'Born Pink VIP Soundcheck' ticket, they will be able to get early access to the venue and also a commemorative laminate and lanyard.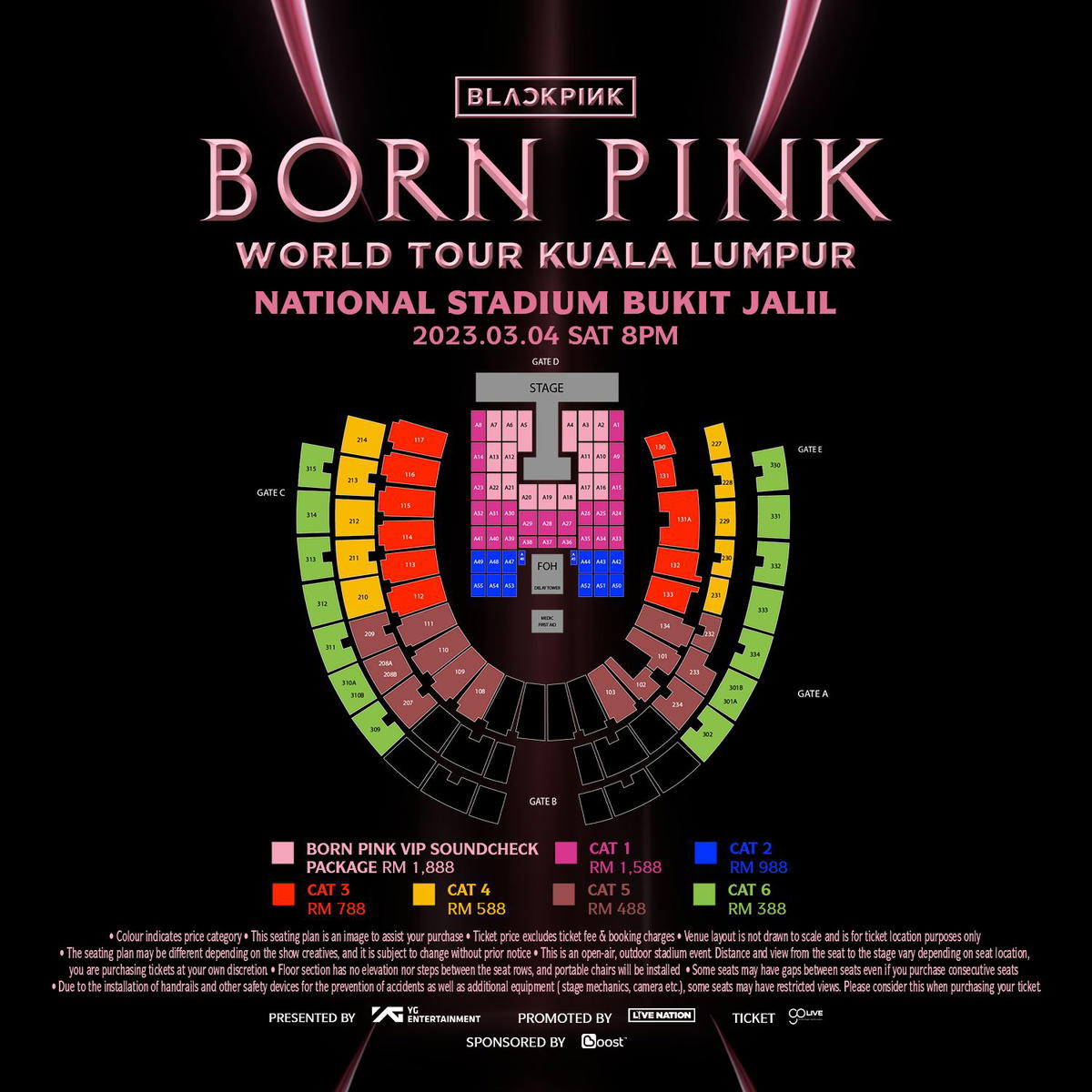 According to Live Nation, the organising partner of the BLACKPINK concert, the ticket is on sale starting 15 November for WEVERSE Fanclub and 16 November for Live Nation members.
Members of the public can purchase their tickets starting 17 November.
'Why so expensive?!'
However, the ticket pricing has since caused an uproar online as it was 3-4 times higher than the previous concert back in 2019.
According to a photo circulating online, the highest price for BLACKPINK's Malaysia Tour was only RM693.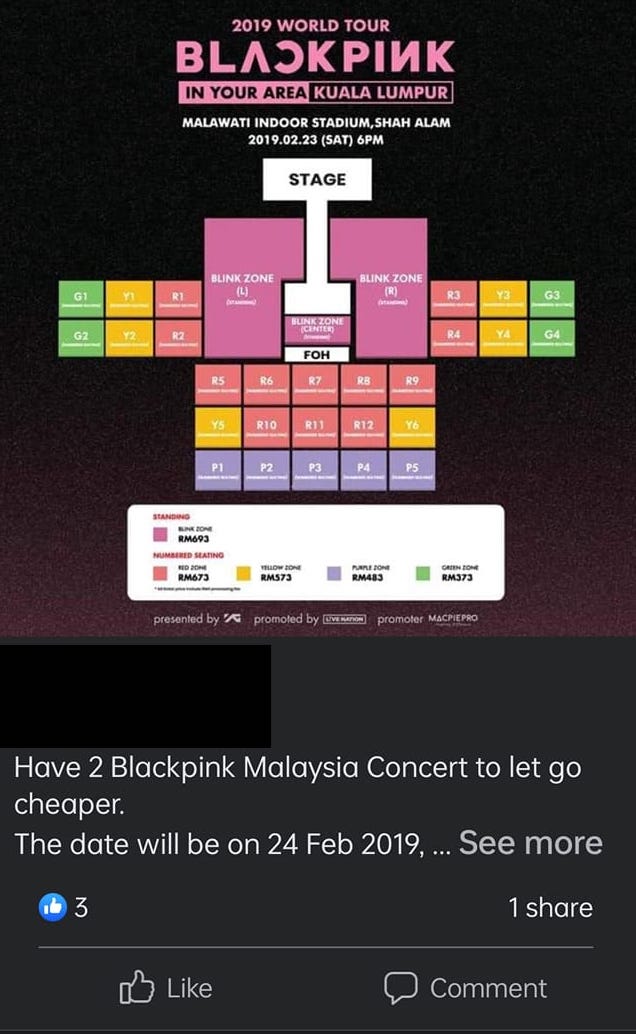 On Twitter, many netizens also shared that the ticket prices were ridiculously high.
One also questioned why Malaysia went from the cheapest BLACKPINK concert to the most expensive in Asia, humorously ending it with "What in the Najib" to express his/her frustration.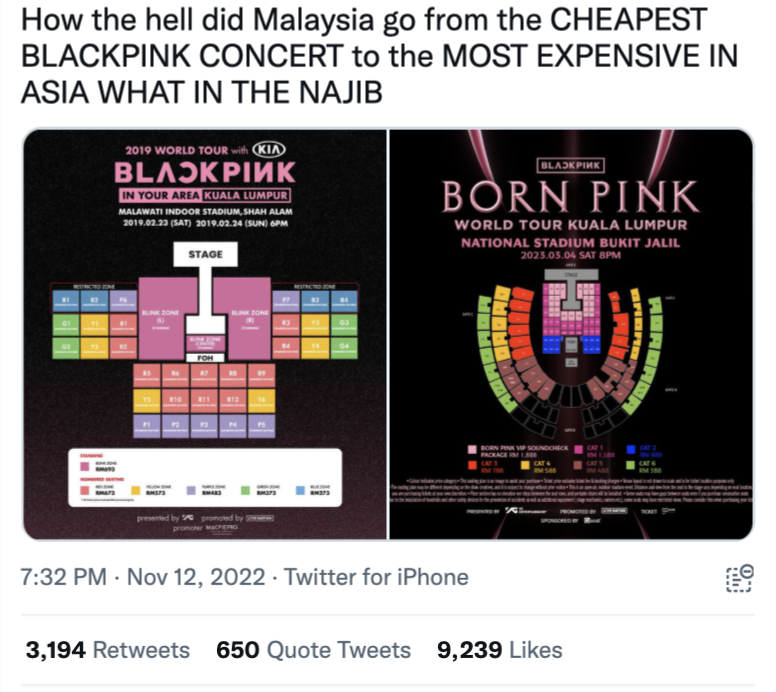 Another wrote: "Gonna sell (my) kidney."

"Ridiculous AF!", lamented another netizen along with a crying emoji.

On Facebook, a netizen wrote that she doesn't want to see the concert live and will watch it on YouTube instead.

On XiaoHongShu, some also questioned if the price was real as it was out of their expectations.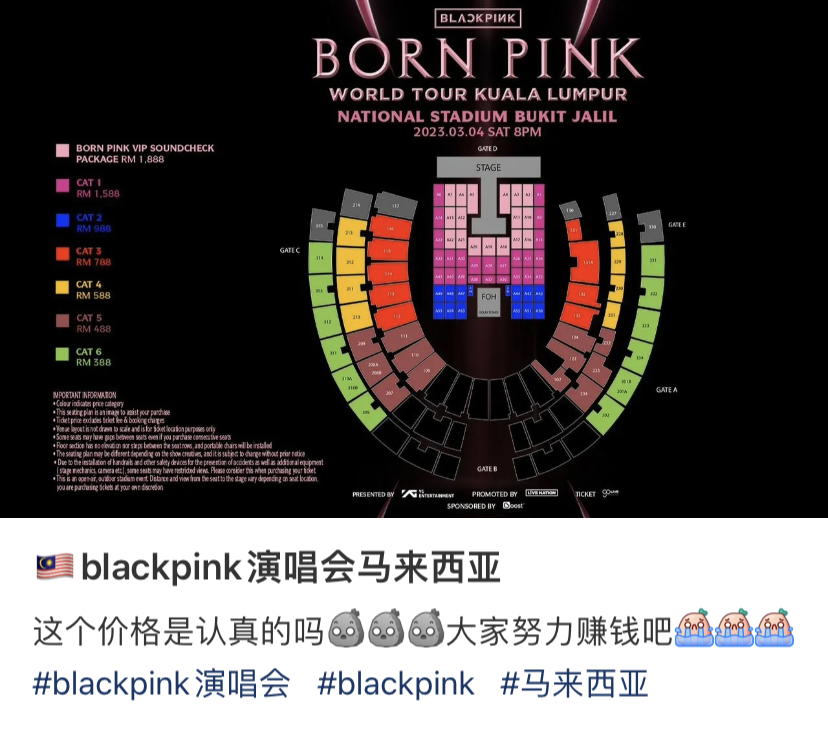 "I was planning to go until I saw the price. Oh my God."

What do you think? Comment below and let us know!
---
It's unrelated to the article but here's our brand-new podcast – Talk Je Lah!
---