Apple has once again recognized another Malaysian on their official Instagram page.
The 20-year-old Malaysian, Muhammad Nuaim is a student from Pahang. His photos were featured on Apple's Instagram page and have garnered over 420,000 likes at the time of writing.
The feature photos were taken with Apple devices. Cools!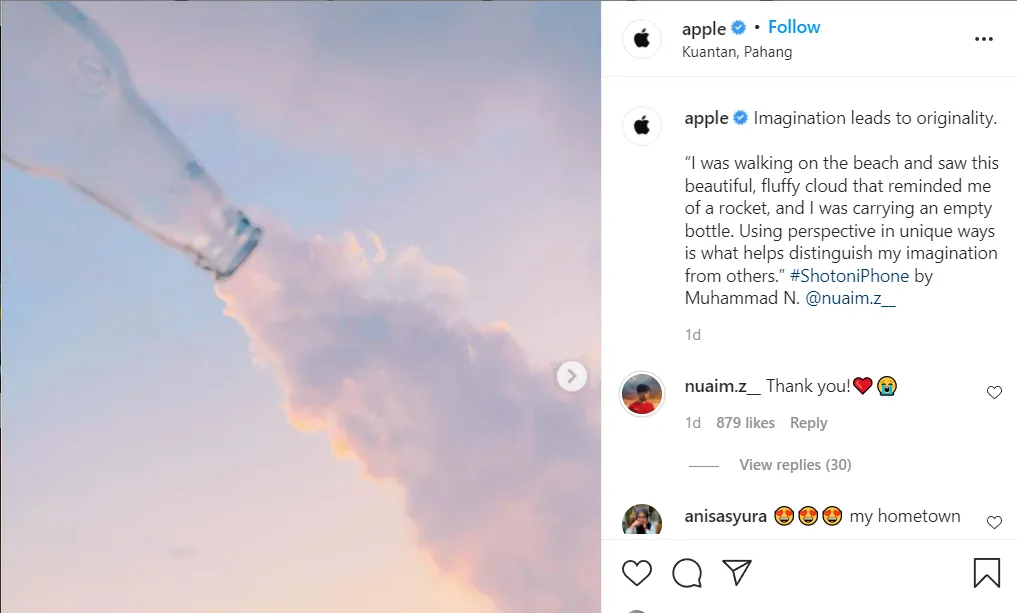 Here are the pictures being featured:
Titled "Imagination leads to originality", Muhammad Nuaim shared that his inspiration for the shot came from him "walking on the beach".
The caption wrote:
I was walking on the beach and saw this beautiful, fluffy cloud that reminded me of a rocket, and I was carrying an empty bottle.

Using perspective in unique ways is what helps distinguish my imagination from others."
Shot on iPhone 11 Pro
Speaking to WeirdKaya, Nuaim shared that he is still a student. However, he is selling cookies part-time on Shopee with friends.
The featured photos were shot using an iPhone 11 Pro.
When asked about his inspiration, he told us that it all came from his imagination, adding that social media platforms like Instagram and Twitter help too.
What's more surprising is that he took all photos using his only phone.
We did some research on his profile and it's just way too amazing.
1.
Pet
aling Street
Can you believe this was taken on an iPhone?
2. Bukit Bintang
3. Menara Kuantan
4. Kuala Lumpur City
5. His hometown, Kuantan
6. Genting Highland
What an amazing work, Nuaim! If you like his photography style, feel free to head over to @nuaim.z__ , his Instagram!
Once again, congratulation to Nuaim for getting featured on Apple's Instagram page! Keep it up!

Read Also:
---
---
Cover Images via Instagram/@nuaim.z__
Author: Rydah Tan
Proofreader: Anna Wong