Through scorching heats, bad breakups and even joyous occasions, ice cream has always been our comfort food. It doesn't matter how old we are, this dessert will always have a place in our hearts.
Over the past years, this classic dessert has been reinvented, with many new and bizarre flavours introduced.
Lucky for us, Häagen-Dazs has just released a new Twist & Crunch series, including:
Belgian Chocolate & Vanilla
Belgian Chocolate & Strawberry
Dark Chocolate & Green Tea
Belgian Chocolate & Strawberry Stickbar
The Twist & Crunch series combines two delicate ice creams twisted together with velvety sauce and crunchy chocolate pieces that vow to provide you with a multi-sensorial experience like no other.
Honestly? Häagen-Dazs has done a much better job at matchmaking than social dating apps.
1. Belgian Chocolate & Vanilla
Truth be told, many of us would not prefer vanilla ice cream, thinking it's too plain and it's boring. However, we can all agree that when vanilla is paired with the right partner, it's a whole new experience.
Having tasted it, the Belgian chocolate and vanilla flavour have an incredibly balanced taste and smooth caress of the tongue.
The vanilla truly enhances the flavour of chocolate by adding creaminess and balancing the sweetness.
Topped with crunchy chocolate pieces, the ice cream gives an overall perfect silky texture.
We can't help but go for another bite.
Our recommendation: ★★★★☆
2. Belgian Chocolate & Strawberry
Another classic Neapolitan mix-strawberry and chocolate.
Häagen-Dazs's strawberry ice cream has been the talk of the town among strawberry lovers. Many food blogs have crowned Häagen-Dazs's Strawberry ice cream as the best.
Our doubts were easily proven with this new twist & crunch ice cream. This charming pair of Belgian Chocolate with Strawberry ice cream is enhanced with generous crunchy chocolate.

The ultra-milky strawberry ice cream and rich aroma of Belgian chocolate ice cream give an exciting taste to it. It is the most thrilling ice cream we ever had.
Our recommendation: ★★★★☆
3. Dark Chocolate & Green Tea
To all the green tea lovers out there, this is the one.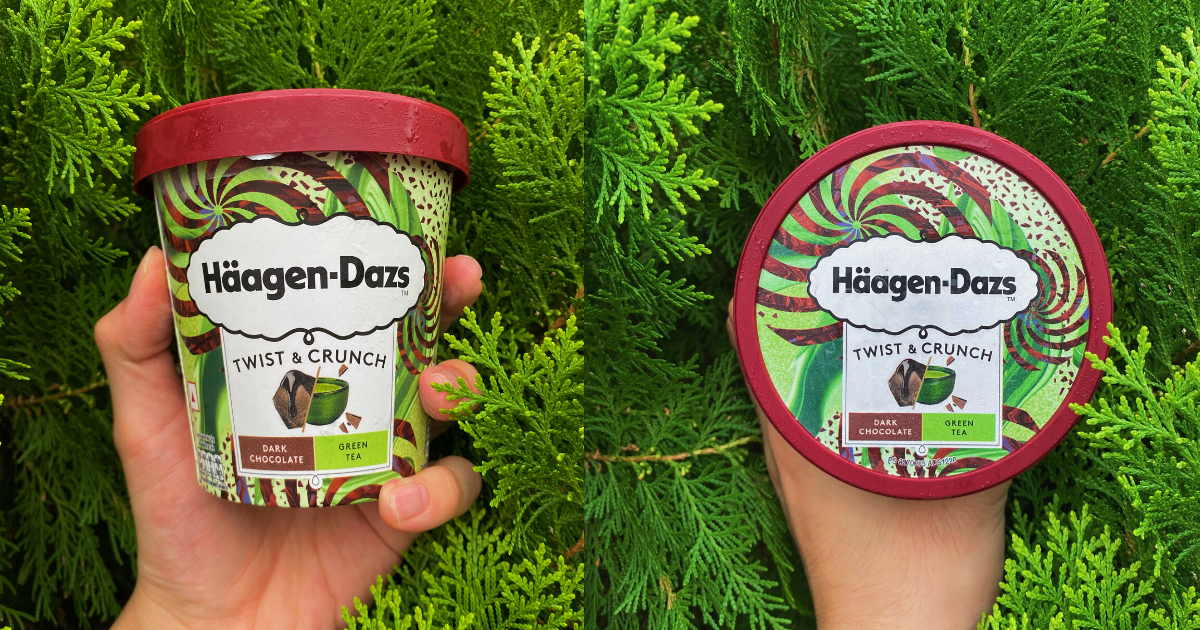 Häagen-Dazs's Dark Chocolate and Green Tea brings one of the best contradictions. Creamy dark chocolate with fragrant green tea, this is a sophisticated pairing of bitter and sweet.
Rather than being overpowering, the fragrant green tea carries a simple sweetness to it.
The chocolate base accentuates the definite green tea flavour and hits the right spot for green tea lovers like us.

This unique blend of aromas was refreshing to our palates.

This indulgent combination of two of Häagen-Dazs's best ice creams left us euphoric and hungry for more.
Our recommendation: ★★★★★
4. Belgian Chocolate & Strawberry Stickbar.
In a rush but craving for ice cream? Fret not! Häagen-Dazs's Chocolate & Strawberry ice cream is available as a stick bar.
With an extra chocolate coating, every bite is a bite of indulgence that provides you with an elevated experience.
All in all, Häagen-Dazs's ice creams are every bit worth the money paying for.
Our recommendation: ★★★★★
Don't hold back! Indulge yourself with the Häagen-Dazs Twist & Crunch series now!
If you are looking for some icy treat to award yourself, you should give this a try, just like the saying 'an ice cream a day keeps all the tension away!' Head over to the nearest Jaya Grocer or buy it on their website now!
Read also: 23yo M'sian Wakes Up At 3 Am Everyday Striving To Serve The Best Wan Tan Mee In PJ
---
It's unrelated to the article but here's our brand-new podcast – Talk Je Lah!
---
Editor: Grace Choong