If you have a sweet tooth like me, you'd know that SS2 is full of dessert spots offering sweet treats. Instead of the typical options such as ice cream and bubble tea, I decided to switch things up by looking for the best waffles in the area.
While I've tried several dessert parlours that offer waffles such as Inside Scoop and Shugatori, they unfortunately didn't have have the wow factor for me to deem it as my go-to waffle spot.
Having heard about the largely positive reviews about Fluffed Cafe & Dessert Bar's waffles, I decided to give it a try and hoped that I had finally found the perfect waffle spot.
A solid 10/10
In my opinion, Fluffed was really a hidden gem as I've never stumbled upon it even though I often roam around SS2 with my friends in our search for dessert.
Upon arriving at the front door, I could smell the sweet scent of freshly-made waffles waft in the air and immediately sensed that Fluffed was the real deal.
My intuition later proved to be accurate after tasting a few of Fluffed's signature waffles, which I found to be extremely delicious and worth the price, which you'll read more about it below.
Who wants some waffles?
First up, let's talk about the main star of the show – that is, the waffles.
Being one of Fluffed's most highly rated waffles, I knew I had to give Peter Pan a try. It features a pandan-based crunchy waffle topped with coconut ice cream, pandan kaya, butter crumble, charred bananas and shredded coconut flakes. Not only was this coconutty delight visually pleasing, but it brought a rush of thrills to my tastebuds too.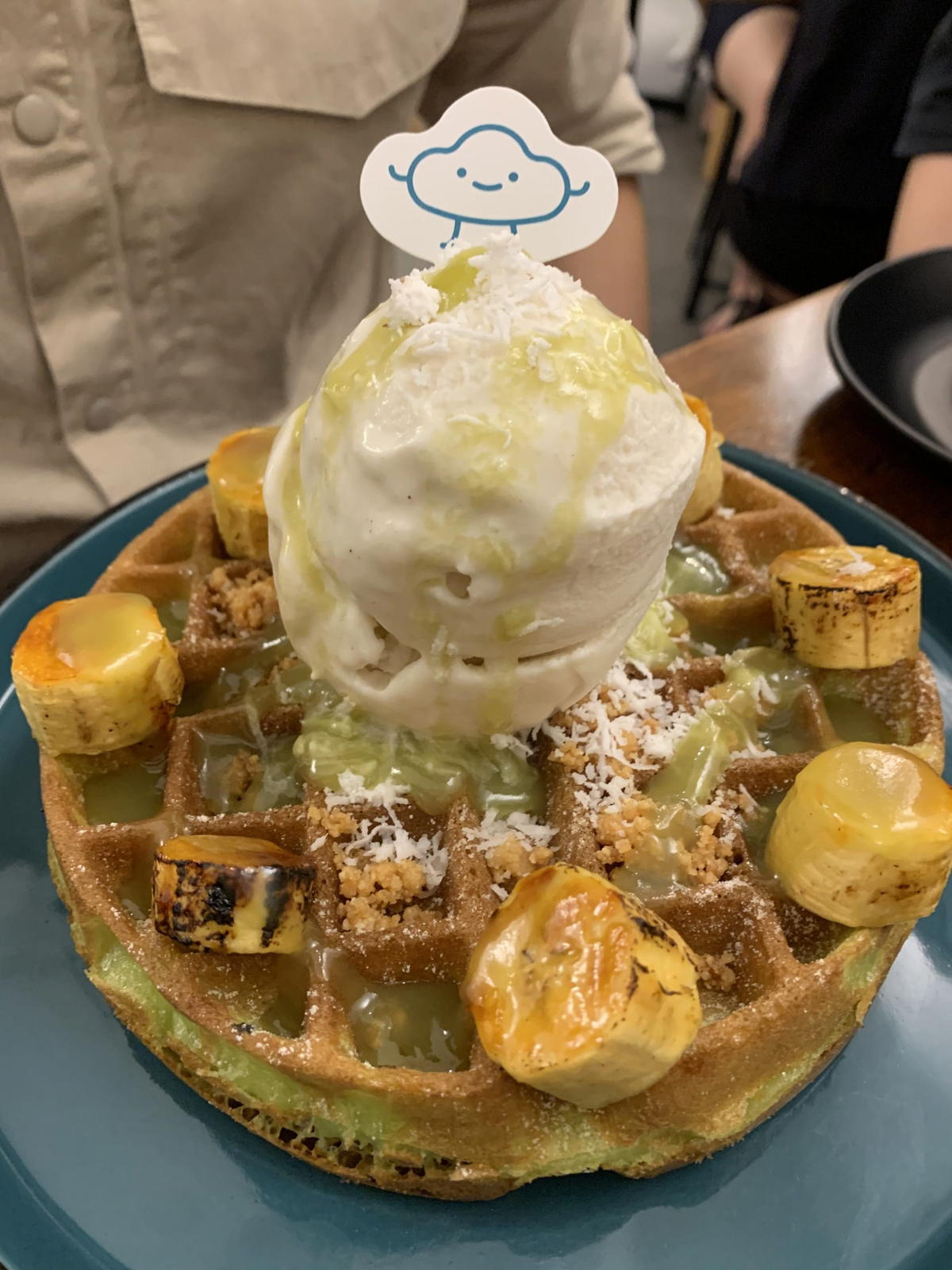 For an ingredient that isn't used often for waffles, the pandan kaya really blended in well with the waffle and ice cream. I also found the coconut ice cream to be a clever touch as it further accentuated the waffle's tropical flavour.
The butter crumble was also something I've never tasted before in my life – a mix of caramel goodness with a hint of saltiness to balance the kaya's sweetness.
My only complaint was that the bananas were cut too thickly and the waffle's pandan base didn't really manage to shine with so much going on.
Despite these shortcomings, Peter Pan is definitely going to be my personal favourite and I'll be sure to order it during my next visit!
---

---
Next on the list was Pooh Bear's Favourite, another of Fluffed's signature waffles.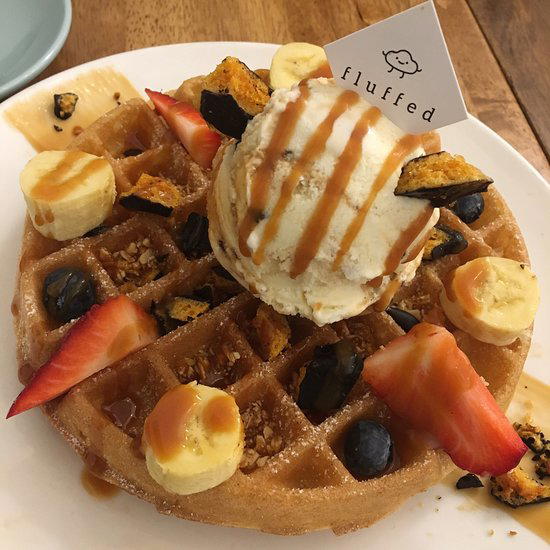 For me, what stood out the most was the Hokeypokey ice cream, where it had a distinct caramel taste and was peppered with chocolate bits before rounding off with a generous amount of salted caramel sauce. Aside from the ice cream, the crushed honeycomb bits were also my favorite part of the dessert.
While this might sound like sugar overload to some, the fresh fruits that came with the waffle helped offset some of the sweetness with its sour overtones.
You'd think that after two waffles, I'd be struggling to fit one more into my stomach but noooooooooo. Apparently, I still had room for one final waffle, which was aptly named Queen of Hearts to round everything up nicely.
The waffle was a combination of rose ice cream drizzled with raspberry sauce, crème brûlée cheesecake cubes, butter crumble and fresh strawberries.
When it arrived at my table, I was shocked to see huge cubes of cheesecake sitting on top of the waffle. Even though the menu had stated there'd be cheesecake on it, I didn't expect it to be this big!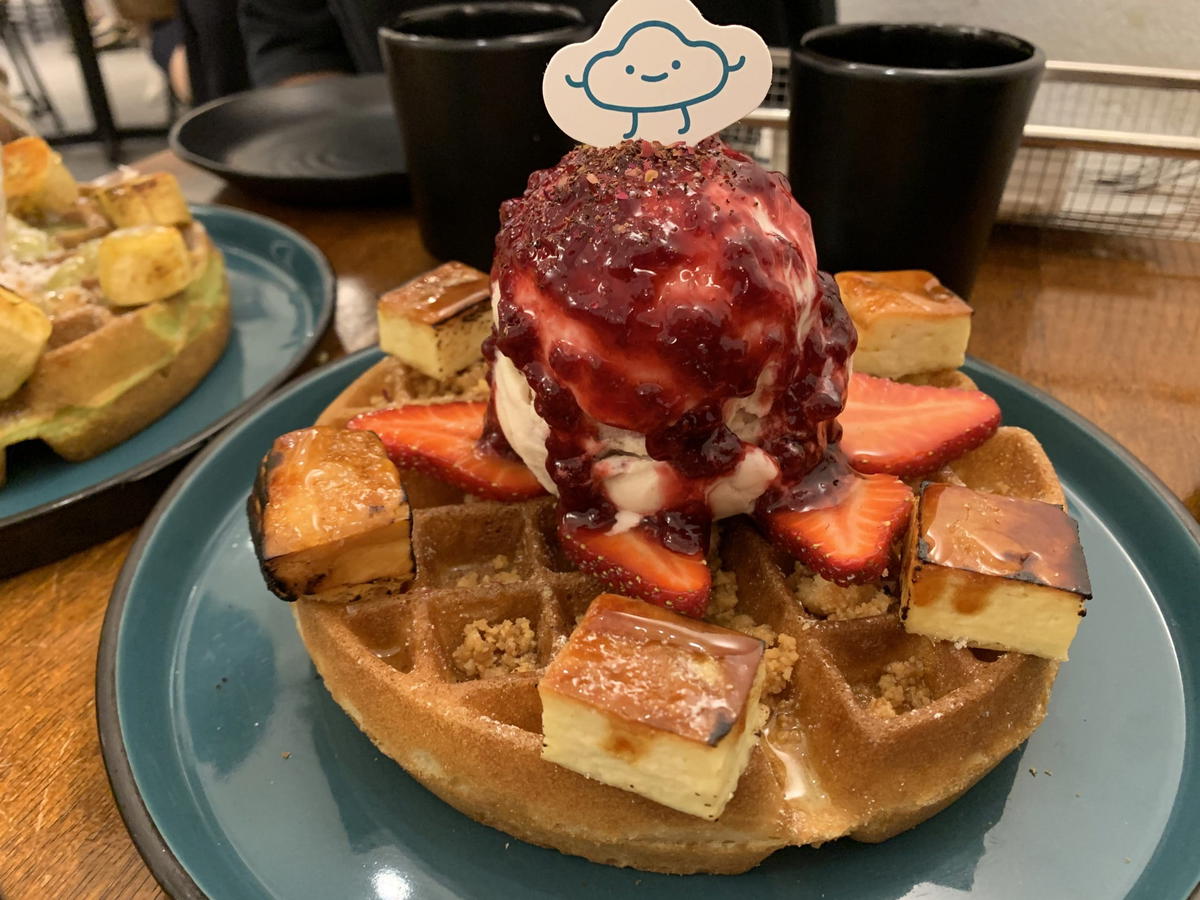 Like the previous waffle, the Queen of Heart proved too aesthetic to be cut into small pieces as it was just so…beautiful. Spoiler alert: I ate it nonetheless.
Disappointedly, I could hardly taste anything from the rose ice cream as the raspberry sauce completely drowned it out. The cheesecake, however, exceeded my expectations as I never thought it would pair so well with the waffle.
Take a look at Fluffed's menu here: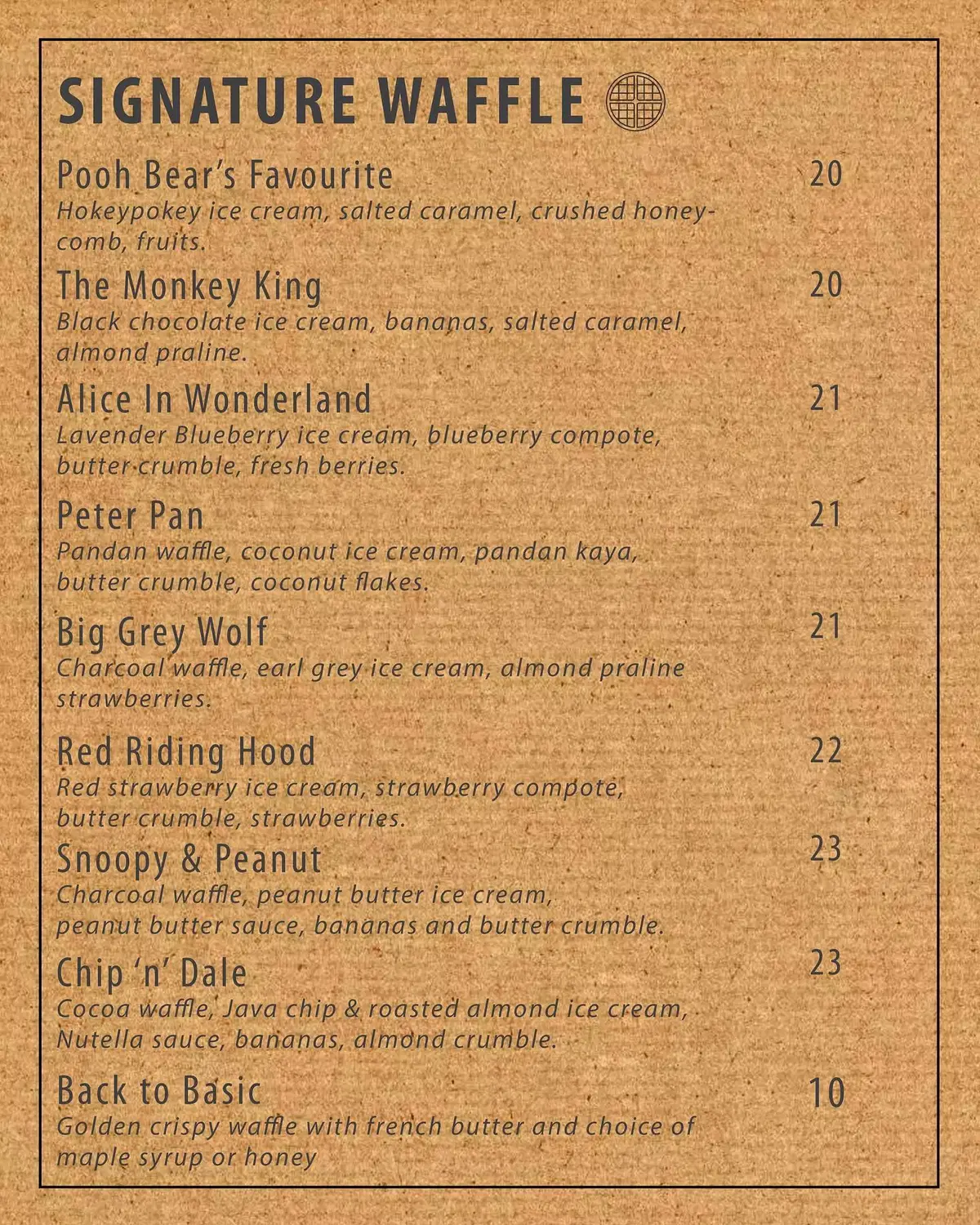 Cakes less than impressive
As for the cakes, the only one I got to try was the Rose Lychee Cloudcake, which I found to be lackluster taste-wise. Oh well, guess it was due to high expectations I had for their waffles.
However, I found the cake to be really soft and when combined with the rose custard cream, made it for a very delightful texture.
Aside from these sweet delights, Fluffed also serves a fantastic Matcha Latte, which was previously featured in another article. If you're a matcha fan, do give it a try!
Read about it here:
Worth the wait and long lines
Long lines are a common sight at Fluffed so unless you're rushing for time, be prepared to wait at least 20 minutes to enter the café. Nonetheless, I personally find it an excellent place to hang out with your friends and family as there's definitely something for everyone to enjoy.
As for the prices, it's slightly on the expensive side as I paid RM70 for three waffles. But all in all, I'd say that it's justifiable given its portion and quality.
Carpooling is also strongly encouraged as the Taman Paramount area is highly congested, making it tough to find parking especially at night. So be sure to grab a few friends and get your waffle craving fixed at Fluffed!
Visit Fluffed at this address and follow them on social media:
55, Jalan 20/7, Taman Paramount, 46300 Petaling Jaya, Selangor
Instagram: @fluffedcafe
Facebook: Fluffed Café & Dessert Bar
Cover image via Life of a Working Adult.