If you're a fan of sourdough bread, you've probably heard of Tommy Le Baker, a hipster café which reportedly serves the best version of sourdough bread in town.
Despite the fact that I've heard of the place for quite some time, I'm actually not a huge lover of sourdough bread.
However, my curiosity got the better of me and I finally set aside a day to pay a visit to this café to see whether it truly lived up to its name.
Pleasant environment
When I took a Grab ride to the café, I wasn't dropped off at the main entrance. Rather, I found myself on the other side of the building where Tommy Le Baker was located at.
Luckily, a kind guard later guided me to the café after seeing the look of puzzlement on my face.
Housed by The Zhongshan Building, which is one of the four artsy places in KL, Tommy Le Baker embodies the artistic vibe and spirit just like other spaces in the building, as you can see from the graffiti and street art at the entrance and the wall directly opposite it.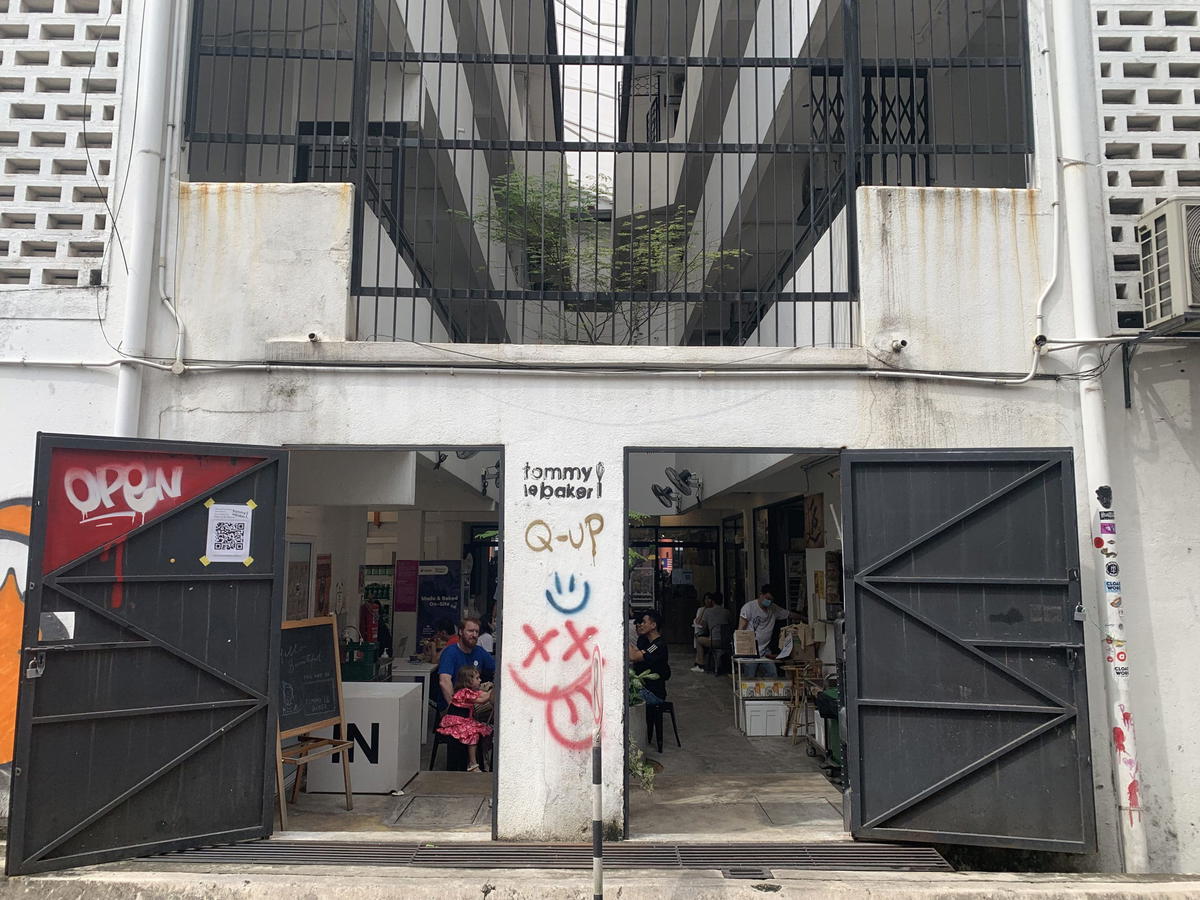 There was a small alfresco area where the morning sunlight shone in, emitting warmth to those who walked in. Racks brimming with cooking ingredients such as sauces and whipped cream also gave the café a rather homely vibe.
Due to the fact that I dropped by Tommy Le Baker on a Saturday, the place was slightly crowded and I even unintentionally heard bits and pieces of conversations from nearby customers as the tables weren't too far from each other.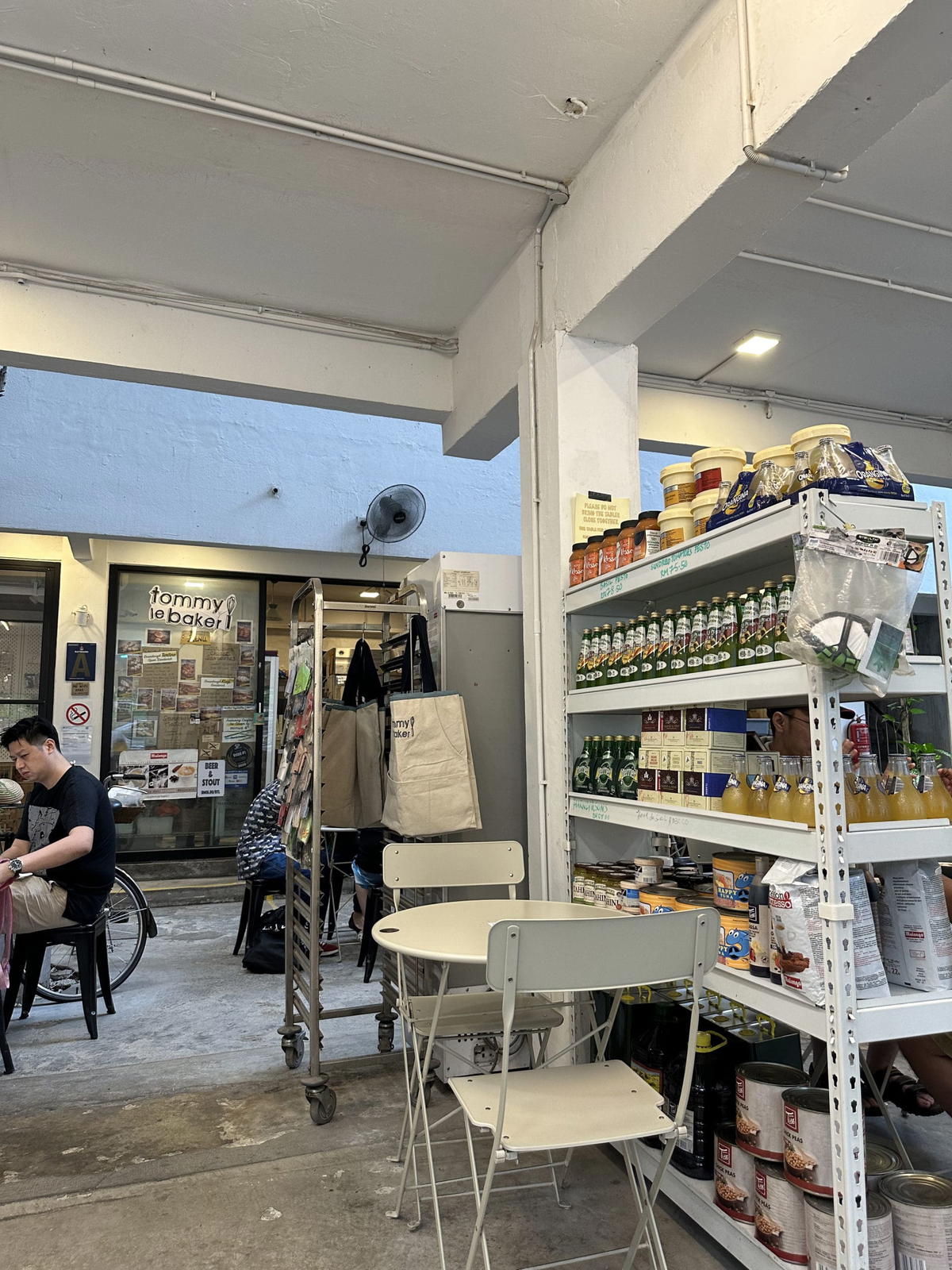 Great service
Right off the bat, I was made to feel at home thanks to a waiter who greeted me warmly even though I dashed swiftly towards the table where my friends were seated.
Although the orders were taken by scanning the QR code, the waiter never stopped providing excellent service throughout the entire time, which a rare sight to see in my personal opinion.
But let's now move on to the part that everyone's clearly interested in — the food.
Smoked salmon tartine (RM16.80)
First up was the smoked salmon tartine, which was, of course, made with Tommy Le Baker's signature sourdough bread. To my surprise, the bread wasn't tough or chewy as I had expected and I found myself savoring every bite.
The smoked salmon, which is said to be imported all the way from Norway, was so fresh that I could still taste its rawness despite it being smoked. If you're one who has a low tolerance for "fishy" aftertaste, it's best that you don't order this as your meal.
As for the tartine, it was was garnished with capers, fresh tomatoes and most importantly, balsamic vinegrette sauce which accentuated the dish's flavours and also gave a refreshing twist to it.
Tuna baguette sandwich (RM16.80)
When this was brought to the table, I was immediately reminded of Bánh mì, the famous Vietnamese baguette sandwich.
That being said, the tuna baguette sandwich's crust was crispier and slightly harder than the Bánh mì but went well with the soft tuna.
Although the tuna was generously topped with melted cheese, both ingredients managed to balance each other well and I didn't find it too greasy for my liking.
Salmon egg & cheese (RM18)
While the bread looked like one of a hamburger's but didn't taste like one, I didn't find it too hard to chew on, which is one aspect most are concerned about when it comes to sourdough bread.
Unlike the tartine which had the balsamic sauce balancing out the taste of smoked salmon, the scent of salmon was way more overpowering in this dish. Thankfully, the scrambled eggs was there to bring it down slightly and made it for a very delightful dish.
Final verdict
For just the food alone, I paid RM54.70 in total, which was inclusive of tax and service charge.
All in all, my dining experience at Tommy Le Baker was a fairly delightful one, mostly thanks to the food and its reasonable prices.
On top of that, the café also had a cosy environment and exemplary service which further cemented my positive impression of it.
Thus, I would rate Tommy Le Baker 4 out of 5 stars based on the pros and cons below:
Pros:
Great food at reasonable prices
Wonderful environment
Excellent service
Cons:
Tables were slightly too close to each other
Can be rather noisy during peak hours
Drop by Tommy Le Baker at:
Address: No 82, Zhongshan Building, Jalan Rotan, Kampung Attap, 50460 Kuala Lumpur.
Operating Hours: 8am-8pm daily
Disclaimer: This is an independent review by WeirdKaya
Read also:
---
---