Cinema chain operator Tanjung Golden Village Cinemas (TGV) is now the centre of outrage after it restarted 'The Batman' 45 minutes into screening after some 'VIPs' arrived late to the cinema.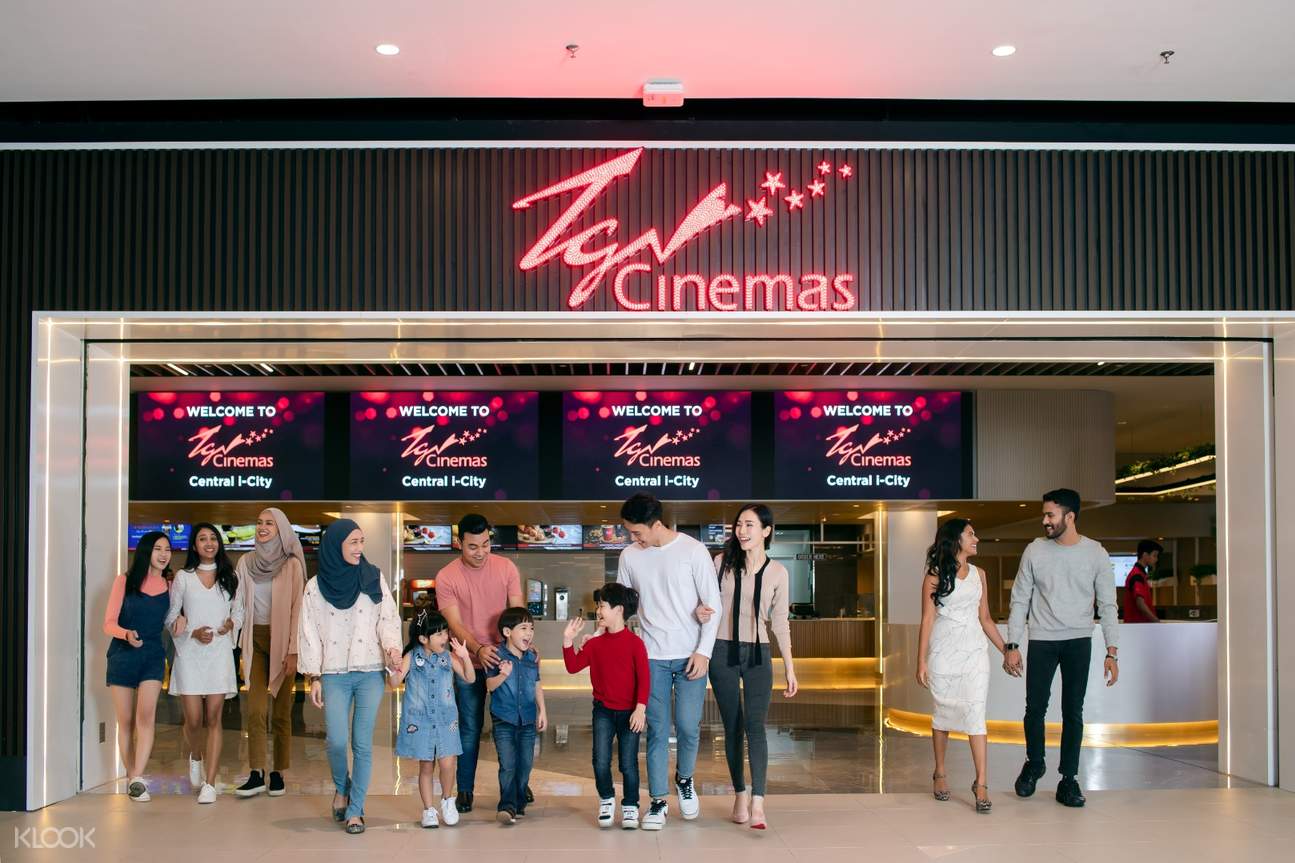 Netizens share frustrations online
In a viral Facebook post, netizen Fazillah Raduan revealed that a staff member came in and told moviegoers that the entire movie would be restarted.
Read also: Delving Into The Minds Behind Kongsi Raya – The Most Anticipated Film This CNY!
When asked about the reason, the staff allegedly said that it was due to certain customers arriving late – a reason that many found hard to swallow.
He also claimed that the manager offered a refund but failed to address the apparent issue of double standards.
"People bought the ticket according to the time which is suited best for them. Those people came in late and that is their problem. Regardless who they are.
Are you trying to tell me that me and the rest of the customers are less important than the latecomers? Come on TGV please revise your SOP.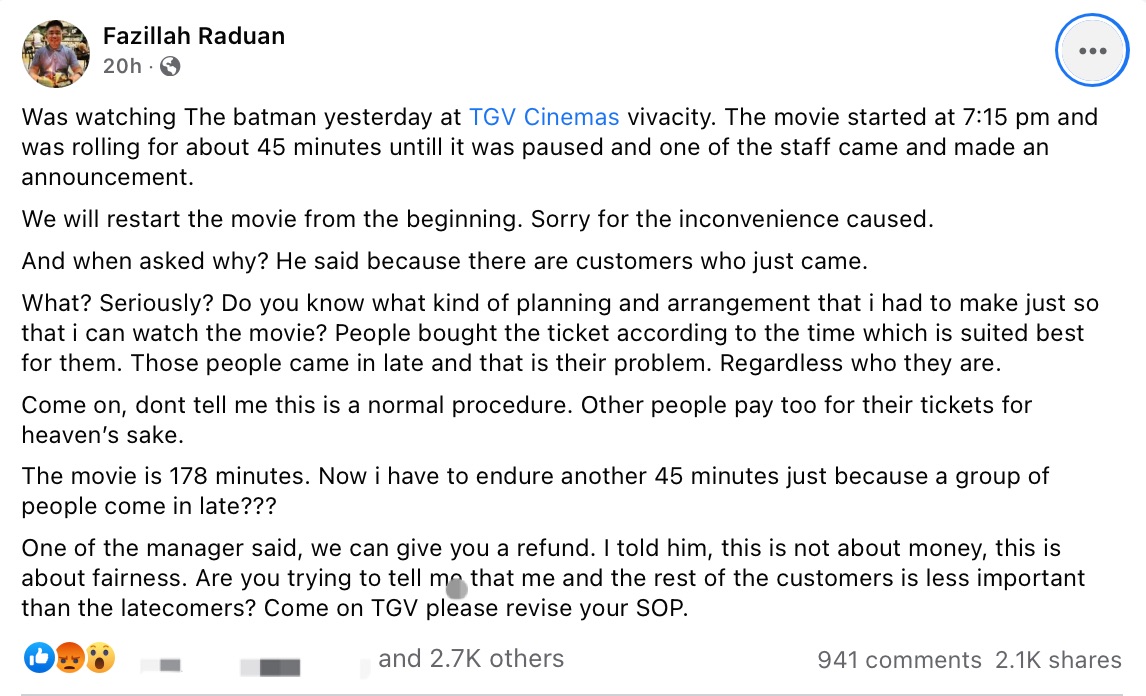 TGV: Investigation ongoing
Following the incident, TGV has since issued an apology to all who were affected by the arrangement and offered a refund and complimentary tickets as well.
"This incident does not adhere with our screening SOPs as all our movie sessions are to run on time as per schedule.
As a token of apology, we will be issuing 2 complimentary tickets and a full refund to all impacted guests. Kindly contact us at [email protected]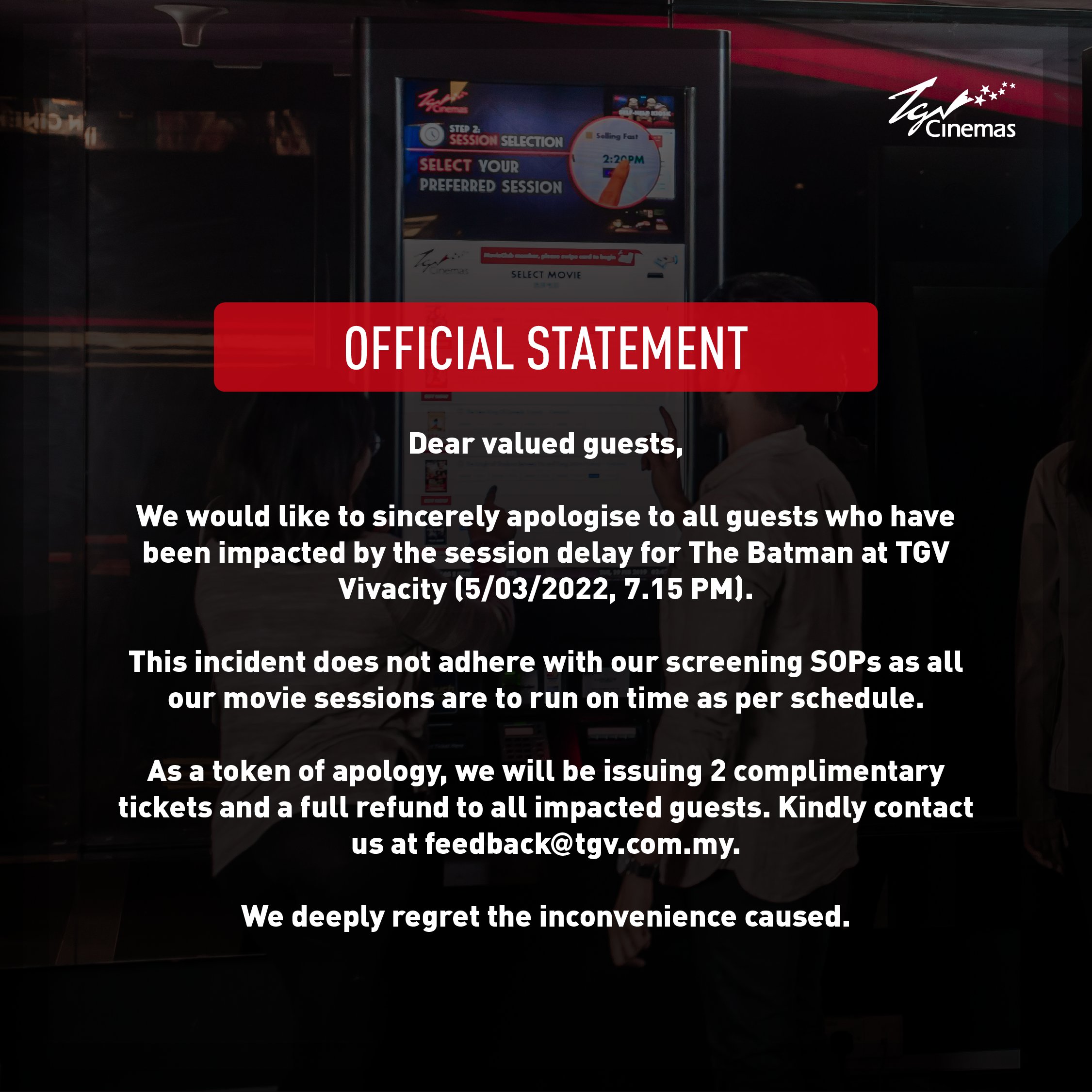 However, TGV remained tight-lipped over the reason for the incident due to ongoing investigations.
---
UPDATES:
TGV has since released another press release to address the said issue. The cinema chain operator claims that the session were delayed due to technical issue at its IMAX hall, adding that the late arrival of VIPs was not the cause. —- 7 March 2022, 1:34PM
---
Netizen: tell us who they are!
However, the official statement only seemed to infuriate netizens more, who demanded that TGV reveal the identities of the alleged 'VIPs'.


They were also unimpressed with TGV's 'peace offerings', with one writing, "Time lost can't be regained".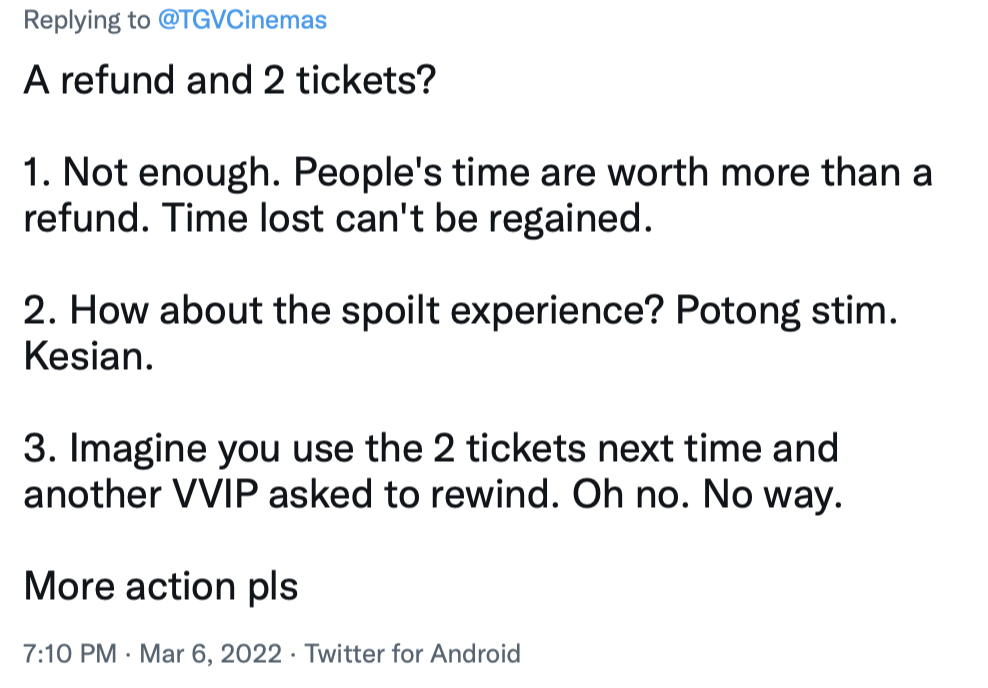 On a separate note, another netizen claimed that he was forced to stare at a blank wall for 45 minutes at TGV Vivacity with no reason given.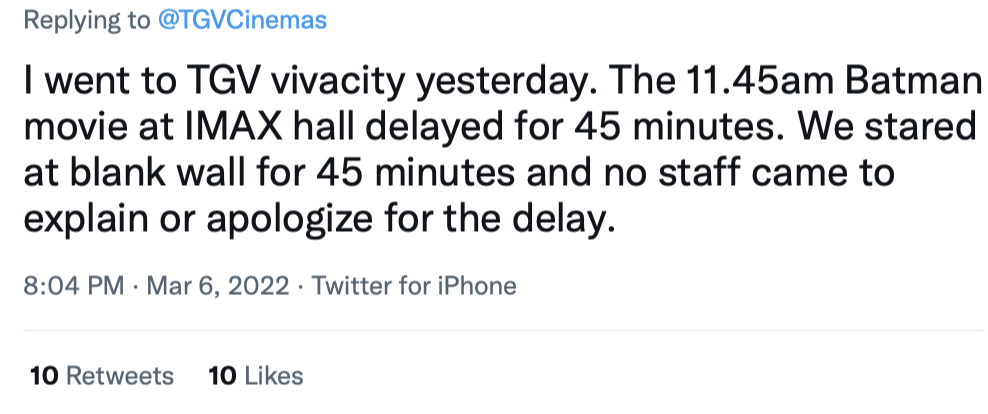 What do you think? Comment below and let us know!
---
It's unrelated to the article but here's our brand-new podcast – Talk Je Lah!
---
Cover images via TGV
Editor: Sarah Yeoh