When the rain is pouring down, and you find yourself stranded on the side of the road with a flat tire, it's only natural to feel a bit helpless. But for one lucky driver, the Royal Malaysia Police (Polis Diraja Malaysia) stepped in to save the day.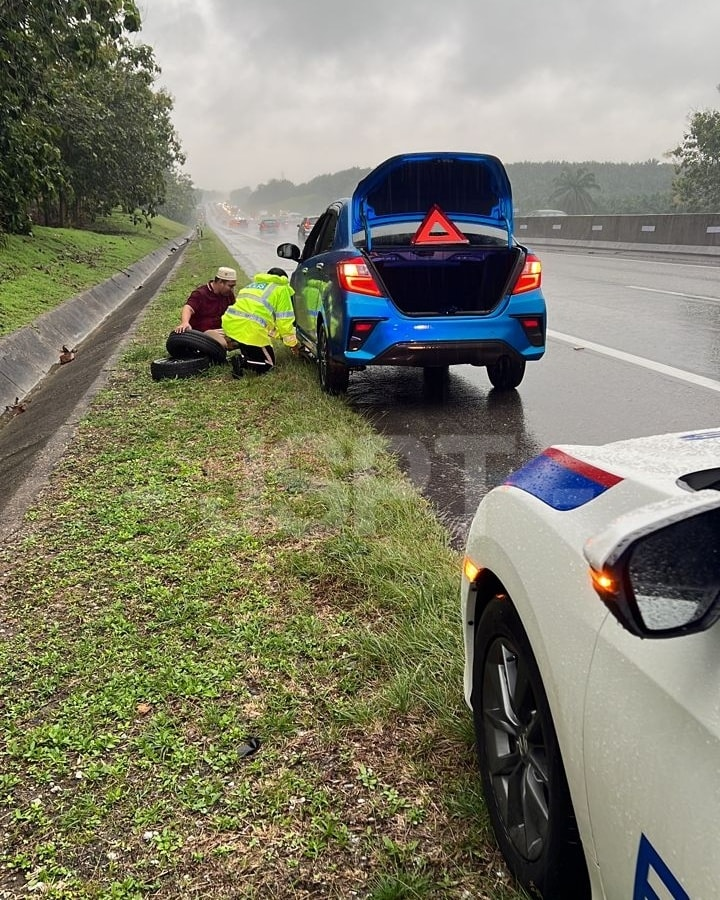 Officers help to change flat tire
During a heavy downpour on March 26, Kpl Firdaus Iskandar Shah bin Faisal and LKpl Addany Omol, two officers from the Senai JB EMPV patrol, came across a car stopped in an emergency lane at KM 23.3 LRUS (S).
The car had a punctured tire, and the driver was in need of assistance.
Without hesitation, the officers took quick action to ensure the driver's safety, preventing any potential accidents from occurring.
The EMPV Senai JB Unit 17 officers provided support by changing the flat tire. The grateful driver mentioned that they were traveling from Segamat to Johor Bahru.
In light of this incident, the Royal Malaysia Police issued a reminder on Facebook for all highway users to exercise caution while driving and prioritize personal safety measures. Accidents can happen anywhere and at any time, so it's crucial to protect oneself and avoid mishaps.
The heartwarming incident, which occurred during their patrol duties on the North-South Expressway, showcases the dedication of Kpl Firdaus and LKpl Addany to serving the public.
In their commitment to the safety of all road users, the Traffic Investigation and Enforcement Department (JSPT) prioritizes not only the smooth flow of traffic on streets and highways but also the well-being of drivers.
Read the full post here:
A big thank you to Kpl Firdaus and LKpl Addany for their service for the people!