PETALING JAYA – Two men causes noisy exhaust in public received a special 'gift slap' from a member of the military who happened to be at the scene.
A common sound heard on Malaysian streets and roads involve the revving of loud engines. While most earn eye rolls for their behaviour, these motorist earned a slap (or two) for it.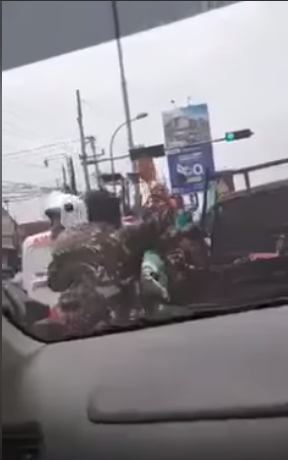 Through a footage that spread on social media two men at a traffic light intersection were noisily revving the engine of their motorcycle.
Many speculated that they did it intentionally to annoy other road users. The ruckus caught the attention of two military personnel who were at the location.
As a result the serviceman was seen slapping the shoulder of the motorist. Another soldier arrived at the scene to give the riders a hit for good measure.
Netizens "claps" for the soldiers
The actual location of the incident was not disclosed. Netizens were quick to commend the soldiers for the 'special gift'.
Many hope this will be a lesson to others who purposely modify their vehicles.
"Next time if you want to show a loud exhaust sound or not in a public area, enter the forest or find a quiet place like in a cave, then do not disturb others," wrote one.
Cover image via ASYIKfm
Editor: Grace Choong
---
It's unrelated to the article but here's our brand new podcast – Talk Je Lah!
---