A 40-year-old man recently found a SIM card tray pin in his meal while celebrating Mother's Day with his 71-year-old mother.
Man found sim card tray inside his meals
The man, identified as Zhang, made the discovery halfway through his meal, which he had purchased using an online voucher for a buy-one-get-one-free chili crab offer from the restaurant named Uncle Leong Signatures restaurant.
According to Shin Min Daily News, Zhang was taken aback upon finding the 2cm long pin floating in his sauce. He speculated it might have been a result of the restaurant staff handling SIM cards in the kitchen area.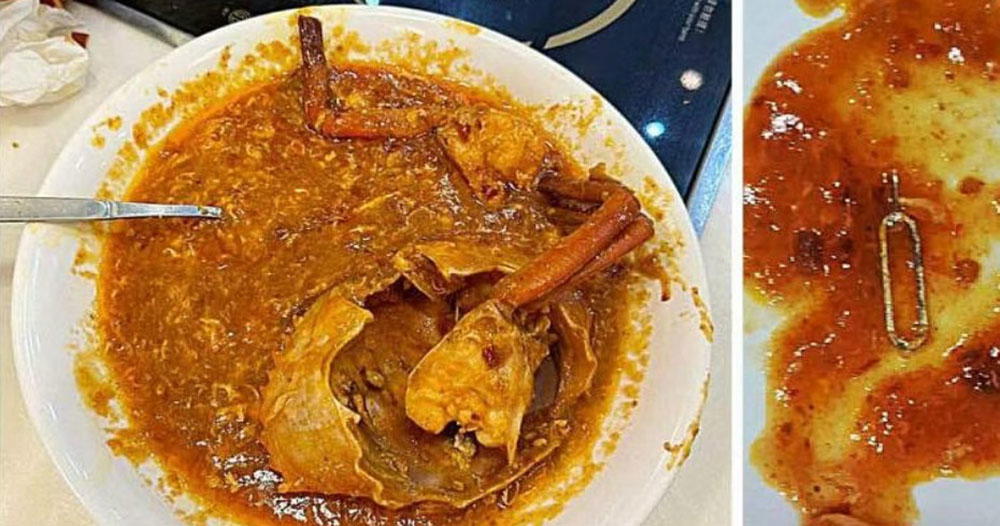 Following the unsettling incident, Zhang, despite receiving a fresh plate of chili crab from the restaurant, lost his appetite and decided to pack the food for takeaway.
Refuses vouchers offered by restaurant
He also turned down a S$20 discount offered by the restaurant, citing that his voucher had already covered the S$88 crab set meal, and he had spent an additional S$29 on other food items.
"This is not about a stapler bullet that could accidentally fall into the food during packaging. It's a SIM card tray pin.

The potential implications could've been severe if either of us had swallowed it. We might have ended up in a hospital, possibly requiring surgery," Zhang explained, highlighting his concerns.
Following the incident, Zhang also revealed that he has reported the matter to the Singapore Food Agency (SFA).
Restaurant apologises
In response, the restaurant's chef suggested that the pin might have fallen into the food during transportation or was already within the crab.
Sun Yong Hua(transliteration), the restaurant manager, expressed his apologies to Zhang and assured him that the incident was accidental.
Read also: Former Canadian Environment Minister Triggers M'sians After Saying She Had The Best Nasi Lemak Breakfast In S'pore
He affirmed that the restaurant implements strict rules prohibiting staff from using phones during work hours.
Despite thorough checks with kitchen staff and surveillance systems, the source of the pin remains a mystery. Sun acknowledged the restaurant's oversight in checking the food and pledged increased vigilance in the future.
---
---