A model who was seen donning only a green formal suit without undergarments beneath it has recently become the talk of town.
The seemingly questionable outfit was sighted during the Kedah Fashion Week 2022 (KFW22) which was held from August 5 to 7 at the Aman Central mall in Alor Star and subsequently went viral on social media.
'Is this Paris Fashion Week?'
The outfit inevitably attracted shock and anger from netizens, who said it was inappropriate and went against religious sensitivities.
"Wahh..is this the latest model of Kedah or the reserve Australian netball player at Birmingham 2022?"

"Is this Kedah Fashion Week or Paris Fashion Week? Don't play with Kedahans!!"

"Talk as if he lives in a secular country. Furthermore, this is Kedah, not Paris or the Met Gala. Even if 'she is a he', have to relax a bit bro."

Organisers issue apology
The event also caught the attention of the state government, where Health and Local Government Committee, Datuk Dr Mohd Hayati Othman said they will take action against the organisers for the fiasco.
"We received complaints about the event for featuring a scantily-clad model. We will summon the organiser and demand an explanation.
"We also found that the organisers did not apply for a permit nor did they receive permission (to hold the event) from local authorities," he said in Facebook post yesterday (August 9).
In a separate post, the mall which organised and hosted the Kedah Fashion Week expressed regret over the controversy.
"We wish to clarify that management did advise all guests to wear properly, however the challenges were unsurmountable, hence we would like to apologise that we have missed out to screen all guests during the show.
"Rest assured that we take this as an opportunity to reinforce all our procedures to prevent incidents like this from happening again," the statement read.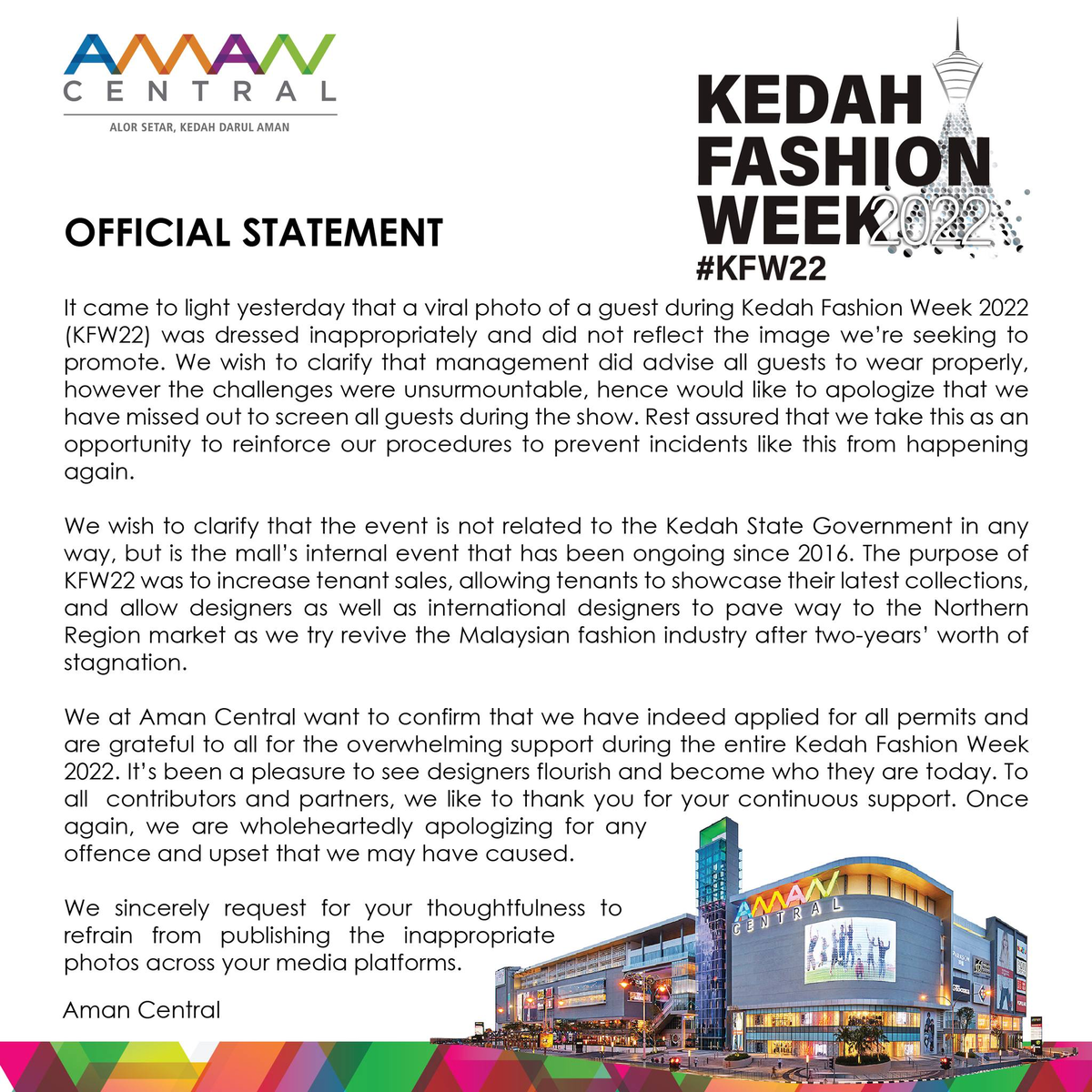 The mall said KFW22 is not affiliated with the Kedah state government but an internal event which has been held since 2016.
It also added that KFW22 was meant to revive Malaysia's fashion industry which was brought to a standstill due to the pandemic and that the necessary permits were approved prior to the event.
As for the model, it was later revealed by Datuk Mohd Hayati Othman in a Facebook post that she had turned up uninvited for the event.
"The individual is believed to be a 'maknyah' (transgender woman) who dressed like a model, wore inappropriate clothing, and took photos and videos to upload them to social media."
Read also:
---

---
Cover image via Twitter / mohdxanuar, SyedAkramin and AmanSha33679804
Editor: Sarah Yeoh