Deputy Minister of Finance Ahmad Maslan has made a name for himself beyond the world of politics.
He's previously charmed the internet with his unique culinary creations, notably his Strawberry Fried Rice, which earned him the moniker NGAM (Nasi Goreng Ahmad Maslan).
And recently, Ahmad shifted gears from fried rice to flipping burgers.
Ahmad Maslan shows off his burger-flipping skills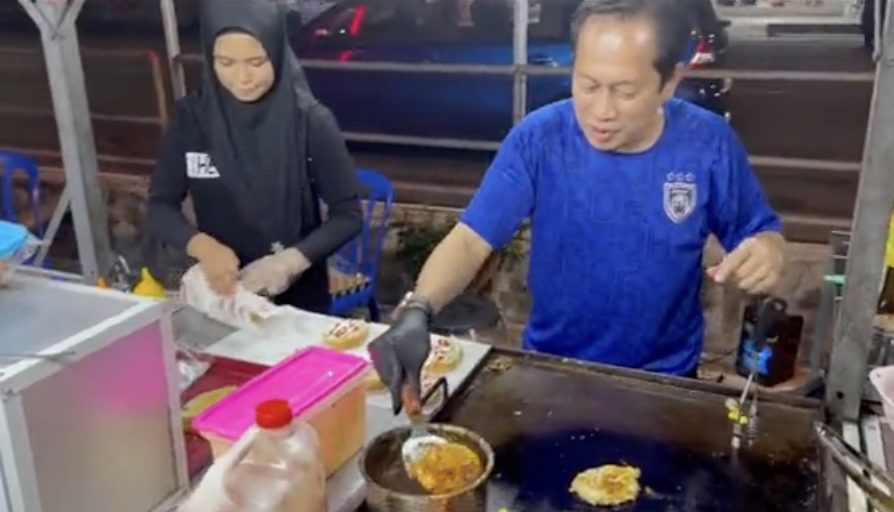 Featured in a TikTok video on his account @ybahmadmaslan, Ahmad was captured skillfully flipping burger patties at a roadside stall outside SMK Sri Tanjung in Pontian, Johor.
As he handled the patties, a vendor nearby was seen readying the buns and various condiments.
Ahmad seasoned the patties with black pepper sauce and assembled the burgers, leaving the vendor to wrap them up for eager customers.
'Burger Ahmad Maslan'
At the same time as the flip burger, Maslan also professionally introduced the steps of the flip burger.
The event garnered notable attention as bystanders and patrons took out their phones to capture the unique moment.
Read also: M'sians Must Have At Least RM240K In Retirement Savings When They Turn 55, Says Deputy Finance Minister
This unconventional display of culinary aptitude has resonated well with netizens, adding another nickname to his collection—BAM (Burger Ahmad Maslan).

"Ahmad Maslan is completing his side quest missions," one wrote.

"Bro is doing sidequest randomly."

"Let him cook".

---
---