After nearly a year of the nationwide dine-in ban due to several MCOs, Malaysians are finally able to enjoy a meal with their loved ones at their favorite restaurant.
However, for this woman named Sarah, it quickly turned into a sickening experience thanks to some unwelcome visitors.
'The staff were just laughing!'
In a series of Instagram stories, Sarah, who brought her father out for lunch at a Teppanyaki restaurant in a KL shopping mall, sighted two fat rats running around the kitchen area much to her disgust.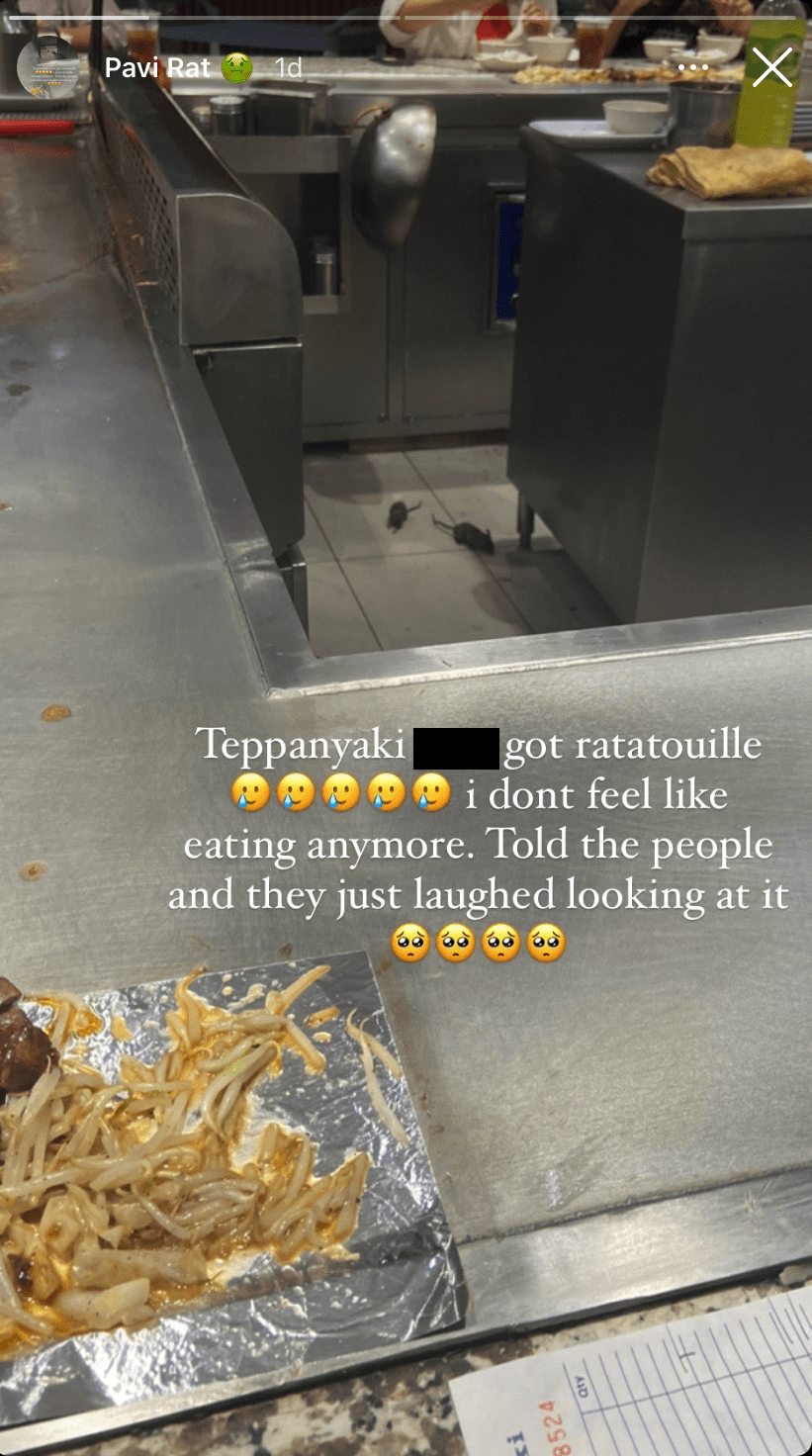 She then alerted the waiters of the rodents' presence but to her surprise, they did not seem to take it seriously and began laughing.
[…] I don't feel like eating [it] anymore. [I] told the people and they just laughed looking at it. 🥺🥺🥺🥺
Speaking to WeirdKaya, Sarah said the restaurant wasn't crowded and had a family along with three couples eating there.
[However], the cook wasn't around and had just finished preparing the food when the rats emerged after he went back into the kitchen," she shared.
Sarah also said her father had informed the rest about the rats but no one noticed it.
'I can't believe it'
In a separate Instagram story, Sarah posted a close-up photo of the rats, adding that she was very sad and disappointed to see this at a well-known restaurant in KL.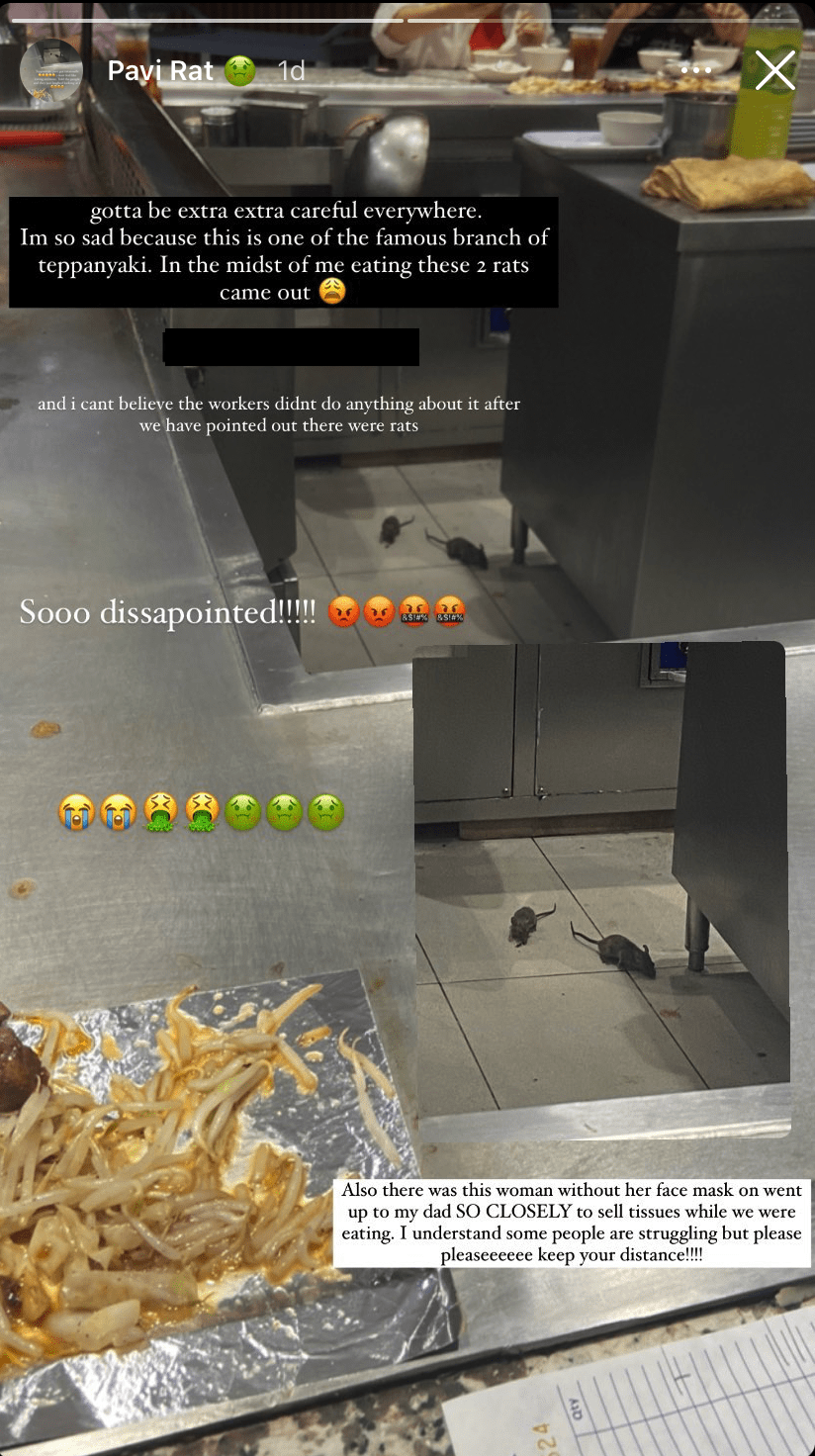 I can't believe the workers didn't do anything it about it after we pointed out to them about the rats.
She also revealed that the shopping mall only replied to her a day after the incident.
Read also: 'Feels Like A Scam!' KL Shopper Calls Out Shopping Mall Over Questionable OKU Parking Lots
"I believe that their reply neither was convincing nor were they genuine in compensating me for the awful experience I had. I also think the message that Pavilion KL gave me is more or less the same as the rest," she told WeirdKaya.
Food Republic responds
Following Sarah's public complaint, Food Republic Malaysia released a statement on its Facebook page yesterday (Dec 7) saying that they have taken "immediate steps to address and resolve the issue".
"With immediate effect, Teppanyaki has been closed for deep cleaning as well as pest eradication, during which all equipment will be moved to ensure thorough checking. Teppanyaki shall remain closed until hygiene and safety checks are conducted and it is deemed safe to re-open."
The company also added that they would ensure that they would carry out thorough cleaning regularly for the entire outlet as "hygiene standards are of utmost importance".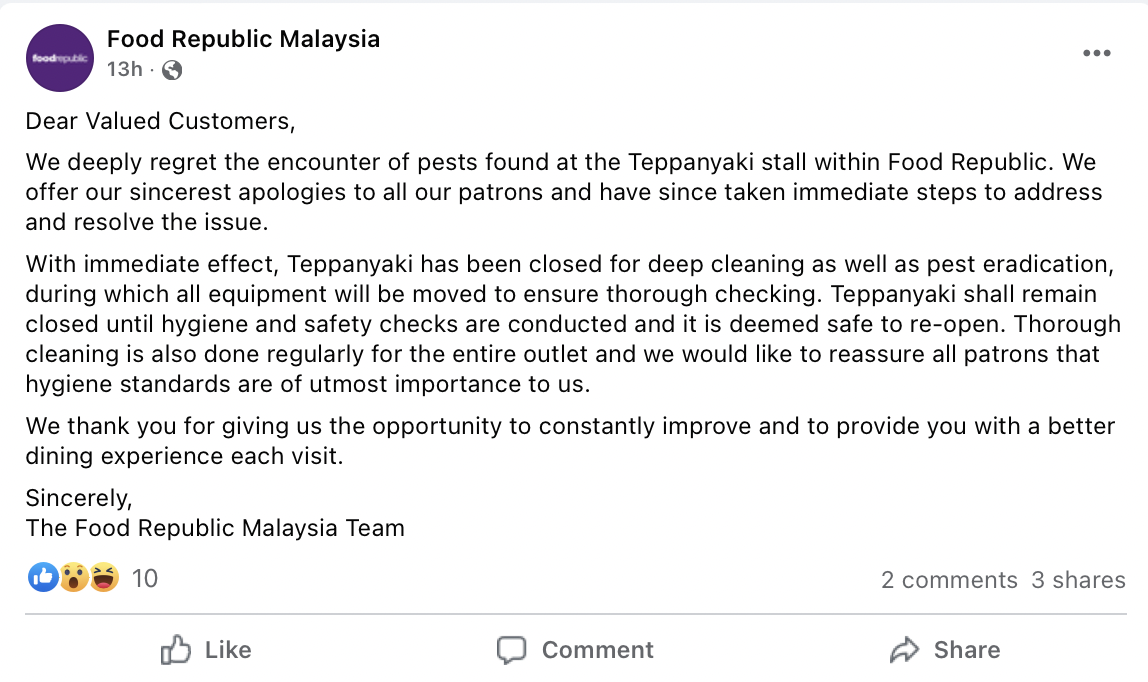 What do you think? Comment below and let us know!
---
It's unrelated to the article but here's our brand-new podcast – Talk Je Lah!
---
Cover Images via Instagram/@Sarahshimmers
Editor: Sarah Yeoh