Your foodie queen is back with another food review! This time, allow me to review a Japanese yakitori bar located at Jaya One, Petaling Jaya.
Its name? I present to you Yakitori Syokudo Yae!
Yakitori is a type of Japanese dish which traditionally serves skewered chicken meat on a kushi, a bamboo or steel stick. It is barbequed over a charcoal fire and the meat is typically seasoned with salt or tare sauce, a type of sweet salty glaze.
I've never tried Yakitori in my whole life, and let me tell you, I am so glad that this place was my first.
Let's talk food
If you are a pork lover, you are in for a treat. Their buta bara (pork belly) skewer is the best kind of barbequed pork belly I've ever tasted. It was so good, we ordered 7 of it the second time we came back.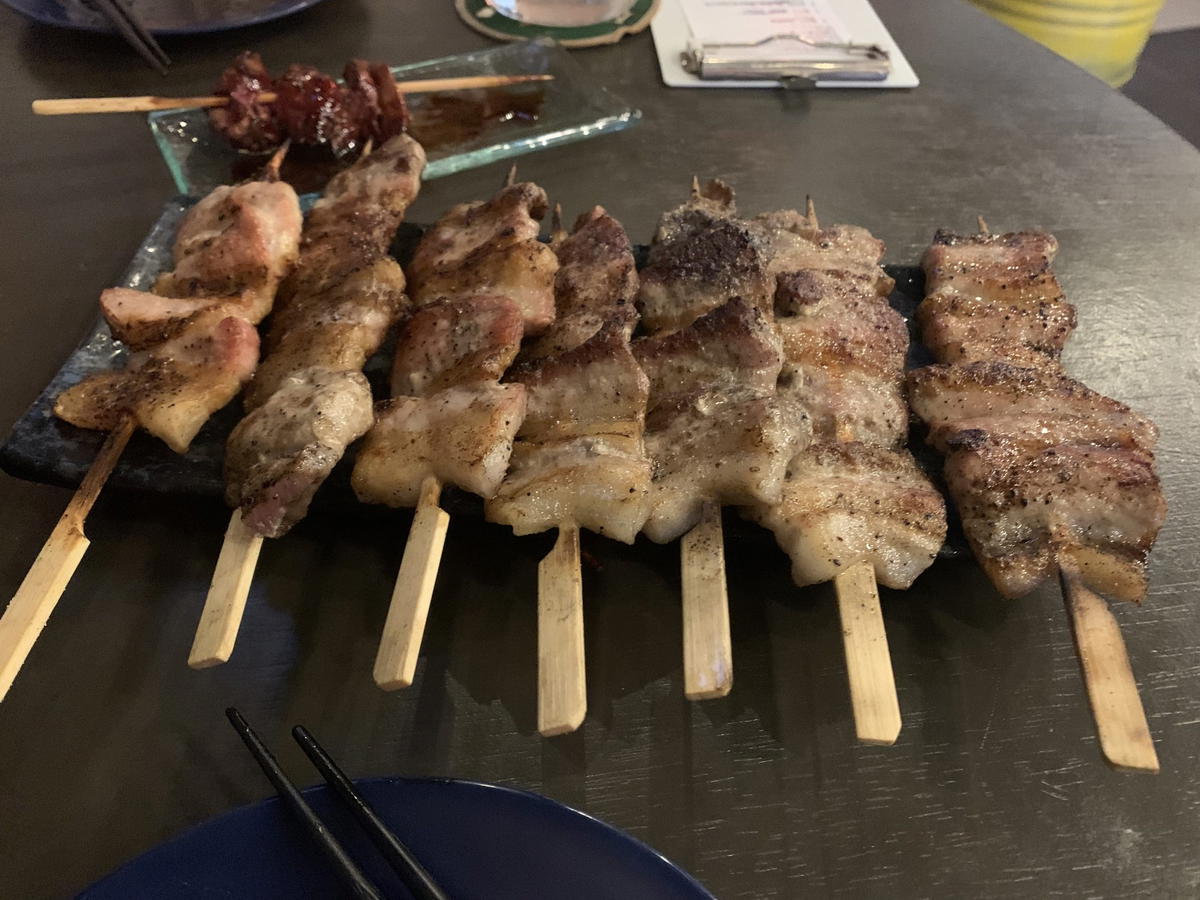 It is toasted on the outside and juicy on the inside, giving a slight crunch every time you bite in.
The skewer is a combination of fats and the meat itself. In my opinion, the fats really compliment the flavour of the meat. Some parts where there isn't any fats is a little tough though.
I recommend sucking on the pork belly when you bite it off the skewer, to get a good taste of its savory seasoning. If you like it a little spicy, you get to sprinkle some Japanese chili powder which is on your table for you to freely use.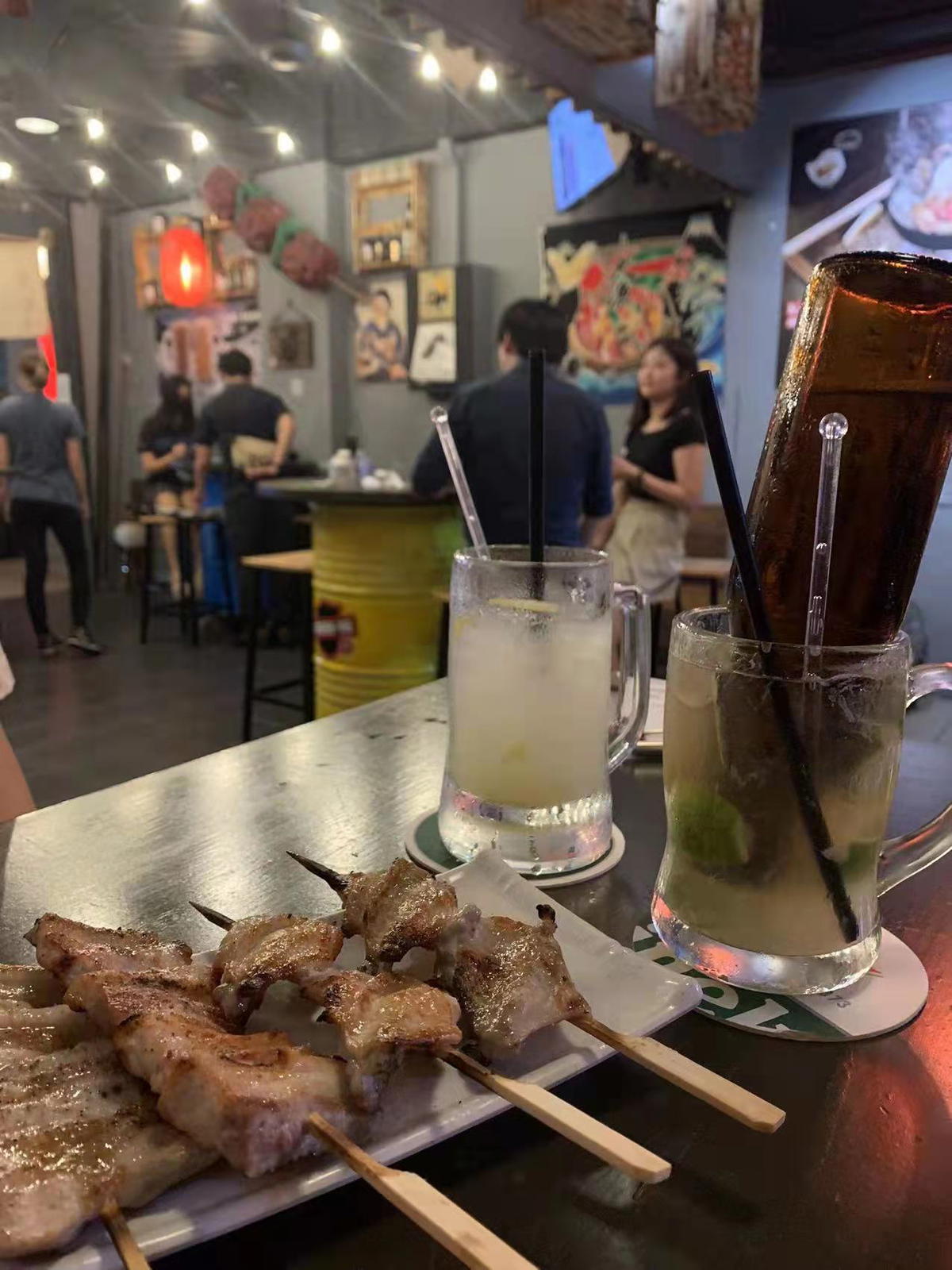 The portion might look small, but it is very filling. 2 portions (1 portion is 1 skewer) will be enough to satisfy you, for RM6 per portion.
Up next, is their shiro magoru (white tuna). Judging by the photo, you already know it's good.
The tuna is cooked to such softness that when you bite in, the flesh peels off the stick so effortlessly.
The fish is also gives that burst-in-your-mouth effect. It is hard to believe that this was barbequed over charcoal because it tasted so clean, yet savory and sweet, with the tare glazed all over.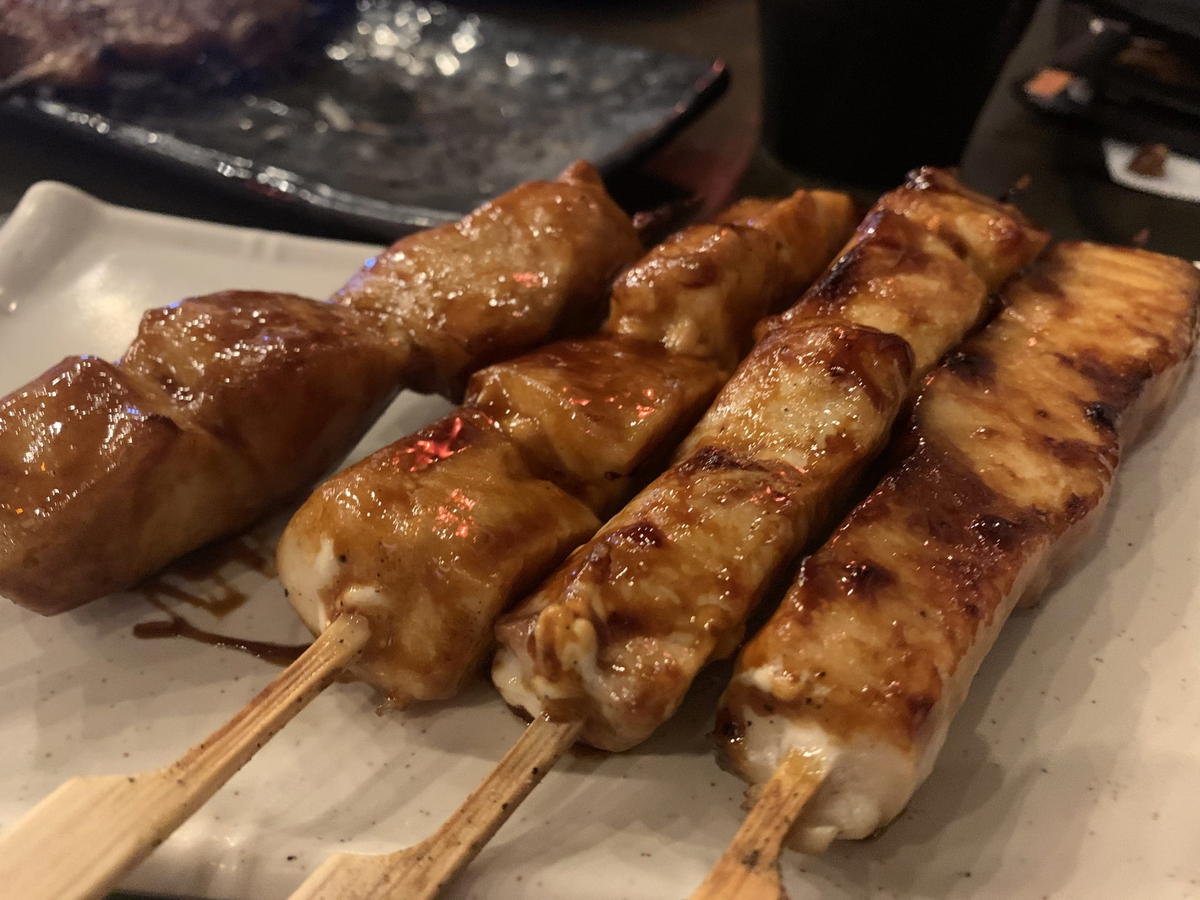 Even if you don't like fish, this is very easy for beginners to eat. There isn't a hint of fishiness at all to this dish.
This also serves up in one stick per portion, at RM8.
Their ika no sugata yaki (grilled squid) is also one of the best. It is not rubbery, which is a sign of an overcooked squid.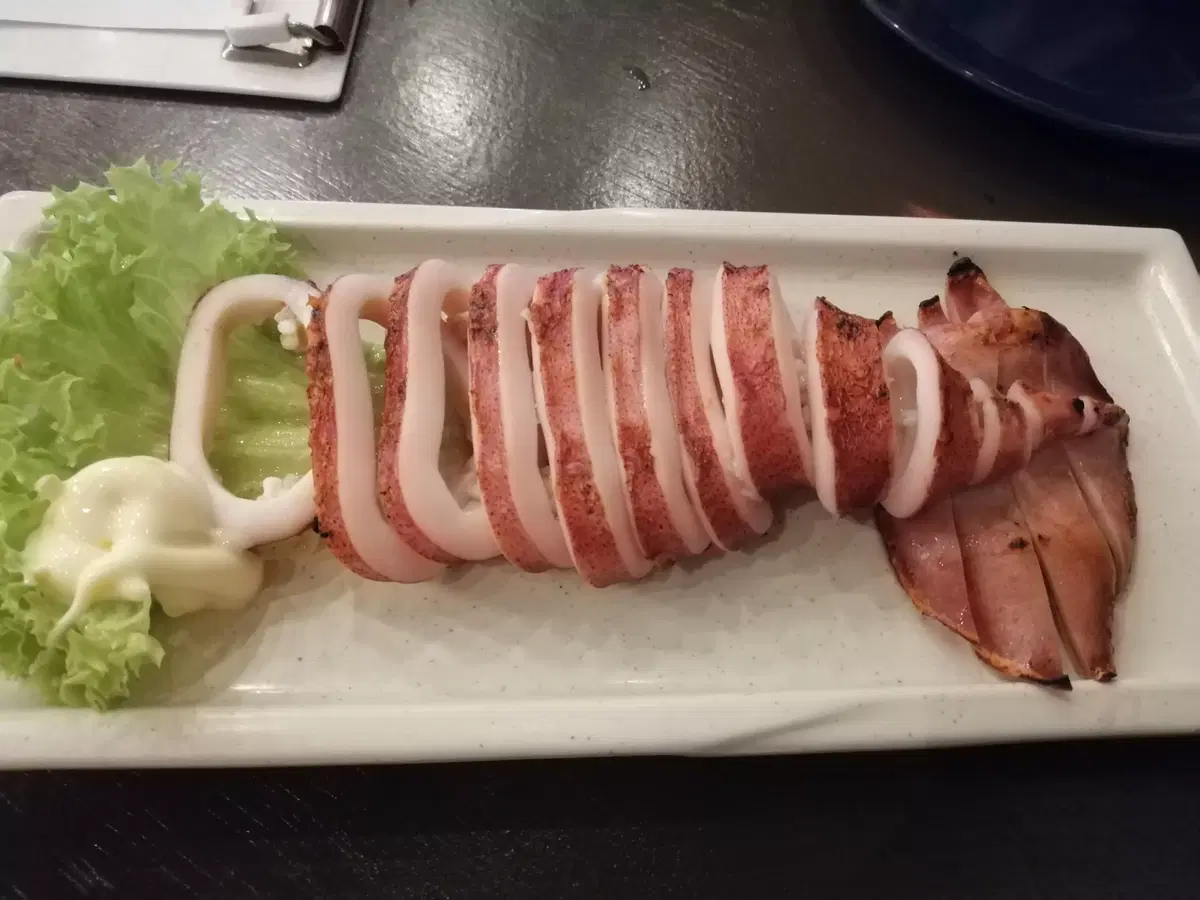 Just like the white tuna, the squid tastes fresh. No sea-watery or fishy taste. It's even better when you dip it in some soy sauce and chili powder.
One downside is that this dish costs RM24.90, a bit too much just for squid.
My advice, try it out and determine for yourself if you would pay that amount for it, because I still would.
Be aware though, there are two types of squid on the menu. Mine was from the grilled section, not the skewer section.
As for red meats, their ramu (lamb) was not bad at all. It has the slight bloody taste which I personally like when I'm having lamb, yet it was still cooked through.
The lamb comes in 3 skewers per portion, at RM12.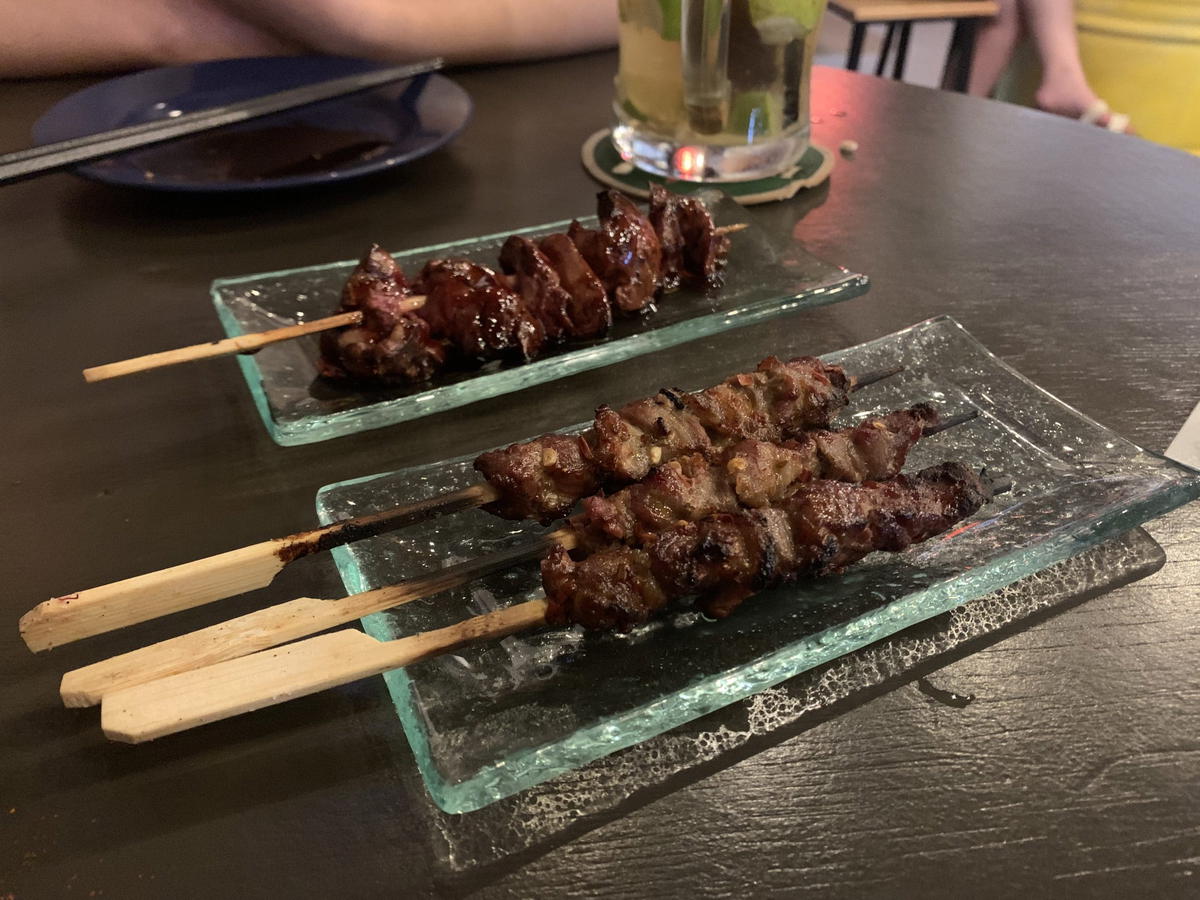 We also tried out their foie gras. I went too adventurous with this order since I don't usually fancy innards, let alone a fatty liver.
Yet, it was surprisingly easy to eat. It felt fatty, of course, and you could taste the blood but after a few more bites, it grew on me.
It was slightly charred on the outside but soft on the inside. This contrast was what got me going in for me.
The portion was also quite generous, with 5 pieces of foie gras at RM8, same price as the white tuna.
---

---
So-so dishes
As for the other meats which I felt needed some improvement was their gyuniku saikoro (beef) and teba (chicken wing).
The beef was so thick and tough, it was not juicy as I expected it to be. As for the chicken wing, well, it was just chicken wing.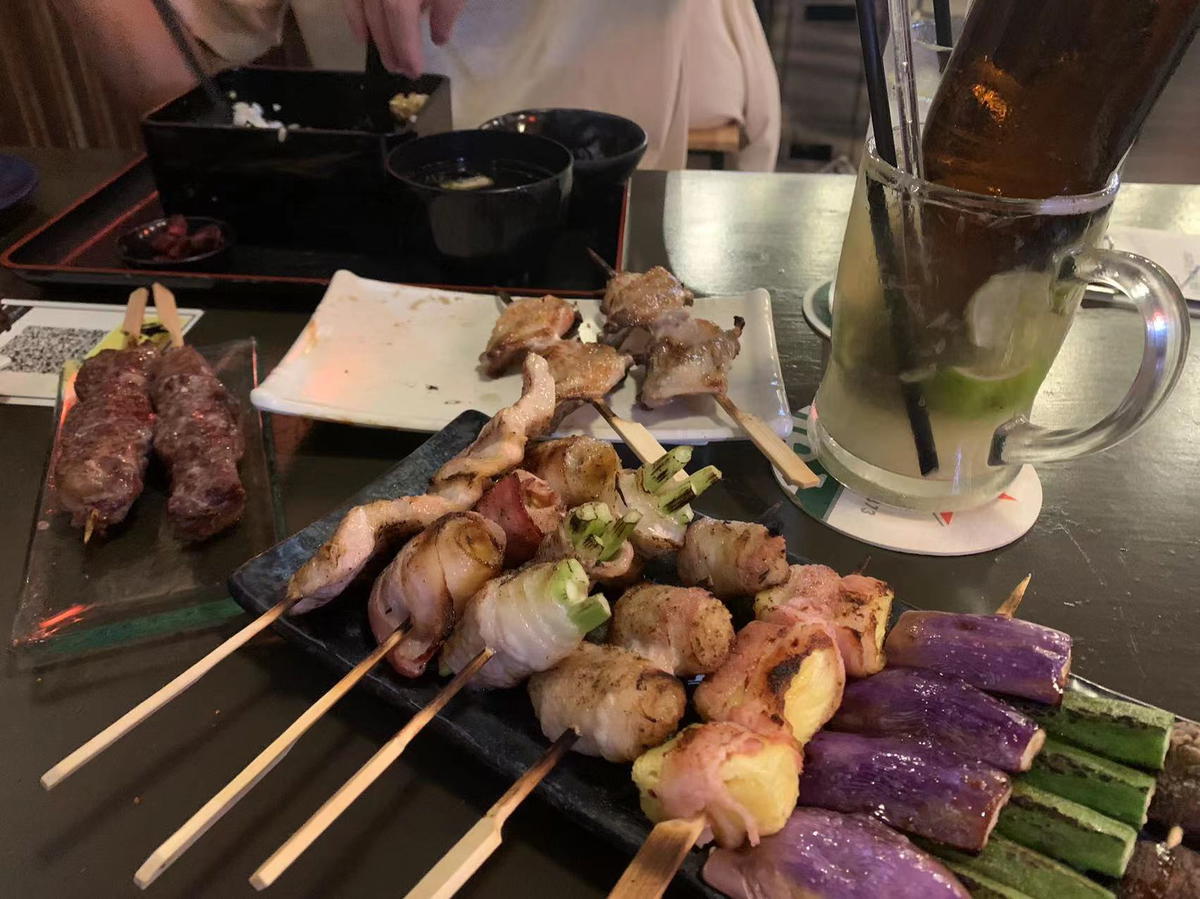 We also ordered their bacon and vegetable assortment, which included pork belly, 2 portions of banana wrapped in bacon, asparagus wrapped in bacon, pineapple wrapped in bacon, brinjal, lady's finer and mushroom (from left to right in picture).
Vegetables-wise, the mushroom and asparagus was the best. The banana and pineapple was a bit weird but if you love the sweet and savory combination, I'm sure you will fancy it.
Drink's on me!
Without a doubt, their Wow Beer is the drink you must get!
Wow Beer (RM19) is served with lime-nade in the jug, and an upside-down beer bottle plunged into the jug.
It is refreshing, alcoholic and amusing just to look at. 10/10 for presentation skills and 1000/10 would recommend you drink this if you have good alcohol-tolerance.
Drink it slow and easy, as you won't feel it at first with all the lime.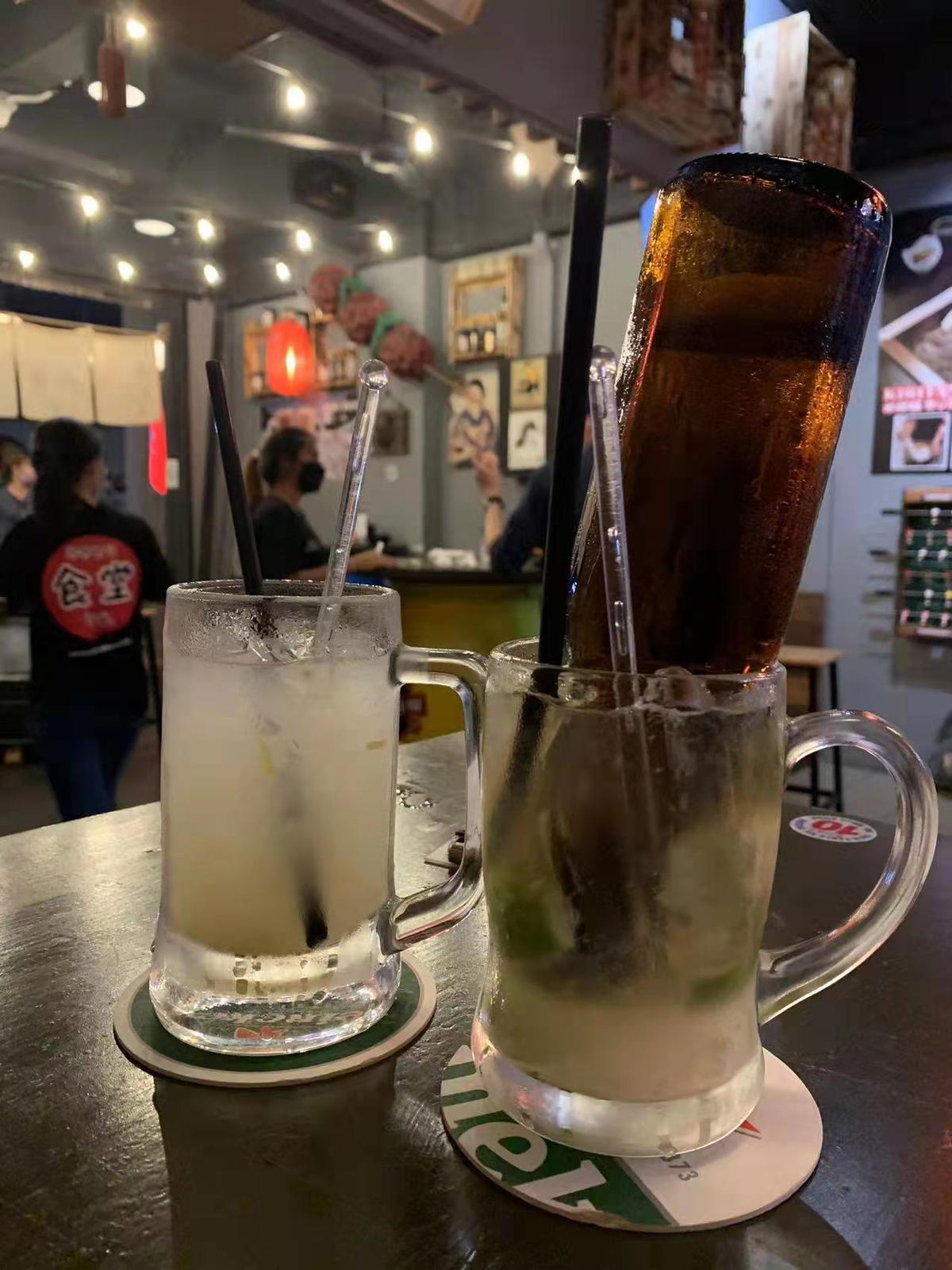 My friend ordered their Yuzu Soda (RM8.90), and I don't remember being it better than the Wow Beer. It is a recommended drink with the chef's thumbs-up of approval though, so I'm sure it'll be a good non-alcoholic option.
Here's their menu taken from their Facebook page.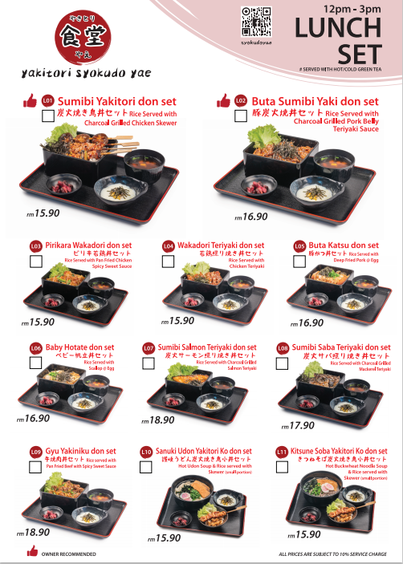 Pro-tips
Of course, it wouldn't be a good food review without a few pro-tips.
Make reservations. Don't expect to get a table if you come later than 7pm.
Be prepared to wait at least 20 mins for your first dish to be served. They are barbequing it over charcoal after all.
Put all your skewer sticks into the tin can provided on your table. Help out those who are cleaning after you.
The cold towel provided for you is free-of-charge. You can use it freely but don't take it home, of course.
My final verdict is…
It's very good. I rate it so-good-you-won't-regret-it out of 10.
Ambience was on point, it felt like I was transported to Japan. Service was satisfactory. Price is reasonable for the quality of their food.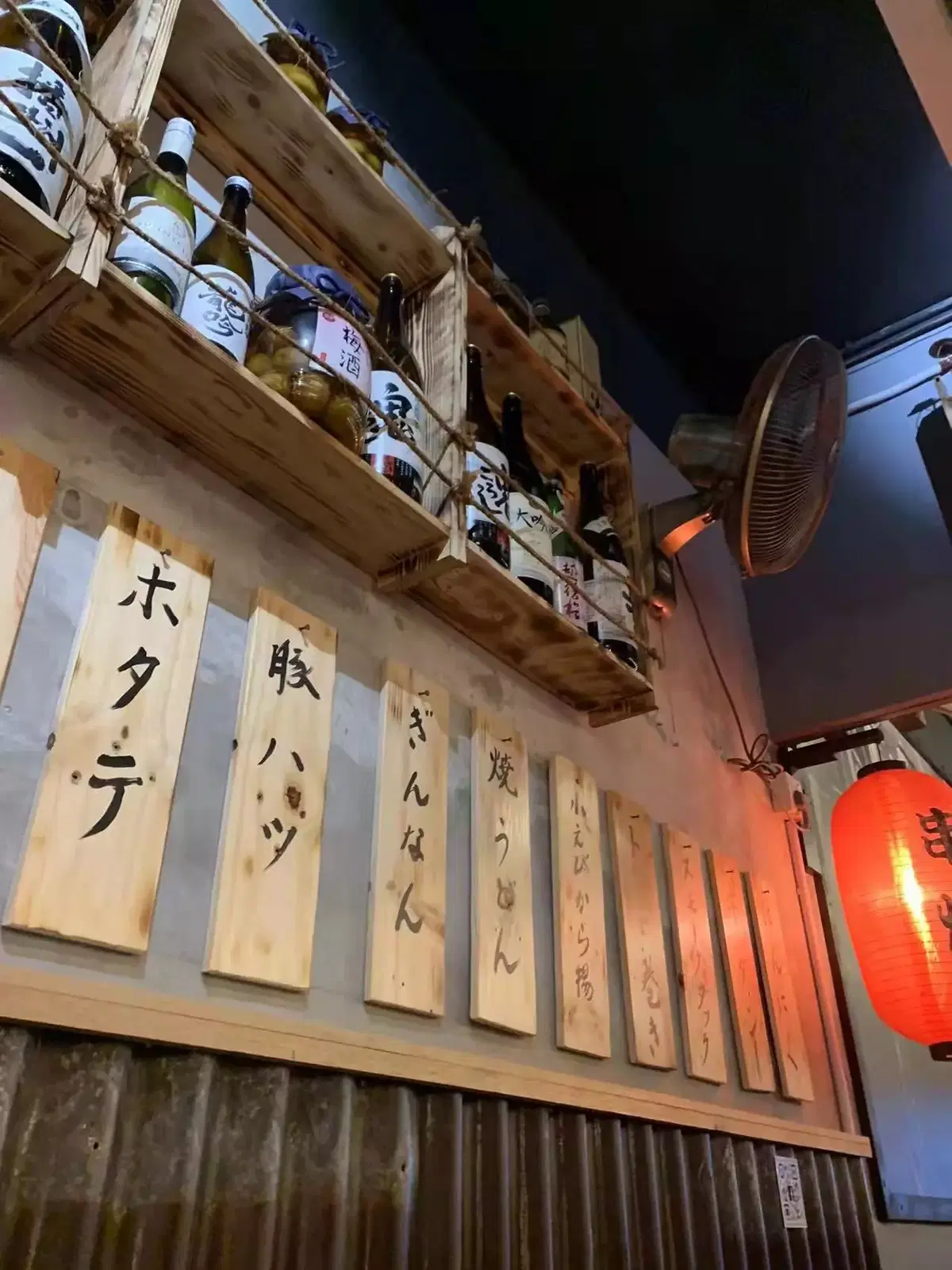 Most importantly, the food is made with love and makes you come back for more.
Now that you've heard it all from me, go ahead and try it out yourself and you may find a new favorite makan spot!
Read also: 9 Cafes In KL And PJ That Will Make Your Weekend Matcha Better
All images provided by Alicia Tan.