In recent weeks, Malaysians have angrily taken to Twitter to voice their displeasure over the government's mishandling of the devastating floods with hashtags and the now-trending sentence DO NOT DONATE TO GOVERNMENT.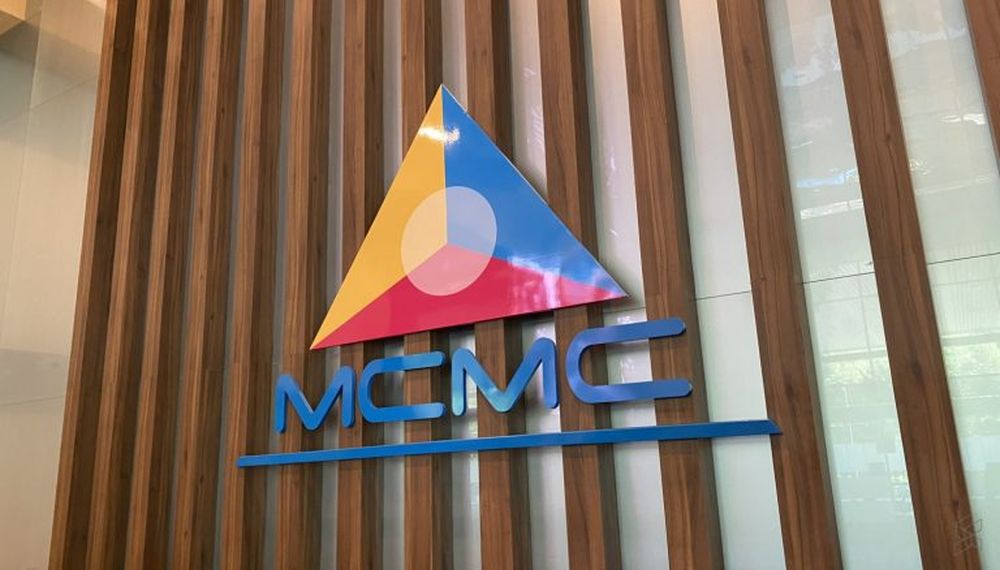 In response to public backlash, the Malaysian Communications and Multimedia Commission (MCMC) lodged an appeal to Twitter asking them to remove tweets deemed as "sensitive" and "harmful to public order".
Read also: Rina Harun Allegedly Held A Dinner Party To Help Flood Victims And M'sians Aren't Impressed
'Thanks for the report, but no'
However, this request was flatly rejected by Twitter, saying that it "strongly believes in defending and respecting the voice of our users".
This comes after Twitter user @BadBoy2662 revealed on Wednesday (Dec 22) saying that he had received an email from Twitter informing him of MCMC lodging an official complaint over his tweet.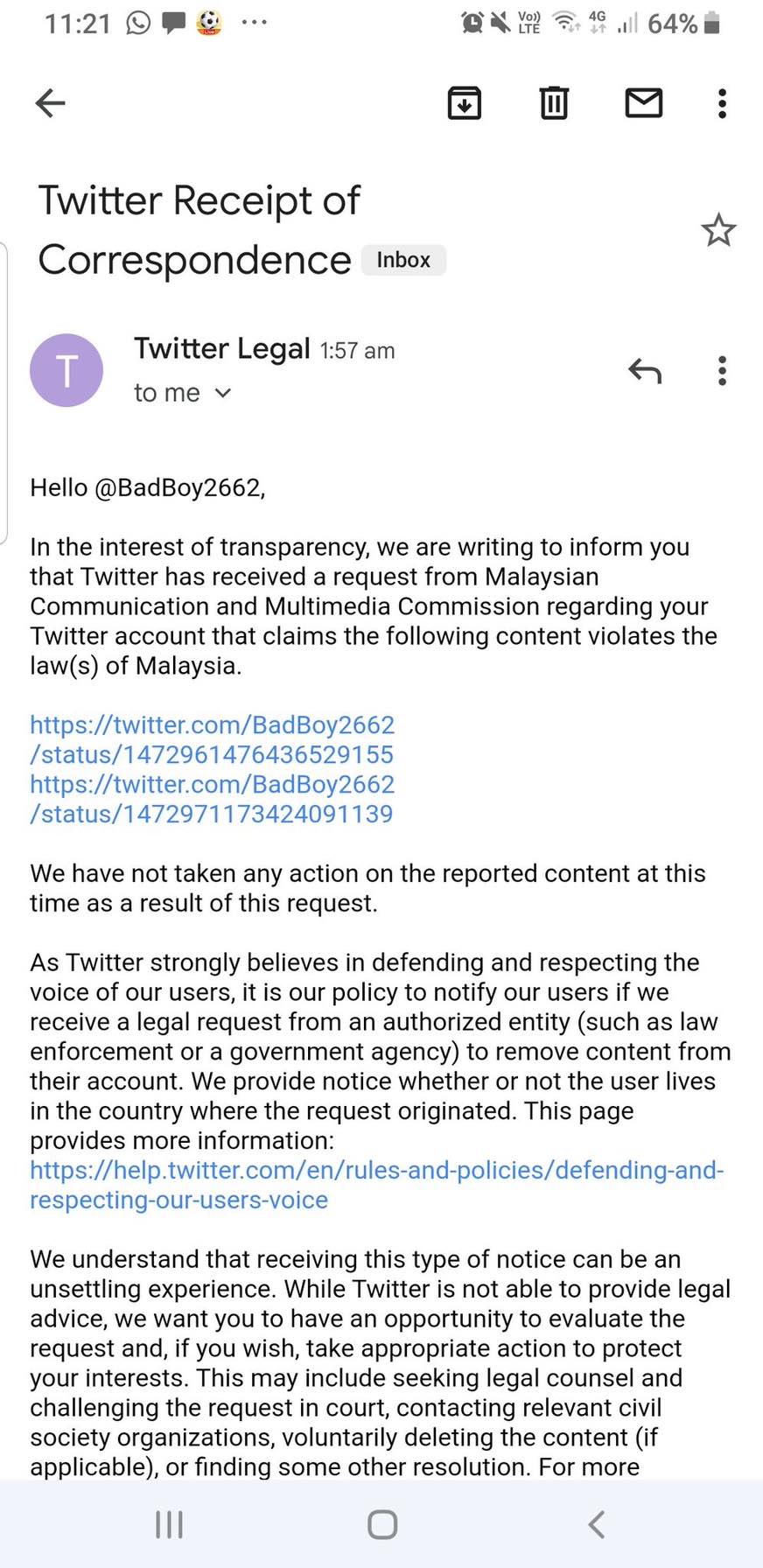 In the email, Twitter informed him that they had received a complaint from MCMC regarding his Twitter account and claimed that two of his Tweets had violated Malaysian laws.
However, the micro-blogging site assured him by saying that they have not taken any action on the complaint.
This was later confirmed by MCMC, who admitted that they had indeed filed the request in compliance with the law.
MCMC always respects platform providers such as Twitter. MCMC also has the responsibility to ensure that there is compliance with existing laws as stipulated under Section 233 of the CMA.
Which tweets were reported by MCMC?
According to @badboy2662, one of tweets involved Women, Family and Community Development Minister Datuk Seri Rina Harun, who incited widespread scorn online for holding a dinner banquet purported to raise funds for flood victims.
Another tweet was abount Entrepreneur Development and Cooperatives Minister Tan Sri Noh Omar, who was reported saying that flood victims taking refuge in Temporary Evacuation Centers (PPS) weren't eligible for government aid as PPS was "unregistered".
Netizens: 'Me too!'
As the issue gathered steam, two netizens posted screenshots of them receiving a similar email from Twitter regarding their tweets in the comment section, suggesting that there were more such instances out there.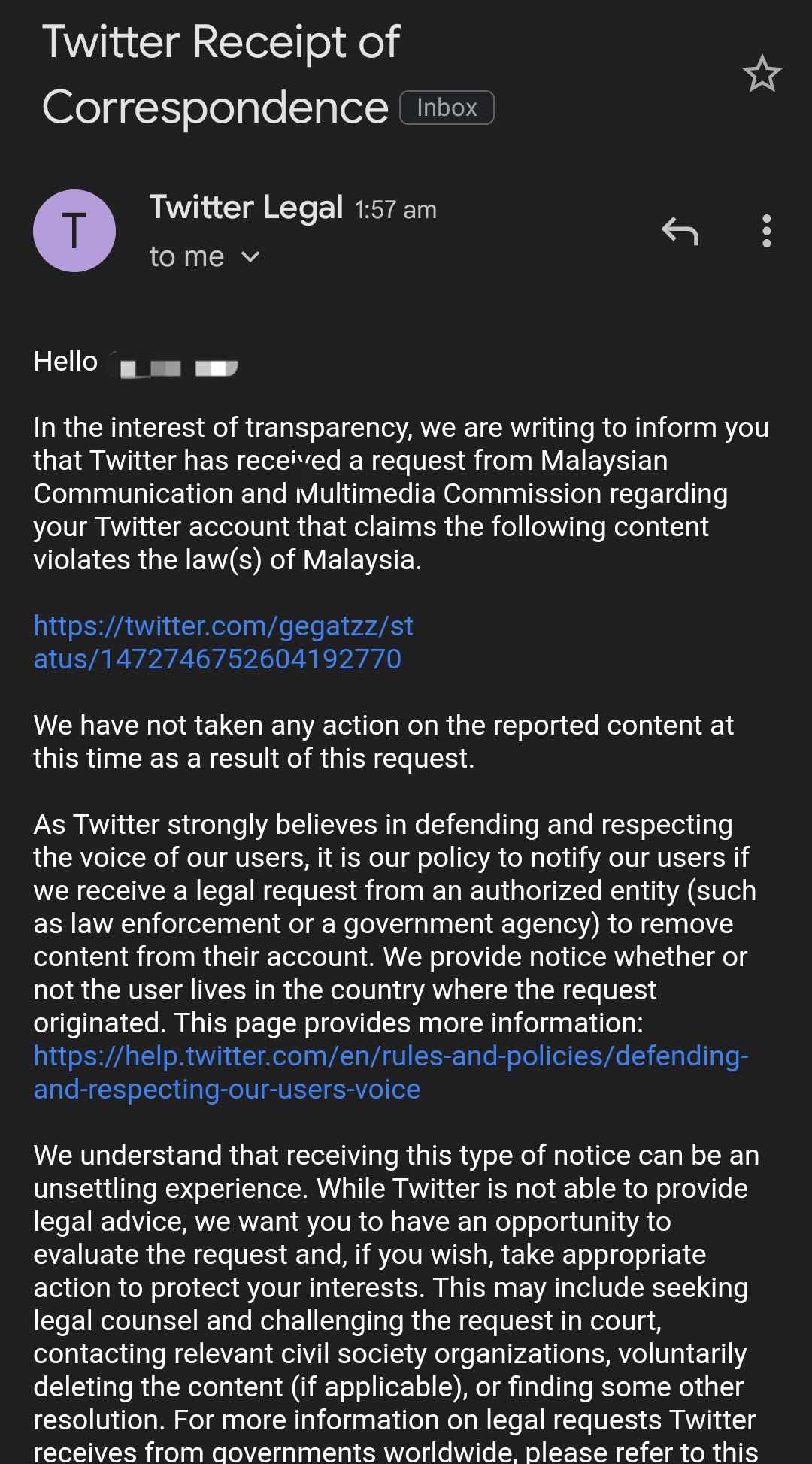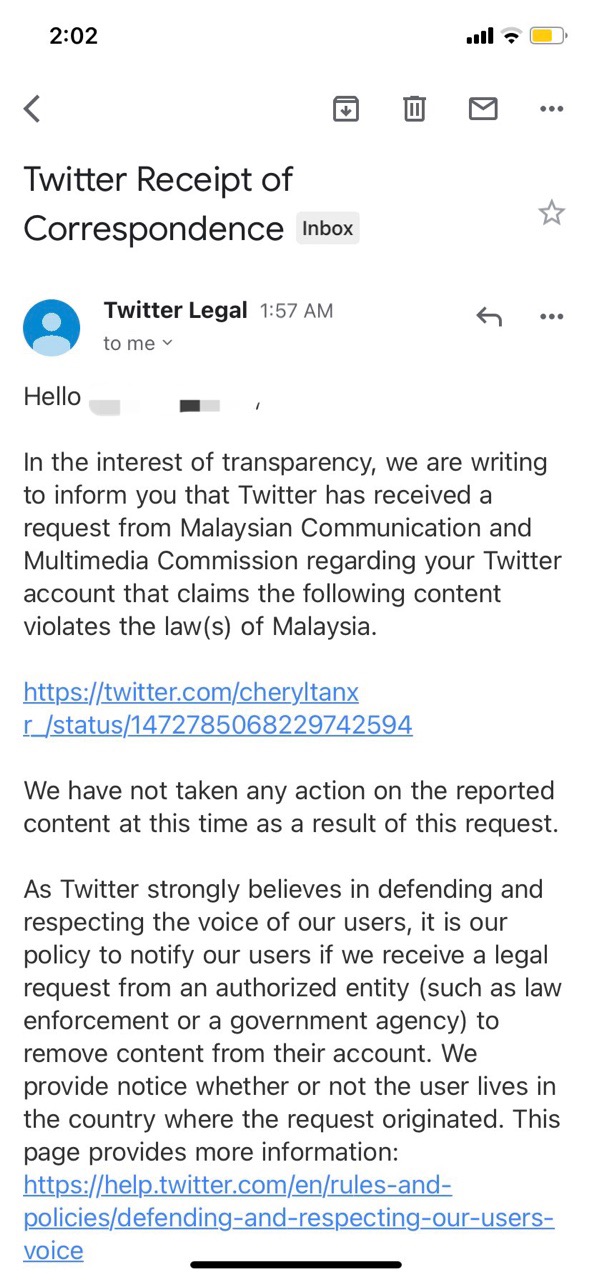 Joining in the fray also was Astro Awani journalist Firdaus Azli, who posted a tweet saying that he had brought up the issue with MCMC, to which MCMC replied by saying that they had the responsibility to "protect national interests".
Some of you Malaysians might have received notice from @Twitter about your tweets, deemed as violating our laws. I voiced out the matter to MCMC / SKMM, as well as the Ministry, and this was the official response received. So yeah.. pic.twitter.com/mtYaTZkzzR

— Firdaus Azil (@FirdausAzil) December 23, 2021
---
It's unrelated to the article but here's our brand-new podcast – Talk Je Lah!
---