Police convoys have long been known to be a nuisance and occasionally a hazard on Malaysian roads, where they pose a danger to other motorists through reckless driving or forcing emergency vehicles like ambulances to give way to VIPs.
This time round, a police convoy was seen cutting across a double line and into the opposite lane while escorting two tow trucks carrying luxury vehicles allegedly belonging to VIPs.
In a dashcam video uploaded by Twitter user @jllmisai, it showed the dashcam owner driving on his lane while the opposite lane had a slight congestion.
Suddenly out of nowhere, the police convoy and tow trucks appear in front of the dashcam owner and were coming straight at him, forcing him to swerve to the side of the road to avoid a collision.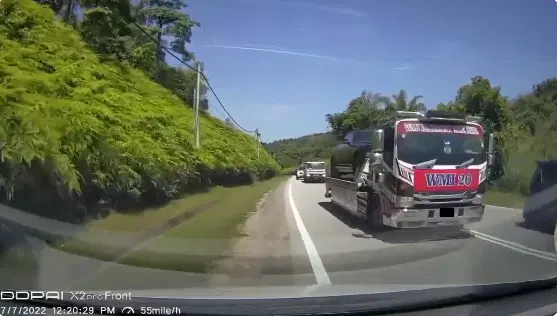 In the caption, @jllmisai wrote: "Congratulations PDRM. The safety of the ordinary people are disregarded."
Watch the clip here:
Netizens slam police convoy
The clip has since garnered more than 500k views and 20k retweets at the time of writing, where netizens were angered by how traffic rules were blatantly broken for the sake of escorting the luxury cars.
"Wah….cut through double line. I thought only ambulances have the license to do so."

"In such situations, is PDRM allowed to endanger their personnel's lives and the public's as well, JPJ Malaysia?"

"The cars on the lorry are more valuable than our lives."

Let's hope the police will get to the bottom of this and ensure that it doesn't happen again!
Read also:
---
---
Cover image via Twitter/jllmisai