For the unemployed and fresh graduates, it's always an exciting moment when a company calls you up for an interview session as the first step in securing the job.
Sadly, many still do not know basic etiquettes and often offend their potential employer by making absurd requests or replying rudely.
Arranged for an interview session
A job recruiter recently shared his rather "pleasant" encounter with an applicant who was looking for a job at.
In the post uploaded on Wednesday (May 11), the recruiter wrote how he has met people from all walks of life throughout the 30 years of his life but none like this applicant.
He then went on to describe how the incident unfolded, where it all started with the applicant asking whether there was a vacancy as she was in desperate need of a job.
Read also: WeirdKaya Is Hiring! (We're Not Gonna Ask You To Sell Kaya, So Don't Worry!)
After saying that there was indeed a vacancy, the recruiter told the applicant to come at 1pm the next day for an interview and to brief her on the job scope.
'I am very busy!'
To his surprise, the applicant said that she was rather busy and needed to arrange his schedule for the interview.
She even said that she would only inform him about her availability once she had decided whether to take up the job or not.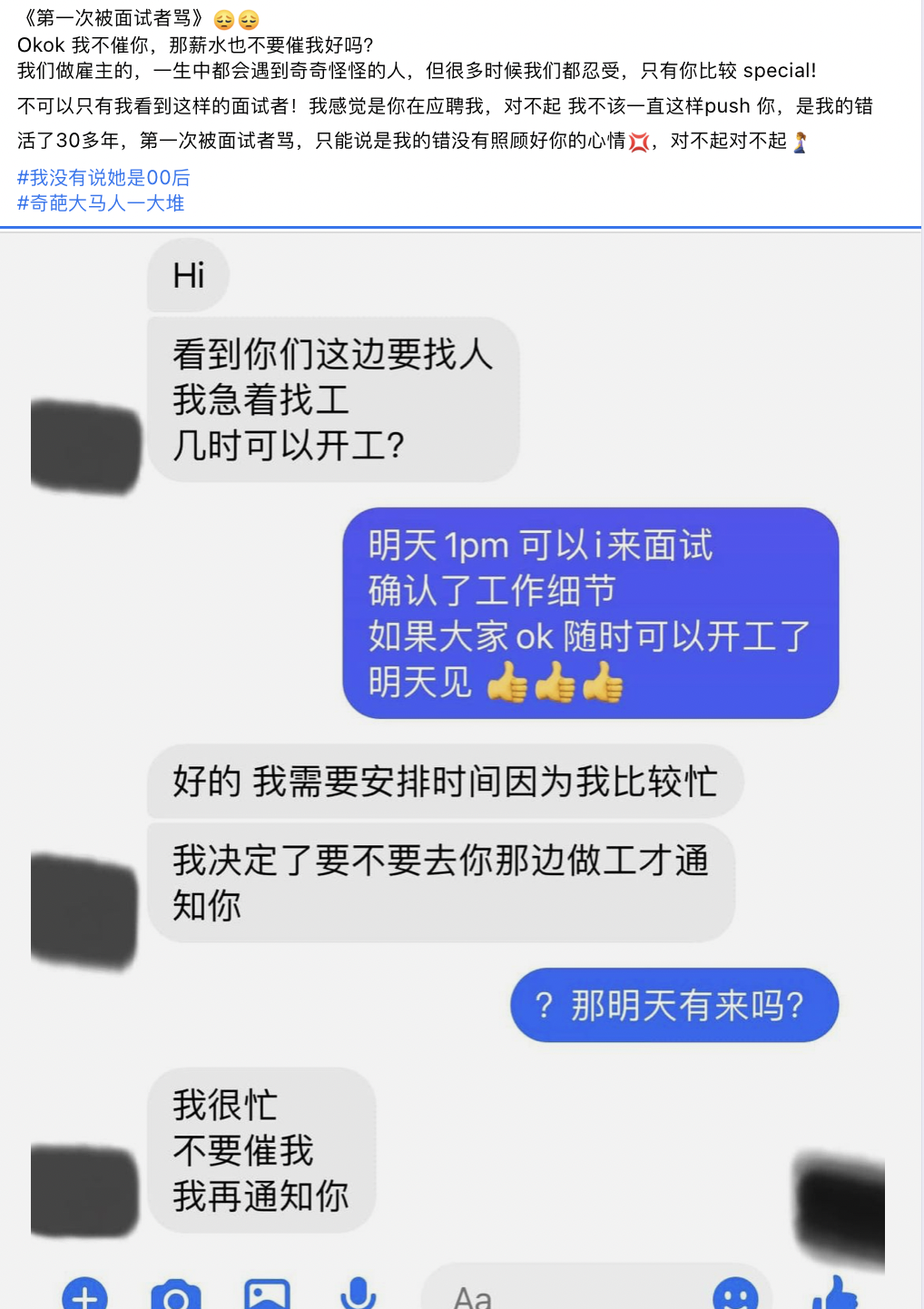 Dumbfounded by her answer, the recruiter then asked the applicant whether she was coming to the interview, to which she replied:
I'm very busy. Don't rush me! I will inform you later.
At the end of the post, the recruiter wrote that this was first time getting scolded by an applicant and sarcastically apologised for being insensitive to her feelings.
'Who is the boss now?'
The post quickly garnered over 2.2k likes and 460 shares at the time of writing and had netizens sharing their thoughts over the incident.
Many were amused by the applicant's flippant response and wondered why she even bothered looking for a job in the first place.
"I can tell that she still want to rest first before going to the interview."

"I once interviewed a candidate and told him to report for work, but he told me to let him think about it and would inform me later. Who is hiring who now?"

"If you are urgently looking for a job, please be aware of your attitude. My suggestion is not to hire this kind of people, or else the employee would be bullying the boss."

"Urgently looking for a job, but not urgent for the interview."

Let's hope this applicant learns the proper way of asking for a job and not give such answers anymore!
---
It's unrelated to the article but here's our brand-new podcast – Talk Je Lah!
---
Cover Images via Facebook
Editor: Sarah Yeoh.