The Malaysian government has allocated RM5 million to advertise and promote the 'Keluarga Malaysia' initiative, according to a written reply from Minister in Prime Minister's Department (Special Functions) Datuk Haji Abdul Latiff Bin Ahmad.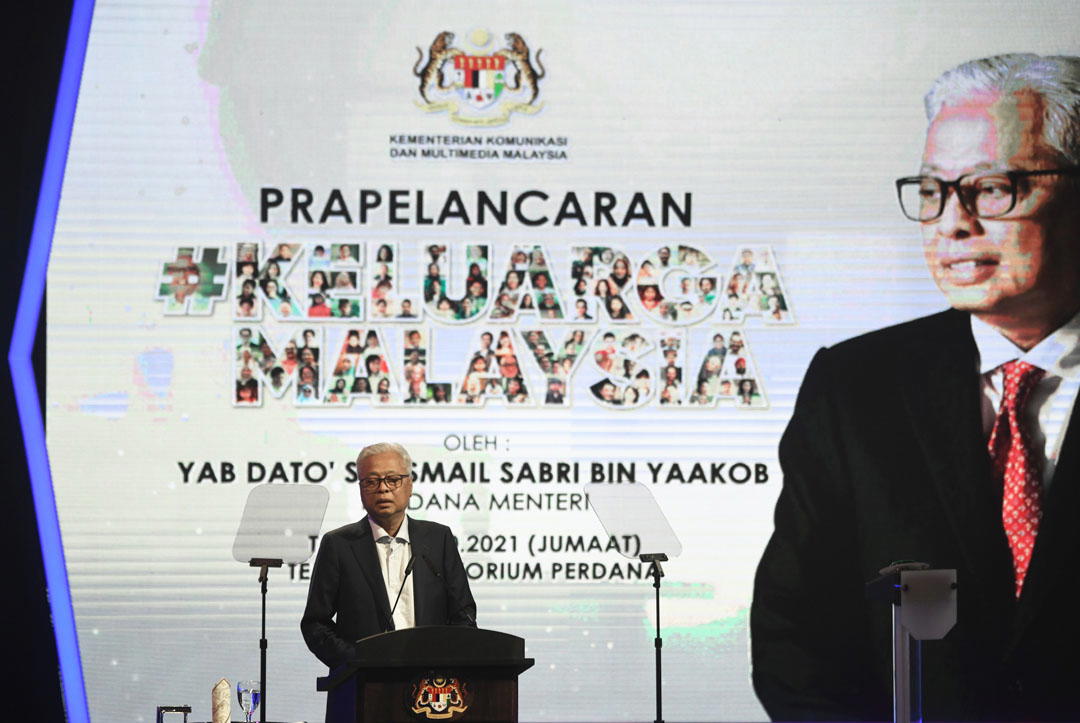 This is in reply to queries from PKR MP Fahmi Fadzil on the overall cost of the 'Keluarga Malaysia' campaign initiated by Prime Minister Dato' Sri Ismail Sabri bin Yaakob.
In the written reply, he also listed out the areas in which the money will be spent on, including:
a) Communication Plan;
b) Preparation of Creative Content Materials such as infographics, brochures
and others;
c) Short Video;
d) Audio Recording;
e) Television Slots;
f) Printing Medium (Promos and advertising in newspapers);
g) Slot Radio;
h) Social Media and other related social platforms announcements and promotions; and
Foreign Media (Billboard).
You can view the full report here: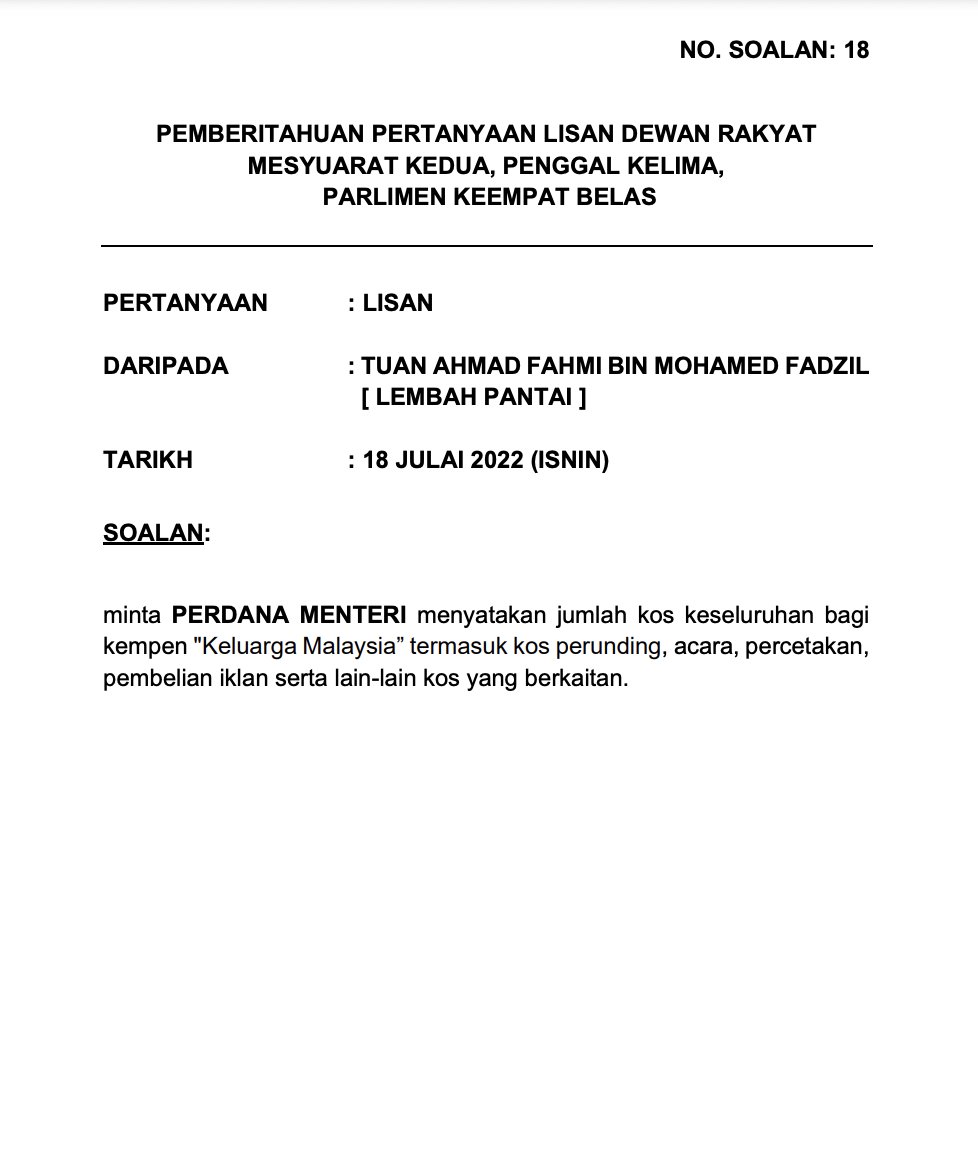 Malaysians divided over the cost
The written reply was first shared by Tech in Asia journalist Emmanuel Samarathisa on Twitter, where it later went viral after PKR communications chief Fahmi Fadzil retweeted it.
Read also: "Utter propaganda" — M'sians slam KKM for praising Ismail Sabri's 'Keluarga Malaysia' initiative
While some believed the budget was justifiable, others disagreed and said that it shouldn't be used at a time of financial turmoil.
"When you can't afford to pay your rent, when there's not enough to eat at home, when you have to hide from the bas sekolah aunty, the Keluarga Malaysia billboards will make your day better, fill you with hope that the family will not let you down," one sarcastically remarked.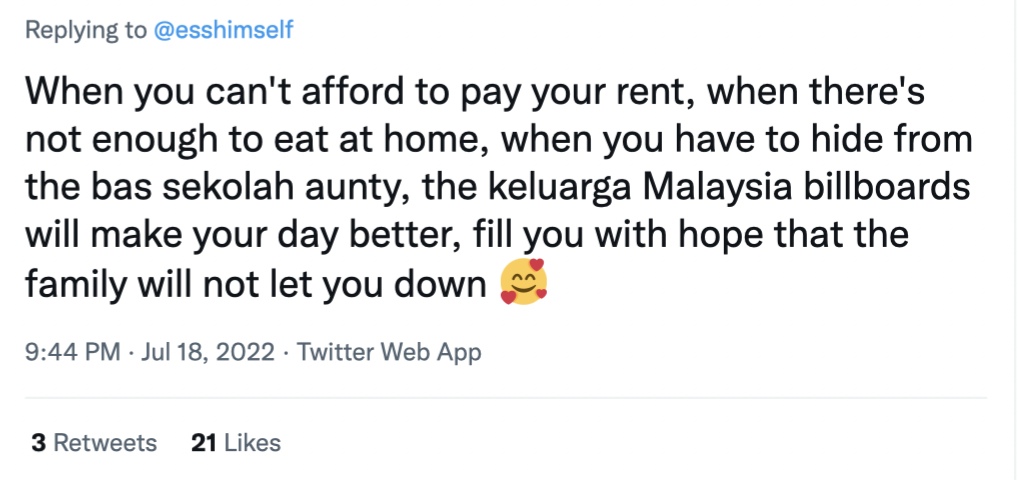 "The cost itself wouldn't matter if the program would benefit the people. Question is, how would it? Or is the benefit in the form of entertainment from infographics? Just looks like taxpayers are footing the bill an reelection campaign," wrote another.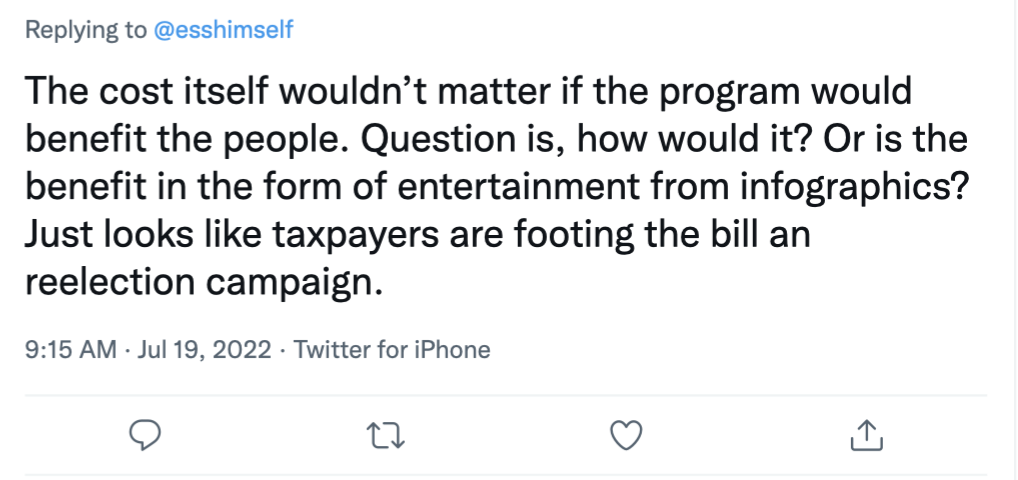 They also questioned the actual cost of the advertising campaign, claiming that the surplus would be pocketed.

One netizen suggested that the budget be used to channel funds to the poor.

What do you think? Comment below and let us know!
---
It's unrelated to the article but here's our brand-new podcast – Talk Je Lah!
---
Cover Images via
Editor: Sarah Yeoh