As we age, we tend to love our valuables more day by day. Knowing that it has almost spent half of it's life with us, especially if it's a car, the feeling is inexpressible.
Recently, a 34-second TikTok video posted by @zhafrihassanzuzu has garnered over 12.4K likes, showing his father's overwhelmed expression on letting go of the beloved car he used for 20 years.
"Cars do have souls"
According to Zhafri, the Toyota Unser has been the reason for many prosperous and great things that happened in their life.
"My father has a tough heart and have not shown his vulnerable position till the very day he had to bid goodbye to our family car.

He loves his car more than anything in this world. It breaks my heart watching him break down as the car holds many memories.
"Surviving during the floods, sending my siblings to school every morning, bringing our relatives back to our hometown and so much more," he added.
Read also: M'sian Man Unknowingly Hits And Kills Wife While Reversing His Car
A new journey ahead for the car
He outcasted his sincere sense of obligation towards the car:
"Thank you for all that you have done for our family exactly 20 years. To the new owner, please look after my dad's car."
Saying bye doesn't mean it's supposed to end in a grieving way.
The TikTok user, later on, shared a video of his siblings and him picking up a brand new Perodua Ativa to leave their parents speechless.
Bittersweet memories
As of now, the video has garnered over 294.1K views and received 237 comments. Many netizens have shared their own emotional stories of having to part ways with their cars.

Most explained how bitter the experience is when it comes to selling our car.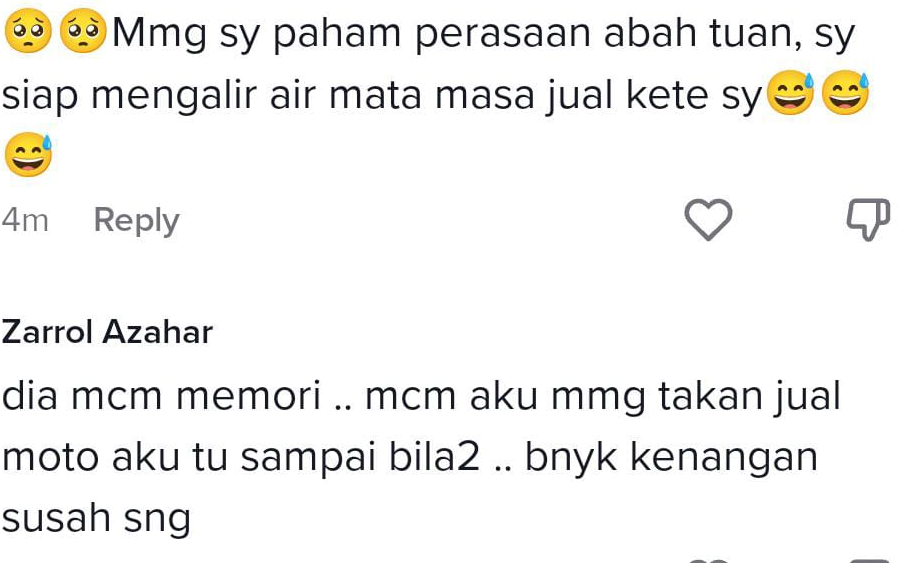 It's not surprising how many of them do relate to this situation, proving that car holds many personal sentiments in life, let it be bad or good.
READ MORE:
---
---