You know these two legends: Mister Potato, the snack that's been a Malaysian favourite since the 90s, and Mobile Legends, the game that's taken the gaming world by storm.
Well, hold tight, because they're teaming up for something amazing!
Alami Rasa Legendary with Mister Potato and MPL
Mister Potato is joining forces with Mobile Legends: Bang Bang Professional League (MPL) and is the Official Snacking Legend of MPL MY Season 12!
The campaign's motto, "Alami Rasa Legendary!" perfectly captures what's in store – a taste and gaming extravaganza that's beyond epic.
With Mister Potato as one of the sponsors, this partnership promises to elevate both your gaming and snacking experiences to the next level.
In other words, they aim to bring a whole new level of flavour and excitement.
Say hi to Sotong Pedas & Krim Masam & Bawang
Without further ado, let's welcome Mister Potato's new limited-time flavours – Sotong Pedas and Krim Masam & Bawang!
For those who love the taste of squid, Sotong Pedas is just right for you. It has a perfect balance of savoury flavours with a hint of sweet and spicy.
For Krim Masam & Bawang, it offers a tangy and savoury sour cream & onion explosion in every bite.
These two flavours are like a rollercoaster for your taste buds, and the icing on the cake?
The limited-time packaging featuring MLBB heroes Beatrix and Lancelot!
And that's not all – there's a nationwide contest with RM60,000 worth of prizes* along with MLBB Diamonds waiting for you! Ready to snack, game, and win? Let's roll!
Mister Potato's nationwide contest
Feeling lucky? You can participate in Mister Potato's nationwide contest and take a shot at winning prizes worth RM60,000. The recipe is simple: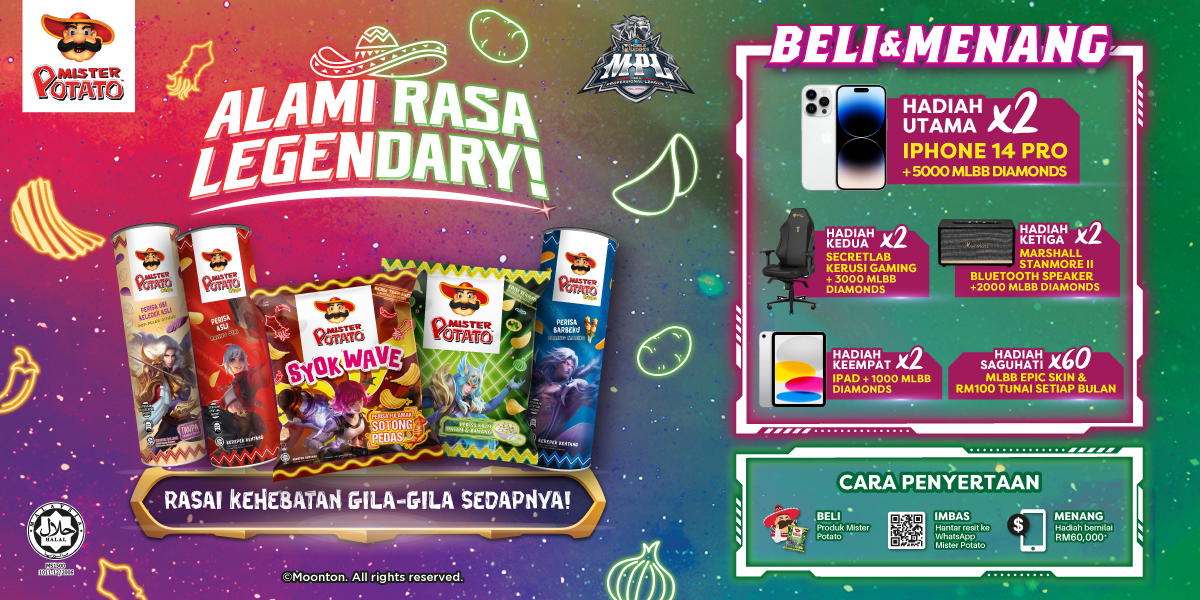 Grab any Mister Potato snack.
Snap the QR code on the packaging.
Send it to WhatsApp to Mister Potato!
Contest prizes
Get ready to be amazed by the lineup of prizes waiting for you!
Grand prize: 2x iPhone 14 Pro + 5000 MLBB Diamonds
Second prize: 2x Secretlab gaming chairs + 3000 MLBB Diamonds
Third prize: 2x Marshall Stanmore II speakers + 2000 MLBB Diamonds
Fourth prize: 2x iPads + 1000 MLBB Diamonds
Consolation prizes: 60x MLBB Epic Skins & RM100 cash every month.
The nationwide contest runs from August 14th to October 30th, 2023.
This gives you ample time to savour the Ridiculously Tasty flavours of Sotong Pedas and Krim Masam & Bawang and participate in the contest for a chance to win these amazing prizes.
Sotong Pedas or Krim Masam & Bawang are now available at your nearest local stores or you can just buy them online HERE!
For more info on other products, follow Mister Potato Malaysia on Facebook and Instagram.
*Terms and conditions apply.
---

---