A Facebook post by the Ministry of Health (MOH) has left netizens in stitches after a netizen posted an awkwardly auto-translated version of the post.
The post, which was uploaded yesterday (Jan 4), was actually meant to encourage the public to consume enough 'air kosong' (plain water) as part of their New Year's resolution.
The worst part? It was instead translated as 'empty water'. *facepalm*
How many glasses of empty water have you consumed today? Is it in line with the Malaysian Healthy Plate (MHP)?
The post was originally written in Malay but started to make rounds on the Internet after netizens shared screenshots of the auto-translated version without doing their due diligence.
Although the post has since been deleted, it still remains available on its other official social media platforms such as Twitter.
Read also: Not A Scam! MOH Urges The Public To Not Ignore Calls Or Messages From The Number 03-2703 3000
MOH: Please do not rely on the auto-translate feature
In response to public concerns, MOH later released a press statement to address the issue.
The distribution of the screenshots does not reflect the original poster as it was written in Bahasa Malaysia instead of English.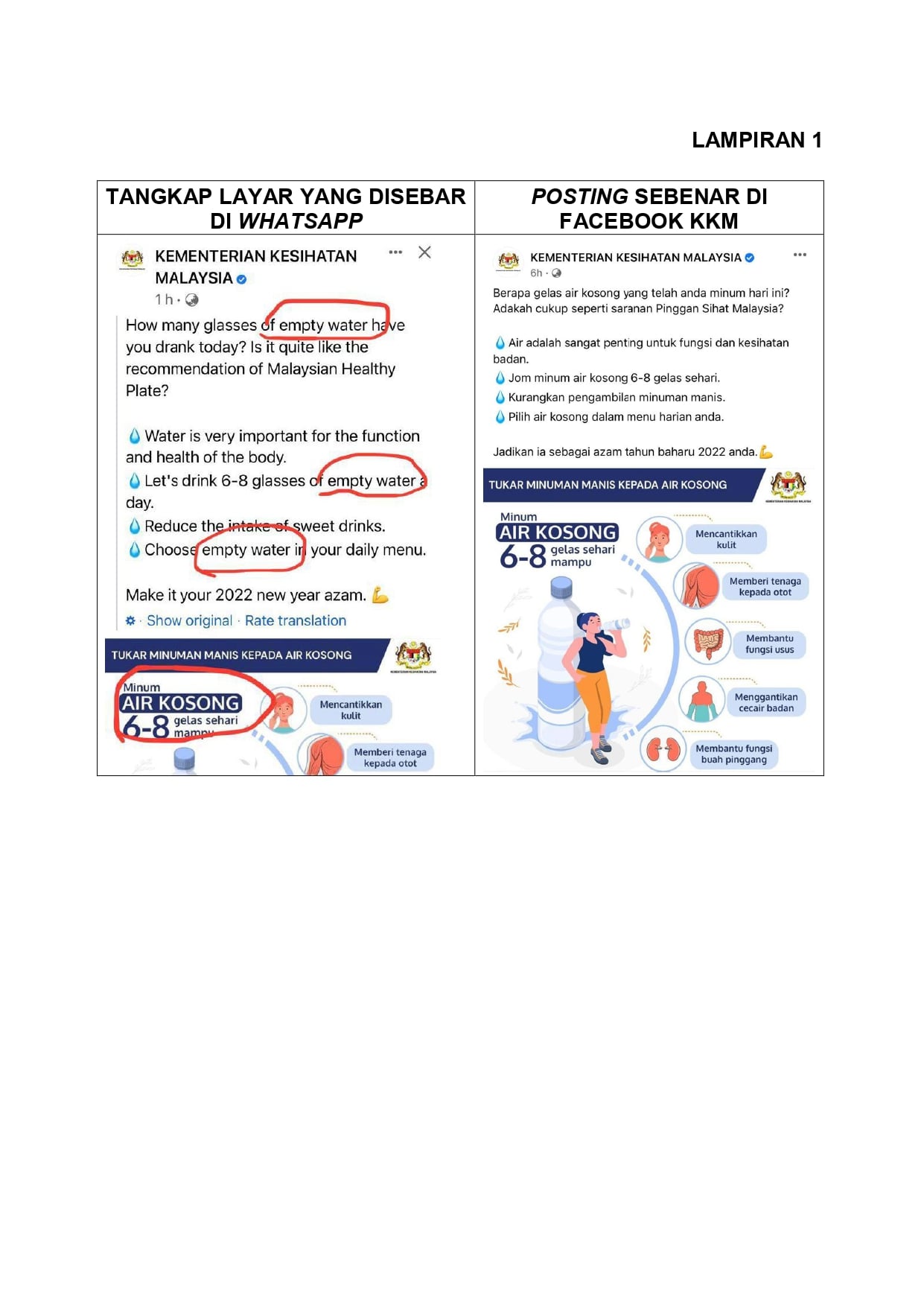 It also added that they were alerted of the post after it went viral thanks to WhatsApp users who had activated Facebook's auto-translate function.
"This is why the word 'air kosong' has been auto-translated as 'empty water' on their phones."
Besides, the ministry also advised the public to not rely entirely on the auto translate function as it 'does not give an accurate explanation'.
The Ministry of Health hopes that this explanation can correct the misconceptions and confusion that have arisen regarding the issue of 'air kosong' being translated as 'empty water'.
You can read the full statement here.
Cover Images via KEMENTERIAN KESIHATAN MALAYSIA
Editor: Sarah Yeoh