After three long years, Jay Chou finally held his concert at the Bukit Jalil Stadium and fulfilled every fan's dream (including mine) last night.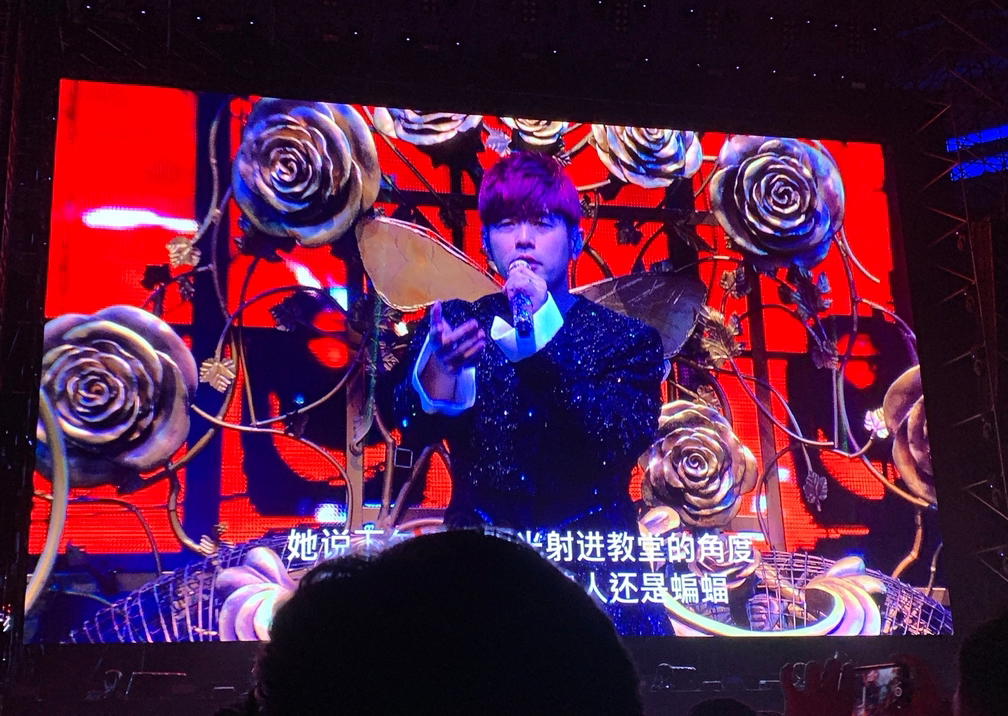 From the moment the venue for the concert was announced, it has been a rough ride for Chou, who had to face numerous delays and verbal attacks from disgruntled football fans who were unhappy over the lack of seats for the AFF Cup.
On top of that, his concert in Singapore was also heavily criticised for the lack of hype and "cheating" fans of their tickets by providing subpar sound systems and Chou singing very little during the concert.
Thankfully, his concert in Malaysia definitely made up for these inadequacies, as listed down below by a concert goes…me!
1. Sound system
As mentioned above, Jay Chou's concert in Singapore was slammed for its bad sound system, where fans couldn't hear his voice clearly.
While the sound system wasn't 100% flawless last night, it was definitely a huge improvement overall. Every word that Chou sang could be heard crystal clear, with only a few guest singers' voices a bit too soft at the beginning.
2. Light sticks
There were many complaints about the light sticks at the Singapore concert, where most were found to be battery-less, had chipped paint, or simply malfunctioned.
In Malaysia, it was raining at the start of the concert and I noticed that some light sticks could only be turned on before the show started.
I initially thought that the downpour had caused the light sticks to malfunction and wondered whether the crew would give new ones out. To my surprise, I discovered that every light stick's control was centralised and can still be controlled manually even after the concert ended.
3. Song selection
Although Chou had just released a new album last year, many fans were pining for the classics as they were yet to familiarise themselves with the latest tunes.
Following massive backlash over the decision to saturate the song list with new songs, Chou decided to go back to the classics, where only a handful out of the 48 songs was from the latest album.
Watch how the audiences sing along to those songs on Jay Chou's Instagram.
Undeniably the highlight of the performance was the encore session, where Chou sang many of his classics, including four songs specially picked by random fans during the interactive session.
4. Longer concert time
The Singapore concert was said to have started very late but ended super early. As for last night's concert, it was delayed by 20 minutes but didn't affect the majority of the schedule.
In fact, a spontaneous session was held for fans to pick several songs and the concert lasted for about three hours from 8.20pm to 10.45pm.
5. Guest singers
Chou was heavily criticised for inviting numerous guest singers to take the stage during the Singapore concert. This time, he only invited Alan Ko to sing some of his well-loved tunes and A. Young (曹杨) sang Secret (不能说的秘密) and his own solo Glimmer (微光).
There was also a session where his backup vocals helped him with a few mashup songs and Chou played the 古筝 (ancient zither) for one of his songs, Hong Chen Ke Zhan (红尘客栈)!
6. Magic shows
As the theme of Jay Chou's concert was that of a carnival, the Taiwanese singer entertained fans with several magic tricks.
Although attendees of the Singapore concert found it awkward and pointless, I personally felt that it was a good way to let Chou and the audience rest from all the singing and screaming.
7. Recording allowed!
During the concert, Chou told fans that he was aware of the negative feedback and made changes for fans to enjoy the show.
One of them was allowing fans to take as many videos as they wanted so that he could use them to further improve future concerts.
He even asked fans to leave "only good comments" on his Instagram account.
Do I sound good today? Any problem with the sound system? …… Some concerts prohibit recordings but I am allowing you all to record today. Remember to tag me on Instagram for improvements.
Watch the talk show here:
And they were more than happy to oblige to his request as they flooded the comment section with praise for the concert.
All in all, Jay Chou's concert in Malaysia was a blast, with my only complaints being the rain before the concert starts, lousy network connection and terrible traffic.
The whole concert was really enjoyable, and I believe the fans are already anticipating his return as shown by the positive comments under Jay Chou's Instagram post today.
Were you at Jay Chou's concert too? What do you think about it? Share your experience with us in the comment section!
Cover image by WeirdKaya