Getting an internship is one of the requirements of some university programs in order for them to complete their studies. The objective is to let the students get their hands dirty and stay up-to-date with the latest information in the working field.
In Malaysia, most companies will offer an allowance for interns to cover their transportation and basic necessities.
However, an anonymous post on Facebook recently argued that interns should pay the company for training them.
Read also: WeirdKaya is hiring! (We're not gonna ask you to sell kaya, so don't worry!)
'Interns should pay the company'
According to the screenshot, the company PIC shared that they don't usually pay for internships.
We don't pay salary for internship. Internship is for you to learn. By right, intern students should pay the company for teaching them the job.
He then continued to accuse other companies who hire interns and pay them only want "cheap labor" and but not knowledge of the field.
"Do you want money or knowledge?", the company PIC questioned.
At the end of the message, he also stressed that imparting knowledge to interns is their specialty.
Mixed reactions from netizens
The post, which was posted yesterday (3 Jan) has since received over 2.5k likes and 2k shares at press time, sparking debates from netizens.
"Other companies want cheap labour and your company wants free labour."

One also recalled her previous internship experience whereby she was tasked to clean the toilet and also dapao lunch for her boss.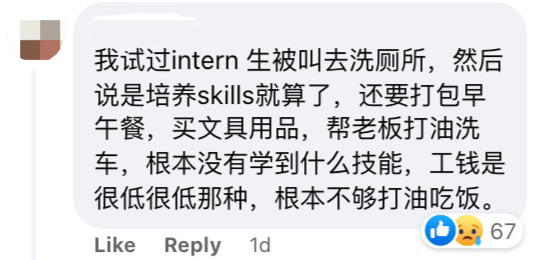 One sarcastically wrote: 'This company is good, please tell us their name.'

'Wish yuo never able to hire anyone again.'

On the flip side, another netizen shared a different point of view.
"Indeed some of the companies don't pay for internships, don't choose that company then… simple. No point to argue."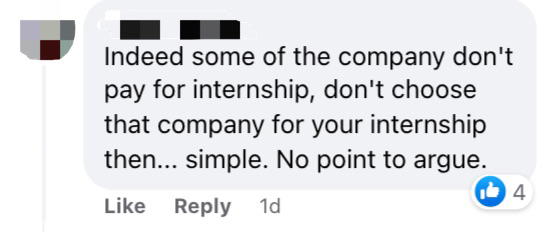 What do you think? Comment below and let us know!
---
It's unrelated to the article but here's our brand-new podcast – Talk Je Lah!
---