Karen Chok, who also goes by @daixykaren on her social media platforms, is a full-time Malaysian artist widely known for her vivid paintings in the forms of tapestries, fine art prints and even stickers.
The girl who never stopped drawing
At high school, Karen was known as the girl who was doing art all the time, where she spent 60% of her time paying attention to the lessons and 40% painting and drawing.
With art being a huge part of her life, it was no surprise that Karen made the decision to pursue a Diploma in Fine Arts at the Malaysian Institute of Arts (MIA) after leaving high school in 2016.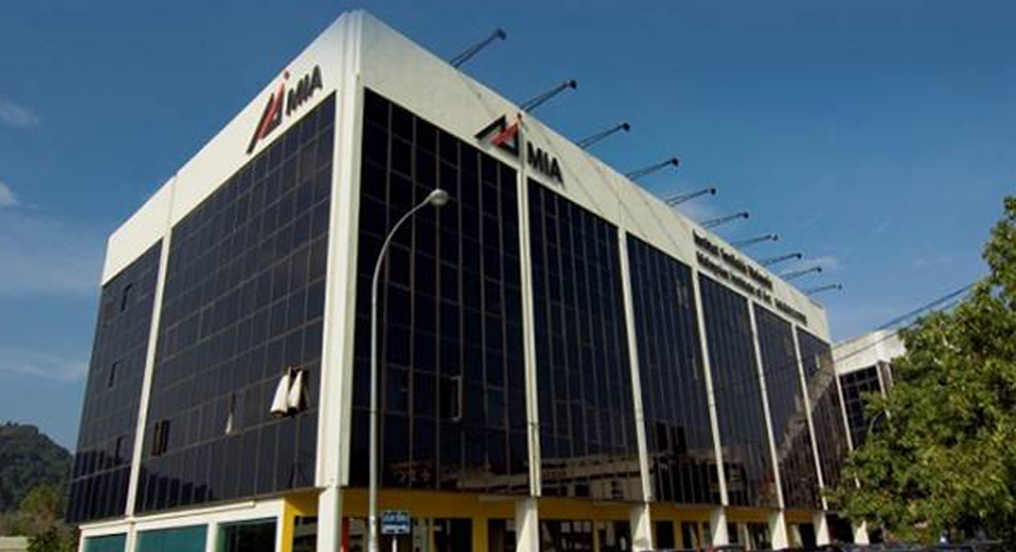 After three years of learning, training and improving her art skills at MIA, Karen was finally able to to discover her own unique art style upon graduation.
An art business is born
Prior to joining the Malaysian Institute of Arts, right after her graduation from high school, Karen had started her business a month on social media as well as online platforms such as Big Cartel.
While training in MIA, Karen was also handling her part-time business meticulously.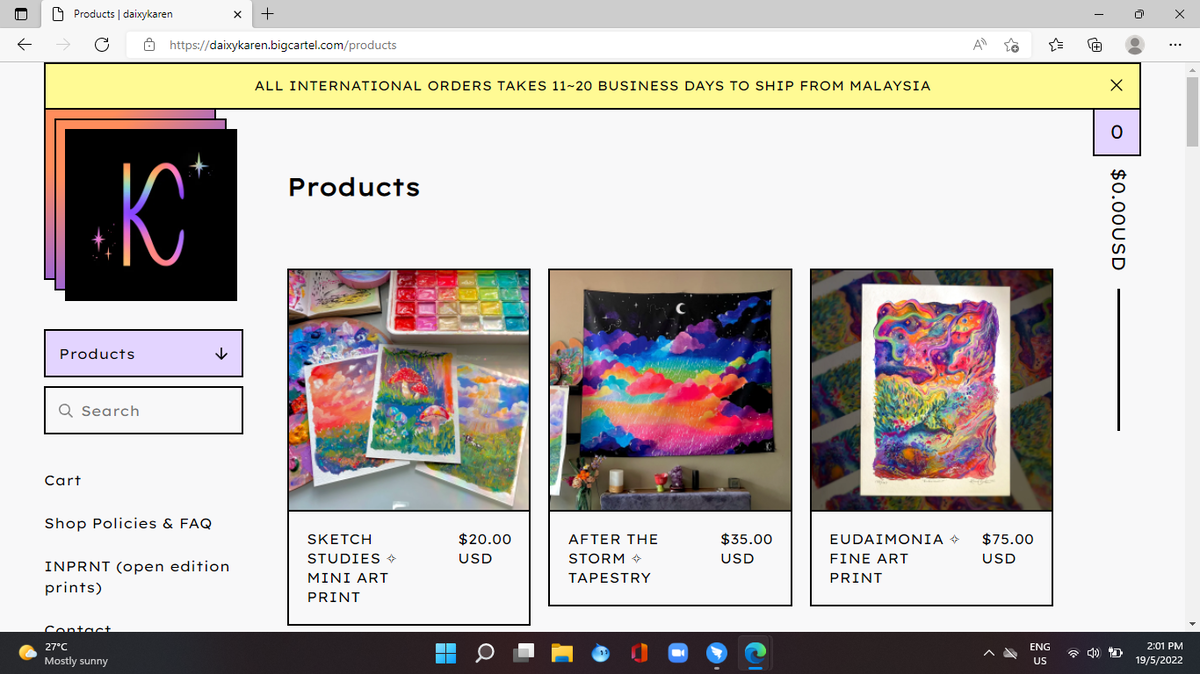 Realizing that she could share her art worldwide by starting social media platforms, the artist started with an Instagram account, daixykaren in 2015 and gained most of her followers there. Later on, 2019/20 she approached Tiktok and Twitter, mostly posting content.

She also tried kickstarting a YouTube channel in 2016, but sadly it failed to gain the traction she had hoped to see.
Nonetheless, Karen refused to give up and gave it another shot in 2020, where it now has more than 200,000 subscribers – a feat that was way beyond her wildest dreams.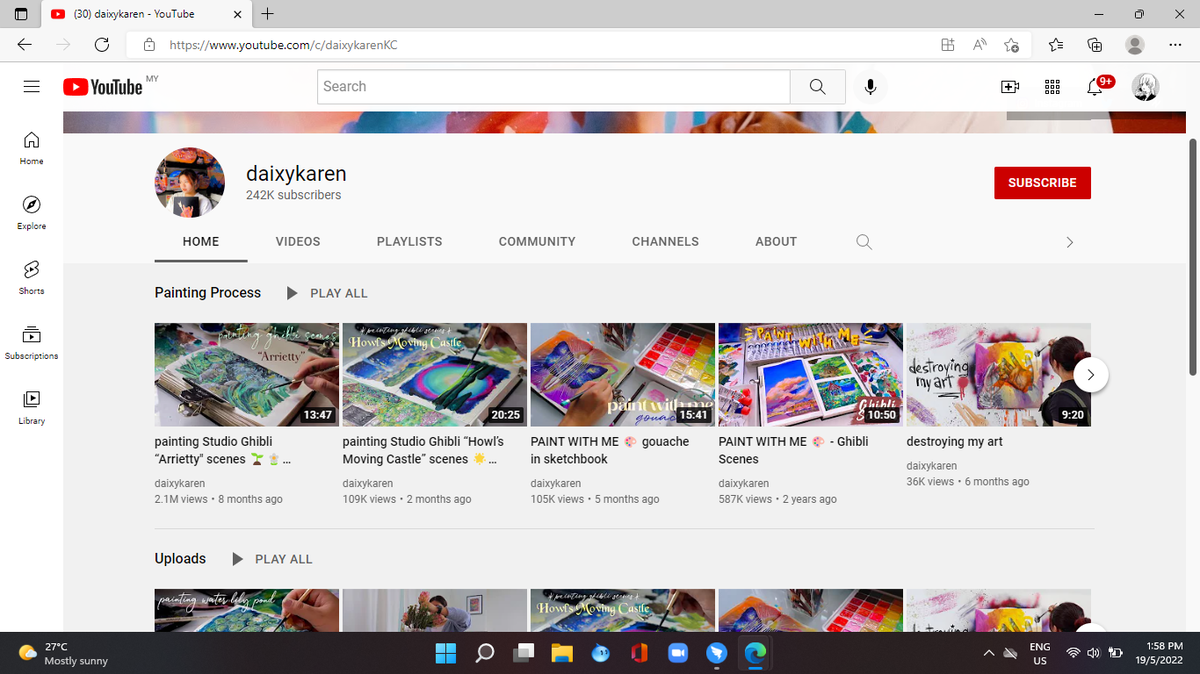 Karen achieved another major milestone in the same year by getting her very own studio in Cheras, allowing her to focus on her art business and make content for her social media platforms.
'Just go for it'
Despite her early success, Karen admits that she faced some doubt and opposition from her family, particularly from an uncle who expressed strong reservations about her career choice.
"After I left high school, I told my her parents that I wanted to continue my art studies. While they were generally supportive, my mum was a little unsure on whether I was taking the right path as she believed that an art career would not get me anywhere.
One day, my mum told my aunts and uncles about my decision to go to art school and one of my uncles exclaimed loudly, 'Why are you doing that? You know there's definitely no future in it!'"
Upon hearing her uncle's words, Karen was left crushed and disappointed and left the room in tears along with a heart laden with uncertainty. "Maybe I've made the wrong choice to pursue art," she thought to herself.
However, after seeing how much she loved art with every fiber in her body, Karen's parents encouraged her to embark on her journey in becoming a full-time artist.
"My mum simply told me: 'If that's what you really want to do, just go for it.'"
'It's a way to express myself'
While some artists create classics to be iconic masterpieces that would be displayed in museums that last through several generations, Karen sees art as a way to express her feelings and subconscious that can't be put into words.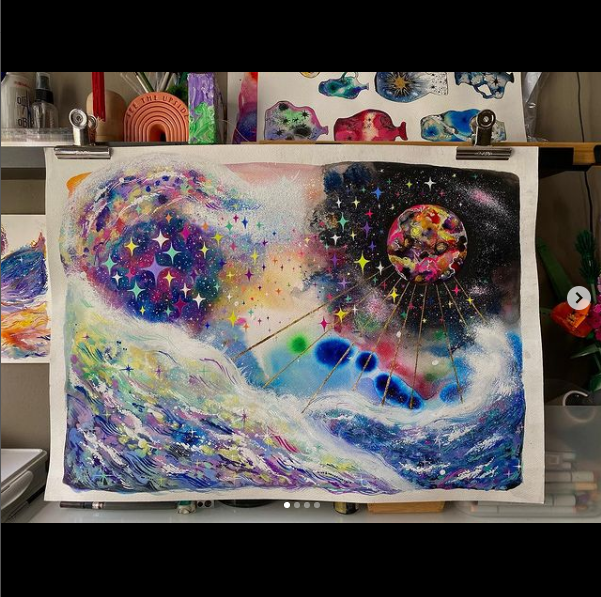 Art is like creating an ideal, fictional world where I would like to live in it and really be free.
Aside from Karen enjoying the process of creating an art piece, she is also able to find peace and the end result brings her immense joy and reminds her of the process of how she worked through it, really means a lot to her.
"To be honest, I actually don't know when exactly did I start liking art that much. All I remember was that my mum used to send me to art classes when I was young, where I was told by a teacher that I had great talent for it.
"Since then, I've been a faithful student of the art classes until I went to high school and although it came to an end, I continued to pursue art as a hobby and have fallen deeply in love with it ever since," she recalls.
Inspired to be an inspiration
When people tell her that she inspired them not just to create or even to choose the same path as she did, but also the feeling of her presence and what she does actually encourage and inspires others to do what they truly want to do, it brings a major sense of fulfilment to Karen.

"It's a magical thing to see what I do inspires people, and it also gives me the encouragement and motivation for me to produce art as well," she said.
Karen provides that there's no harm in trying new things in life. Such as going to new places, new mediums, or trying a new art style. It brings satisfaction and it is very rewarding when you're able to make a breakthrough.
If you have something in mind, not only just an art concept, if you want to start business or even start making videos on Youtube, go ahead and start planning it.
"Get out of your comfort zone, experience something new- it brings so much satisfaction when you are able to try a new skill and surpass your limits."

Head on to her YouTube, Instagram, Twitter and TikTok to get to know more about her journey!