It's that time of the year again when the annual durian season arrives and the mushrooming of roadside durian stalls. On top of that, many restaurants have also seized the opportunity to introduce seasonal durian creations.
From durian cakes, cream puffs, and pastries to various savoury dishes, it seems like every food item wants to have a taste of durian and see if they can create something extraordinary.
Recently, one durian delicacy has been garnering attention on social media—the durian ramen by Menya Shishido PJ. Intrigued by its popularity, I gathered a group of adventurous friends to experience it firsthand.
Ramen was generally good
Before diving into the main attraction, let's talk about the regular ramen options first. Apart from the three featured durian ramen dishes, we also tried two Yakibuta Ramen and one Tonkotsu Tsukemen.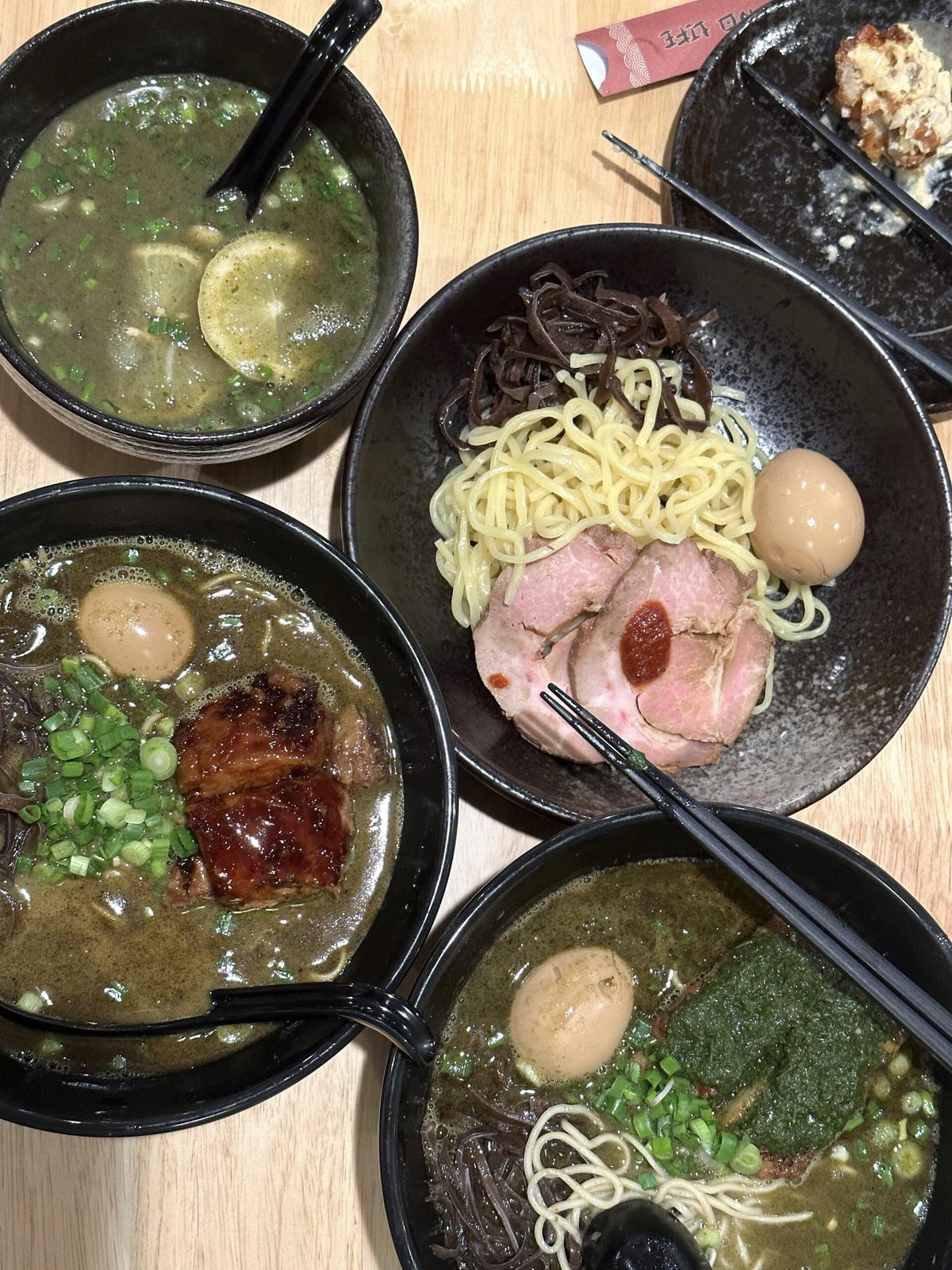 The ramen here is accompanied by a variety of soup bases: white Pork Soup, black Black Garlic, red Spicy, yellow Curry, green Basil, and Pepper Spicy. Diners have the option to choose a single soup or mix 2-3 soup bases.
The homemade ramen noodles had a good chewy texture, the wood ear mushrooms were chewy but not too tough to bite on, and the soy sauce eggs were boiled to perfection, meeting our expectations.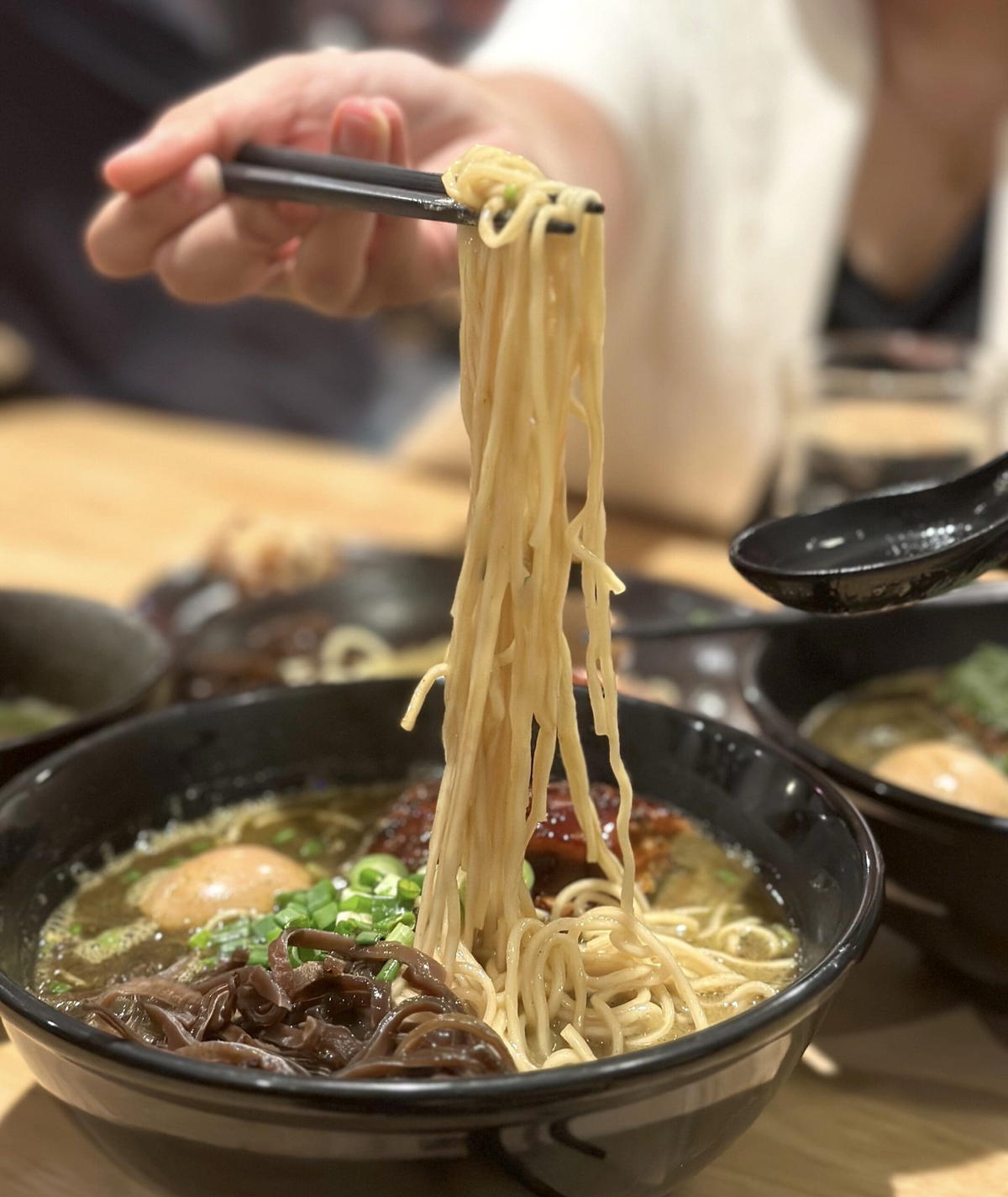 We ordered the Double soup combination which was made of Basil & Curry and paired with BBQ Ippon Yakibuta (braised pork). The curry flavour in this dish was prominent but not overpowering, creating a harmonious fusion. The barbecued Char Siu was also incredibly tender, with the fatty parts practically melting in your mouth, striking a nice balance between savoury and sweet.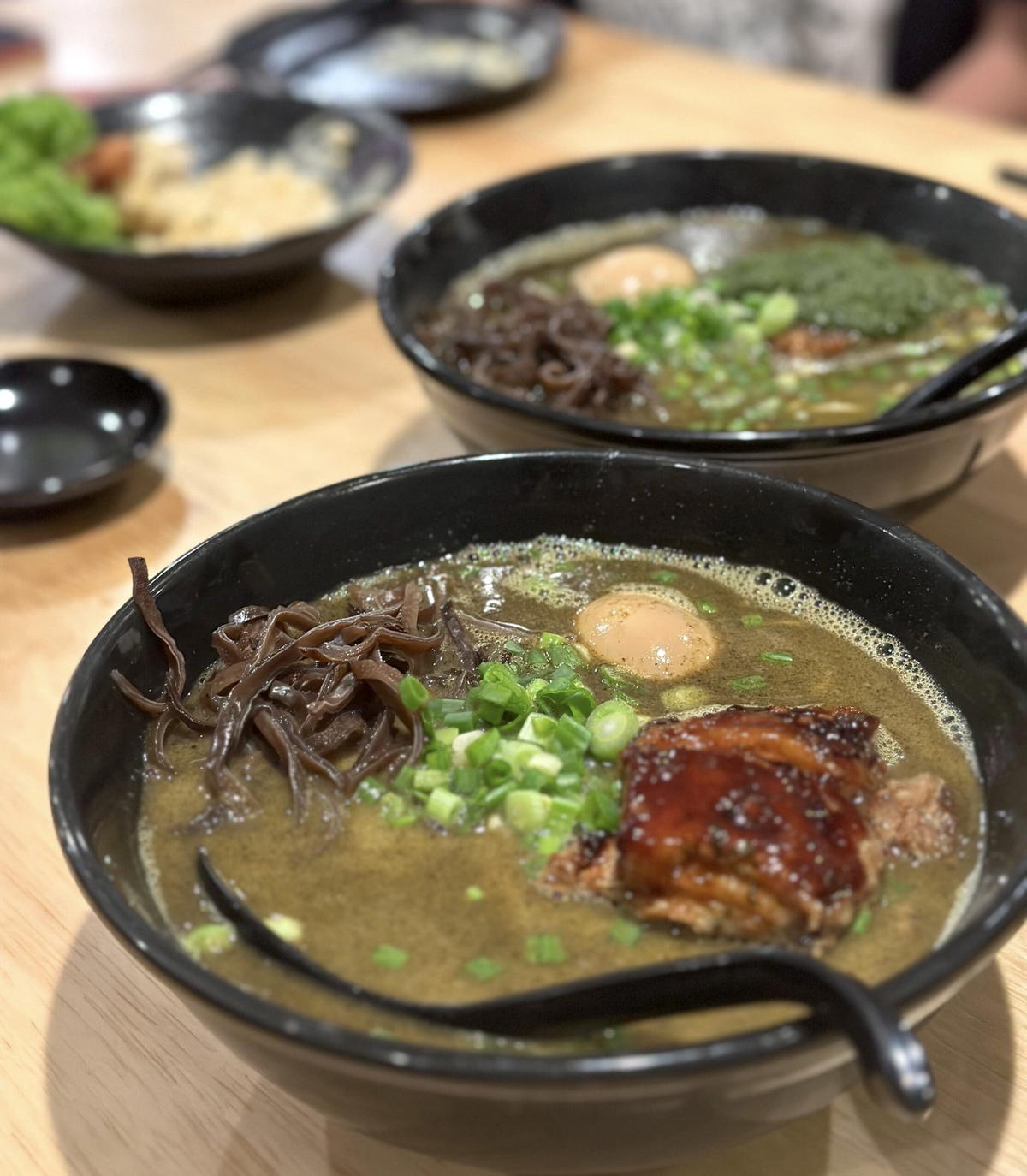 For the Yakibuta Ramen, we mixed three soup bases—Black Garlic, Basil, and Spicy, and paired them with Spicy Coriander Char Siu. This was my personal favourite as all the flavours blended exceptionally well, creating a rich and aromatic experience.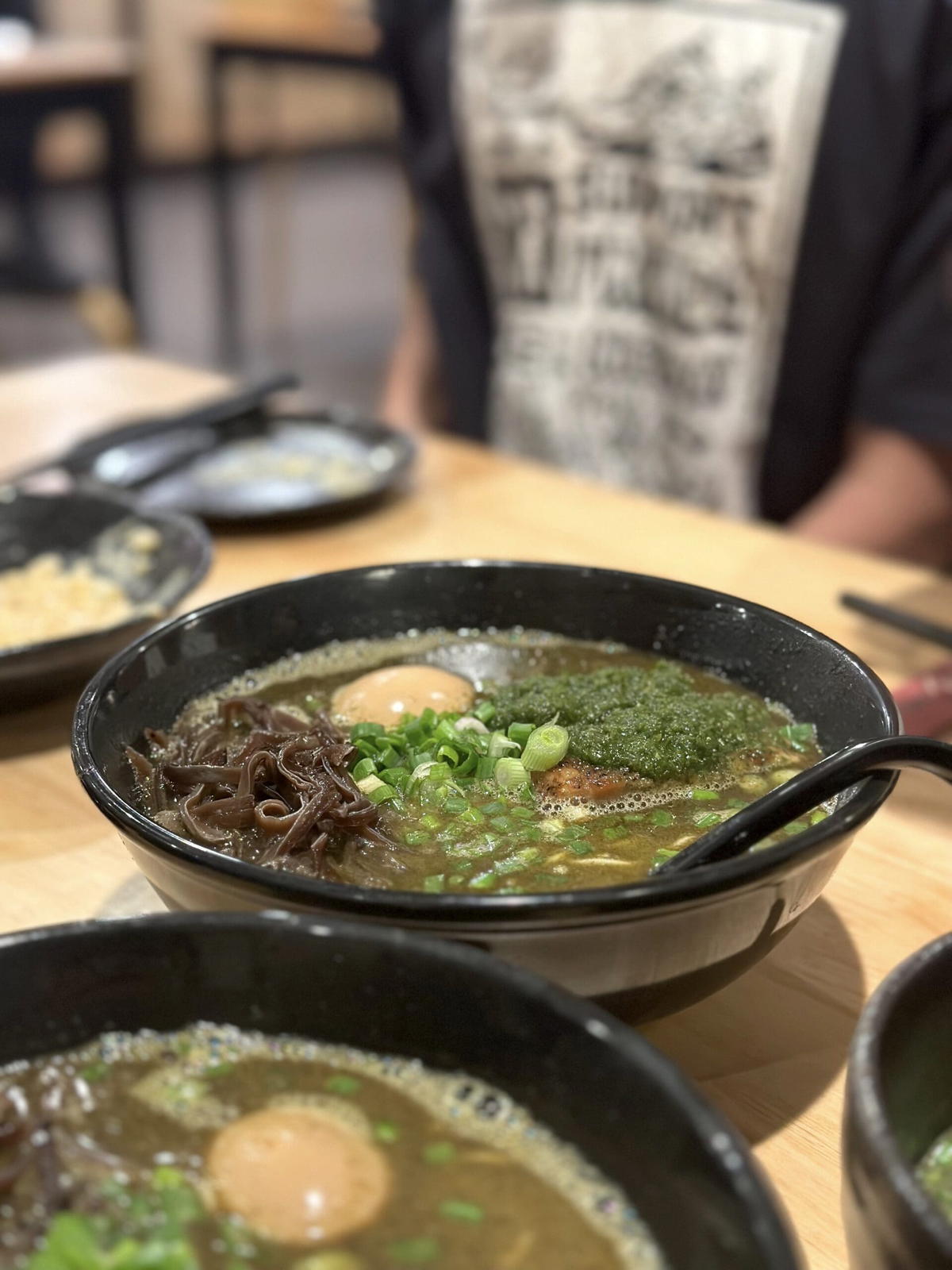 Adding fried garlic to the ramen further enhanced the fragrance and added depth to the taste. The Spicy Coriander Char Siu had the same tenderness and texture as the BBQ version but with a unique and fragrant twist. Personally, I enjoyed it but those who dislike coriander with a passion might want to avoid it.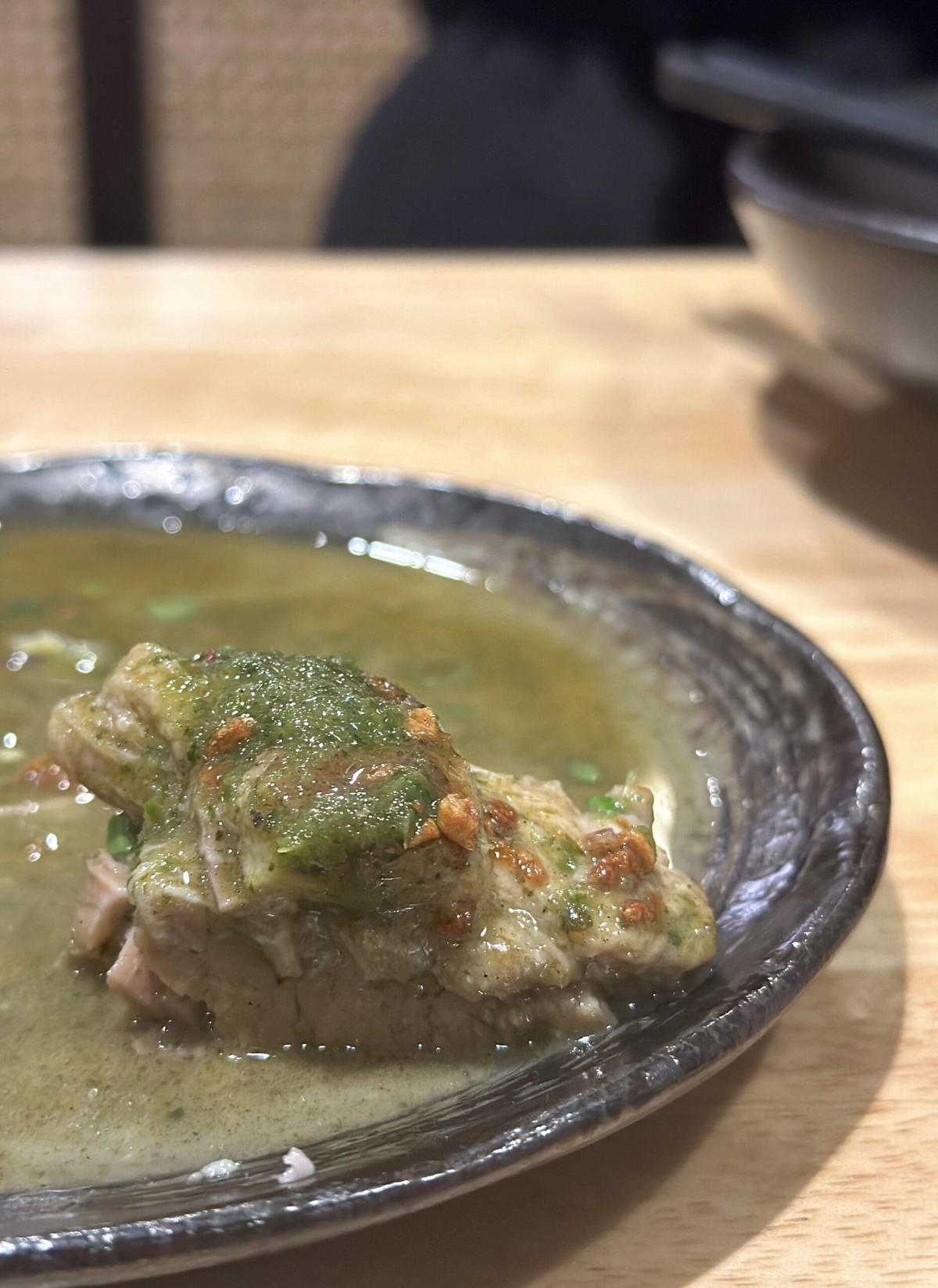 Lastly, the Tsukemen-style ramen involved dipping the dry noodles and toppings into a soup made with lemon, black garlic, and basil-infused soup. It had a refreshing taste and a noteworthy flavour combination. Instead of a whole piece of Char Siu, this dish featured a slice of rolled char siu that was considerably flavoured.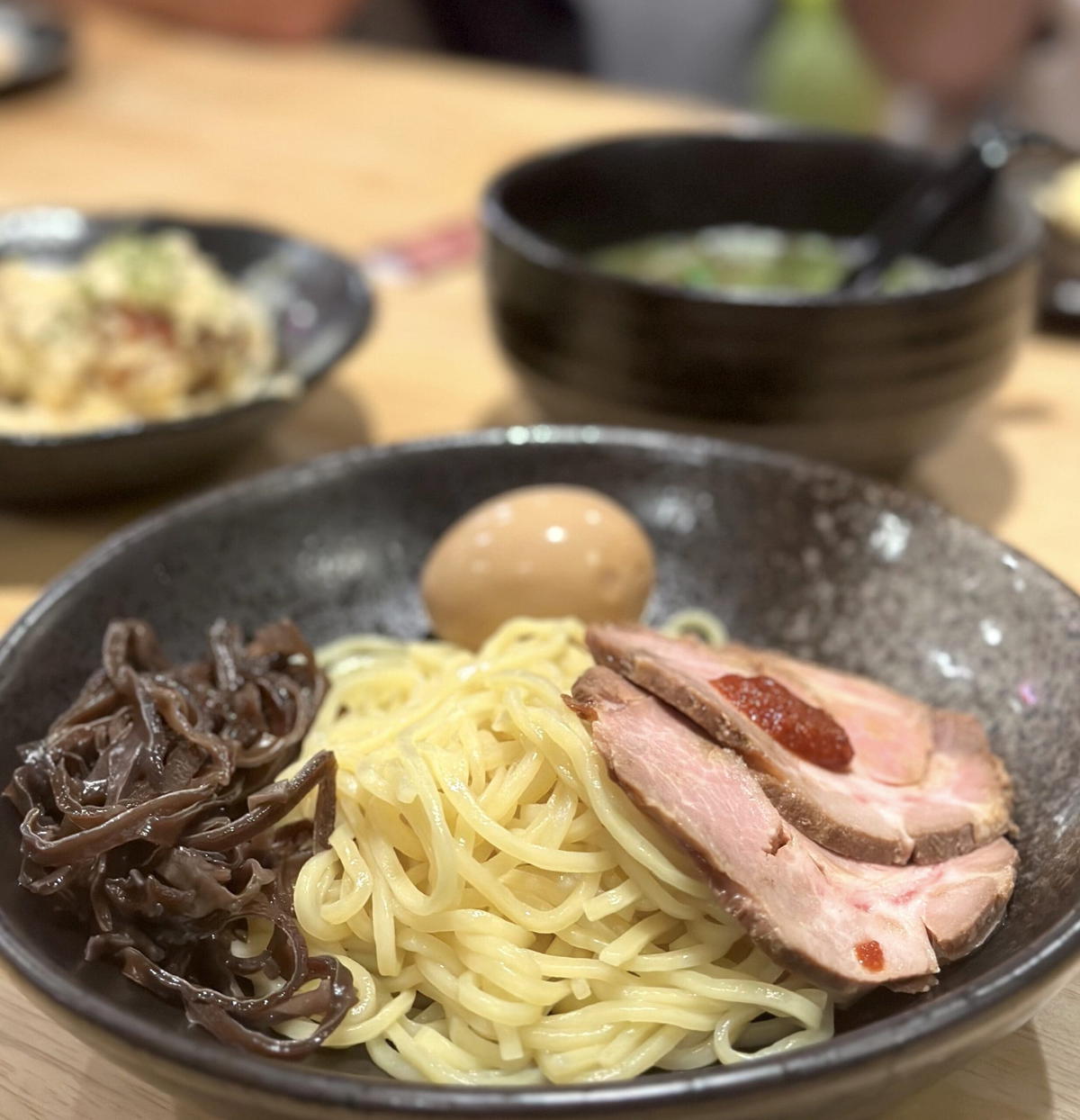 Decent side dishes
In addition to the ramen, we also ordered some side dishes such as Nanban Fried Chicken and Potato Salad, both of which were delicious.
The Nanban Fried Chicken had a well-seasoned and crispy exterior, with just the right amount of crunchiness. The key element of Nanban Fried Chicken lies in the tartar sauce, and the restaurant undoubtedly did an excellent job with it. The combination of eggs and onions complemented each other, achieving a perfect balance and enhancing the chicken.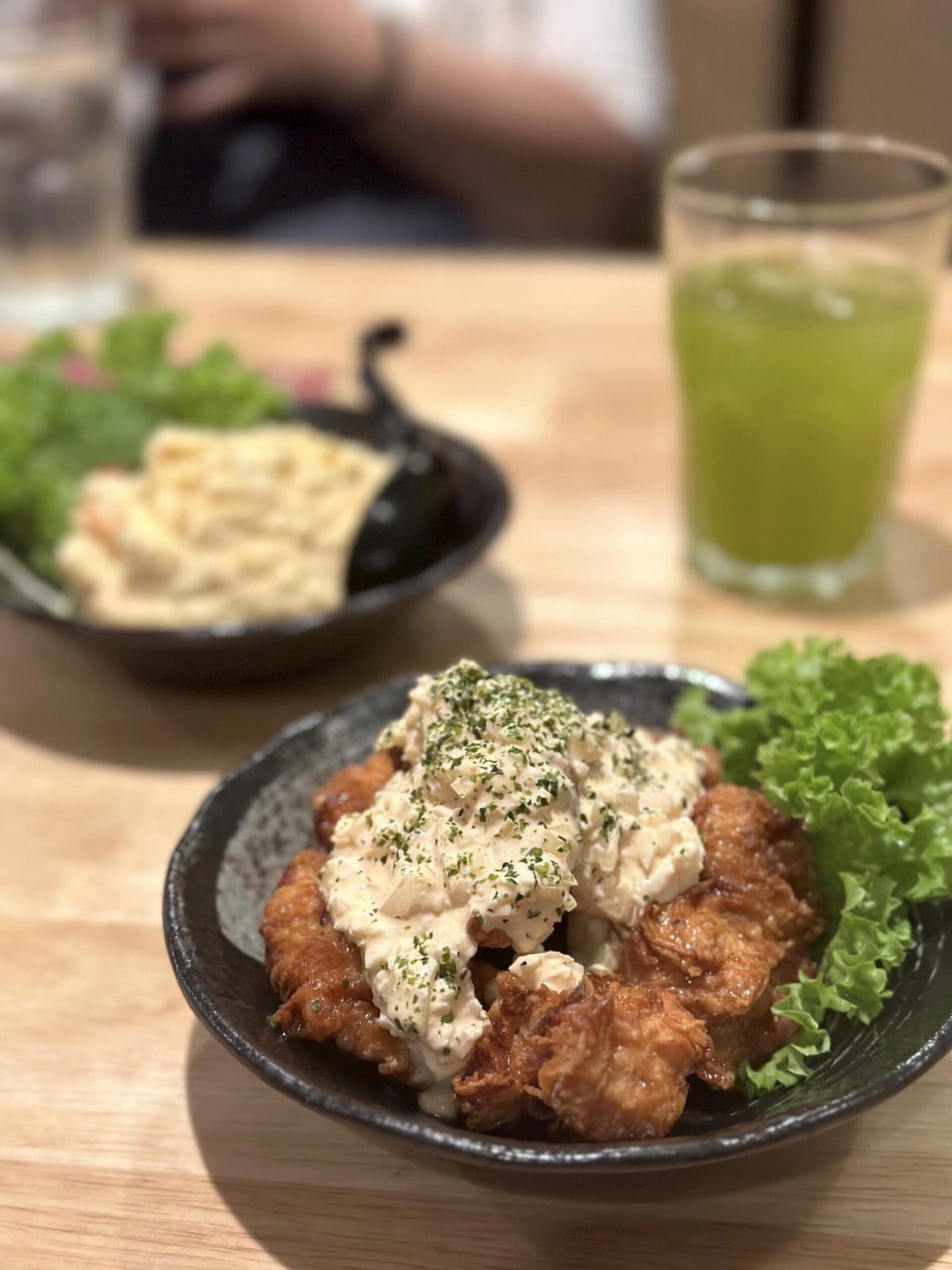 Next up was the Potato Salad, which had a great flavour. It included all the necessary ingredients, but the only slight drawback was that it was slightly watery in texture. A more consistent texture would have elevated the dish further.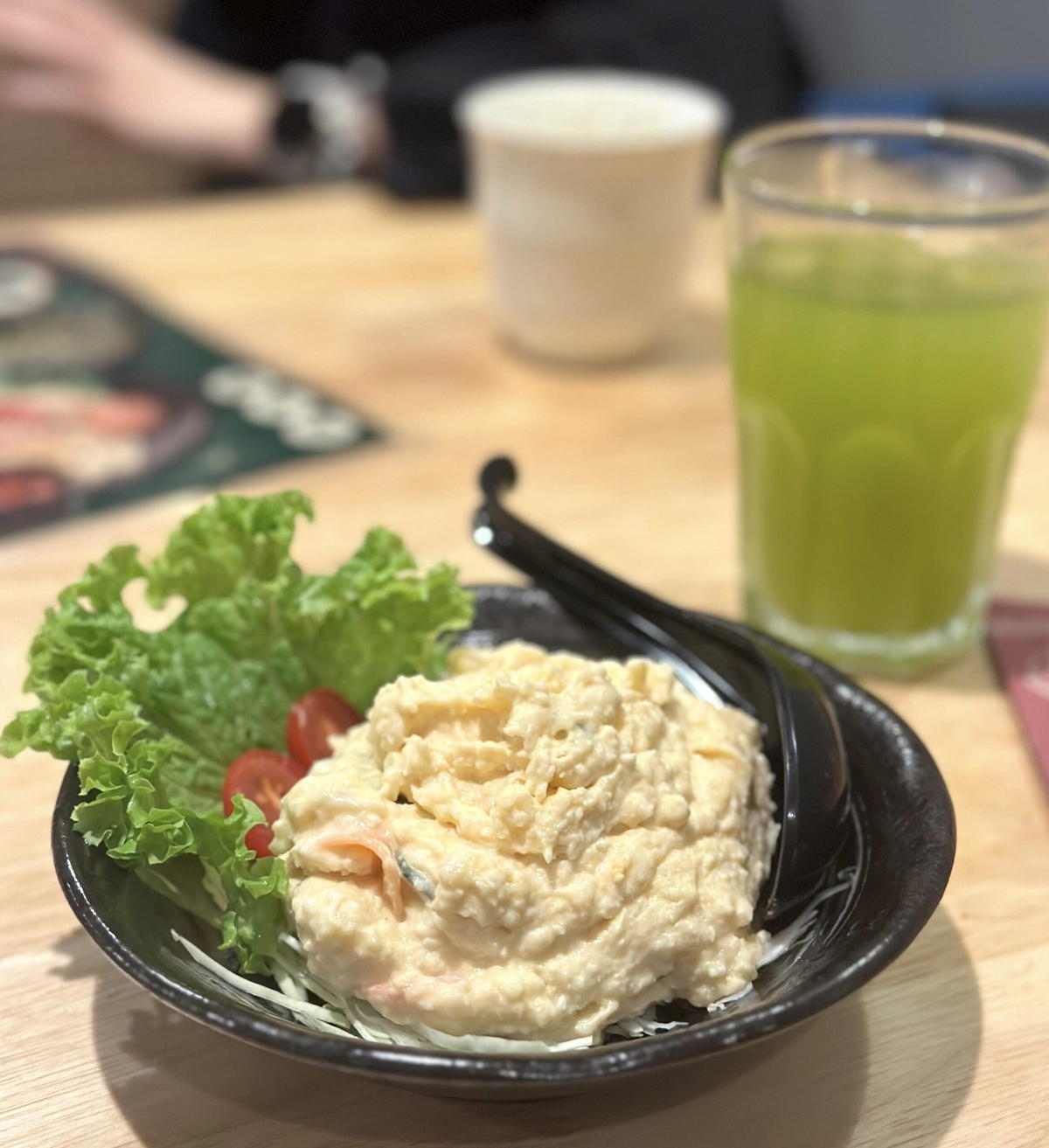 Time to taste the controversial dish
After much ado, the spotlight was finally on the Durian Ramen. Since we were all eager to try it and avoid any potential disappointment, my four other friends and I decided to share a single serving priced at RM40.
First of all, the presentation was impressive as they used a processed durian shell as the bowl, with the two pieces of durian flesh placed directly on top of the basic pork bone broth ramen. The toppings included noodles, soft-boiled eggs, rolled Char Siu, and wood ear mushrooms.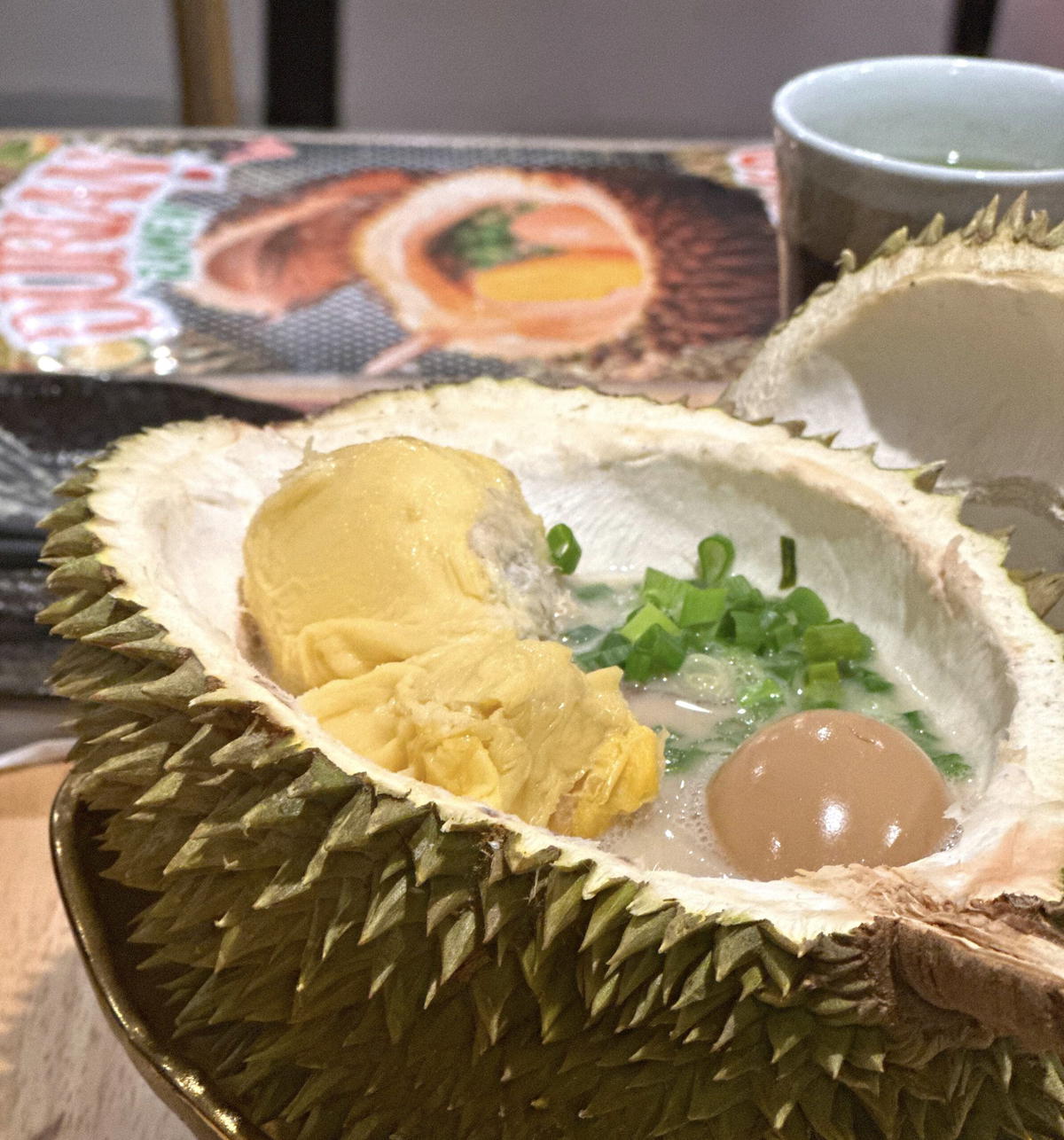 After getting enough of the strong aroma, we started by dispersing the creamy durian flesh into the broth, and after each of us took a spoonful, our group was divided into two camps. One camp couldn't accept it at all, while the other found it quite enjoyable. Those who couldn't accept it primarily felt that durian should be eaten on its own, focusing only on the flesh.
Personally, I found it acceptable. First, in terms of texture, the creamy durian flesh combined with the chewy and moist ramen noodles, created a rich and complementary overall experience.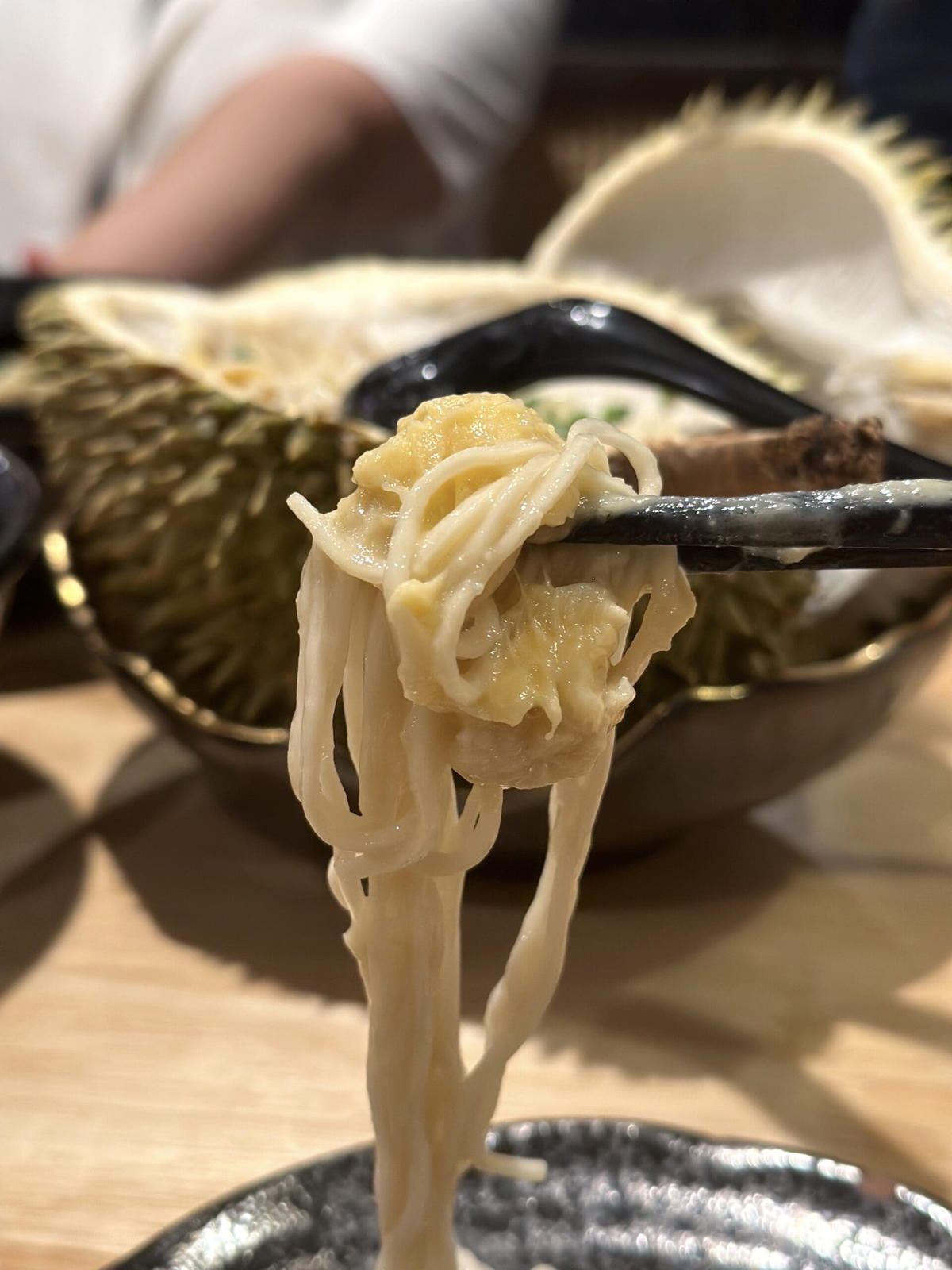 Surprisingly, the broth was the most impressive element. The flavorful pork bone broth blended surprisingly well with the dense and rich durian, to the extent that one would even want to keep drinking it. The chef probably chose a relatively mild durian variety to maintain the balance of flavours as selecting a variety that is too bitter, too sweet, or with a unique taste would disrupt the overall harmony.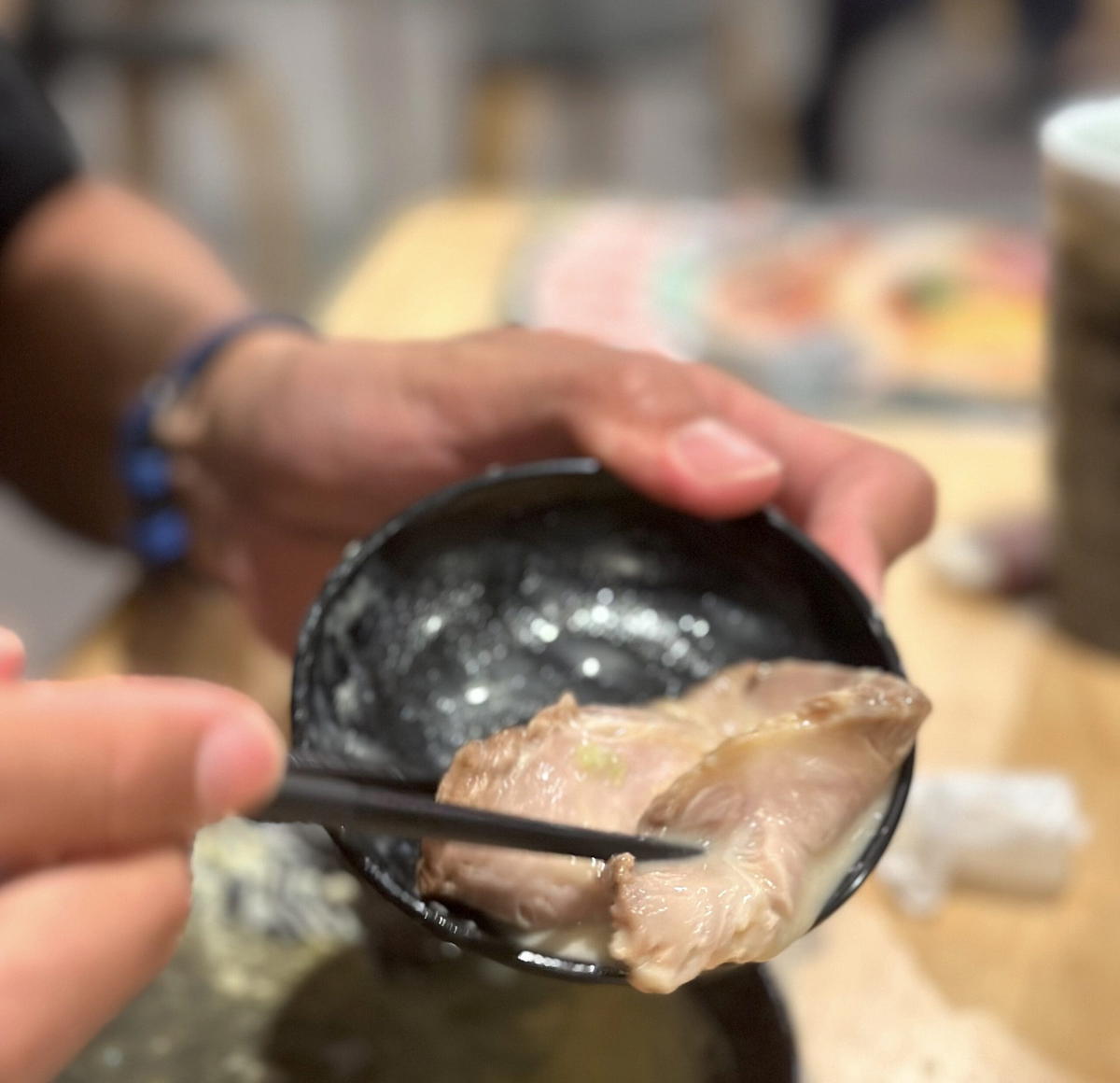 The addition of durian to the broth, along with the soft-boiled eggs and Char Siu, blended well without any particular element standing out. We even tried dipping the durian flesh in the chilli powder placed on the table, and it surprisingly tasted good.
Unique experience
Overall, the dining experience was excellent and the service staff were attentive. We went on a weekday evening and managed to find seating since the restaurant had two spacious floors.
However, please note that the restaurant generally doesn't accept reservations and operates on a walk-in basis, so it's advisable to arrive early during peak hours like the weekends.
Also, it's important to note that the place is not accessible by public transportation. If you're driving, parking spaces are limited. Thus, it's recommended to park in the parking lot near the gym and sports centre where more spaces are available.
In terms of pricing, I would consider it average, with some single-flavour options being more affordable. Their menu can be found on their Instagram account, so feel free to check it out before heading there.
As for the durian ramen, try it at your own risk!
Menya Shishido, B Land PJ
Address: 2, Jalan 51a/225, Seksyen 51a, 46100 Petaling Jaya, Selangor
This is a non-halal eatery.
Disclaimer: This is an independent review by WeirdKaya.
Read more:
---
---