Whenever you hear of someone selling Sam Kan Chong pork noodles at a Kopitiam, what would that person look like in your mind? An old uncle in his 40s? An elderly woman? Or a youngster?
Turns out, the stall serving these noodles in Section 17 is run by a 25-year-old man named Joon, who is the owner of Fei Fei Sam Kan Chong.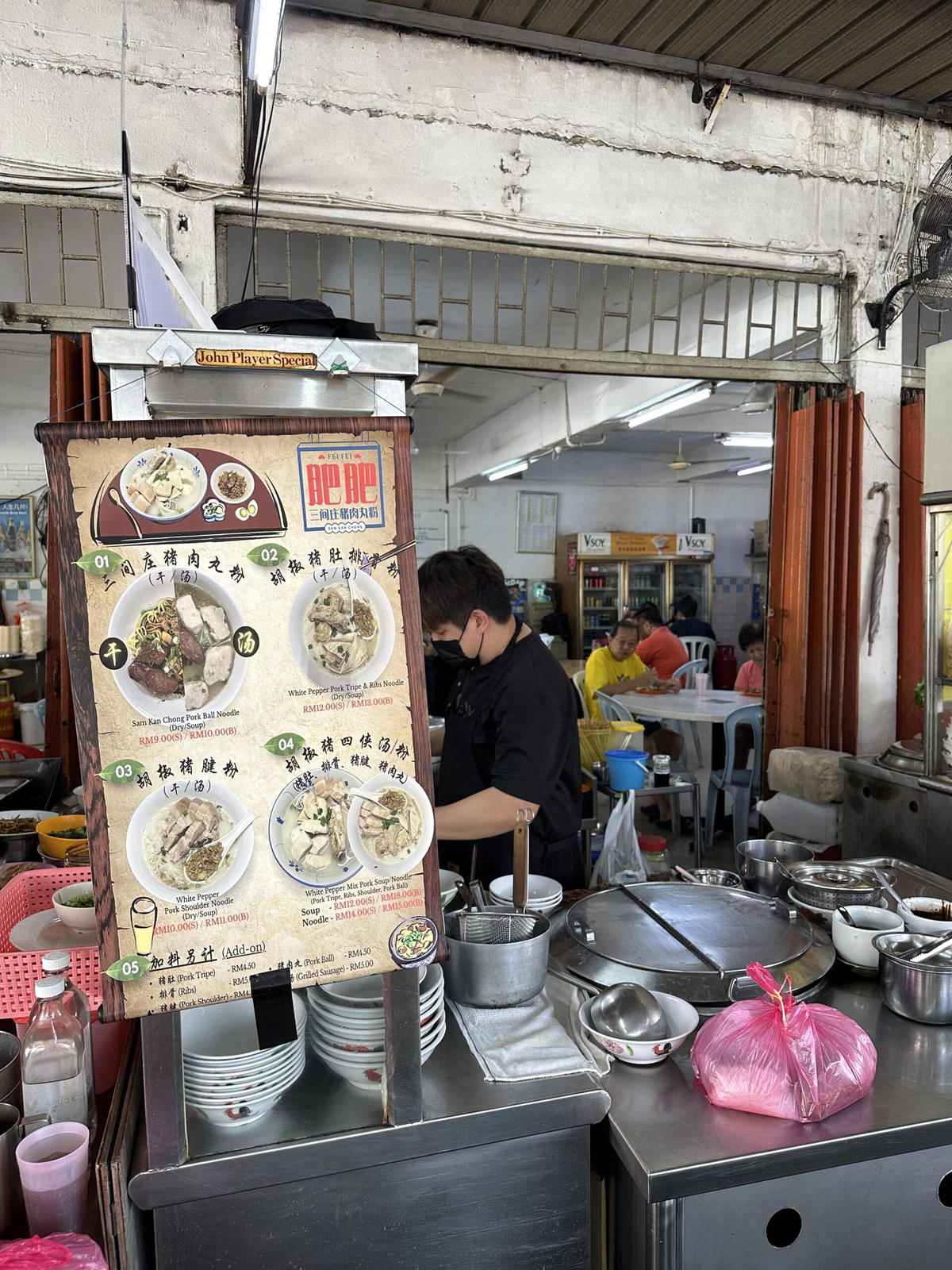 From a young age, Joon has been imparted the secrets of making delicious traditional Chinese food and finally put it into practice by selling Sam Kan Chong noodles in piping hot white pepper soup, a dish which we had the opportunity to try out.
Rich-tasting soup and delicious meat
We ordered a white pepper mix pork noodle that had everything in it – pork tripe, ribs, shoulder, and pork balls served in a dry noodle style. Coincidentally, there was a special item available that weekend, which was pork intestines cooked.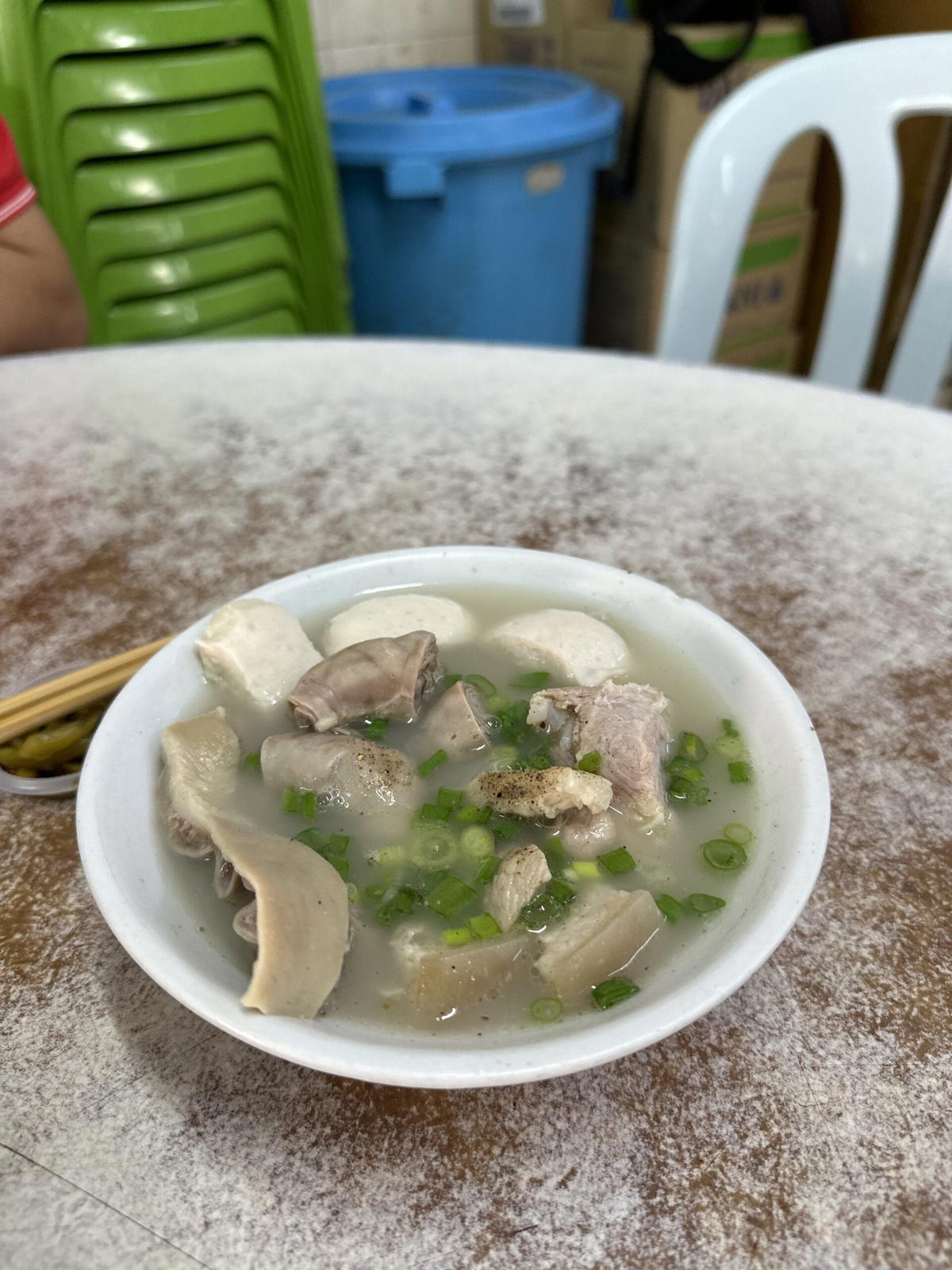 Let's start with the soup base, which was incredibly rich and flavorful. Its creamy white colour and taste indicated that the owner had spent hours simmering the broth, allowing the sweetness of the pork bones to seep out and be one with the soup.
Surprisingly, I didn't feel thirsty while drinking the soup, which suggests that everything in it was homemade and had no MSG in it. The white pepper also gave the soup a slight kick but wasn't too overpowering in terms of spiciness and made for a satisfying combination with every bite I took of the pork meat.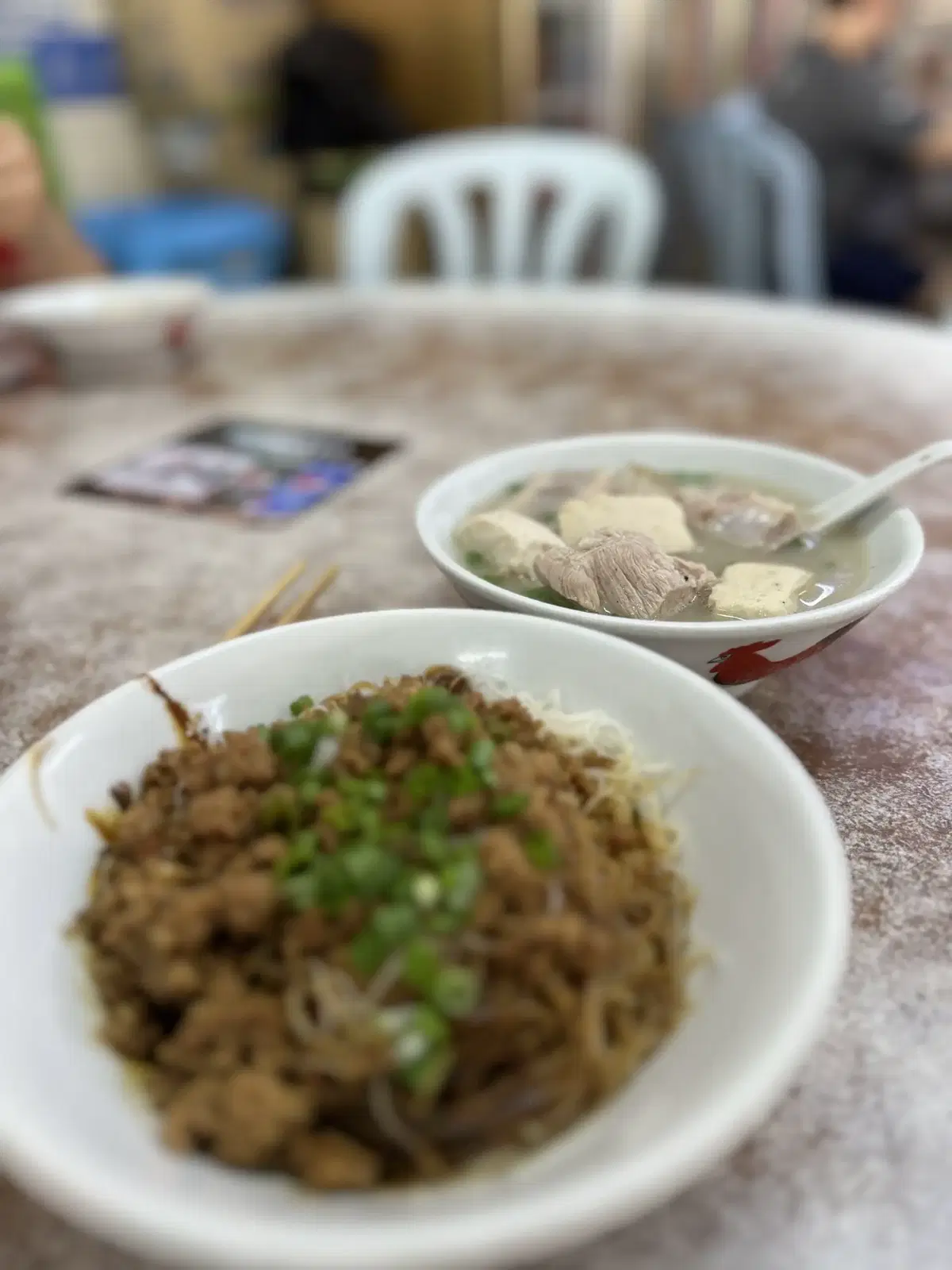 Next, let's talk about the dry sauce and minced meat. The fragrance and taste of the dry sauce, enhanced by the addition of pork lard and a blend of other seasonings and Joon's homemade minced meat, which had the perfect ratio of lean to fat, made the ordinary noodles all the more extraordinary.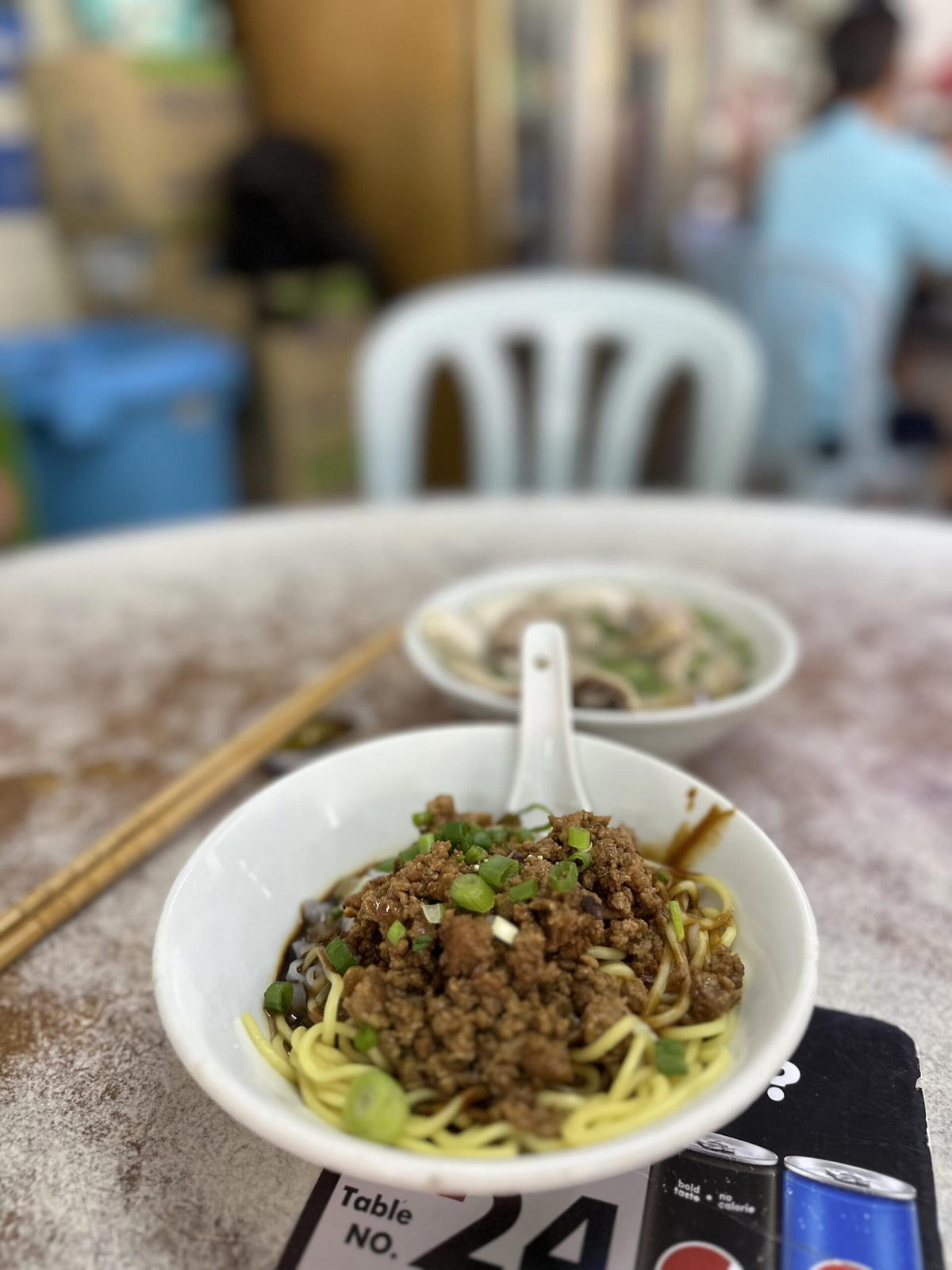 For innards lovers, the innards were cooked to perfection. Apart from its excellent texture, it was evident that Joon had taken great care in preparing each type of meat, ensuring there was no unpleasant gamey taste.
Since some of us preferred lean meat and didn't eat offals, we also ordered pork tripe & ribs noodles, where we requested the pork tripe be replaced with pork shoulder.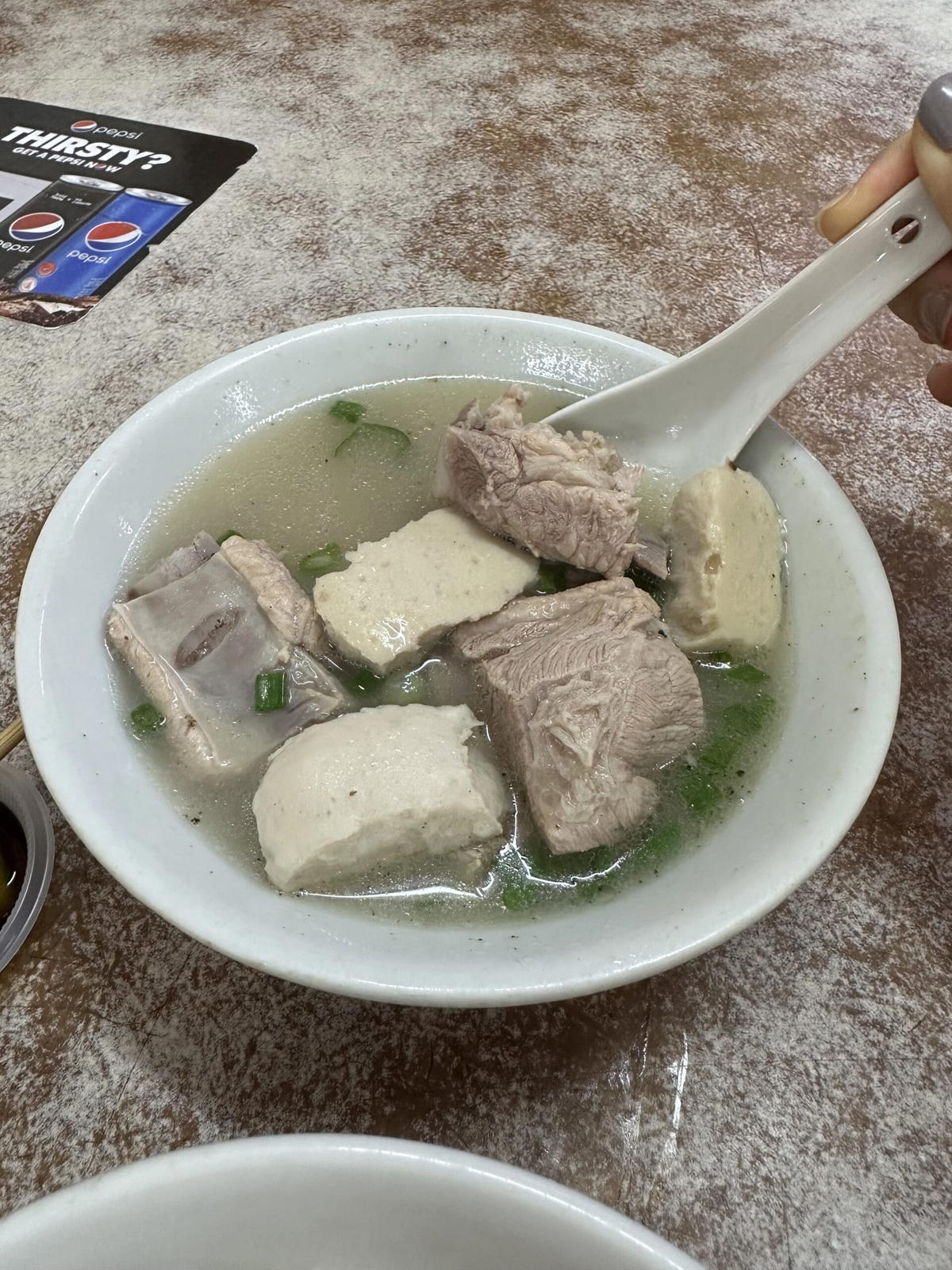 Their pork ribs were cooked until tender and succulent and had an exceptionally flavorful taste without losing too much moisture.
Side dishes
Each bowl of noodles was served with grilled sausages, where the taste and texture were just right—tender, savoury, and not too chewy like many sold elsewhere.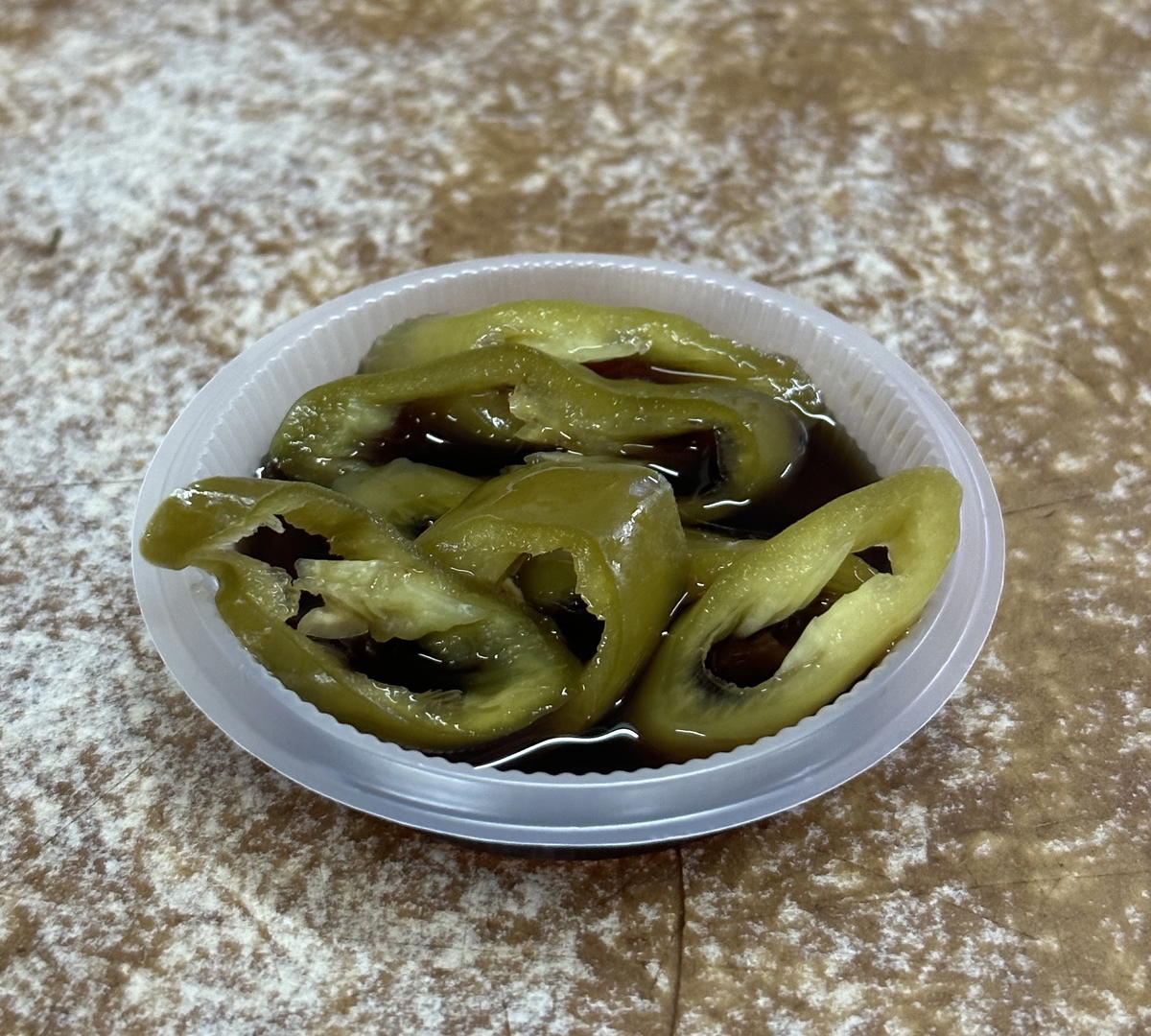 The most surprising side dish for us was the pickled green chilli, which is typically only found in wonton noodle shops. It had a tangy, crispy texture which was perfectly balanced. In fact, we couldn't get enough of it so much to the point where we actually asked for an extra serving!
Minor downsides
Firstly, the shop has quite limited seating capacity, which means that customers may have to wait for a while before getting a table, especially during peak hours. On the bright side, it is a sign that the shop is selling good food!
Secondly, one of the main drawbacks is the lack of parking space around the area. Customers who drive may find it challenging to find a parking spot nearby, which can be frustrating and time-consuming. It is recommended that customers park their cars at Seventeen Mall's basement car park.
Finally, while the kopitiam serves all the usual kopitiam beverages, the taste of the drinks could be improved. We also believe service can be better as we received the wrong orders at the beginning.
Worth A Try
All in all, if you're a pork noodle or pepper soup lover, Fei Fei Sam Kan Chong is really worth a try!
Here's a sneak peek of what you'll be able to order.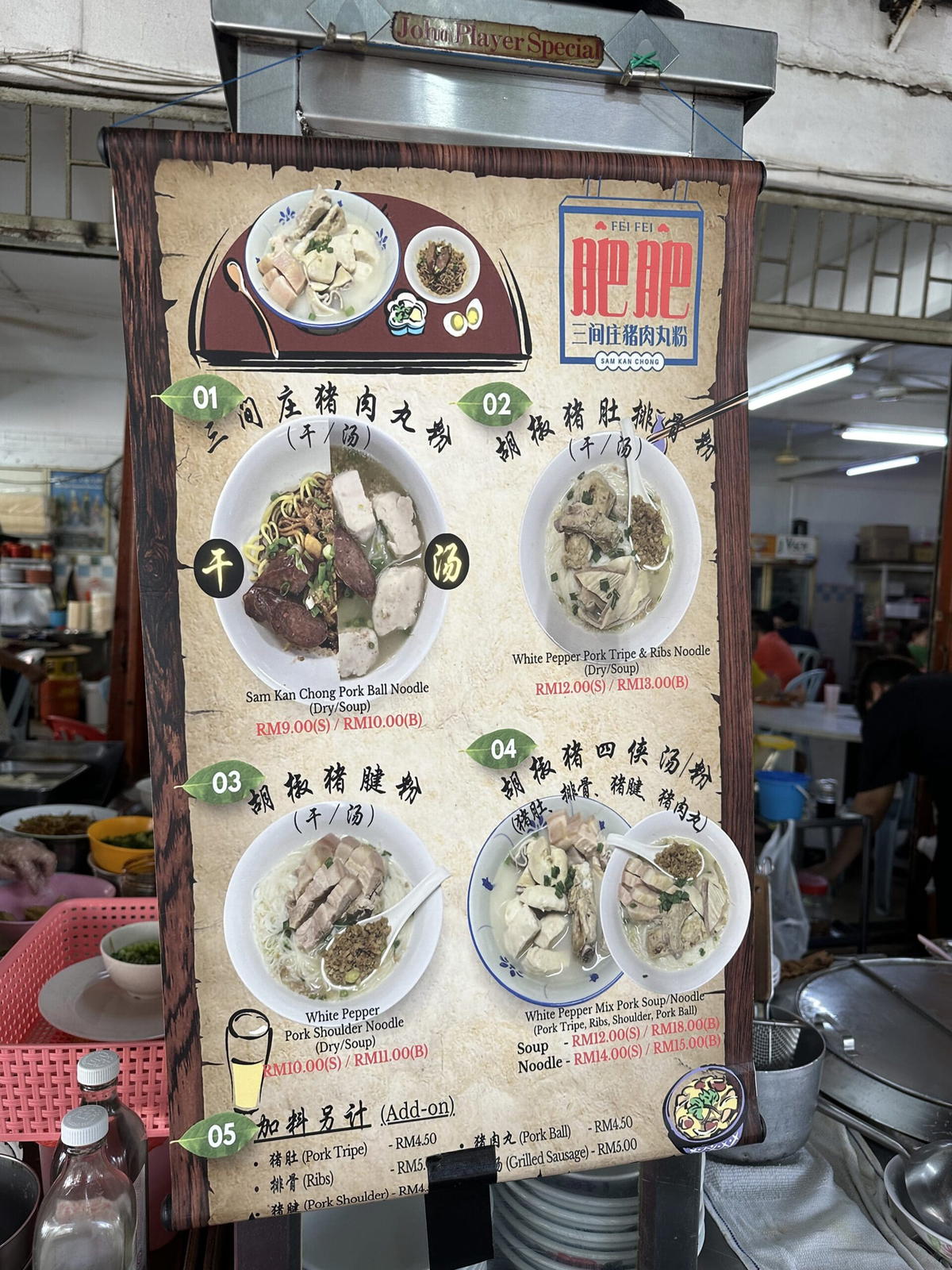 Address: Lucky Seng Restaurant, Section 17, 1082, Jalan 17/29, Seksyen 17, 46400 Petaling Jaya, Selangor
This is a non-halal eatery.
Disclaimer: This is an independent review by WeirdKaya.
Read more:
---

---
---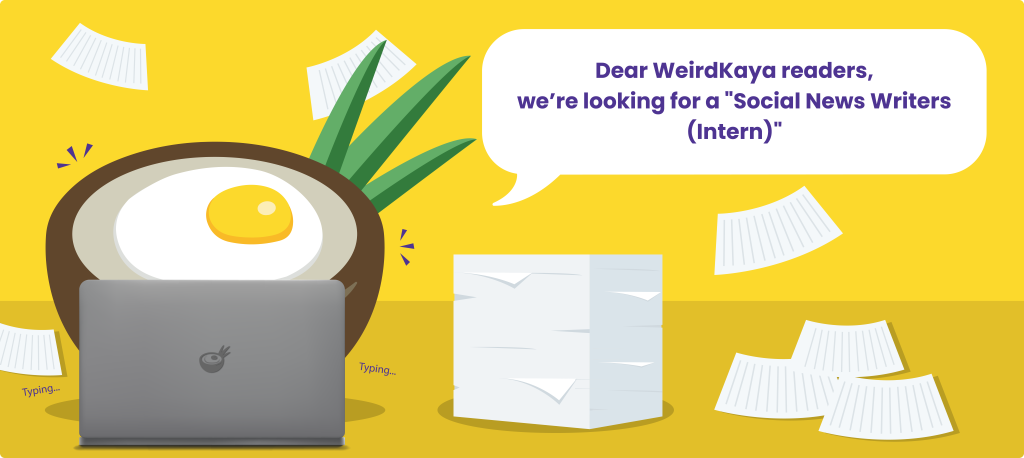 ---