As the anticipation around Coldplay's upcoming concert in Malaysia reaches a fever pitch, many fans were left disheartened as tickets sold out within minutes of going on the first day of sale for CIMB cardholders.
Coldplay's Malaysia tickets go on sale today
Based on our experience, on the initial day of sales exclusively for CIMB Bank customers, the website was unable to handle the surge in demand and subsequently crashed.
This unfortunate event left a multitude of Malaysians unsuccessful in their attempts to purchase tickets.
The resulting frustration was palpable, with fans expressing their displeasure across social media channels such as Facebook and Twitter.
When you try your best but you don't succeed #COLDPLAYinKL pic.twitter.com/0ETKNtTtG3

— Vishfro (@vishfro) May 16, 2023
Nobody said it was easy, no one ever said it would be this hard ~ #COLDPLAYinKL pic.twitter.com/kYYaGX9KT3

— 一万 (@ikh_iwan) May 16, 2023
me after failing to get the coldplay ticket in Malaysia. #COLDPLAYinKL pic.twitter.com/lSO0Ghypl8

— melioruel (@isfazruell) May 16, 2023
Coldplay's Malaysia Concert ticket resold on Carousell
Adding to their disappointment, it has now emerged that some opportunistic scalpers are selling these tickets at hugely inflated prices on the online marketplace Carousell.
A quick search on Carousell reveals numerous listings for Coldplay's concert tickets at exorbitant prices.
For example, My Universe tickets originally priced at RM2108 are now being offered for RM3,200 for a pair – an almost two times increase.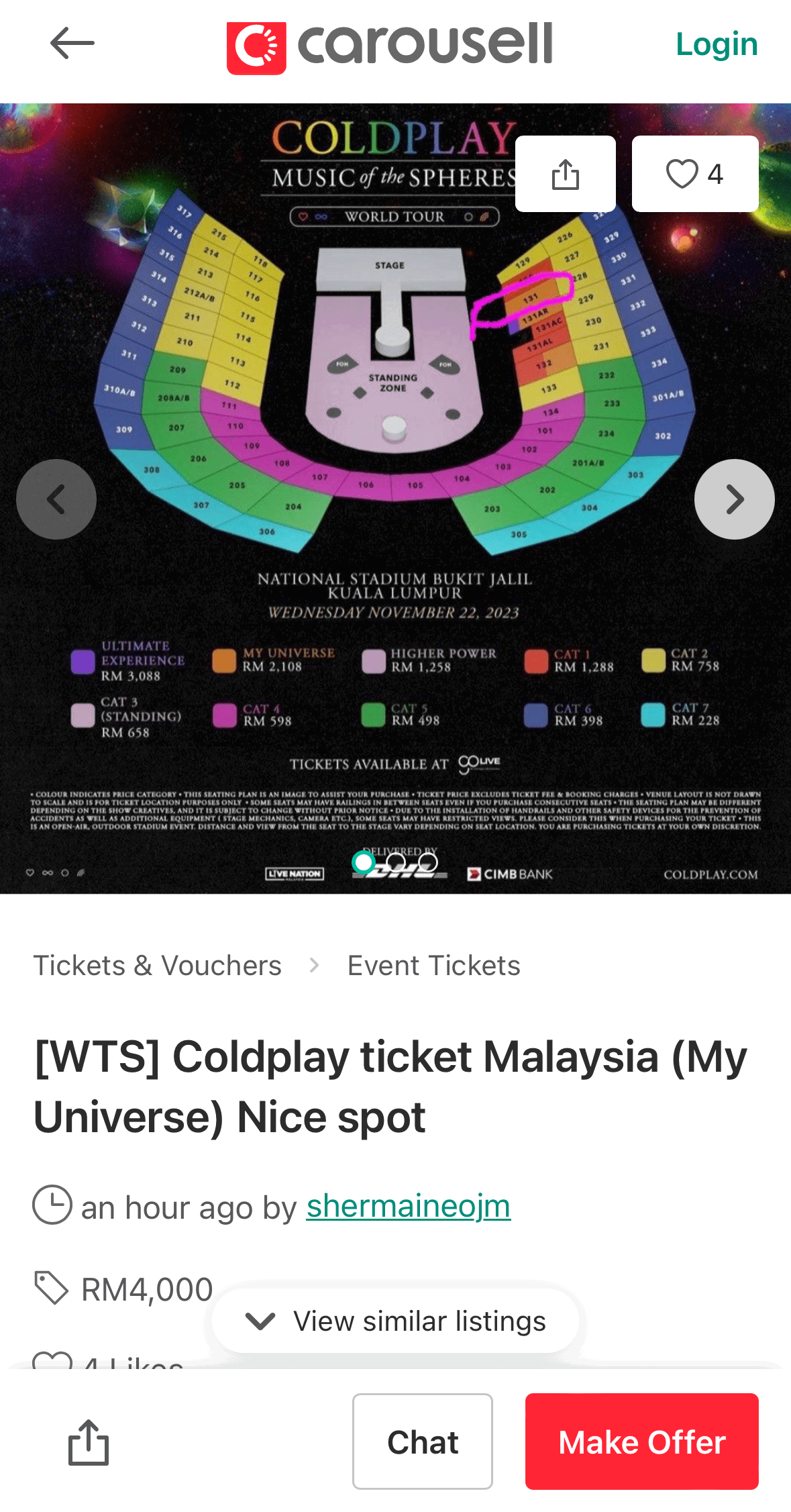 Meanwhile, Category 2 tickets, initially costing RM758, are being resold at RM2,355 for a pair, more than tripling the original price.
The excitement around Coldplay's Malaysia concert is understandable, but fans are encouraged to remain patient and vigilant against potential scams and opportunistic reselling!