Despite being approximately 1,000km away from the national capital, Sarawak is not that far from people of other parts of Malaysia, as we have all learnt about its traits through the textbook, the news and many other channels.
However, have you ever been there to witness its wonders yourself? If you haven't, join us on the count of reasons why you should pay a visit to the Land of Hornbills! If you have, may this take you for a stroll down memory lane!
Don't blink as WeirdKaya brings to you the 5 reasons you SHOULD visit Sarawak!
1. Diverse delectables
First and foremost, the reason for visiting Sarawak is undoubtedly to taste its food, where you are provided with a wide array of choices! From Sarawak Laksa, one of the best Asian food (ranked by TasteAtlas) to the must-try Kolo Mee, you name it!
Kolo Mee
Kolo Mee is a Sarawakian Chinese favourite local meal consisting of dry noodles mixed with pork and shallots mixture. The dish is often garnished with aromatic spring onions and crunchy fried onions.
Compared to Wonton Mee, which is more prevalent in Peninsular Malaysia, Kolo Mee is springier, and water is not added to the noodles when served.
Often served with slices of char siu on top of the noodles, Kolo Mee comes with two familiar flavours, which are plain and seasoned with red sauce, a sauce from char siu (barbecued pork).
Kolo Mee is usually served with soup and soy sauce, making the dish looks darker and tastes saltier. It is available for breakfast, lunch, and supper so that you can enjoy it almost any time of the day.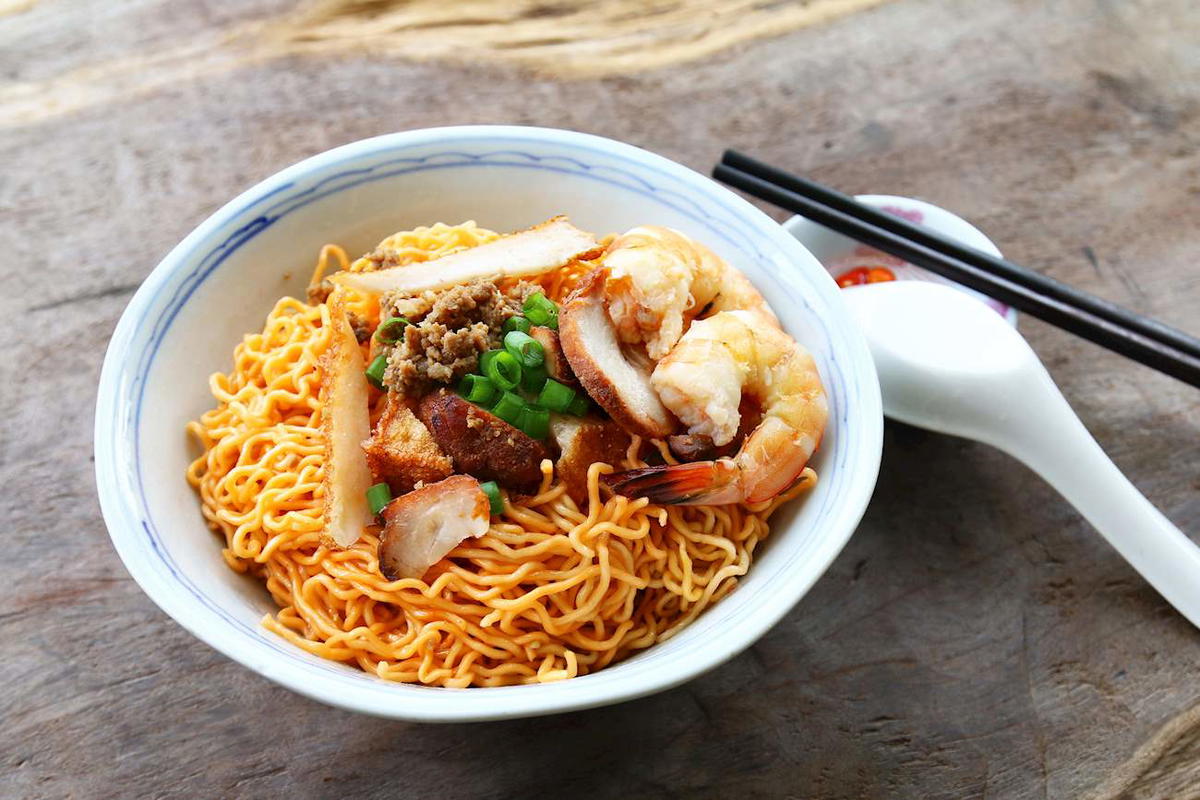 Sarawak Laksa
Although laksas are accessible in every part of the country, Sarawak Laksa is something the locals take the most pride in!
Though related to other varieties, Sarawak Laksa is distinguished by a subtle, mild flavour. It comprises a chicken or shrimp-based broth seasoned with thick laksa paste, where twenty distinct ingredients are perfectly combined.
Besides the main vermicelli noodles, some other ingredients served alongside the flavourful soup would be shredded omelette, cooked prawns, and shredded chicken. Spicy sambal and lime will also be offered on the side for those who opt for stronger flavours.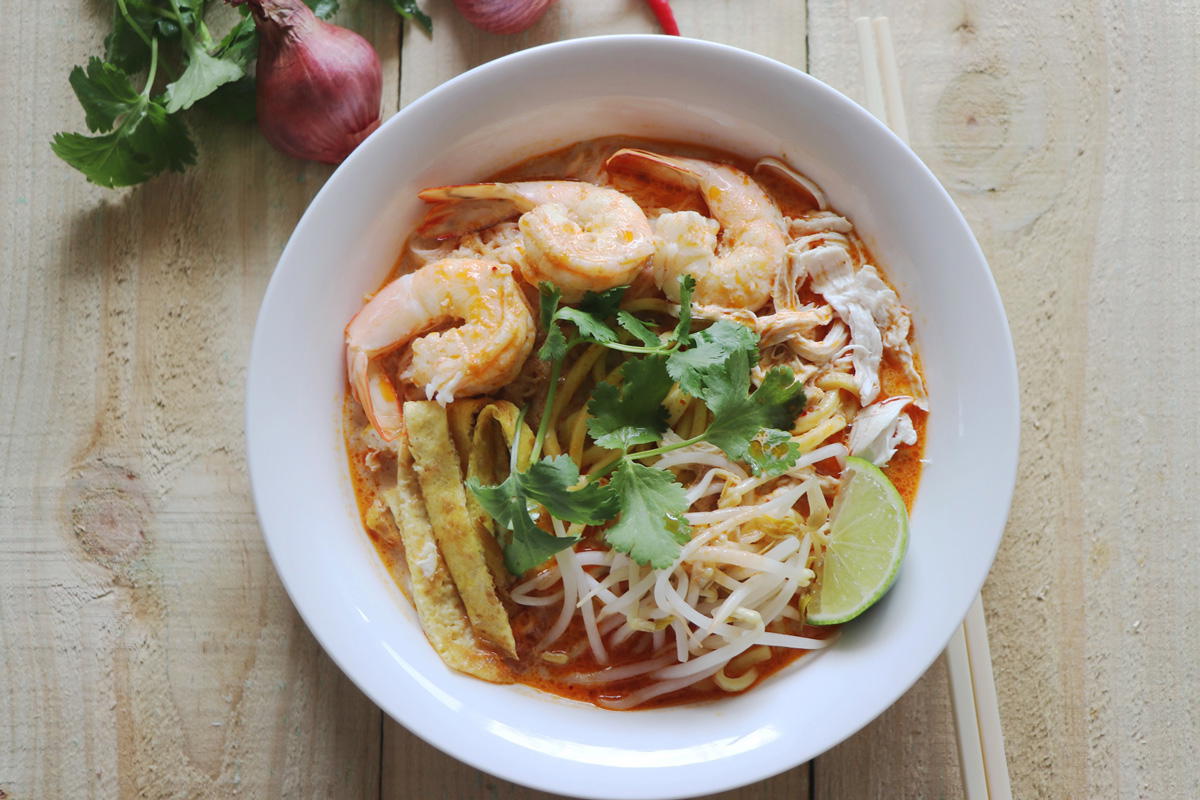 Kampua Mee
Having been confused with Kolo Mee even in a workbook, Kampua Mee is a dry noodle dish with Foochow origins, commonly attributed to having originated in the Sibu and Sitiawan areas.
Kampua Mee is made with straight fresh egg noodles, where the toppings are relatively simple and plain, namely sliced strips of Charsiew and wanton, and sometimes chilli sauce.
There are two versions of Kampua Mee, where the 'white' version features a sauce made with pork lard, soy sauce, white pepper, and fried shallots, and the 'black' version has sweet soy sauce added.
The most apparent difference between Kampua Mee and Kolo Mee is that the former is straight, unlike its curly twin.
Besides that, Kampua Mee is even drier with no vinegar, making it lighter and slightly sweeter.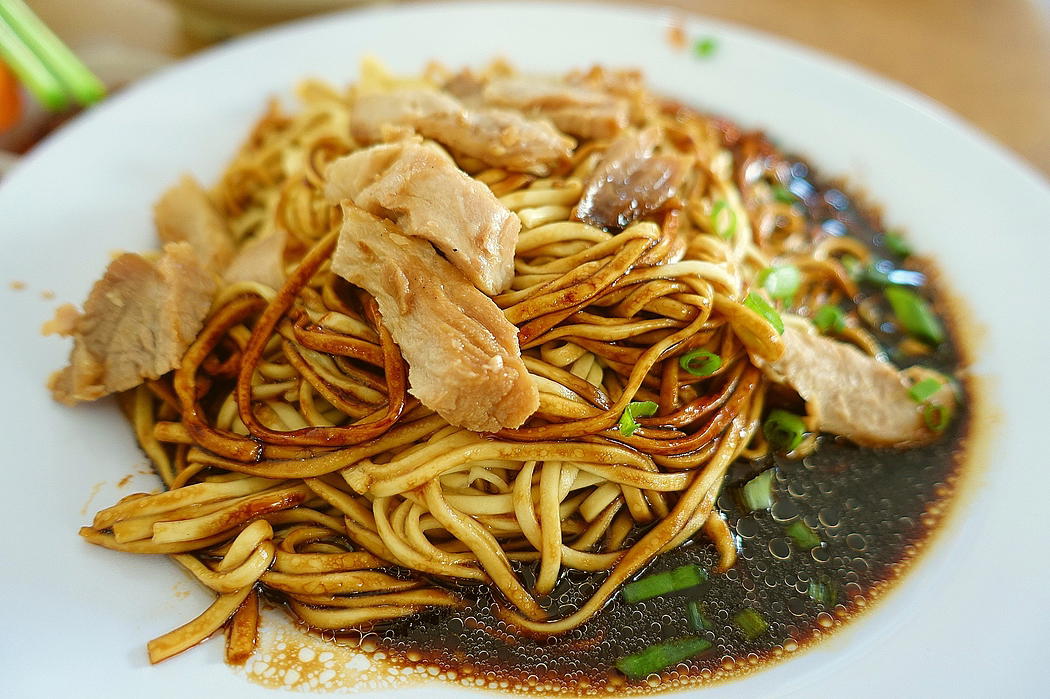 Ding Bian Hu
Ding Bian Hu (鼎边糊), which means "wok edge paste" in Chinese, is a soupy Sibu dish loaded with seafood, meat and carbs favoured by Sarawakians as breakfast or supper as the people in Fuzhou, China, where this delicacy originated from.
The dish, which could be described as a cross between ho fun (flat rice noodles) and congee, is cooked unusually, as rice flour is mixed with water into a medium-thick batter.
It will then be poured around the sides of a hot wok, where a savoury soup is cooked. The cooked batter will then be scraped into it. The dish is ready to be served after pouring the soup into a bowl.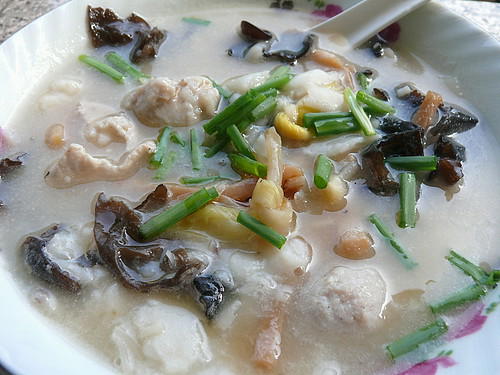 2. Nature Wonders
Apart from a gastronomy adventure, you can also dive deeply into nature by visiting the national parks and caves in Sarawak!
Mulu National Park
Known as 'Jewels in the Crown', Mulu National Park is the largest national park covering 544 square kilometres of primary rainforest in Miri, according to its official website. It was dominated by three mountains – Mount Mulu, Mount Api and Mount Benarat.
As the holder of several world records, the park has the world's most significant cave passage (Deer Cave), natural chamber (Sarawak Chamber) and the longest cave in Southeast Asia (Clearwater Cave), making a name for itself among natural wonders across the globe.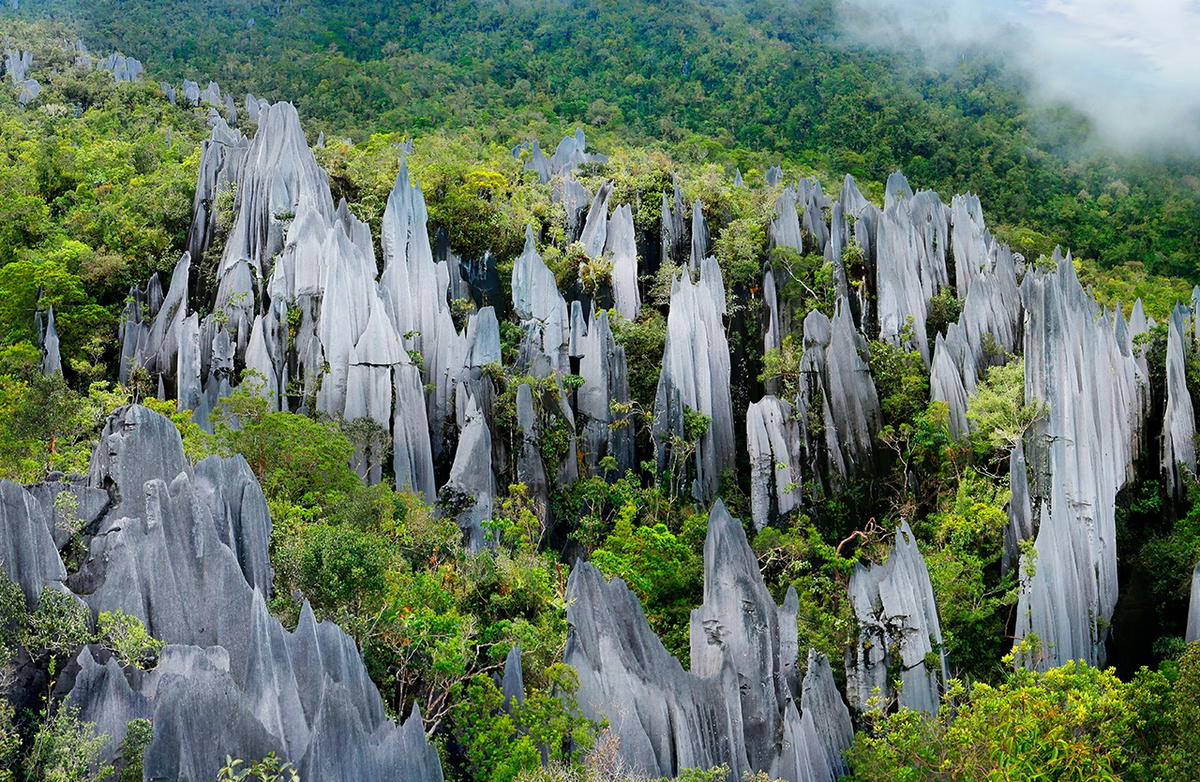 Bako National Park
Bako National Park was established in 1957, making it the oldest national park in Sarawak. Despite covering a much smaller area of 27.27 square kilometres (as stated by Sarawak Tourism), this Kuching park offers the perfect introduction to Sarawak's forests and wildlife.
Containing almost every type of vegetation found in Borneo, Bako has a wide variety of wildlife and a coastline covered with small bays, coves and beaches. There are also exciting trails ranging from short pleasant strolls to serious full-day hikes.
Unlike some national parks, visitors to Bako are almost guaranteed to see wildlife, such as long-tailed macaque monkeys, silver leaf monkeys, wild boars, squirrels and monitor lizards, and even the rare proboscis monkeys on trails such as Telok Paku and Telok Delima.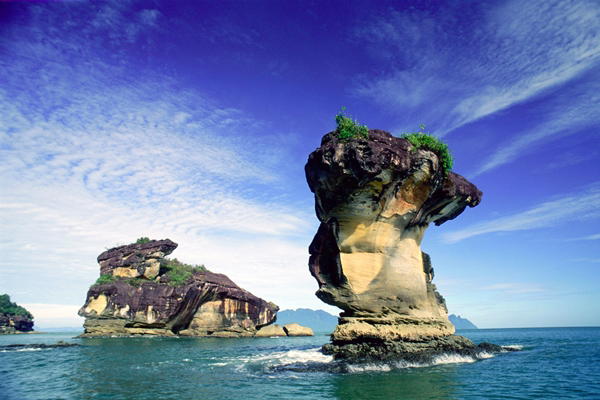 Niah National Park
Niah National Park in Miri is known for the site where 40,000-year-old human remains were discovered, featuring one of the world's most prominent cave entrances, Palaeolithic and Neolithic burial sites and iron-age cave paintings.
Offering jungle walks, Iban longhouses and cave experiences, there are wall paintings in the nearby Painted Cave houses. It depicts the boat journey of the dead into the afterlife, aside from remnants of boat-shaped coffins on the cave floor, which contents have been currently transferred to the Sarawak Museum.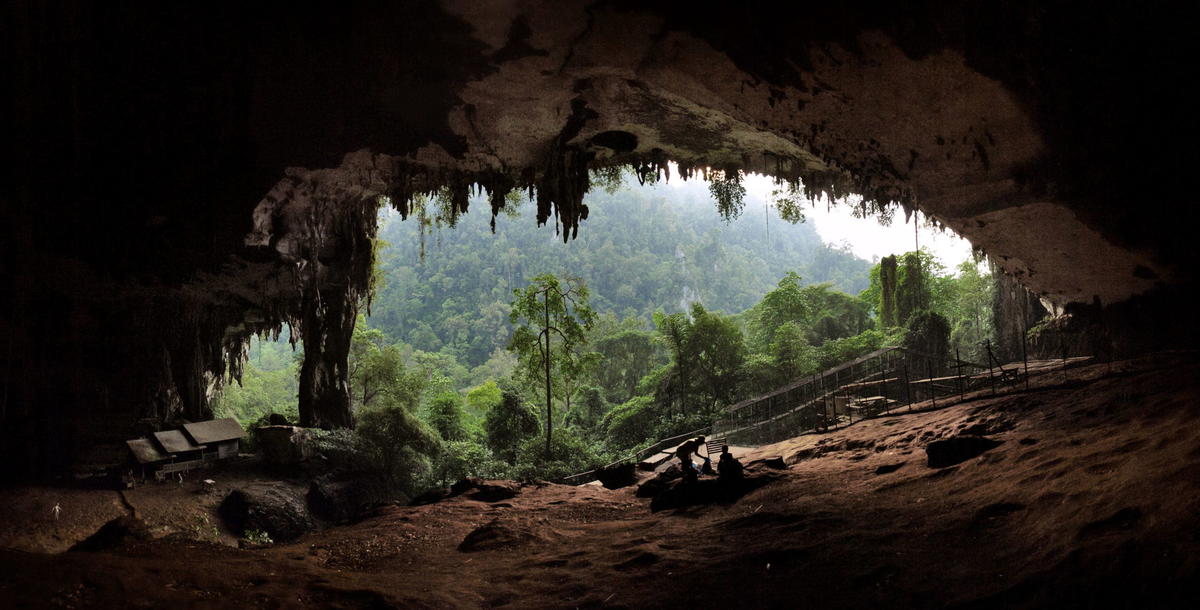 Wind Cave Nature Reserve
Believed to have gotten its name from the cooling breeze blowing continuously through the cave, Wind Cave is a smooth, tubular limestone cave formed roughly 60 million years ago during the Jurassic-Cretaceous period.
Located 5km from Bau, The Wind Cave features stalagmites, stalactites, and pillars formed when these two join together.
According to Sarawak forestry, it has a 1000-metre plank walk running throughout the cave, providing visitors with an extraordinary caving experience in pitch-black, bat-infested tunnels.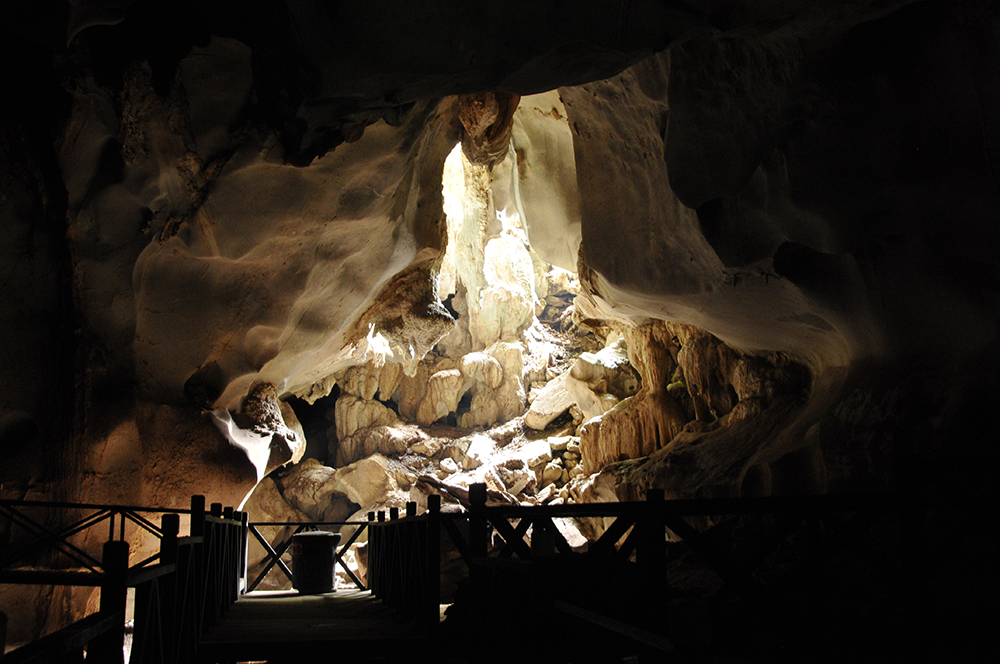 3. Interesting museums
After enjoying the sight of flora and fauna in Sarawak, why not explore further by visiting its museums?
Kuching Cat Museum
Being the world's first cat museum, the Kuching Cat Museum consists of four galleries containing over 4,000 artefacts, including paintings and memorials related to cats, covering a total area of 1,035 square metres, according to Sarawak Tourism.
The exhibits include a mummified cat from ancient Egypt, a gallery of feline-related advertising, and the five species of wild cats found in Borneo, all attained from National Museum in Kuala Lumpur.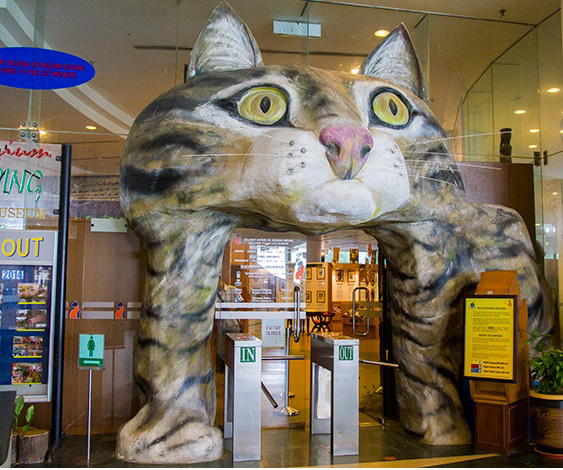 Borneo Cultures Museum
Opened on 9 March 2022, the new Kuching museum is a modern five-storey building with a distinctive architectural design reflecting Sarawak's unique traditional crafts and rich cultural heritage.
The museum takes up space in a building covering an area of 30,000 square metres, making it the second-largest museum in Southeast Asia and Malaysia's largest at the time of writing.
According to Prestige, it houses over 1,000 artefacts displaying the culture and heritage of the aboriginals of Borneo and Sarawak, with 30% of the museum feature being interactive in nature.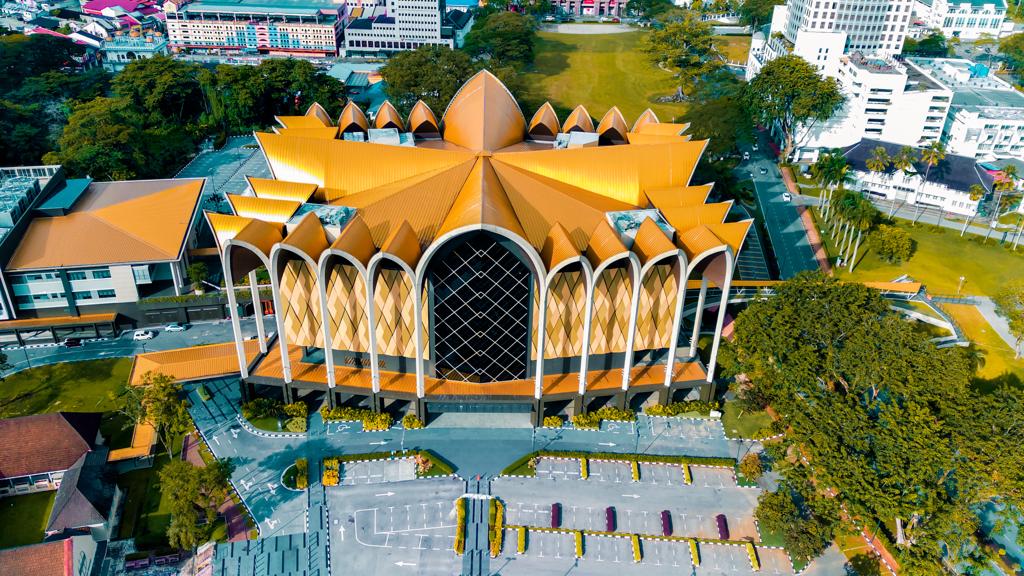 4. Cultural village
Claiming "See Sarawak in Half a Day", Sarawak Cultural Village is an award-winning living museum taking you on a ride of a superb and thorough introduction to local cultures and lifestyles.
Spanning across 17 acres of land, replica buildings representing every major ethnic group in Sarawak, mainly the Bidayuh, Iban, Orang Ulu, Penan, Melanau, Malay and Chinese, according to its official website.
All buildings are staffed with members of the ethnic groups in traditional costume and carrying out traditional activities.

5. Local products
How can you prove you've been to Sarawak if you didn't take back any of its local products? As we are aware that most of them can be purchased online, and buying them on the land where it is originated from hits you with a different sensation!
Sarawak layer cake
Modified from lapis legit, a spiced Betawi cake introduced to Sarawak in the 1970s and 1980s, kek lapis Sarawak (Sarawak layer cake) is a sweet dish usually served on special occasions in Sarawak.
Modern layer cakes can be divided into two categories: cakes with ordinary layers and cakes with patterns, motifs, or shapes of at least two colours.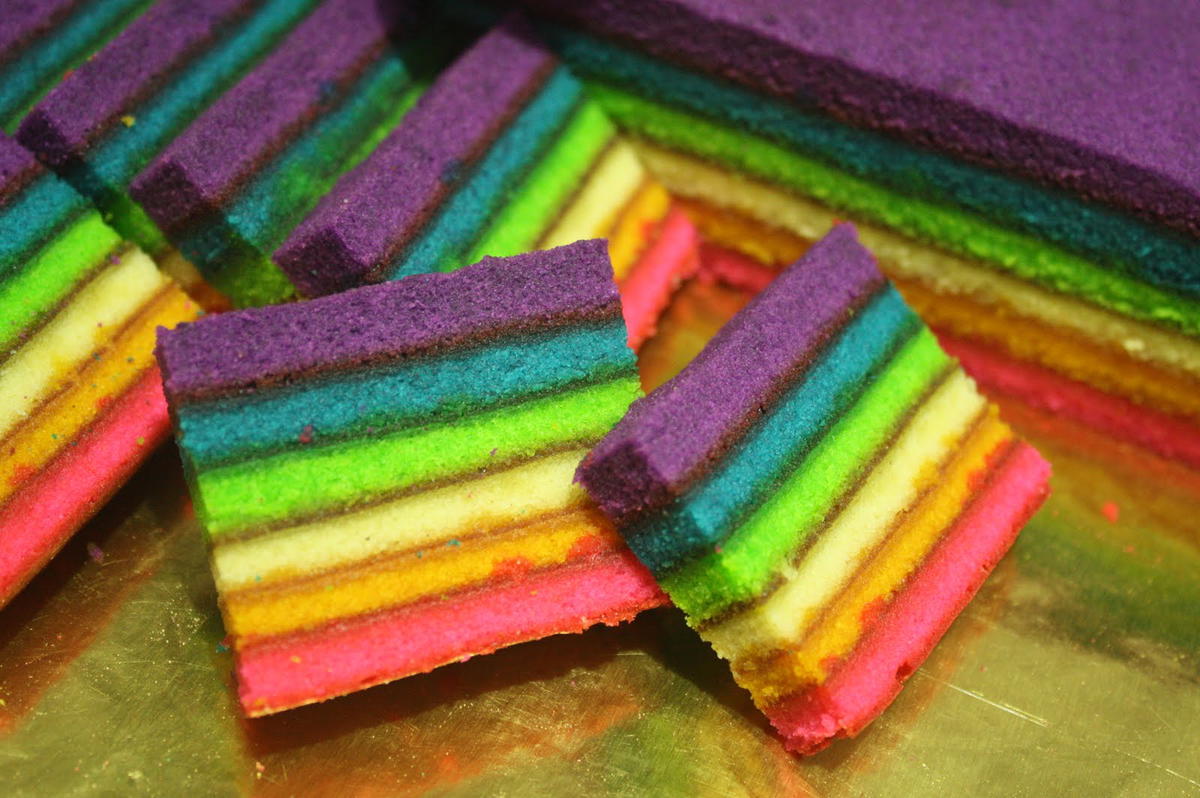 Here's a fun fact! Sarawak layer cake has been a protected geographical indication since 2010, meaning the name can only be given to those manufactured in Sarawak according to the specifications of the Sarawak Layer Cake Manufacturers Association.
Sarawak Pepper
As one of the most common souvenirs, Sarawak Pepper has been exported worldwide over the last century, gaining international recognition from chefs and gourmets.
Sarawak ranks among the world's five leading pepper producers, with around 90 per cent annual production of 25,000 metric tonnes for the export market. The export amounted to 7,407 tonnes valued at RM153.7 million as of last year, reported New Straits Times.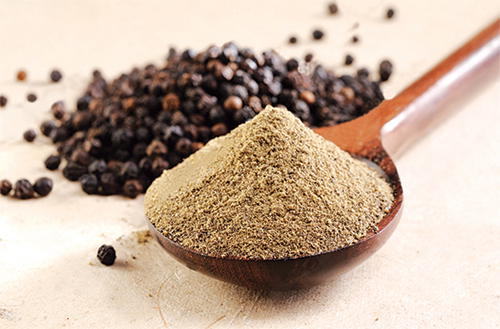 Bario rice
Originating from Kelabit Highlands, Miri, Bario rice is a domestic product cultivated by hand with no pesticides or herbicides.
Known for its sweet taste and mildly sticky texture, this medium grain rice of marble white is favoured by Malaysian chefs, often used to prepare traditional recipes, as well as puddings and sweet cakes.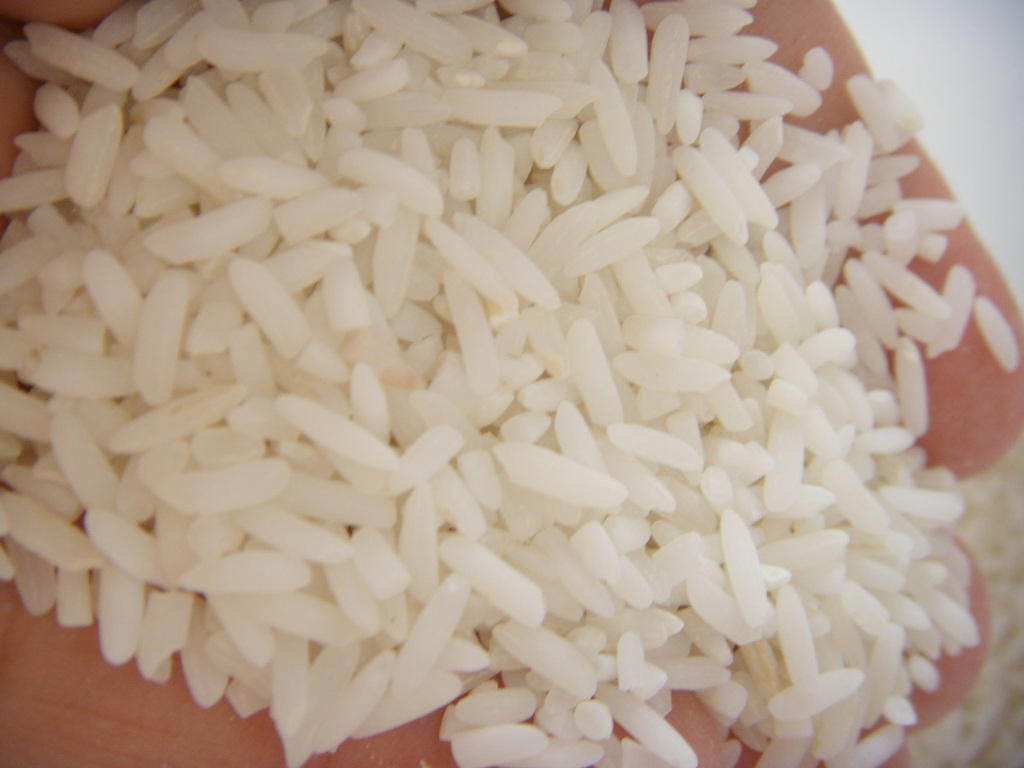 What are you waiting for? Start planning the trip already! Should you have more reasons to visit Sarawak, let us know in the comments!
Read also:
---