For most drivers, perhaps the most frustrating problem to deal with is when the parking boom gate malfunctions and stops them from leaving even when they've paid the parking fee.
One woman took matters into her own hands and wrecked a parking boom gate after she was unable to get it to open.
Out of my way!
In a TikTok video uploaded by @lumiqahqizah, the woman who was driving a Penang-registered vehicle was seen breaking the boom gate with her hands by swinging it back and forth.
After a few swings, it finally gave way and hung limply as the woman pushed it to the side.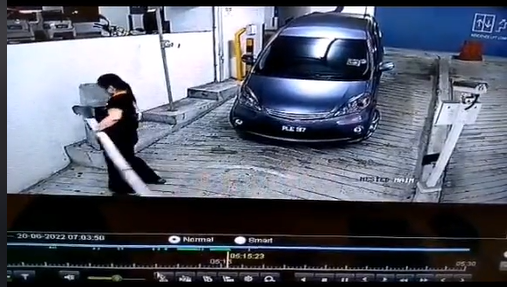 The woman was then seen opening her car boot and taking an unidentified object out. She also whipped out her mobile phone and took a picture of the aftermath before driving off.
Watch the video here:
Might have good reason for her actions
The video has since garnered more than 1.2 million views at the time of writing, where netizens weighed in on what may have caused the woman to destroy the boom gate.
Some believed that the gate was already broken when the woman appeared, thus forcing her to wreck it in order to leave the parking lot.
They also speculated that she took a photo of what she left behind as proof that the gate had malfunctioned beforehand in case the management went after her for vandalism.


Others were amazed by the woman's coolness in leaving the scene after destroying the gate and remarked that she possessed great strength in dismantling it.


Read also:
---
It's unrelated to the article but here's our brand-new podcast – Talk Je Lah!
---