Double parking is an annoying culture that all Malaysians are familiar with, especially at areas where parking is scarce or full with people during peak hours.
As such, some have resorted to sometimes shocking measures to get their vehicle unblocked by a double parked car, like this woman is a now-viral video.
Absolutely no chill
In the 1 minute and 21 second-long clip, a woman was filmed executing what was possibly the most daring feat to get her car out which was blocked by a double parked Myvi.
Out of frustration, she started to knock against the window of the passenger's seat with an unidentified tool, causing it to shatter into smithereens.
After breaking the window, she then reached into the car, with her torso almost entirely inside the vehicle and pulled down the handbrakes.
Although the car's alarm started blaring upon the "break-in", it didn't deter the woman from persisting with her plan either.
A man in a red T-shirt even came over to help her with her "mission", not knowing that she had actually vandalised another person's car.
The video then panned to the woman pushing the Myvi forward by a few inches with her bare hands before getting into her car.
Watch the video here:
---

---
You go, girl(?)
The video has since garnered 62K views and 1.7K reactions at the time of writing, where netizens praised the woman for teaching the double parker a lesson.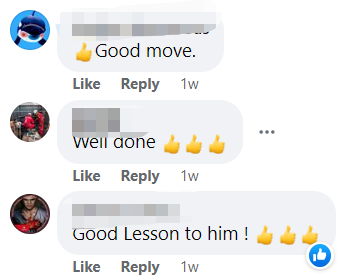 One netizen recounted a frustrating encounter he had with a double parker who forced him to wait for 30 minutes and later removed the car without apologising.

Some even called for the authorities to legalise the breaking of car windows belonging to double parkers as a way to discourage them from being a nuisance to others.


To all the double-parkers: Don't. Just don't.
Read also:
---
---
Cover image via Facebook.