A woman was left in tears after none of her so-called friends turned up for her "Friendsgiving" dinner.
Christian Zamora, who goes by @Kidalloy on TikTok, said in a now-viral video that his girlfriend, Maryann had spent two weeks planning for the feast and took great pains decorating her entire basement and cooking the food.
'They stopped answering her messages'
In the video which has been viewed more than 14 million times, Christian said that Maryann's friends suddenly went silent on the day itself and didn't bother to let her know whether they were coming or not.
No one was texting or calling [in the group chat], but in her mind, she thought everyone was running late. When it hit the three hour mark, she was like, 'Yeah no one's gonna come.'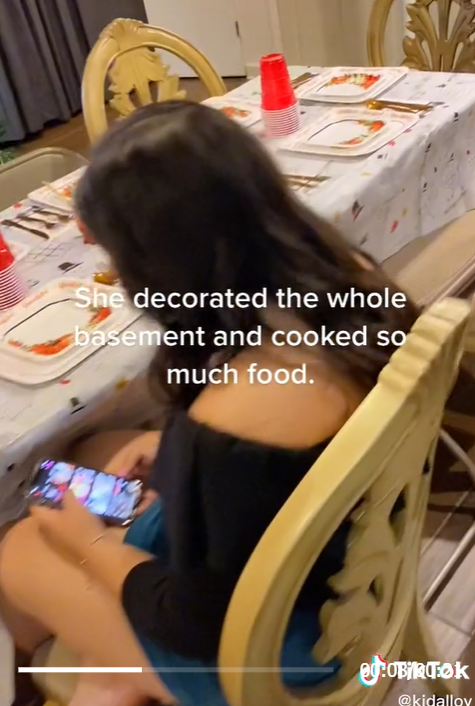 Despite Christian's best efforts to cheer Maryann up, she simply sat in her chair in deep sorrow while staring at a table laden with homemade food in front of her.
"I keep trying to cheer her up but nothing is working. I feel so sad for her," he said in the clip while panning his camera throughout the empty basement.
Thankfully, Christian came to her rescue and invited his friends and brother to celebrate "Friendsgiving" after Maryann told her what had happened, reported the New York Post.
"They brought drinks and stuff, it was a fun night. I was disappointed at the time but it turned out to be a really good night," she said.
Maryann was also happy to announce that she had effectively decided to cut off all ties with the "friends" who ditched her at the last minute.
Cover images via TikTok @Kidalloy
Editor: Sarah Yeoh