KAJANG – What was supposed to be a delicious meal quickly turned into a disgusting affair after a woman found a maggot squirming in her laksa soup after taking a few sips.
According to the TikTok video posted by @lyadhanea, the laksa was bought at D'Laksa, a restaurant chain which has outlets in both Malaysia and Singapore.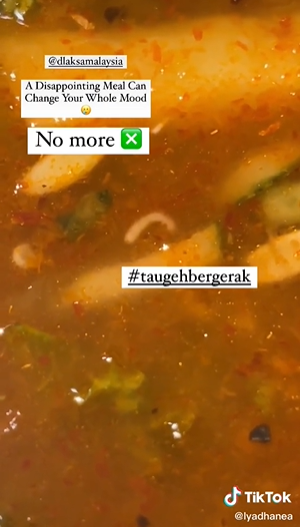 In the video, Lya wrote how D' Laksa had been her favorite dining spot as it served high quality meals.
Watch the video here:
She later told mStar that this occurred last Thursday (July 7) after she finished her prayers and ordered via a delivery app.
"The maggot must have come from the vegetables. It was still alive and wriggling. I immediately vomited after and threw away the whole meal," she said.
Sin Chew Daily reported that Lya has filed a complaint but has yet to get a response from D'Laksa.
She added that she hopes to see the restaurant take responsibility as it involved food hygiene.
Netizens share similar experiences
In the comment section, many began to share their own unpleasant encounter and the dismal standards at D'Laksa.
"The soup used to be tasty last time. Now it's so sweet. Like drinking sugar water."

"I've seen their workers adding water continuously into a pot that almost dried up."

"I've had not just one, but two worms. To this day I've yet to pluck up courage to eat at D' Laksa again."

Read also: