A Twitter account named @MALAYSIAVIRALL recently reposted a TikTok video of a drunk Nepali being assaulted by a mamak customer.
In the caption, it insinuated that the Nepali man was the reason for the altercation, where he was allegedly warned not to act all gung-ho but refused to listen, resulting in him getting beaten up.
ORANG NEPAL MABUK BUAT HAL DEKAT KEDAI MAKAN. SIAP WARNING DAN CABAR PAKCIK TU LAGI. KAN DAH KENA BOXING! LAIN KALI KALAU MABUK DUDUK RUMAH JE LA. pic.twitter.com/rGJ4kaC2v7

— MALAYSIA MOST VIRALL (@MALAYSIAVIRALL) May 28, 2022
Shoved and kicked to the ground
The video first begins with the Nepali man mumbling unintelligibly at the customer, who suddenly yanked him by his pants and slammed him into the table.
Undeterred by the customer's reaction, the Nepali man continues to behave aggressively and was promptly "rewarded" with an elbow right into his face.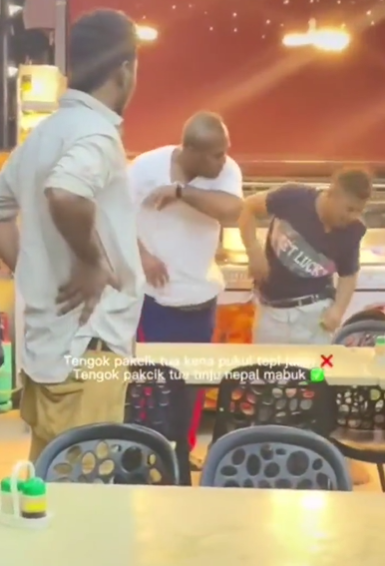 The clip then cuts to the customer violently shoving the Nepali man, causing him to fall to the ground.
The customer was also seen grabbing the Nepali man by the hair and landing several knee kicks to his ribs.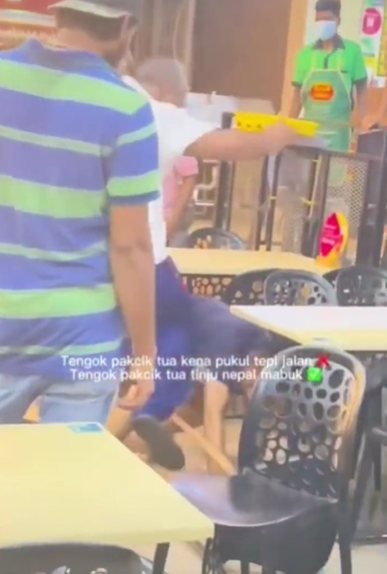 Despite a Grab driver's attempt to break the fight, the customer paid no need and continued to pummel the Nepali man with his knee.
Watch the video here:
Was it really just sarcasm?
In the comment section, there was clearly a divide in opinions over the incident, where some thanked the customer for teaching the Nepali man a lesson, while others condemned his violent behavior.
"Thank you pakcik. Thank you for your service in handling this misfortune. I will pray for you to have good health and to always be in Allah's protection."

"Thank God the pakcik didn't chokeslam the Nepali. If not, confirm K.O."

"Thanks pakcik. I have long sought revenge against Nepalis like him."

Meanwhile, several netizens expressed concern for the outright support for violence against another person and remarked that they hoped such comments were "sarcastic".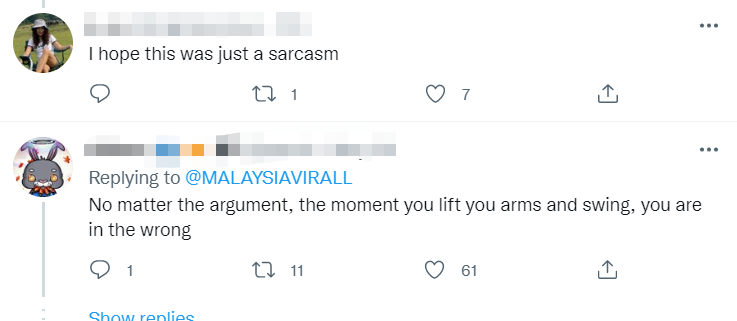 "The reply section scares me. A lot of people love violence. Our society is sick. We are getting more and more backwards."

Read also:
---
---
Cover image via Twitter.