Whenever it comes to accounting, the first thing that comes to mind is the "Big 4", namely Deloitte, KPMG, PricewaterhouseCoopers (PwC) and Ernst & Young (EY). For most accounting students, it's a great honour to be able to land a job at one of these firms upon graduation.
Why then, are these firms so highly sought after? Here are four reasons according to Vanderbilt University:
1. Career Development
All jobs, including accounting ones, are highly dependent on this factor as it will help to build your existing skillset and advance your career at a faster rate. Thanks to its solid reputation, landing a job at a Big 4 opens multiple doors in gaining invaluable experience and honing technical skills that are vital in the accounting world.
2. Network Building
Aside from crunching numbers, accounting jobs often involve interacting with people too. As such, it's important to have a wide network of connections that may prove to be useful and there's no better way to do so than to work at the Big 4 which is well-known for having a diverse workforce.
3. Wider Exposure
Because of its size, the Big 4 is able to provide you with a wide range of potential industries to choose from if you ever find yourself getting bored dealing with accounting. That way, you can ease the transition period or jump into a new prospect straight away without much hassle!
4. Expansion of geographic opportunities
Don't want to be stuck in your home country forever? Well, it doesn't have to be this way! Thanks to the Big 4's vast range of clients from all over the world, there's a chance that you'll be able to step out of your backyard and visit various countries while on the job! How cool is that?
Do these reasons sound amazing already? Here's an event to look forward to if you're currently studying accounts and are looking to land a job with the Big 4!
"Borderless World: Endless Opportunities"
This March 19 and 20, Universiti Utara Malaysia (UUM) will be hosting the Accounting Students Conference 2022 (ASC), an annual event that is organized by the Malaysian Institute of Accountants (MIA) specially for accounting students.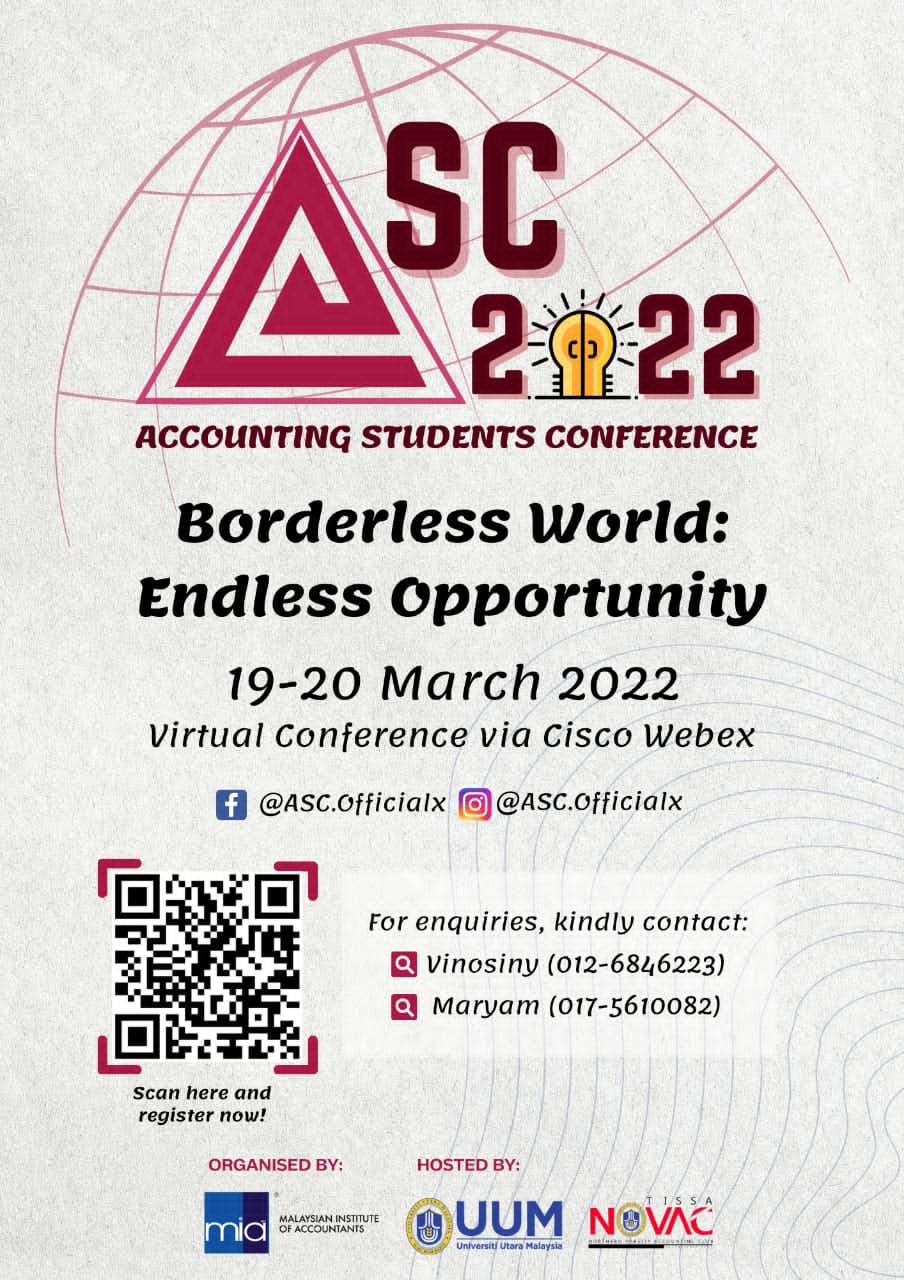 Along with the theme "Borderless World: Endless Opportunities", ASC2022 aims to provide students with valuable insights on soft skill development as well as equip them with the necessary knowledge as future accountants and broaden their view towards the industry in the digitalised era.
Among the event's highlights include:
"The Trend of Gig Economy in Malaysia" by the Malaysian Institute of Accountants (MIA)
This session aims to teach accounting students the importance of digital platforms in connecting freelancers with customers and providing short-term services and asset-sharing during the COVID-19 pandemic.

Career forum
Hear what leaders of various industries in the accounting field have to say about the endless opportunities that await students upon graduation!

Social Media Challenge
For this activity, participants have to produce with a creative video that's in line with the theme given and they will given a special prize if they emerge as the winner.

"Job Interview: The Right Tactics to Nail the Interview"
Not sure what to say during a job interview? With this session, students will be taught the dos and don'ts and how to convey themselves effectively in order to get their dream job!

Microsoft Power BI Workshop
This workshop will teach students how to effectively use the Microsoft Power BI software for their future accounting work.
How do I register?
Interested to join? Here are 2 ways in which you can register for ASC2022!
Individual Registration
Self-register by filling up this Online Registration Form

OR

Group Registration
– Registering more than 10 participants will be considered as a group registration
– Provide the participants' details by filling up this Excel template via the Online Registration Form
The registration fee costs RM20 per person and participants will receive a confirmation email and official receipt upon completing their registration.
Registration ends on March 10, 2022, so don't miss out on this golden opportunity!
Stay tuned to ASC2022's official social media to know more about their latest events!

Facebook: www.facebook.com/ASC.officialx
Instagram: www.instagram.com/asc.officialx
Read also:
---

---
Cover image via Sunway TES
Editor: Sarah Yeoh