YES! We're hiring! You've heard it from us first here! Headline Media is currently searching for the extraordinary YOU to join the team! But first…
Headline Media? Who?
To put it simply, it's the home of WeirdKaya!
Headline Media was founded by a group of young Malaysians that aims to create content relevant for all, including you reading this right now!

We also strongly believe that we can break into the local media market and this has been proven time and time again by our ability to reach millions of users on various platforms within a year alone.
Check out the 'About Us' section to find out more!
Now, here are the 5 reasons why you should absolutely, definitely, and by all means join the team!
1. We're a fun and awesome bunch!
As you might realise from the self-introduction, our team is formed by a group of young, dedicated, and very interesting people. Aside from the nitty and gritty work hours, we also organise game sessions and team lunches to build and strengthen relationships!
2. Grow together
Career development is one of the most important aspects when it comes to an internship or even a career choice. As a start-up, our team is growing and learning day by day. Thus, everyone in the team has a chance to grow together as we take on different risks and challenges.
3. Freedom and responsibility
Headline Media's company culture revolves around two concepts – productivity and quality. As such, we give our employees complete flexibility and freedom in how, where, and when they get the job done as we fully believe in empowerment.
As for clocking in and out, strict house rules and dress codes, there don't exist here! Seriously.
4. Disrupt the media landscape (in a good way)
With the aim to disrupt the Malaysian digital media landscape with young voices and a data-driven working style, we strive to become a digital media company that connects Malaysians from all generations. Who knows, you may very well get a chance to play a part in bringing an exciting change to the community with us!
5. Kaya Bonus!
We're not just another company that gives you a basic salary and expects you to work your a** off. On the contrary, we're a company that believes in rewarding those who are willing to go the extra mile. Curious to know how? Join us to find out!
So…are you a good fit?
Now that we've gotten your attention, here's what we're looking for in potential candidates.
For starters, we need trend-sensitive and savvy social media individuals who will need to catch and follow current trends or better still, lead one themselves!
As we are all working from home, for the time being, we are also looking for quick-thinking and proactive people to join us in making the company grow.
On a side note, we are currently open for interns who are ready to join for a minimum of three months only.
In short, we need you to be:
Social media savvy
Sensitive to current trends
A fast and proactive learner
Able to commit for 3 months and above
If you've said 'YES' to all the above, find out more details about our current openings here!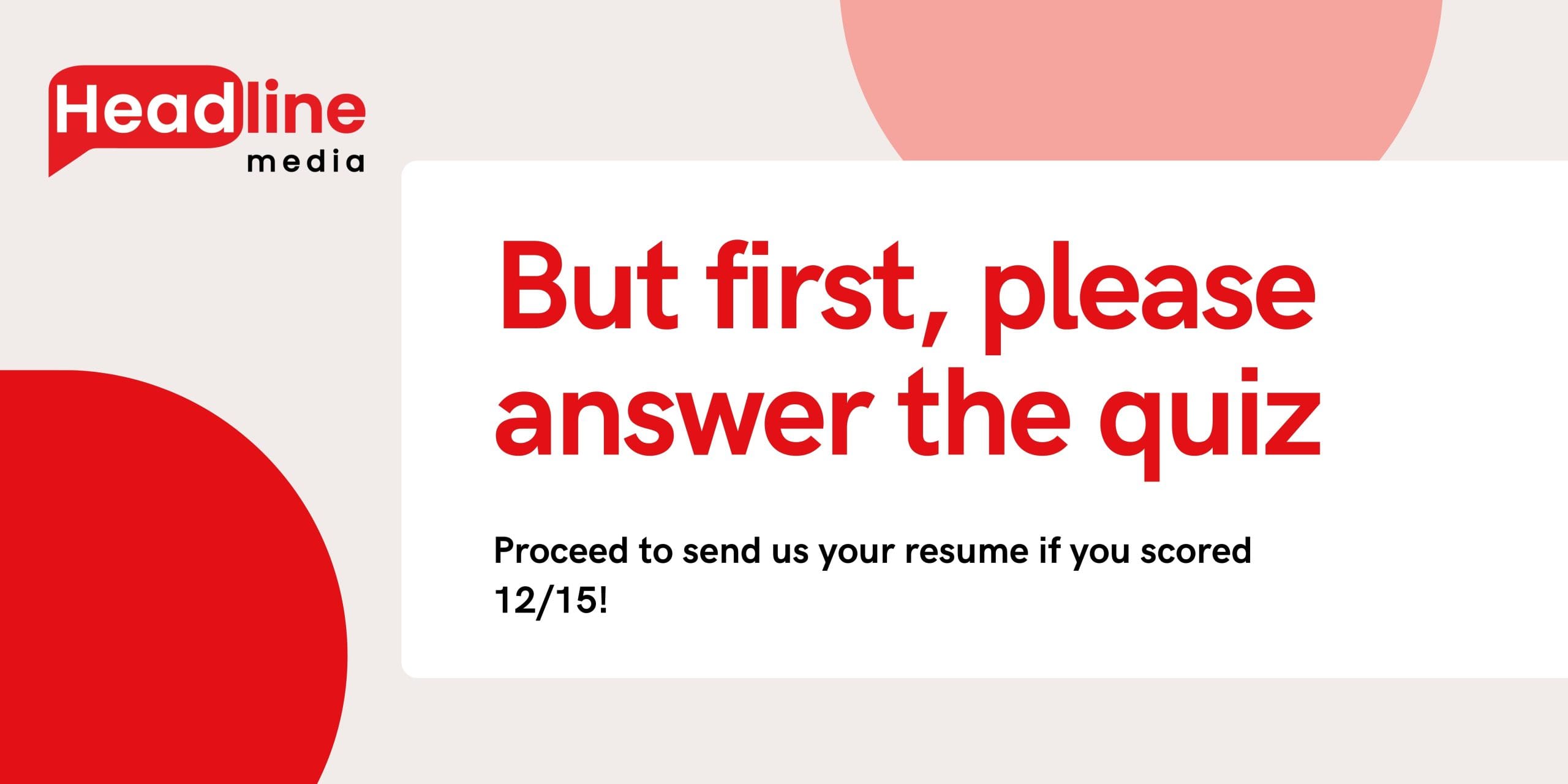 Scored 12 and above? Send your resume [Document name: Score + Name + Position applied] or enquiries to Jin Wen at [email protected] now!
---

---
Cover Images by Headline Media
Author: Jin Wen Chan
Proofreader: Sarah Yeoh