Whenever cases of sexual harassment occur, the first thing that comes to mind is that it happens to women only. However, most aren't aware that men are just as vulnerable too.
Like women, men equally find it hard to share with anyone about the traumatic experience and would retreat to the shadows out of shame and fear of being shunned.
We talked to five brave Malaysian men who were willing to share their story and how it has left an indelible mark on their lives in hopes that it will help society understand that sexual harassment isn't just a women's issue, but a public one.
Danial, student (18yo)
When I was a 7-years-old, I became a victim of sexual assault. Since then, I've found it hard to trust anyone."
Growing up, Danial was the kid who got along with everyone and was well liked by all, including his neighbour.
Recalling his friendship with one of his neighbors who was 13 at the time, Danial said that they shared many common interests, such as cars, movies and etc.
Their parents believed that they were best friends and often allowed them to have sleepovers. However, it was also one of the nights when Danial discovered the friendship wasn't as innocent as it appeared to be.
"While I was trying to fall asleep, I felt his neighbour's cold hand gripping mine before placing it on his crotch. Even though I was awake at the time, I pretended to be asleep as I had no idea how to react.
"Since that day, I've kept a distance from him and never told anyone about it as it will forever remain as a dark secret of mine."
Jared, manager (29yo)
While shopping at the Leisure Mall in Cheras, I was strolling around looking for a restaurant to have my lunch."
Suddenly, Jared heard footsteps coming from behind and turned around to see who it was, where he saw it was a Bangladeshi man.
To make sure he wasn't being followed, Jared continued walking and went from place to place, hoping that the man would stop following him.
Desperate to get the Bangladeshi man off his back, Jared ran to a nearby toilet, something which he said was "the biggest mistake".
"The Bangladeshi man began to unzip his pants and that's when I knew I was in deep trouble. Realizing the situation was potentially dangerous, I left the area immediately."
Although Jared managed to get to his car safely, he couldn't help but to notice the guy still on his heels, along with a facial expression which sent chills down his spine.
"Something might have been wrong with him mentally. His facial expressions just didn't seem right" he said.
Darshan, wireless network engineer (24yo)
It was my first day of work as a wireless network engineer, where I'm required to go to customers' homes on a daily basis."
During the first day, Darshan was at the home of a male customer located in Puchong. After finishing his tasks, Darshan prepared to get into his car and head over to Kinrara for his next client.
"Suddenly, the client called up to me and said, 'Bro, can you help me with something? I could use a little help.' Not suspecting anything sinister, I obliged willingly.
"As soon as I entered the house, the client told me to take a seat and stripped down to his underwear. He then said, 'Bro, can you film me as I fap and then you join in? It will be fun!'
"I was absolutely terrified but somehow managed to tell him that it was inappropriate and that I should get going," he recalled.
Taufiq, police officer (41yo)
I was just 16 and lived with my grandparents. Because there's nowhere safer than staying with your grandparents right?"
On one fateful night, Taufiq was sleeping soundly after an exhausting football game. However, his dreams took a sexual turn and this caused him to wake up.
To his surprise, he saw his uncle sitting right next to him with a flirtatious smile written across his face while rubbing his hand against Taufiq's crotch.
Sensing that things were taking a turn for the worse, Taufiq immediately got up and ran to the living room where his grandparents were.
Ruben, student (22yo)
Like other students, I lived in a dorm with a roommate and honestly, it wasn't the best memory."
Speaking to WeirdKaya, Ruben said he was bunking with a roommate and got to know each other as the days went by.
One day, while Ruben was preparing himself for an exam, his roommate approached him and asked whether he'd be interested in a massage, to which he agreed.
"However, things escalated really quickly as we both got into an uncomfortable position and my roommate suddenly began humping me from behind with his penis.
"Thankfully, I came to my senses and rushed out from the room. I kept this as a secret for years until I finally had the courage to break it to my parents," he said.
Asking for help is not a sign of weakness. If you have been a victim of sexual harassment, please give the following hotlines a call: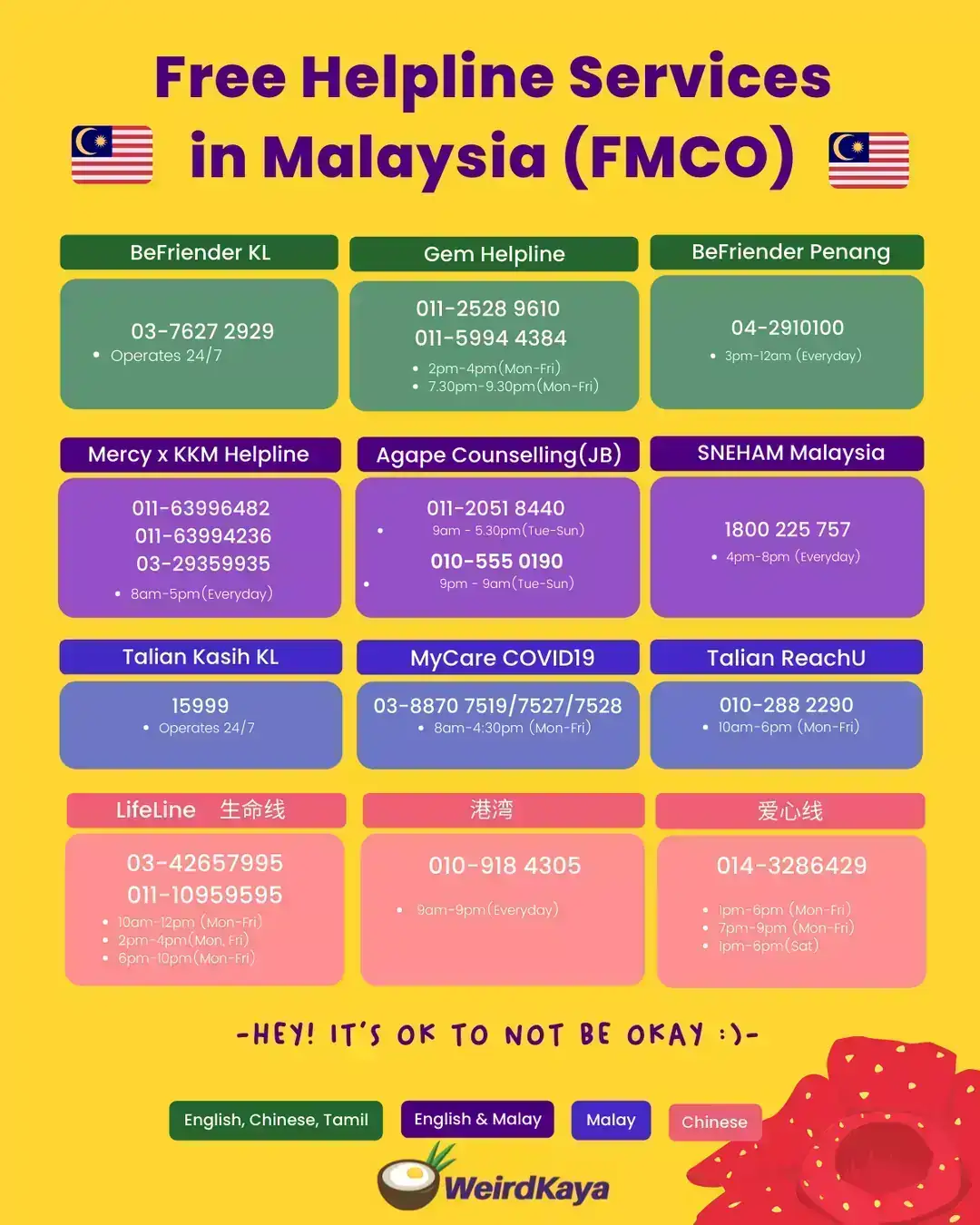 READ MORE:
---
---