PETALING JAYA – She tried lighting up her husband's day with a birthday cake, but he doused it with a bucket of cold water instead.
In a TikTok video uploaded by @c_ehem, the woman was waiting with excitement to surprise her husband with a birthday cake complete with lighted candles. When he finally entered the house, she began to sing "Happy Birthday" cheerfully.
To her dismay, her husband did not acknowledge her or even give her a smile, but simply placed his tools at a corner and walked off with a sullen look on his face.
Not wanting to give up just yet, the woman reignites the candles and tries to get her husband's attention but to no avail.
During the last few seconds of the video, the woman attempts to hide her hurt and disappointment over her husband's indifferent response.
The video has since garnered 16.3M views, 1.2M likes and 70.2k comments, with netizens bashing the husband for treating his wife poorly.
Many felt the woman's pain in not seeing her efforts to surprise her husband being acknowledged.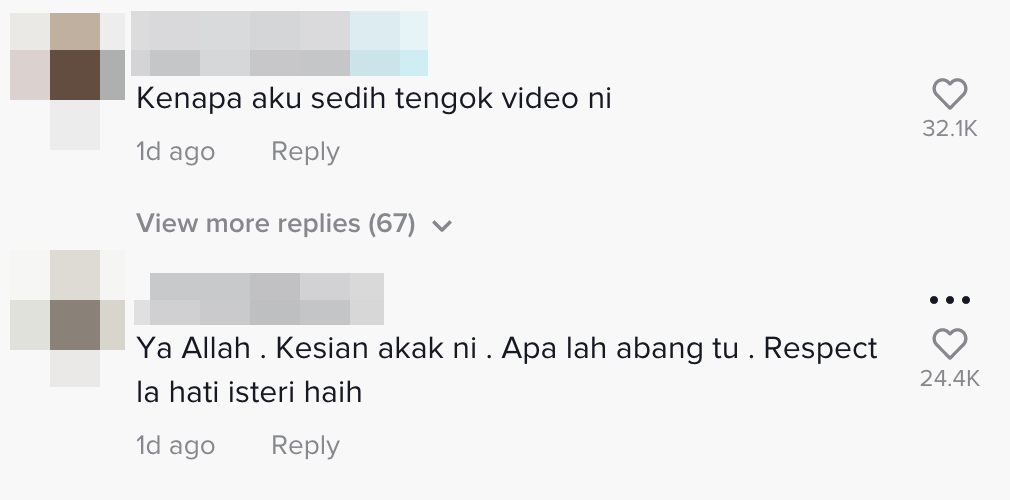 Some eagle-eyed netizens also pointed out that the woman tried to put on a cheerful look when her husband ignored her and walked away.


Others also called out the woman's husband and demanded that he treat her better and be more responsive before his wife gets fed up.


Read also:
---
It's unrelated to the article but here's our brand new podcast – Talk Je Lah!
---
Cover image via TikTok/ @c_ehem
Editor: Sarah Yeoh