U Mobile, the data-centric and award-winning telco, is proud to announce that it is the main sponsor of the Special Olympics Malaysia (SOM) team. This latest initiative is in line with the telco's drive to celebrate the unbeatable spirit of Malaysians, such as our Special Olympics Athletes.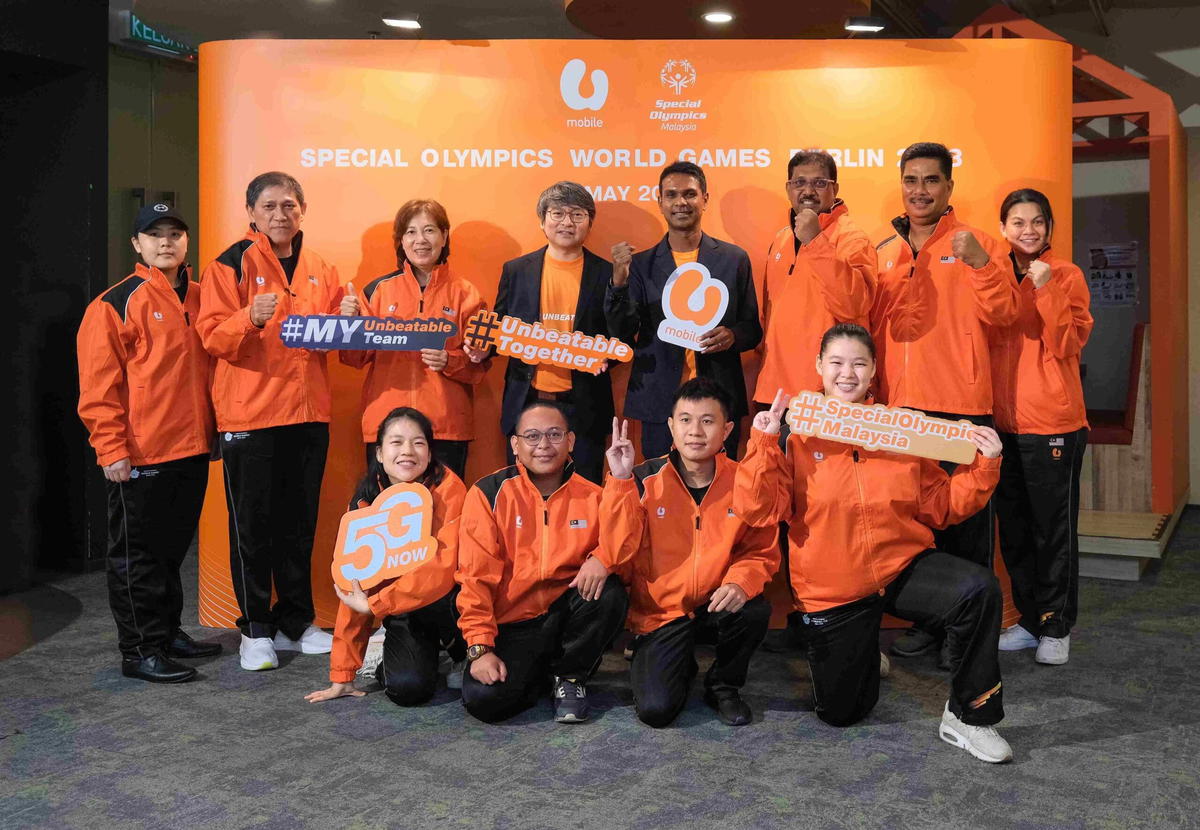 U Mobile's sponsorship will contribute towards sending 39 delegates, consisting of 16 athletes, six Unified partners, 12 coaches, four officials, and one healthcare professional, to Berlin for the Special Olympics World Games which will take place between 17 to 25 June 2023. 
The Malaysian Special Olympics Athletes will be competing against 7,000 athletes from 190 countries in six sporting events, namely swimming, bocce, badminton, athletics, table tennis and bowling.
As it is important for the delegates to stay connected, U Mobile will also be providing all team members with U Postpaid subscriptions. The contingent will be able to leverage their plans' unbeatable benefits such as ultra-fast 5G or 4G data and free global roaming when they are away for training or competitions, be it locally or internationally. In addition, the athletes will be enjoying the U Mobile experience with a brand new 5G device.
To mark its patronage, a handover ceremony was held at the telco's Corporate Office at Berjaya Times Square on 24 May 2023. During the ceremony, Navin Manian, Chief Marketing Officer of U Mobile, took the opportunity to highlight that this initiative was a natural fit for the telco's quest to bring out the Unbeatable in everyone.
"U Mobile is very delighted to have the opportunity to be the main sponsor for the Special Olympics Malaysia team who will be participating in the upcoming Special Olympics World Games in Berlin.
This year's theme for the Special Olympics is #UnbeatableTogether and U Mobile is a strong believer of that ethos. We also hope that this partnership will help raise awareness of our incredible Special Olympics Athletes and foster inclusion for all levels of ability. 
In the spirit of that, we wish Team Malaysia a great time competing at the games this year as we will definitely be rooting for them," said Navin.
"I would like to express my sincere appreciation to U Mobile for their exceptional efforts in our partnership aimed at promoting inclusion through sports. This collaboration not only benefits the delegates participating in the World Games but also serves as a powerful platform to amplify the voices of change within the intellectual disabilities (ID) community.
By showcasing this important message to the public, we hope to contribute to a better society that aligns with government policies and fosters a spirit of inclusivity. Together, we can create a lasting impact and bring about positive transformations for individuals with intellectual disabilities," said Dr Sivanesan Govindasamy, Head of Delegations of Team Malaysia and Deputy President of Special Olympics Malaysia.
This partnership is the latest iteration of U Mobile's ongoing Unbeatable postpaid campaign. At the start of the year, U Mobile debuted The Unbeatables, a short film project that showcased the unbeatable spirit of Malaysians like Datuk Abdul Latif Romly, Paralympic long jump gold medallist; Red Hong Yi, globally renowned contemporary artist; Theena Thayalan, the youngest SUKMA boxing gold medallist; Azua Shafii, the national record holder for free diving; and Siti Rahmah, World Pencak Silat Championship and SEA Games Gold medalist.
U Mobile's 5G U Postpaid plans to offer customers unbeatable features and benefits to meet the connectivity and lifestyle needs of today, such as up to 1000GB of ultra-fast 5G or 4G data, free global roaming data and incoming calls in 63 destinations, as well as easy ownership of 5G devices through U PayLater and U SaveMore. Subscribers can also use their massive 1000GB data quota for hotspots or share it with up to six U FamilyShare lines. For more info, visit www.u.com.my.
Malaysians who wish to rally behind Team Malaysia at the games can do so by posting words of support and encouragement on social media, using the official hashtags #UnbeatableTogether and #MYUnbeatableTeam. For more info on Special Olympics Malaysia and its efforts working with intellectually disabled communities, visit the official website. 
Read more:
---