With the closure of 16 LRT stations following a massive breakdown at the Kelana Jaya LRT line, there's no doubt that many Malaysians have been burdened by the inconvenience.
If you're OOTL over what's going on, read our coverage about it here:
Walks 26km back home
While most would squeeze their way into shuttler buses provided by RapidKL, one TikToker decided to take Bus 11 instead – his own legs.
In a TikTok video by @adameji7, he showed viewers his entire journey from University Malaya (UM) to his home in Lembah Keramat, which covered a distance of 26km.
At the beginning of the clip, @adameji7 had already covered 2.1km after walking from UM to the Kerinchi LRT station.
When he reached the station, he discovered that it was closed.
He then challenged himself to make his way to KL Sentral on foot.
Although he had to brave the heavy rain, it didn't seem to faze him one bit. He even jokingly said that it was a cardio workout for him.
Upon reaching KL Sentral, he was surrounded by hundreds of other commuters were stranded as well.
From there, he took the monorail to the Dang Wangi station and proceeded to walk to KLCC in the pouring rain.
This began to take a toll on @adameji7, who said that he "felt like crying".
Not his day
Unfortunately, @adameji7 couldn't seem to catch a break when he discovered that the KLCC station was closed as well.
Left with no choice, he had to walk to the Ampang Park LRT station and took a RapidKL bus to Gleneagles Hospital.
To complete the final leg of his journey, @adameji7 had to take a dark alley to get to the Jelatek LRT station, where he was totally soaked to the bone.
He added, "I only had 7% left in my power bank at that time."
Upon reaching the Jelatek LRT station, @adameji7 tapped his Touch n' Go card to pay the fare although he felt it should have been waived in light of repairs.
Thankfully, his grueling journey came to an end when he finally reached the station located near his home.
Watch the video here:
Top-tier dedication
The video has since been viewed more than 370,000 times at the time of writing, where netizens were impressed by @adameji7's determination to get home, even if it meant walking 26km.


Some recommended that @adameji7 use the Moovit app, an app created by RapidKL to help commuters search the best route to their destination via public transport.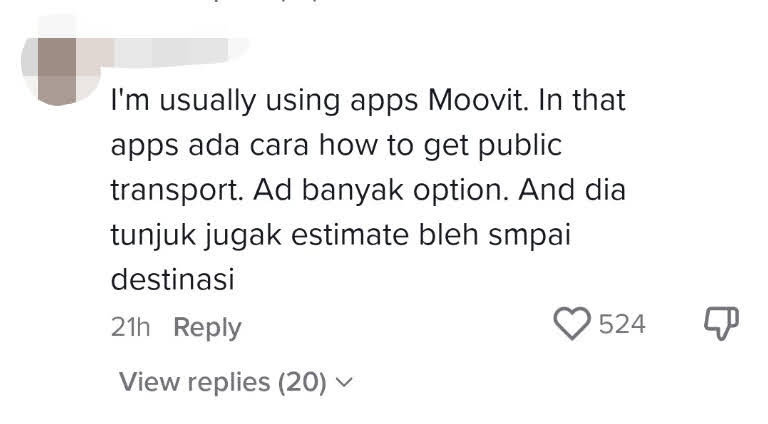 Would you be determined enough to walk 26km as well? Let us know in the comments!
READ ALSO:
---
---