With British rock band Coldplay set to arrive in Malaysia for their first ever concert in November, excitement is abuzz in the air as fans eagerly wait for the day to come.
Adding on the existing excitement was the revealing of who was going to be the opening act of the concert, where the highly coveted job was given to Malaysian rapper Noor Ayu Fatini Mohd Bakhari, popularly known as Bunga ('flower' in Malay).
As such, we only think it's fair that we dive deeper into Bunga's background and some interesting facts about her as we count down to the concert day!
1. Becoming a rapper wasn't her first choice
Born in Slim River, Perak on January 24, 2000, the 23-year-old rapper holds a Business Administration from Universiti Teknologi MARA (UiTM) and often writes poems as a hobby.
Interestingly, she didn't intend on becoming a rapper as her career choice, where she told Associated Press that she initially wanted to become a lawyer or politician.
However, her career path would greatly take a different turn following her appearance at a local rap competition which catapulted her to fame.
2. Rapped in a hijab and baju kurung
In 2019, Bunga participated in a rap competition called 16 Baris which was spearheaded by another local rapper named Joe Flizzow.
According to her interview with Associated Press, she was the only female participant in the event and wore regular clothes to the venue. However, wanting to stand out from the rest, she decided to do something radically different.
At the very last minute, I bought myself a baju kurung at the venue itself.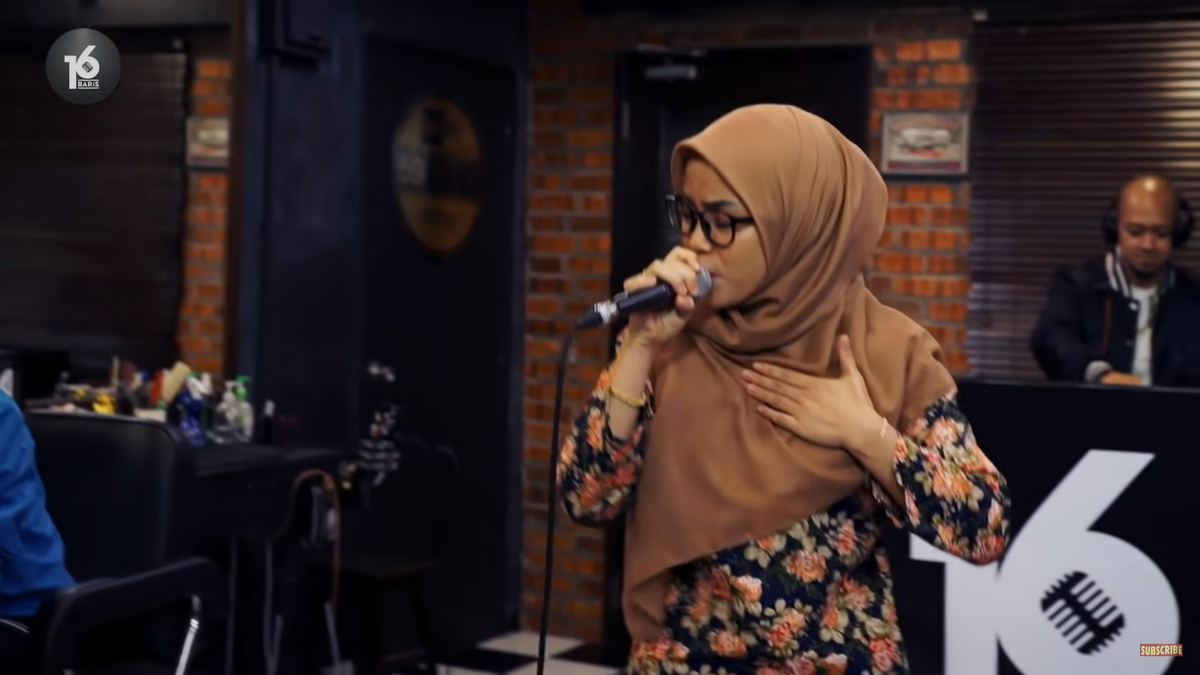 Thankfully, Bunga's 'gamble' paid off as the clip has garnered 3.7 million views since it was first released four years ago and launched her into the national and international spotlight as one the few female rappers to be clad in a hijab.
However, she admitted that rapping while wearing a baju kurung has its own difficulties as well, noting that she "can't jump around too much".
Watch her 16 Baris performance here:
3. Has an unorthodox rapping approach
Unlike most rappers who often touch on taboo subjects such as sex, drugs, and alcohol, Bunga has managed to make a name for herself by writing lyrics based on her personal life.
She told South China Morning Post that her lyrics mainly focuses on her experience of being the target of bullies, love, and working at a gadget shop. However, racism and foul language is a big no-no for her.
(Being a female rapper) doesn't mean I have to act like boys or talk about gangsters.
She also revealed that she has been criticised for "bringing down the image of women" with her baju kurung attire, but that isn't stopping her from continuing to do what she does best.
"I've realized that there are more hijabis who want to rap. I think that's a good thing because you shouldn't worry about what others say," she said.
4. She can rap in Mandarin too!
Aside from her rapping prowess, Bunga has also proven herself to be quite proficient in other languages such as Mandarin.
A prime example of this was her collaboration with local pop singer Layla Sania for the music video 巴比诺 Bambino, where she's seen rattling off multiple sentences in Mandarin without any issues!
The music video won much praise from netizens, who commended Bunga for her impeccable rapping skills and strong command of Mandarin despite not being a native speaker of the language.
Congratulations to Bunga on landing the role as the opening act for Coldplay and we can't wait to see you in action in November!
READ ALSO:
---
---