Ever had the experience of being picked on by your friends when you were smelly after a long day of work or doing sports? Most of us might just laugh it off and would not take it seriously as it was only a casual remark by our buddy.
However, what if it was a hairdresser who made such remark upon your visit to a salon, and was charged extra due to the pungent smell of yours?
A technician recently took it to Facebook on Sunday (Oct 23), complaining about being looked down on by a hairdresser who claimed that he stank and charged him an extra RM10 before he left the salon.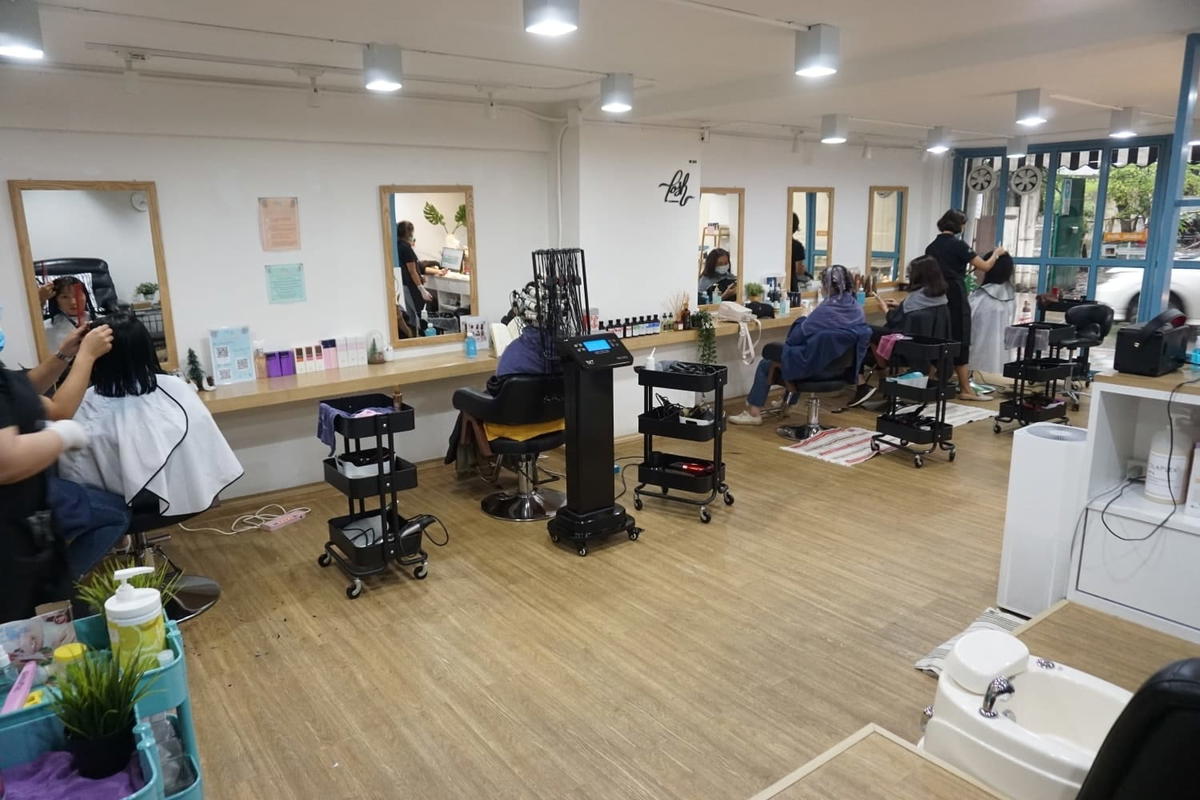 What happened?
In the post uploaded on a Facebook page KL娱乐站, the user who is a technician who repairs air conditioner said he decided to stop by a hair salon on the way returning from work.
Upon taking a seat after entering the hair salon, he claimed that a hairdresser looked at him with contempt, saying he smell of sweat, which would disgust her and make the whole salon reek of his smell.
He then explained to the hairdresser that he just finished his work and it would be more convenient to come to the salon right away without going back home and taking shower prior.
"I repair air conditioner. The weather was hot, and I was repairing, installing and checking air conditioner out there, of course I'd smell of sweat.
"It's impossible for me to take a shower at home before visiting the salon, then return and shower again right?"
The technician claimed that the hairdresser later had his hair cut reluctantly, before charging him an extra RM10 during payment.
He added that when he was at the doorstep preparing to leave, the hairdresser deliberately told another employee to spray perfume all over the salon.
Does Malaysian Chinese nowadays look down on people like this? We're working so hard in this career, climbing up and down to serve the people, yet we were scorned upon!
"If you think that you're the one I'm talking about, yes, you are!"
He asked the netizens to judge which side is in the right.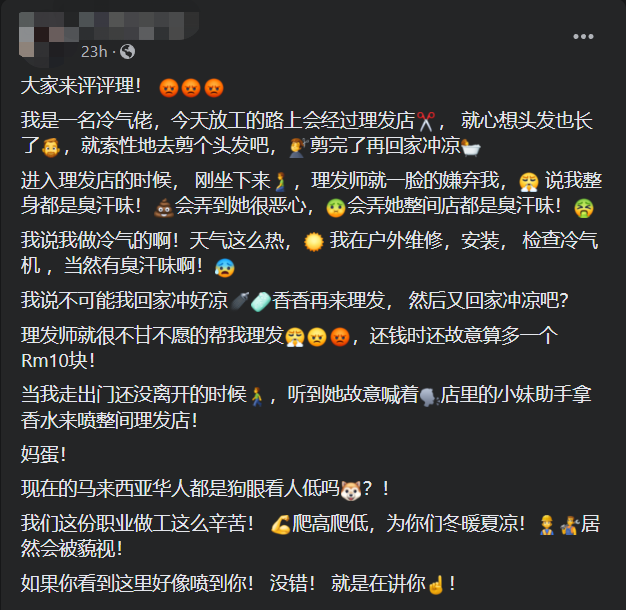 Netizens divided
The post, which has since garnered 3.9k reactions and 1.7k comments (users are currently not allowed to react or comment) at the time of writing, saw netizens having dividing opinions on this incident, with most bashing the technician for being inconsiderate to the hairdressers and other customers.
"Judge who is right, my foot! You really have the guts to say that you reek of the smell of sweat. If you are aware so, why don't you have your hair cut on a rest day? Also, it's not only your profession requires hard work, every job is hard in its own way, it's unnecessary to emphasize how hard your job is, quit if you find it so hard."

Another claimed that the technician's act was selfish, as he would affect their environment and customers, just like a smoker. They advised him to be considerate as one would only be respected by others when he or she respected them, to which the author replied the following.
So are you're suggesting me to drive my van for 10km to get home to shower and put on cologne, before driving for 10km to the salon and driving back home for 10km again after?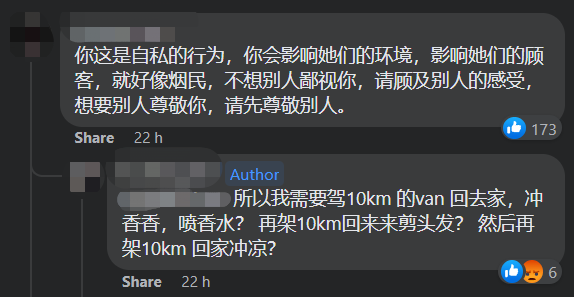 Regarding the author's reply, a netizen said that he could have gone to a hairdresser near his house, but not this one located 10km away from his house.
"Did you really have to cut your hair at this salon? Isn't there another one near your house? If this was the only one near your house, then come after you took a shower at home. You found it hard at work, so were others. People could not bear when they served you if you were stinky. Be considerate, don't guilt trip others."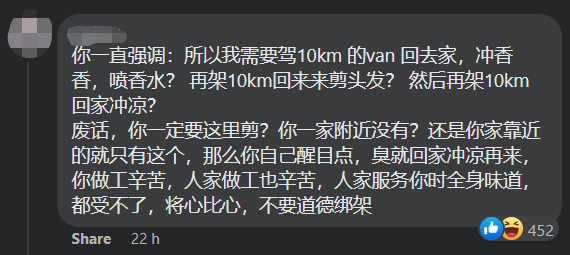 On the other hand, one said that the hairdresser should not be picky when she was running a business.
"(She's) running a business yet being so picky. If the hospital doesn't accept patients who are dirty or having mental illness and has many demands, you will use your false justice as well."

Some netizens claimed that neither sides are at fault, as it was just about which perspective you view this incident from, where the hairdresser would think that the technician was inconsiderate and the technician would think that the hairdresser was disrespectful.
"It's not a matter of correct or wrong, it depends on how you view it. In the hairdresser's point of view, the body odour might be so strong that it would affect the other customers, and would think that the technician was selfish for not taking a shower beforehand. In the customer's point of view, the hairdresser was disrespectful as she should not behave like this running business, because as a human, the technician has the right to have his hair cut, and he would not have it cut after returning home and going to the salon."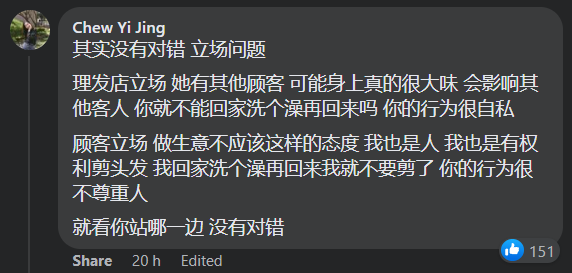 Who do you think is in the wrong? Let us know in the comments!
READ ALSO:
---
---
---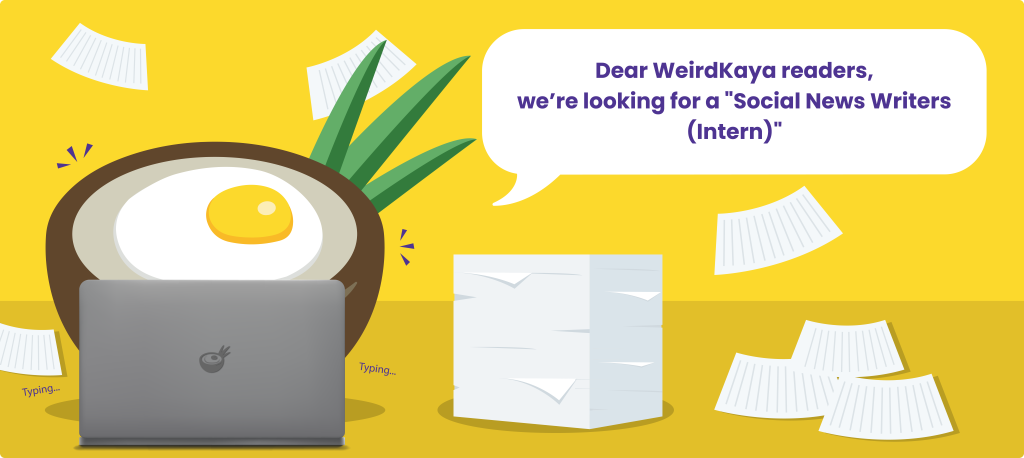 ---