In Asian culture, calling someone who looks or is younger than you "Uncle" or "Auntie" is somewhat of an unspoken taboo as some individuals may be offended if you do so.
A breakfast stall in Taiwan clearly illustrated this truth where it was spotted putting up a sign banning those aged 18 and above from calling the female boss "Auntie".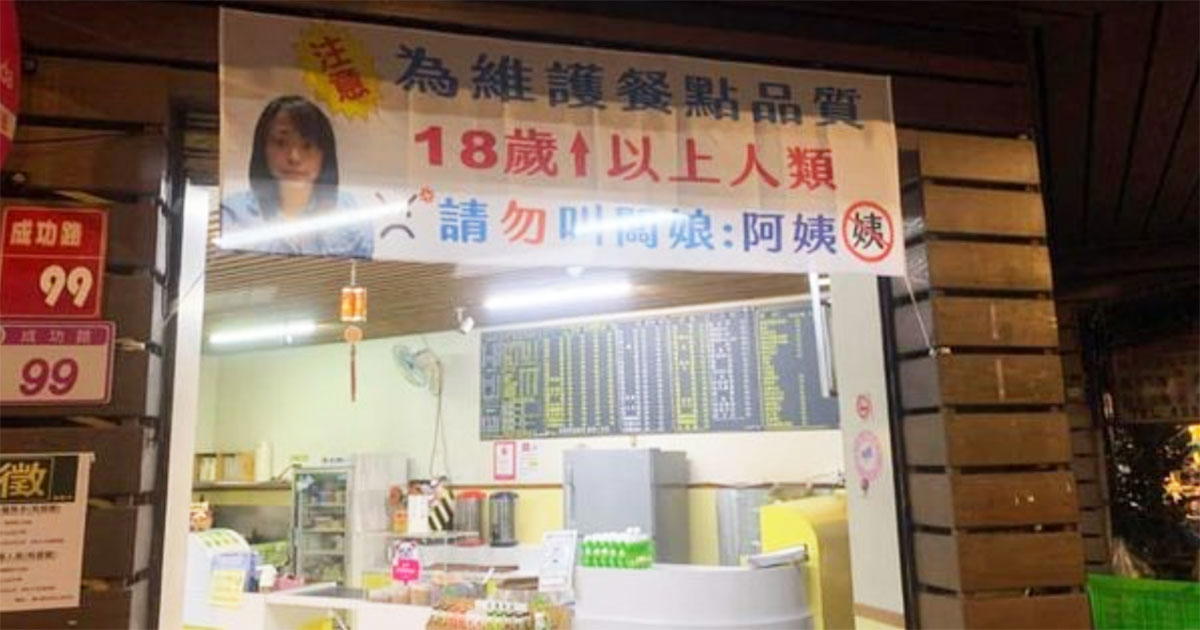 The sign, which included a photo of the stall owner, had the following words written on it:
"In order to maintain the quality of food orders, humans who are aged 18 and over, please do not call the lady boss Auntie."
According to Taiwan News, the photo was first posted on Monday (June 20) by a member of the Facebook group Baofei Commune (爆廢公社) who had patronised the stall located at Taoyuan City's Zhongli District.
"I asked her, 'Auntie, I would like a thick slice of smoked chicken with onion and a glass of cold milk. But my request was ignored," he wrote.
It wasn't until another customer sitting next to him pointed the sign hung at the front entrance to him did he realise the error of his ways.
After taking note of the sign, the customer then attempted to curry favour with the following phrase: "Beautiful lady boss, I would like a thick slice of smoked chicken with onion and a glass of cold milk."
He further claimed that the lady boss looked at him and said, "That sign was made for you."
He also wrote that the food he received was acceptable and "didn't find anything weird in (his) breakfast".
How to not offend anyone
In the comment section, netizens discussed among themselves over what was the best way to address strangers whose age was unknown.
Some suggested calling men "Big Brother" and the women "Older Sister", while others opined that calling a woman "Beautiful lady" was the safest option.
Read also:
Cover image via Facebook/Baofei Commune (爆廢公社) & Reddit